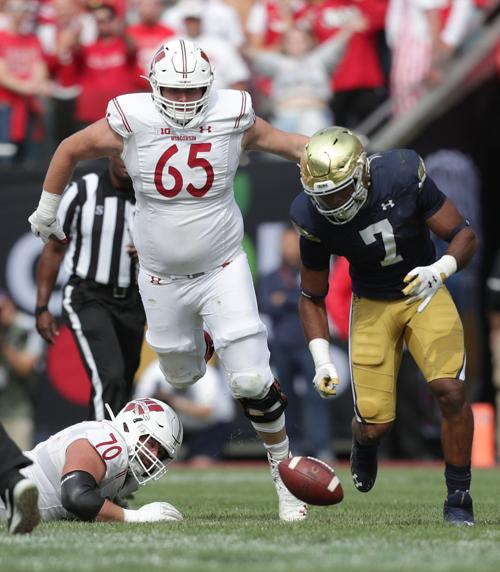 Instead of climbing the ladder of college football hierarchy, the Badgers actually could drop a rung or two. That instead of closing in on the elite teams, the gap would become wider for UW.
The only way for Paul Chryst's program to see the top these days is through binoculars. That's the sad reality after the No. 18 Badgers' 41-13 loss to No. 12 Notre Dame on Saturday afternoon at Soldier Field, a final margin that wasn't indicative of how close the game was for much of the way and yet said a lot about the state of affairs inside a program in the midst of a slide.
Here are the grim facts: UW is 1-2 for the first time since 2001, which coincidentally was the last time this program failed to qualify for a bowl game.
Meanwhile, the loss to the Fighting Irish dropped the Badgers to 0-7 against ranked opponents since late in the 2019 season. Really good programs beat ranked teams once in a while, so now it's just a matter of defining what tier UW finds itself in these days.
Good? OK? Mediocre? Take your pick.
"As a team, we're not doing enough to give ourselves a chance to win and to beat good football teams," Chryst said. "That's something that we've obviously got to improve upon and everyone's got to find a way to move forward."
UW is 5-7 over its past 12 games, the equivalent of a full regular season. It's 9-9 since opening the 2019 campaign with six consecutive victories.
The luster of a program's past success wears off at some point and a program is what it is. Until it proves otherwise, UW is one that can't beat the best teams on its schedule.
"We can't get numb to it," UW safety Collin Wilder said. "We've got to go back to work and we've got to find a way to be the dominant team that we know that this program can be and has been before."
Wilder spoke from the heart after the second-most lopsided defeat of the Chryst era, delivering passionate responses while answering questions from reporters for more than 10 minutes.
Several former players were at the game Saturday and Wilder, on behalf of his teammates, issued an apology that they had to sit through the Badgers' performance.
"That is not the Wisconsin way," Wilder said. "It's embarrassing for those who set the stage before us. There's no way around it, it's embarrassing."
Tailback Chez Mellusi used the same word — embarrassing — only with an expletive tossed in for good measure. What was most distressing to the players was a fourth quarter in which the Badgers were outscored by a 31-3 margin.
UW completely collapsed after taking a 13-10 lead on a 27-yard field goal by Collin Larsh with 14 minutes, 14 seconds remaining.
"If it takes for us to get our (butts) whooped like this for us to be the team that we want to be this year, then let's ride, let's go," Wilder said. "But this is an embarrassing finish. If we would have lost by 14, so be it, we went out swinging. But the way we finished was absolutely embarrassing as a team."
UW was outscored in the fourth quarter by a combined margin of 19-3 in its previous four losses dating to last season. Add this one and it becomes 50-6 over the course of the final 15 minutes in five defeats.
That's definitive proof of a program that can't finish and perhaps one that lets doubt creep in with the game on the line. The Badgers say their belief hasn't wavered — some considered it silly when I even asked such a question — but their actions don't match their words.
What was disconcerting Saturday was how quickly UW's momentum disappeared and how weak its response was to that adversity it faced.
Good teams are resilient in those situations and answer an opponent's score with one of their own. It instead was Notre Dame that kept scoring … and scoring … and scoring.
"I liked our mentality going into the fourth quarter and then we got punched right in the mouth," Wilder said. "And that's football. Sometimes it doesn't work out like you expect and sometimes the juice gets pulled right out of your sideline, but we've got to swing back and we've got to keep swinging. I don't like the way that we finished when it came to swinging. As a team, we stopped swinging. Regardless of the score, we've got to keep swinging."
One thing Wilder refused to do was point fingers. Look back at almost all of UW's defeats during its stretch of mediocrity and it's almost always the defense playing well enough to win and the offense not holding up its end of the bargain.
That happened again Saturday. Sophomore quarterback Graham Mertz committed five turnovers — four interceptions and a fumble — and had two of his picks returned for scores in the fourth quarter. It was another abysmal showing from Mertz, but he wasn't the only one to blame. His offensive line also played poorly.
The offense's poor performance ultimately falls on Chryst, who calls the plays and coaches the quarterbacks. That he hasn't done a better job of developing Mertz is a huge issue. So is the fact there's no contingency plan because there's no reason to believe backup Chase Wolf gives this team any better chance of winning than Mertz does.
It's becoming more and more obvious with every loss — and ugly win — that this offense is in need of a makeover. But drastic changes aren't going to happen overnight because it's not like Chryst can go hire some brilliant offensive mind in late September.
"I still believe we can be a good football team," Chryst said. "But change has to happen. You can't just talk about it. You got to do it."
UW gets another chance to beat a ranked opponent next week when Michigan visits Camp Randall Stadium. Whether that's good news or bad news is open for debate.
The Badgers say they still believe in themselves and that may be true. But over the past 22 months, they haven't given the rest of us much reason to believe in them on the football field.