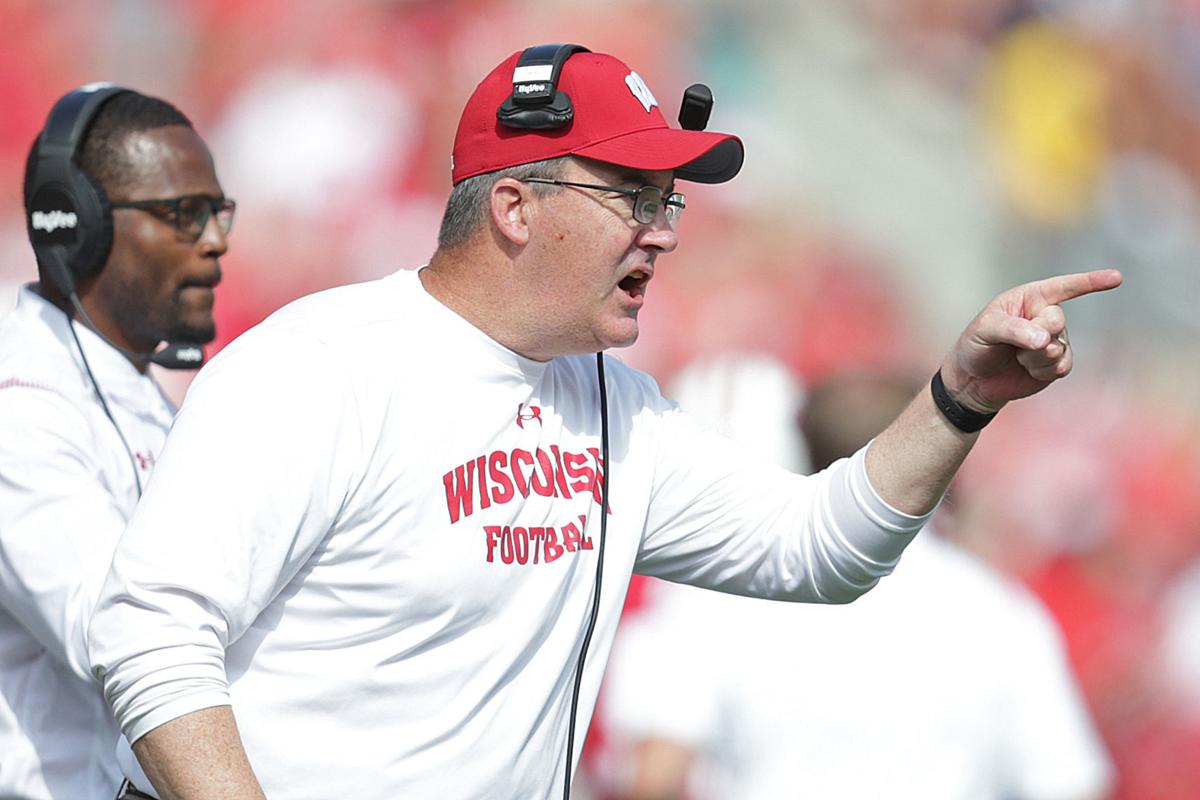 A lot of flattering things were said about Barry Alvarez over two days and it was even announced the field at Camp Randall Stadium will be named after him starting next season.
But the greatest gift he could have received on "Barry Alvarez Day" would have been for the underperforming 2021 University of Wisconsin football team to finally show some of the characteristics of an Alvarez-coached outfit, to let the guy who helped build all of this walk out of the place on Saturday afternoon with a feeling of pride.
Instead, Alvarez had to depart feeling as though his party had been ruined by the performance of a program that looks unrecognizable at the moment.
First, let's get another ugly historical footnote out of the way: UW is 1-3 for the first time since 1990, Alvarez's first season, following its eighth consecutive loss to a ranked opponent.
UW players heard the boos in the first half. They couldn't help but look around with 9-plus minutes remaining in the game and notice how many empty seats there were on a day when the announced attendance was 74,855.
The place pretty much had cleared out by that point. Fans had either headed home or to a bar or tailgate to drown their sorrows. They had chosen to find something better to do with their time because, presumably, they were disgusted.
"And they have every right to be," senior cornerback Faion Hicks said. "One and three is not the standard here. It hurts when you disappoint the fans, the program and even alumni. Just want to apologize to them, we have to play better and realize it's bigger than us."
More gross stats: The Badgers have led for only 2 minutes, 23 seconds of a possible 180 minutes in their three losses this season. They've been outscored 51-10 in the fourth quarter the past two weeks, with close games turning into humiliating scorelines in the blink of an eye.
UW coach Paul Chryst claims his team is practicing well during the week. He says he arrives on Saturday optimistic that they'll turn things around.
But then the ball is kicked off and his team keeps making some of the same mistakes. He understands he sounds like a broken record in postgame interviews when discussing how inconsistency is the team's biggest enemy right now.
Afterward, I asked Chryst if he's angry. Or is there another word to describe where he's at emotionally with his program mired in a major slump?
"I appreciate this group and the way that they've put it out there and therefore you want to do everything you can to help them have success," Chryst said after the Badgers dropped to 9-10 since midway through the 2019 season. "And when it doesn't happen, I look inwardly and what is it that I have to do different, have to do better? It's driven by a lot of things, driven by competitiveness, driven by a care, driven by that's your profession. I've got no problem (with) people that want to bitch about me because this is my job, this is where I'm at. I want to take it and not project it on the kids."
Fair enough, and Chryst is right: Most of the blame has to be placed on his shoulders. He's a loyal man, but that allegiance is going to be put to the test in the near future as UW keeps taking steps back.
Badgers special teams coordinator Chris Haering has worked under Chryst for 10 seasons, including three at Pittsburgh. It's hard to find much in Haering's resume to support him keeping that important of a role, especially after massive special teams breakdowns by UW in back-to-back weeks.
Offensive line coach Joe Rudolph is even more attached at the hip to Chryst. There's not a position more important to the Badgers' success over the years than the offensive line. UW needs that group to be dominant; right now, it's a weakness and Chryst needs to decide how much of that is Rudolph's fault.
Chryst, meanwhile, has some soul-searching to do with the future of the offense in general. UW's three scoring drives against the Wolverines generated 184 total yards in 20 plays. The other 10 drives of the game for the Badgers: 35 plays for 26 yards.
It'd be one thing if this were a rebuilding year with the promise of a brighter future on the horizon. Instead, this is a roster loaded with veterans: fifteen of the 22 starters on Saturday are seniors.
So what now? The fourth quarter last week felt like rock bottom but UW kept right on digging, losing by three touchdowns at home to the Wolverines. Losing to Bret Bielema and Illinois next week would leave fans even more aggravated.
"I feel like they shouldn't give up," UW senior wide receiver Kendric Pryor said of fans. "But that's why I say it's really only about the people in the locker room. People are quick to jump ship. When we're doing good, they want to be on your side. As soon as one thing goes wrong, (they) want to jump ship and not mess with us. Our mindset is we're worried about us in the locker room, the 120 guys and the coaching staff."
Meanwhile, the rest of us are left to wonder where this program goes from here. The past was celebrated Saturday and Alvarez got his deserved day in the sun, but it was impossible to ignore the dark clouds hanging over the future of the program.