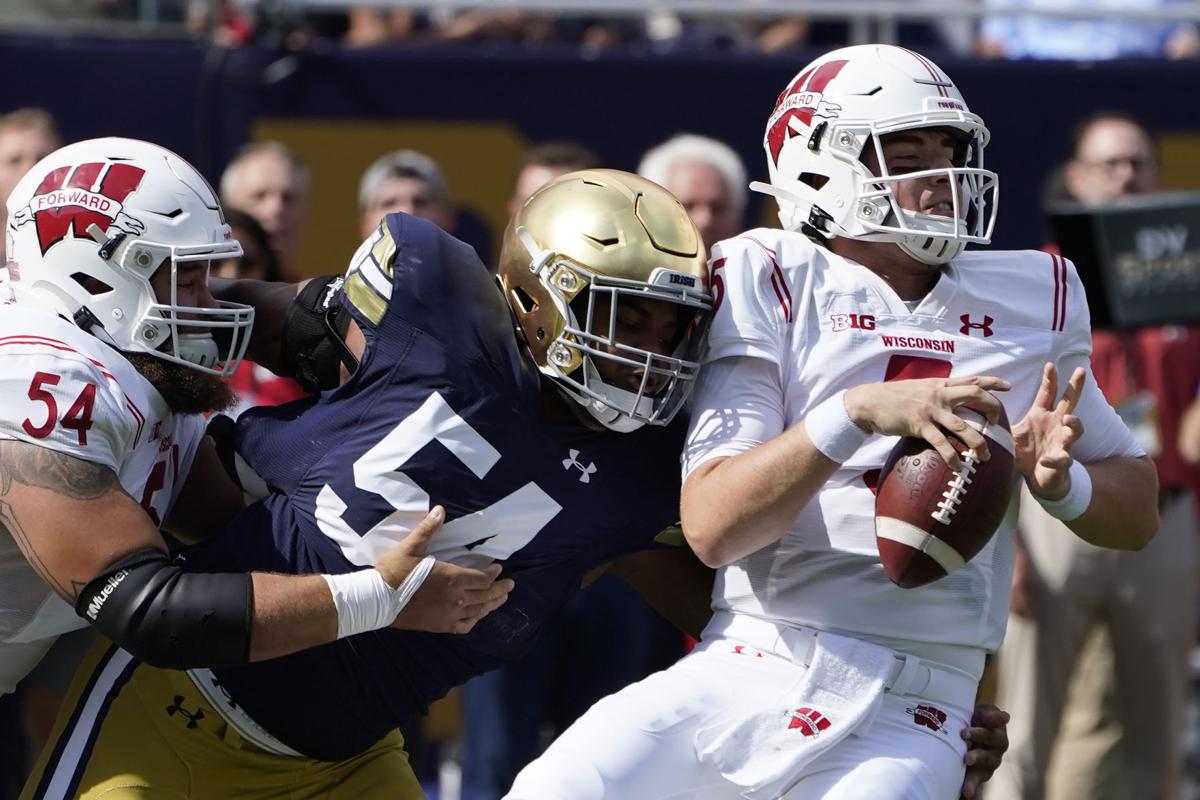 As hard as the University of Wisconsin football team has been to watch at times this season, it does have at least one admirer.
Not a human admirer, but an admirer nonetheless.
The Badgers are No. 7 in this week's ESPN's SP+ rankings. That's No. 7 in the nation, not No. 7 in the Big Ten, and I'll pause here to let you collect yourself.
Done laughing? OK, let's keep going.
Since it's hard to have a good dialogue with a computer, I instead reached out to the man who plugs the numbers into a system that has a higher opinion of the Badgers than even they do.
ESPN writer Bill Connelly is a smart (and friendly) man. Connelly describes himself as a "professional nerd" on his Twitter profile, and he's highly respected in the college football and analytics worlds.
The point here isn't to make fun of Connelly and his SP+ rankings. I wanted to talk to Connelly to find out if there was something I was missing — how can a team that doesn't pass the eye test be this high in his rankings? — and maybe even see if he could provide hope for the second half of the Badgers' season.
Let's begin with what the SP+ rankings are and what they aren't. The system, in Connelly's own words, is "a tempo- and opponent-adjusted measure of college football efficiency" and "is intended to be predictive and forward-facing." It's not, in any way, a ranking of resumes.
To boot: UW is one spot ahead of Michigan, which defeated the Badgers 38-17 on Oct. 2. Unbeaten Oklahoma and Cincinnati also are trailing UW in the SP+ rankings.
That UW remained at No. 7 this week despite its unimpressive 20-14 home win over Army surprised even the creator of the system.
Connelly said he thought "this is the week surely they're going to drop enough for me to get yelled at less, and (yet) they're right there at seventh and they don't move. That's a little frustrating, but I at least know why. I understand my system well enough to know what it sees in Wisconsin even if I don't necessarily agree with it."
So what exactly does the SP+ see in the Badgers?
To some degree, it still sees previous UW teams. Connelly said preseason projections account for half of a team's ranking at this point of the season and that figure will drop to 15 to 20% by the end of the season. The limited number of games in college football tests the accuracy of a predictive system such as SP+, so Connelly said "leaning on those prior numbers gives us a fuller picture of each team" while also admitting past success has kept UW and Clemson (No. 4 despite being 4-2) in the top 10 of his system.
SP+ also sees a really strong UW defense that is No. 2 in the nation, trailing only Georgia.
UW is No. 55 in offense in the SP+, which seemed high until Connelly reminded me that efficiency matters the most in his system. UW is 105th nationally in explosive-play rate, 110th in points per drive and 87th in yards per drive, but it's 50th in success rate, which measures how efficient it is on a play-by-play basis.
Here's how Connelly measures if a play is successful: if an offense gains at least 50% of the required yardage necessary to move the chains on first down; 70% on second down; and 100% on third and fourth downs. UW's offense, for the most part, has done an OK job staying on schedule but has shot itself in the foot with turnovers and is forced to grind out long drives because of a lack of big-play ability.
Breaking it down even further, UW is 29th nationally in rushing success rate, 95th in passing success rate, 37th on what Connelly calls "standard downs" — first down, second-and-7 or less and third-and-4 or less — and 80th on "passing downs."
"They're not terrible in that one (efficiency category) and pretty terrible in everything else," Connelly said. "Without preseason numbers, they would be lower than 55th, but they do at least get that one thing right."
All of this begs the question: If Connelly's system is designed to be predictive, does it predict good things for the Badgers the rest of the way?
The answer is yes, with an asterisk attached to it. SP+ has UW (3-3, 1-2 Big Ten) favored to win each of its remaining games, starting Saturday when it takes on Purdue (4-2, 2-1) at Ross-Ade Stadium in West Lafayette, Indiana.
Of course, the Badgers have been favored in every game to this point by both SP+ and Las Vegas and sits at .500 at the midway point of the season.
One thing Connelly monitors is projected turnover margin, and he said UW should be at minus-2 in that category right now. Its actual turnover margin: minus-10, which ranks dead last of 130 teams nationally.
As good as the Badgers' defense has been, it has only two interceptions compared to 25 pass breakups. That's a huge disparity that's an indicator that UW hasn't done a good enough job cashing in on turnover opportunities.
On the flip side, UW's opponents have nine interceptions and 14 pass breakups.
Connelly calls UW both "glitchy and unlucky" and while it probably is who it is in the former category, perhaps the latter category will even out for the Badgers.
"So there is hope," he said. "It's just until you see them not turn the ball over as much and stop throwing interceptions, it's hard to completely believe that."
Angry fans fill up Connelly's Twitter timeline each week and UW's spot in the SP+ rankings has been one of the biggest talking points.
"It's less now that Iowa lost because that was a big one of Iowa being behind Wisconsin. 'How dare you?' That kind of stuff," Connelly said. "That at least looks better. It'll look even better if Wisconsin actually beats Purdue this week. I'd appreciate that."
SP+ says the Badgers have a 51% chance of going 8-4 or better. UW likely needs to run the table to win the West Division and there's a 16% chance of that happening, according to Connelly's system.
In other words, not very likely. But you didn't need a computer to tell you that.