Quintez Cephus kept hearing positive reports from training camp as he waited to find out if he'd be allowed back on the University of Wisconsin football team.
One name that kept coming up: junior quarterback Jack Coan.
"My teammates talked to me a bunch while I was away and they were very, very excited about Jack's progression," Cephus said. "I was excited to see what our offense would look like."
It's safe to say not even Cephus envisioned a passing display like the one the No. 17 Badgers produced Saturday afternoon during a 61-0 victory over Central Michigan at Camp Randall Stadium.
It's almost impossible to overshadow Heisman Trophy candidate Jonathan Taylor and a UW defense that has yet to allow a point this season. But Coan — with big help from Cephus — managed to do it during the most lopsided victory of the Paul Chryst era.
Coan produced the fifth-highest passing yardage total in program history, finishing 26 of 33 for 363 yards and three touchdowns.
Add in the work of backup quarterbacks Graham Mertz and Chase Wolf and UW (2-0) finished with 400 passing yards for only the third time in program history. The other two times came in defeats.
Cephus, who was suspended all of last season, had six catches for a career-high 130 yards and two touchdowns in his first home game since rejoining the team. He and Coan connected on two long scores late in the first half, when the Badgers' air attack was at full throttle.
"It's hard to throw the ball (a lot) when you have the best running back in the country, but when they load the box like that we're going to take advantage of it," UW sophomore tight end Jake Ferguson said. "And I truly think we have one of the best receiving corps with everyone we've got."
Taylor might be the person most excited by what the Badgers showed in the passing game — albeit against a weak opponent — because it could mean less bodies being devoted to stop him. The junior tailback scored four touchdowns for the second consecutive week, rushing for 102 yards and three scores and adding his third touchdown reception of the season.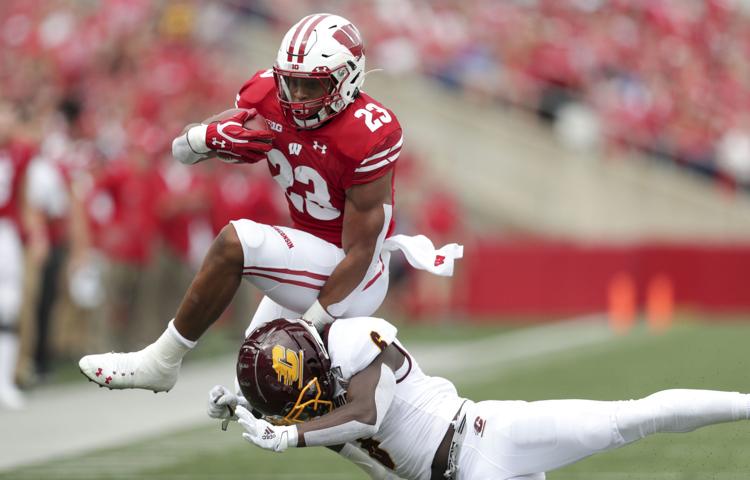 "It's a really good feeling knowing that everybody's going for J.T. and he's still making plays," said UW senior wide receiver A.J. Taylor, who had a team-high seven receptions for 78 yards. "If he can do something like that, it really just motivates to be ready when our time is called and that's what we had to do when our opportunity was there. We had to make something happen, and that's what we did today."
The Chippewas (1-1), who haven't beaten a Football Bowl Subdivision team since defeating Northern Illinois in the 2017 regular-season finale, talked a good game but couldn't back it up on the field.
Two days before the game, Central Michigan senior defensive lineman Robi Stuart provided some bulletin-board material when asked about playing the Badgers.
"They talk this big talk like, 'Wisconsin this, Wisconsin that.' I'm like, 'Chippewas this, Chippewas that.' You know what I mean?" Stuart said. "We line up in practice the same way they do. Let's go get this."
Central Michigan coach Jim McElwain even got in the act, saying this of UW: "Look, they have no idea what's to come. I feel really good about these guys and the preparation."
Total yards: Badgers 599, Chippewas 58.
First downs: Badgers 37, Chippewas 3.
"I would be lying if I said it didn't motivate us a little bit," UW senior linebacker Chris Orr said of the Chippewas' comments. "All it did was add extra fire."
Orr and Co. kept forcing punts and getting the ball back for a UW offense that was able to do pretty much anything it wanted.
Jonathan Taylor had three touchdowns by the 11:59 mark of the second quarter and UW's lead was 30-0 when Coan and Cephus started their fireworks.
Coan had overthrown Cephus on two deep throws during a 49-0 win at South Florida this week, but he hit Cephus in stride on a 36-yard touchdown pass with 4:21 remaining until halftime.
On the next series, Cephus made a beautiful over-the-shoulder catch and finished off a 46-yard score.
"It definitely feels good when you're playing like that," said Coan, who had 276 passing yards by halftime. "Just the whole offense and defense are just clicking, guys are making really good plays, so it was a lot of fun to be a part of it."
The Badgers have routed a pair of overmatched opponents by a combined margin of 110-0, but they realize they're about to be tested. Their first big one comes in two weeks when No. 7 Michigan (2-0) rolls into town for both teams' Big Ten Conference opener.
"We knew we had it in us," A.J. Taylor said. "But to see it happen is phenomenal. We've got to just keep going and keep the foot on the pedal."