Luke Fickell's seven-year, $54.6 million contract as University of Wisconsin football coach is 80% guaranteed.
It also includes an additional $2.5 million in pay through the end of March, when his agreement will annually roll over, plus the use of a Camp Randall Stadium suite, two cars and a country club membership.
UW released the contract Friday in response to a public records request. Fickell signed Monday and it had a starting date of Wednesday.
The Badgers will owe Fickell 80% of what's remaining on his contract, a minimum of $6.48 million, if he's fired before it expires. UW can recoup some of the money through mitigation if Fickell gets a coaching job with an NFL or NCAA Division I football team.
UW's liquidated damages terms with former football coach Paul Chryst included calculations based on results of previous seasons. This method appears to be more straightforward.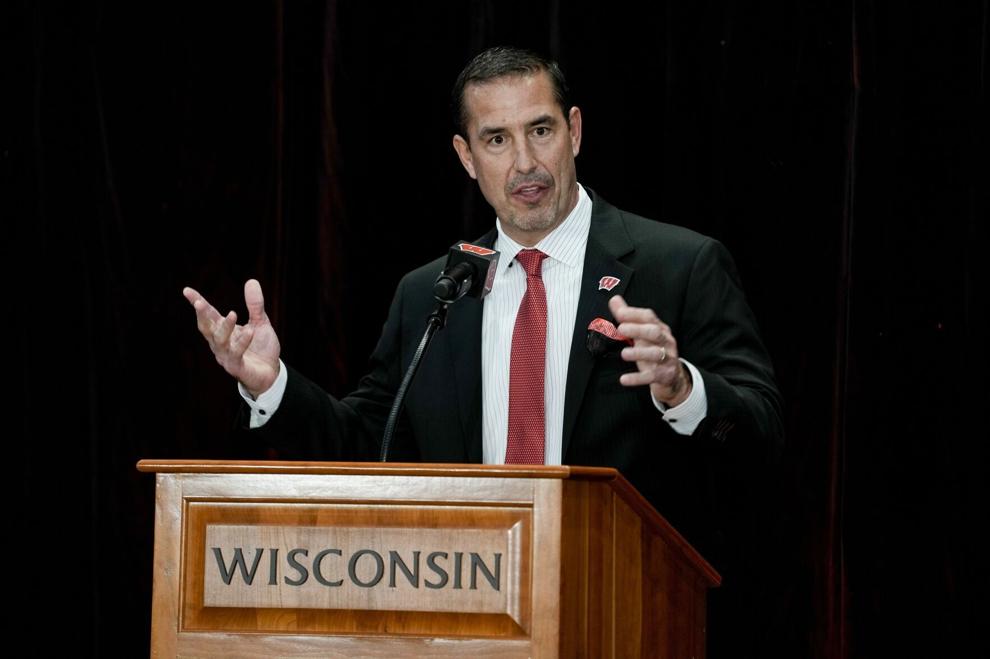 Chryst and UW settled on an $11 million buyout of the remainder of his contract in October.
Fickell will owe UW $8 million if he leaves for another coaching position before April 1, 2027, or $5 million afterward.
UW is scheduled to pay Fickell $2.5 million through the end of March, when the first full year of his contract begins. He'll make $7.5 million for the period from April 1, 2023, to March 31, 2024, and the salary climbs by $100,000 per year afterward.
The one-year extension that has become standard for UW coaches is written into the agreement, subject to a recommendation from the athletic director and approval of the Athletic Board.
The seven full years of Fickell's contract average $7.8 million and cover appearances on TV and radio shows and other likeness rights. Chryst was making $5.25 million when he was fired Oct. 2.
Fickell's contract also has more potential postseason bonuses than the agreement with Chryst and a nod to a bigger field for the College Football Playoff starting in 2024.
Two elements of the bonuses were the same in contracts for Chryst and Fickell: $350,000 for winning the Big Ten championship game and $500,000 for winning the national championship. But Fickell can earn $200,000 if the Badgers qualify for the 12-team College Football Playoff and $400,000 for getting to a CFP semifinal game. Chryst had to win a semifinal game to get a $400,000 bonus.
Fickell's total potential annual bonus written into the contract is $1.45 million. Chryst's maximum was $1.25 million.
Most of the other perks were consistent between Chryst and Fickell. Both got two automobile allowances (Fickell's is capped at $10,800 per year), a country club membership and $125,000 per year toward travel and entertainment offerings.
Use of a Camp Randall suite is an addition. Fickell's contract at Cincinnati included 20 season tickets, the use of a suite and six parking passes for football; eight season tickets for men's basketball; 14 tickets for all postseason football games and eight tickets to all postseason men's basketball games.
Fickell is getting a maximum of $50,000 for moving expenses.
A look back at the day Wisconsin football hired Luke Fickell
Wisconsin athletic director Chris McIntosh hired Luke Fickell to be the 31st coach of the football program.