As the Badgers get ready to kick off the 2019 season on Friday against the South Florida Bulls, Jason Galloway examines Wisconsin's roster by position for the Wisconsin State Journal. 
QUARTERBACKS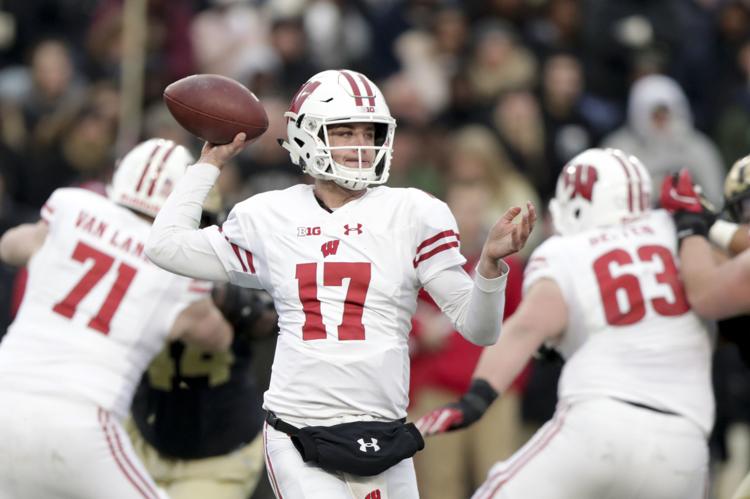 DEPTH CHART
Projected starter; Ht.; Wt.; Yr.; Hometown
17 | Jack Coan (above); 6-3; 221; Jr.; Sayville, N.Y.
Backups
5 | Graham Mertz; 6-3; 215; Fr.; Overland Park, Kan.
2 | Chase Wolf; 6-1; 196; Fr.; Cincinnati
The rest
15 | Danny Vanden Boom; 6-5; 207; So.; Kimberly
THE SKINNY
Despite the hype surrounding Mertz, Coan maintained his status as the front-runner for the starting job the entire offseason. He took nearly all first-team reps throughout open spring practices, and that continued into fall camp. Coan is the one with at least a little meaningful game experience; he played in five games last year, starting four, and completed 60.2 percent of his passes for 515 yards with five touchdowns and three interceptions. Mertz and Wolf split second-team reps to begin camp and both showed promise this offseason. This is likely the deepest quarterback room the Badgers have rostered in some time, and Mertz or Wolf could potentially keep the offense afloat if Coan suffers an injury or isn't playing well enough to keep his job as the starter.
GLASS-IS-HALF-FULL FORECAST
UW tweaks its offense to fit Coan's strengths and incorporates more read-option — something the Badgers introduced against Miami in last year's Pinstripe Bowl. The junior builds off his final two starts last season — solid outings in wins over Purdue and Miami — and plays much more confidently after preparing for an entire offseason to be the starter.
GLASS-IS-HALF-EMPTY FORECAST
Coan's final two games of 2018 ultimately don't signal a long-term improvement, and his inconsistency carries over into this season. The Badgers give Wolf or Mertz an opportunity, and neither freshman proves ready to take over as the starter just yet.
THE NUMBER
14 | 2,050 team passing yards last season were the lowest total in 14 years, dating to 2004 with just 2,006 yards.
RUNNING BACKS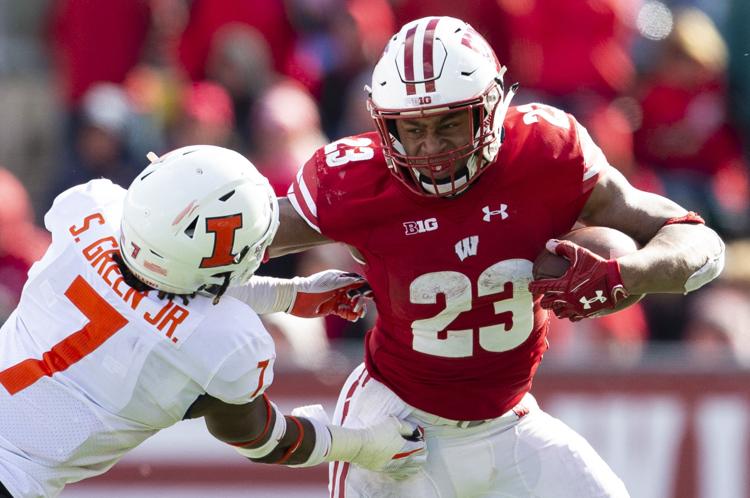 DEPTH CHART
TAILBACKS
Projected starter
23 | Jonathan Taylor (above); 5-11; 219; Jr.; Salem, N.J.
Backups
25 | Nakia Watson;5-11; 229; Fr.; Austin, Texas
37 | Garrett Groshek; 5-11; 220; Jr.; Amherst Junction
The rest
7 | Bradrick Shaw; 6-1; 216; Sr.; Birmingham, Ala.
20 | Isaac Guerendo; 6-0; 213; Fr.; Clayton, Ind.
29 | Brady Schipper; 5-11; 206; Fr.; Stoughton
32 | Julius Davis; 5-10; 189; Fr.; Menomonee Falls
36 | Hunter Johnson; 6-0; 220; So.; Darlington
FULLBACKS
Projected starter
34 | Mason Stokke; 6-2; 239; Jr.; Menomonie
Backup
44 | John Chenal; 6-2; 252; So.; Grantsburg
The rest
28 | Quan Easterling; 6-3; 238; Fr.; Akron, Ohio
THE SKINNY
Anyone's running game should be in good shape with Jonathan Taylor in the backfield. The Doak Walker Award winner rushed for 2,194 yards and 16 touchdowns last season after setting an FBS freshman record with 1,977 yards in 2017. Garrett Groshek's return also ensures UW will once again have a solid option on passing downs — an area where Taylor remains unproven. Nakia Watson appears the most likely to be Taylor's direct backup on early downs, though Bradrick Shaw, Isaac Guerendo or Julius Davis could also battle for carries. Chenal could challenge Stokke for the starting fullback job.
GLASS-IS-HALF-FULL FORECAST
Taylor is, as expected, the best running back in college football again and produces his best season yet with an improved passing game to keep defenses honest. Watson and others show they can be relied upon, allowing UW to avoid overworking Taylor throughout the year. Either Stokke or Chenal goes up a level in their second year at fullback and minimizes the loss of Alec Ingold.
GLASS-IS-HALF-EMPTY FORECAST
Taylor misses time due to injury and Shaw still isn't quite himself after tearing his ACL in November of 2017. The backs without any experience aren't able to pick up the slack, and suddenly the Badgers are searching for answers on offense.
THE NUMBER
200 | If Taylor carries the ball 200 times this season, he'll be the first UW player since P.J. Hill from 2006-08 to reach that mark in three straight years.
WIDE RECEIVERS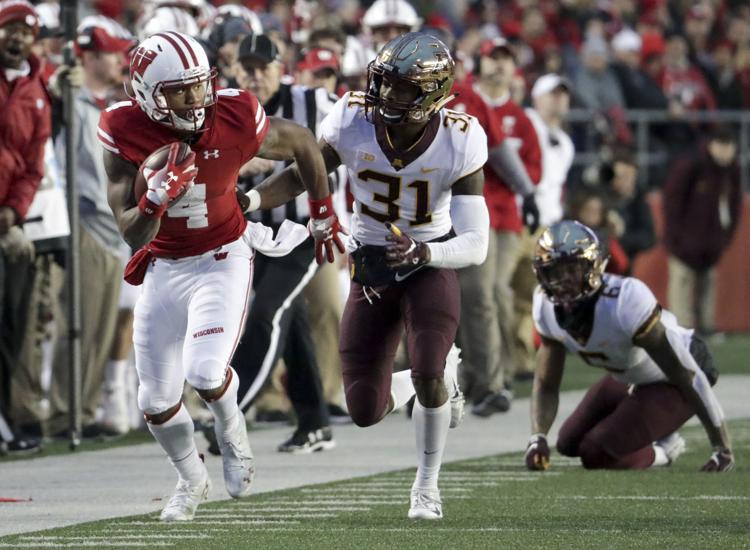 DEPTH CHART
Projected starters
4 | A.J. Taylor (above); 5-11; 200; Sr.; Kansas City
6 | Danny Davis; 6-0; 194; Jr.; Springfield, Ohio
Backups
3 | Kendric Pryor; 5-11; 180; Jr.; Hazel Crest, Ill.
1 | Aron Cruickshank; 5-9; 161; So.; Brooklyn, N.Y.
The rest
16 | Jack Dunn; 5-7; 174; Jr.; Madison
24 | Adam Krumholz; 6-1; 193; Jr.; Stoughton
81 | Taj Mustapha; 6-0; 190; Fr.; Southfield, Mich.
89 | A.J. Abbott; 6-2; 192; Fr.; Northville, Mich.
82 | Emmet Perry; 6-2; 186; So.; Grand Prairie, Texas
22 | Cade Green; 5-11; 185; So.; Austin, Texas
11 | Stephan Bracey; 5-10; 172; Fr.; Grand Rapids, Mich.
13 | Mike Gregoire; 5-10; 171; Fr.; Green Bay
14 | Jordan DiBenedetto; 6-0; 190; Fr.; Stoughton
18 | Cam Phillips; 6-0; 176; Fr.; San Francisco
21 | Cooper Nelson; 6-4; 187; Fr.; Sun Prairie
THE SKINNY
At Big Ten Media Days last month, UW coach Paul Chryst called for his wide receivers to improve off last season's disappointment, saying the group needed to take pressure off Jonathan Taylor and the running game. A.J. Taylor, Danny Davis and Kendric Pryor have all flashed greatness during their time in Madison, but they'll be expected to put it all together in 2019 and help the passing game rebound under a new starting quarterback. UW also will look to Dunn and Cruickshank to provide depth at the position.
GLASS-IS-HALF-FULL FORECAST
Taylor, Davis and Pryor do what everyone expected them to do last season — emerge as star-level players and elevate the passing game. One of the young prospects — such as Cruickshank, Taj Mustapha or A.J. Abbott — surprises and gives the Badgers a Big Four. Improved quarterback play also assists the group in getting back on track.
GLASS-IS-HALF-EMPTY FORECAST
Quarterback play doesn't improve and the wide receivers can't make enough plays to carry the passing game to new heights. Taylor continues to struggle with drops and Davis fails to get into a rhythm for the second straight year.
THE NUMBER
114 | The Badgers created just 27 passing plays of 20 yards or longer last season, ranking 114th out of 130 FBS teams.
TIGHT ENDS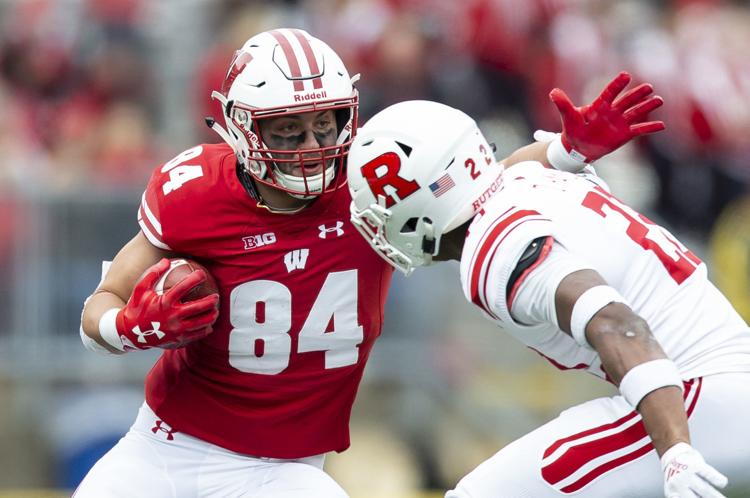 DEPTH CHART
Projected starters
84 | Jake Ferguson (above); 6-5; 246; So.; Madison
85 | Zander Neuville; 6-5;-252; Sr.; Waupaca
Backup
86 | Luke Benzschawel; 6-6; 276; Jr.; Grafton
The rest
30 | Coy Wanner; 6-3; 236; So.; Green Bay
87 | Hayden Rucci; 6-4; 250; Fr.; Lititz, Pa.
85 | Clay Cundiff; 6-3; 251; Fr.; Wichita, Kan.
41 | Jack Eschenbach; 6-6; 224; Fr.; Downers Grove, Ill
*46 | Gabe Lloyd; 6-4; 231; Jr.; Green Bay
*Out for season due to injury
THE SKINNY
Jake Ferguson is coming off a promising redshirt freshman season in which he ranked second on the team in catches (36), receiving yards (456) and receiving touchdowns (4). He bailed UW out on third down often last year and has all the tools for a breakout season in 2019. Zander Neuville was granted a sixth year of eligibility by the NCAA, but it remains to be seen how much he will play as he works his way back from a knee injury that ended his 2018 season. Luke Benzschawel earned more snaps over the second half of last year and should play a key role as a blocking tight end. There isn't much depth beyond those three at the moment. The departure of Kyle Penniston hurts, even if he didn't see all that much playing time down the stretch last season.
GLASS-IS-HALF-FULL FORECAST
Ferguson continues to steadily improve as a blocker and emerges into one of the best receiving threats at tight end in the Big Ten and even the country. Ferguson, Neuville and Benzschawel remain healthy throughout the entire season, and one of the true freshmen at the position — Hayden Rucci or Clay Cundiff — provides some unexpected depth.
GLASS-IS-HALF-EMPTY FORECAST
Ferguson remains solid but not spectacular, Neuville struggles in his return from injury and Benzschawel can't quite provide what Neuville did from a blocking perspective in years past. None of the other young tight ends are quite ready to contribute, and Gabe Lloyd's season-ending injury turns out to be a big loss for the position.
THE NUMBER
16 | Jake Ferguson's 36 catches and 456 receiving yards last season were the most for a UW freshman in 16 years. Both Brandon Williams and Jonathan Orr produced more as freshmen in 2002.
OFFENSIVE LINE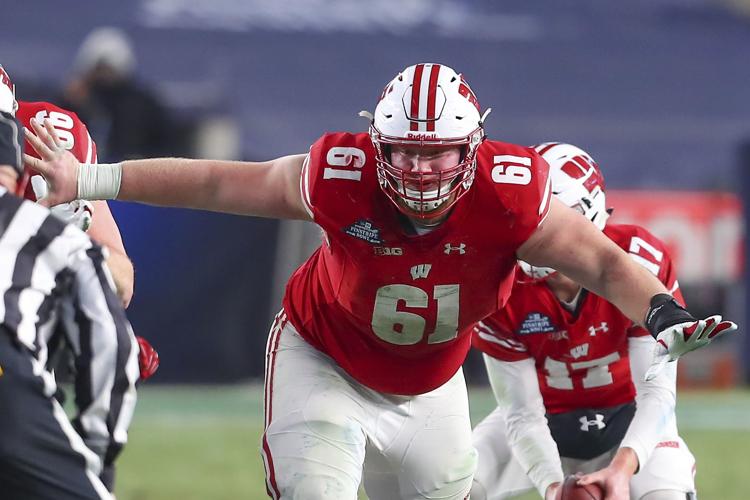 DEPTH CHART
Projected starters
LT — 71 | Cole Van Lanen; 6-5; 312; Jr.; Green Bay
LG — 78 | Jason Erdmann; 6-6; 328; Sr.; Richfield
C — 61 | Tyler Biadasz (above); 6-3; 321; Jr.; Amherst
RG — 70 | Josh Seltzner; 6-4; 327; So.; Columbus
RT — 60 | Logan Bruss; 6-5; 310; So.; Appleton
Backups
76 | Kayden Lyles; 6-3; 321; So.; Madison
68 | David Moorman; 6-5; 307; Sr.; Northville, Mich.
65 | Tyler Beach; 6-6; 309; So.; Grafton
The rest
50 | Logan Brown; 6-6; 311; Fr.; Grand Rapids, Mich.
59 | Andrew Lyons; 6-5; 311; Fr.; Kenosha
62 | Logan O'Brien; 6-4; 265; Fr.; Fennimore
67 | Cormac Sampson; 6-4; 280; Fr.; Eau Claire Memorial
69 | Aaron Vopal; 6-6; 312; So.; De Pere
73 | Alex Fenton; 6-4; 308; So.; Menomonie
74 | Michael Furtney; 6-5; 307; Fr.; Milan, Mich.
75 | Joe Tippmann; 6-6; 312; Fr.; Fort Wayne, Ind.
77 | Blake Smithback; 6-2; 305; So.; Waunakee
THE SKINNY
Center Tyler Biadasz is technically the only returning starter, though Cole Van Lanen played plenty of snaps while splitting time with Jon Dietzen at left tackle. The offensive line lost three NFL-level talents in guards Michael Deiter and Beau Benzschawel and right tackle David Edwards — something that wouldn't be easy for any program to replace. Jason Erdmann is quite experienced now, however, and Logan Bruss started the final three games last year with Edwards out. Kayden Lyles could still push Josh Seltzner for the starting right guard spot. The group is certainly deeper than one would expect when replacing four starters, as David Moorman and Tyler Beach also appear ready to step in if needed.
GLASS-IS-HALF-FULL FORECAST
It's a true reloading situation for UW, as young players like Bruss, Seltzner and Lyles reach their potential sooner rather than later. Erdmann also plays his best football as a senior. Van Lanen and Biadasz become All-Americans and earn buzz as early-round NFL draft picks.
GLASS-IS-HALF-EMPTY FORECAST
The assumption UW can plug the next man in on its offensive line every year doesn't play out so simply this time around. The starters after Biadasz and Van Lanen get off to a slow start. They're ultimately solid but can't come close to replicating what last year's line accomplished, particularly in the run game.
THE NUMBER
4 | Combined career starts on the offensive line from all players except Biadasz (27 starts).
LINEBACKERS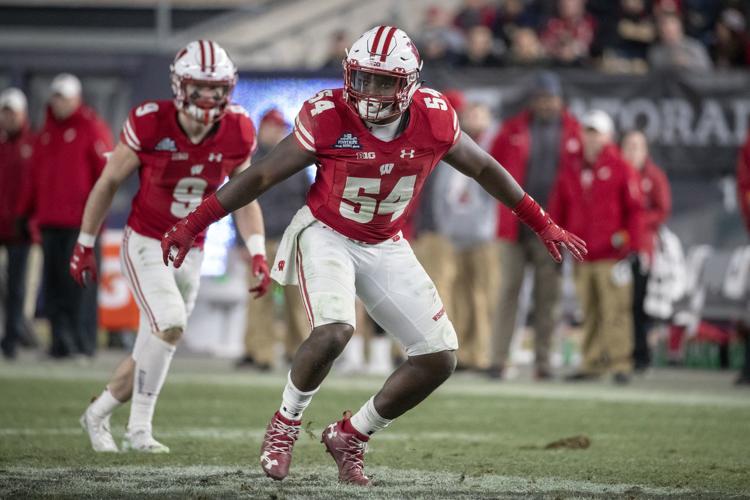 DEPTH CHART
INSIDE
Projected starters;Ht.;Wt.;Yr.;Hometown
54 | Chris Orr (above); 6-0; 224; Sr.; DeSoto, Texas
57 | Jack Sanborn; 6-2; 232; So.; Deer Park, Ill.
Backups
45 | Leo Chenal; 6-2; 250; Fr.; Grantsburg
58 | Mike Maskalunas; 6-2; 231; Jr.; Long Grove, Ill.
The rest
48 | Travis Wiltjer; 6-2; 225; Sr.; Maple City, Mich.
10 | Seth Currens; 6-3; 224; Jr.; Pickerington, Ohio
55 | Maema Njongmeta; 6-0; 220; Fr.; Buffalo Grove, Ill.
22 | Jacob Heyroth; 6-0; 218; Fr.; Lodi
29 | Jackson Kollath; 6-1; 252; Fr.; Menomonee Falls
39 | Tatum Grass; 6-2; 222; Fr.; Holmen
32 | Marty Strey; 6-2; 219; Fr.; Sun Prairie
OUTSIDE
Projected starters;Ht.;Wt.;Yr.;Hometown
56 | Zack Baun; 6-3; 235; Sr.; Brown Deer
50 | Izayah Green-May; 6-6; 221; So.; Bolingbrook, Ill.
Backups
41 | Noah Burks; 6-2; 240; Jr.; Carmel, Ind.
59 | Tyler Johnson; 6-3; 241; Sr.; Menasha
The rest
49 | Christian Bell; 6-4; 249; Jr.; Birmingham, Ala.
42 | Jaylan Franklin; 6-4; 222; Fr.; Brownstown, Mich.
7 | Spencer Lytle; 6-2; 223; Fr.; Redondo Beach, Calif.
46 | Hegeman Tiedt; 6-4; 243; Jr.; Burlington
THE SKINNY
Replacing T.J. Edwards and Ryan Connelly won't be an easy task, but UW's not short on talent at inside linebacker. Chris Orr has started 16 career games, Jack Sanborn did well in limited playing time in 2018 and true freshman Leo Chenal looked impressive all offseason after enrolling early. Graduate transfer Travis Wiltjer also could add depth. After the departure of Andrew Van Ginkel at outside linebacker, the Badgers are full of unproven players to complement returning starter Zack Baun. Izayah Green-May and Noah Burks could split time, while Tyler Johnson and Christian Bell also may get their shot at playing time.
GLASS-IS-HALF-FULL FORECAST
Orr puts together his best year after dropping weight this spring, and Sanborn's playing time as a true freshman helps him effortlessly step into a starting role. Chenal's a beast from Day 1. Green-May emerges as one of the team's best pass rushers, and the others behind him provide solid depth. Baun remains healthy and enjoys a breakout senior season.
GLASS-IS-HALF-EMPTY FORECAST
Chenal's not quite as ready as he appears during offseason practices, and there's not truly much depth behind Orr and Sanborn. Baun continues to struggle with injuries. The Badgers are unable to find another quality starter among their group of unproven outside linebackers.
THE NUMBER
27 | The Badgers recorded just 19 sacks last season, their lowest total in 27 years since producing 18 in 1991.
DEFENSIVE LINE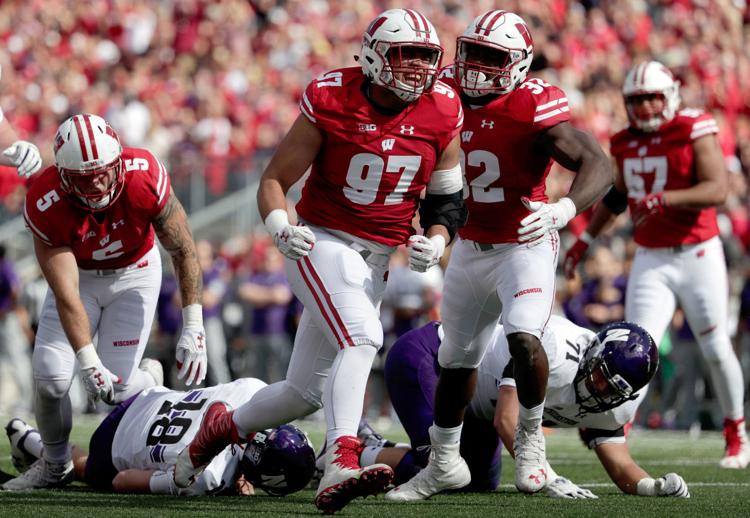 DEPTH CHART
NOSE TACKLE
Projected starter;Ht.;Wt.;Yr.;Hometown
91 | Bryson Williams; 6-2; 300; So.; Lincoln, Neb.
Backup
74 | Gunnar Roberge; 6-4; 292; Sr.; Seymour
The rest
95 | Keeanu Benton; 6-4; 315; Fr.; Janesville
DEFENSIVE END
Projected starters
97 | Isaiahh Loudermilk (above); 6-7; 293; Jr.; Howard, Kan.
93 | Garrett Rand; 6-2; 279; Jr.; Chandler, Ariz.
Backups
92 | Matt Henningsen; 6-3; 286; So.; Menomonee Falls
52 | David Pfaff; 6-2; 288; Sr.; Mequon
The rest
90 | Isaiah Mullens; 6-4; 283; Fr.; Columbus, Ohio
56 | Rodas Johnson; 6-2; 293; Fr.; Columbus, Ohio
51 | Gio Paez; 6-3; 305; Fr.; Los Angeles
94 | Boyd Dietzen; 6-3; 264; Fr.; Combined Locks
98 | C.J. Goetz; 6-3; 241; Fr.; Muskego
57 | Michael Balistreri; 6-4; 288; So.; Grafton
THE SKINNY
Garrett Rand's return from an Achilles injury should help a unit short on depth last year. He missed the entire 2018 season after expecting to start at defensive end. His absence forced UW to move offensive lineman Kayden Lyles to defense and give a heavy workload to walk-on redshirt freshman Matt Henningsen. Rand and Loudermilk should form a solid duo at end, and Bryson Williams has the talent to adequately replace Olive Sagapolu. Henningsen and Pfaff improved as last season progressed, and Isaiah Mullens could contribute after redshirting in 2018. Depth behind Williams at nose tackle remains a question mark.
GLASS-IS-HALF-FULL FORECAST
Rand makes a completely smooth return and Loudermilk becomes a more dominant force without as much attention focused his way. Henningsen continues progressing and shows why he was awarded a scholarship last season. Mullens adds even more depth at end, while true freshman Keeanu Benton starts his career ahead of schedule and provides a capable, promising backup behind Williams at nose tackle.
GLASS-IS-HALF-EMPTY FORECAST
Rand isn't quite himself throughout his first year back after a major injury. Mullens still isn't ready for meaningful playing time, and neither are any of the other freshmen on the roster at this position. The Badgers find themselves an injury away from being in a bad spot up front.
THE NUMBER
20 | Combined starts for freshmen Matt Henningsen, Kayden Lyles and Bryson Williams on the defensive line last season. Henningsen became the first walk-on since at least 1990 to start a season opener as a freshman.
DEFENSIVE BACKS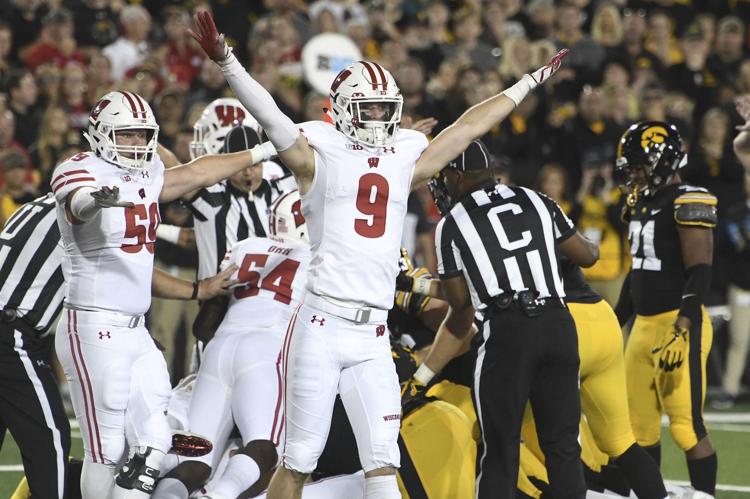 DEPTH CHART
CORNERBACKS
Projected starters
21 | Caesar Williams; 6-0; 188; Jr.; Grand Prairie, Texas
1 | Faion Hicks; 5-10; 185; So.; Miami
Backups
5 | Rachad Wildgoose; 5-11; 197; So.; Miramar, Fla.
8 | Deron Harrell; 6-2; 182; So.; Denver
The rest
4 | Donte Burton; 5-10; 180; Fr.; Loganville, Ga.
11 | Alexander Smith; 5-11; 182; Fr.; Culver City, Calif.
26 | Travian Blaylock; 5-11; 200; Fr.; Humble, Texas
27 | Christian Volpentesta; 5-9; 185; Jr.; Highland Park, Ill.
6 | Dean Engram; 5-9; 164; Fr.; Columbia, Md.
24 | James Williams; 5-10; 182; Fr.; Fort Lauderdale, Fla.
20 | Semar Melvin; 5-11; 166; Fr.; Pembroke Pines, Fla.
36 | Kobe Knaak; 5-9; 189; Jr.; Franklin
SAFETIES
Projected starters
9 | Scott Nelson (above); 6-2; 204; So.; Detroit
2 | Reggie Pearson; 5-10; 197; Fr.; Inkster, Mich.
Backups
25 | Eric Burrell; 6-0; 195; Jr.; Severn, Md.
18 | Collin Wilder; 5-10; 194; Jr.; Katy, Texas
31 | Madison Cone; 5-9; 182; Jr.; Kernersville, N.C.
The rest
19 | John Torchio; 6-1; 205; Fr.; Lafayette, Calif.
30 | Tyler Mais; 6-1; 196; So.; Waunakee
12 | Titus Toler; 5-11; 192; Fr.; Long Beach, Calif.
38 | Dante Caputo; 5-11; 181; Fr.; Pittsburgh
THE SKINNY
Every cornerback returns from a group that saw six players start at least one game last season. Caesar Williams, Faion Hicks, Rachad Wildgoose and Deron Harrell all could make a good case as a regular starter, while plenty more promising talents are pushing for snaps behind them. Safety also stands out as a deep group. Eric Burrell may continue to challenge Reggie Pearson for a starting role alongside Scott Nelson. Houston transfer Collin Wilder should play a role after sitting out last season, and Madison Cone will help in nickel packages after moving from cornerback to safety this offseason.
GLASS-IS-HALF-FULL FORECAST
The cornerbacks, who mostly played well down the stretch last season, go up a level as a group and become a strength of the team. Nelson and Pearson fit well together as a pair, and competition from Burrell and Wilder push them to improve further. Cone makes a smooth transition and finds a role in the defense.
GLASS-IS-HALF-EMPTY FORECAST
The cornerbacks, still a relatively young group, don't progress as expected and put together an up-and-down season. A starting role comes too soon for Pearson, who experiences some growing pains. Wilder shows some rust after nearly two years away from the field, and Cone never quite fits in as a safety.
THE NUMBER
0 | Amount of senior defensive backs on the roster.
SPECIALISTS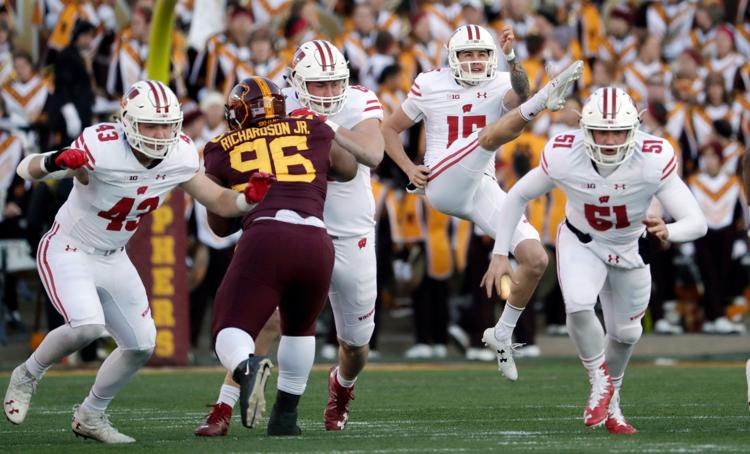 DEPTH CHART
KICKERS
Projected starter
19 | Collin Larsh; 5-10; 184; So.; Marshall
Backup
39 | Zach Hintze; 6-0; 190; Sr.; Fond du Lac
The rest
28 | Blake Wilcox; 6-4; 228; Fr.; Wales
PUNTERS
Projected starter
15 | Anthony Lotti; 6-0; 187; Sr.; Flowery Branch, Ga.
Backup
90 | Connor Allen; 6-0; 168; Sr.; New Berlin
The rest
96 | Conor Schlichting; 6-2; 222; So.; Madison
LONG SNAPPERS
Projected starter
51 | Adam Bay; 6-0; 229; Jr.; Mesa, Ariz.
Backup
52 | Josh Bernhagen; 6-2; 241; Jr.; Madison
The rest
63 | Peter Bowden; 6-2; 217; Fr.; San Diego
THE SKINNY
Rafael Gaglianone only converted 10 of 17 field goal attempts last season, and Collin Larsh could potentially improve the kicking game after a solid offseason. Anthony Lotti and Connor Allen split time at punter last season, with Lotti taking over again during the win against Miami in the Pinstripe Bowl after Allen handled punts the previous five games. The Badgers also will look for improvement in that area, as they finished 13th among Big Ten teams in punting average.
GLASS-IS-HALF-FULL FORECAST
Larsh remains consistent the entire season, providing the type of certainty on field goals that Gaglianone did prior to last year. Everything comes together for Lotti, a senior who came to Madison as a highly ranked punting prospect. He puts up his best season and saves the Badgers valuable field position.
GLASS-IS-HALF-EMPTY FORECAST
Larsh's impressive offseason doesn't carry over into actual games — when the stands are full and the pressure's on. Neither Allen or Lotti can separate from the other, and the Badgers remain near the bottom of the Big Ten rankings for punting average.
THE NUMBER
14 | Rafael Gaglianone's 58.8 field-goal percentage last year marked the first time in 14 years that a school kicker failed to reach 60 percent. Mike Allen made 12 of 21 attempts (57.1 percent) in 2004.
Video: Jack Coan and Kendric Pryor talk about South Florida and more