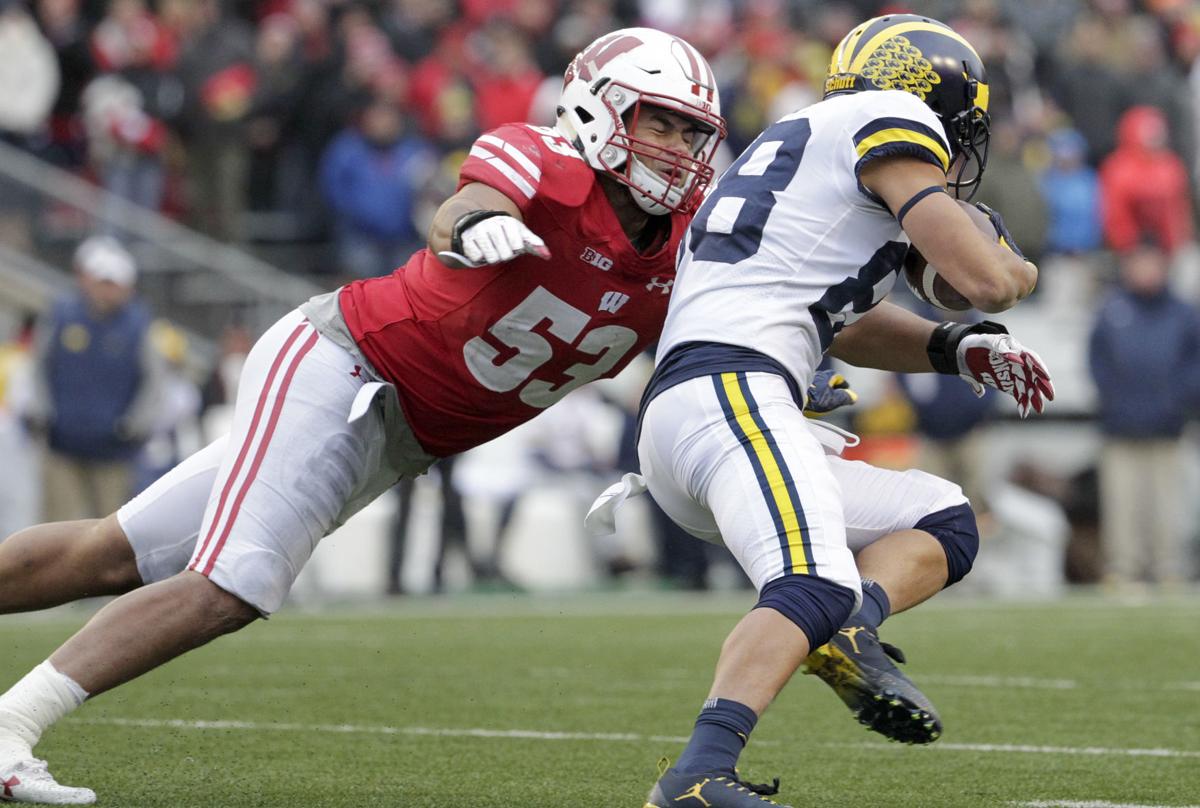 In a pre-draft process often dominated by measurements and decimal points, T.J. Edwards doesn't want to be defined by numbers.
The former University of Wisconsin inside linebacker couldn't participate in drills during last month's NFL Combine due to an ankle injury, making his performance at the Badgers' Pro Day on Wednesday inside the McClain Center all the more important.
Edwards felt his 40-yard dash time of 4.77 seconds came in slightly slower than he's capable of, and draft analysts had already previously raised plenty of questions about the All-American's lack of speed.
After 367 tackles over four years at UW, Edwards isn't overly concerned.
"I'm not going to wow you in a T-shirt and shorts," Edwards said, "but I've always been a guy who, when you put the pads on, I'm the best guy out there. That's what I strive to be. It's one of those things where, I know (NFL teams) are going to watch the tape, and let the chips fall where they may."
Edwards was one of 13 UW NFL Draft prospects to participate in Pro Day, attended by personnel from all 32 NFL teams.
The others were inside linebacker Ryan Connelly, nose tackle Olive Sagapolu, offensive linemen Beau Benzschawel, Michael Deiter, David Edwards and Micah Kapoi, outside linebacker Andrew Van Ginkel, safety D'Cota Dixon, fullback Alec Ingold, running backs Taiwan Deal and Chris James and tight end Zander Neuville.
Former Badgers Rachid Ibrahim and Serge Trezy also competed, as did UW-Whitewater's Nate Trewyn.
While the 40 time wasn't T.J. Edwards' best, he did post some personal-best times Wednesday, per UW. His other numbers included a 32.5-inch vertical and a 112-inch broad jump.
Prior to the Combine, ESPN draft analyst Mel Kiper Jr. noted Edwards likely wouldn't test great but is a "smart, instinctive" linebacker who could come off the board in the third or fourth round.
"It is what it is," T.J. Edwards said of his 40 time. "I ran faster in training, but I'll take it. I've been working really hard on all these things, and I'm just kind of glad that that weight's off my shoulders a little bit."
Safety D'Cota Dixon's 40-yard dash time Wednesday may prove to be much more meaningful. The potential late-round pick posted a 4.62, much better than his official time of 4.81 at the Combine.
Dixon, who spent time this offseason healing ankle and groin injuries, said he ran a 4.62 on his second attempt at the Combine. That time wasn't officially posted, though, and proving himself capable of running the 4.6 range Wednesday could improve his odds of being drafted in April.
"I know what I can run," Dixon said. "If you think that (I'm a 4.8 guy), I'm just going to show you otherwise. I think I did that today — validated two consistent times, and I think that's good enough."
Other notable numbers from Wednesday included a 4.56 40-yard dash from Van Ginkel, who said he has a visit set with the Minnesota Vikings, and 16 bench-press reps by David Edwards.
Edwards, projected as a second- or third-round selection, battled a shoulder injury throughout season didn't bench at the Combine — wanting to wait as long as possible to hit the highest number he could Wednesday.
He said he feels 100 percent healthy but still has more upper-body strength to regain.
"The progress I've made in such a short amount of time is I think really encouraging," David Edwards said. "From where I started in January, being in single digits, to now being 16, I'm going to continue to grow. So I'm not worried about it at all."
New York Giants offensive line coach Hal Hunter conducted a private meeting with David Edwards after his Pro Day workouts. Edwards said the meeting was to test his football knowledge.
Deiter said he also has a visit set with the Giants, and a Pittsburgh Steelers representative who appeared to be watching offensive line drills closely held a conversation with Deiter after his workout.
Sagapolu said he'll visit the Giants and New Orleans Saints in April.
UW to hold open practice instead of spring game
The Badgers will open practice to the public April 13 in Camp Randall Stadium rather than hold a traditional spring game.
UW begins spring practice March 26. Last year's spring game was canceled due to inclement weather.
---
20-yard shuttle: 4.51 seconds
Vertical jump: 26.5 inches
40-yard dash: 4.62 seconds
20-yard shuttle: 4.00 seconds
40-yard dash: 4.77 seconds
20-yard shuttle: 4.15 seconds
You have free articles remaining.
Vertical jump: 32.5 inches
60-yard shuttle: 11.94 seconds
40-yard dash: 4.58 seconds
20-yard shuttle: 4.09 seconds
60-yard shuttle: 11.42 seconds
40-yard dash: 5.47 seconds
20-yard shuttle: 4.94 seconds
Vertical jump: 27.5 inches
20-yard shuttle: 4.53 seconds
Vertical jump: 30.5 inches
40-yard dash: 4.56 seconds
40-yard dash: 4.62 seconds
20-yard shuttle: 4.21 seconds
40-yard dash: 4.56 seconds
20-yard shuttle: 4.29 seconds
Vertical jump: 39.5 inches
Nate Trewyn (UW-Whitewater)
40-yard dash: 5.38 seconds
20-yard shuttle: 4.69 seconds
Vertical jump: 28.5 inches