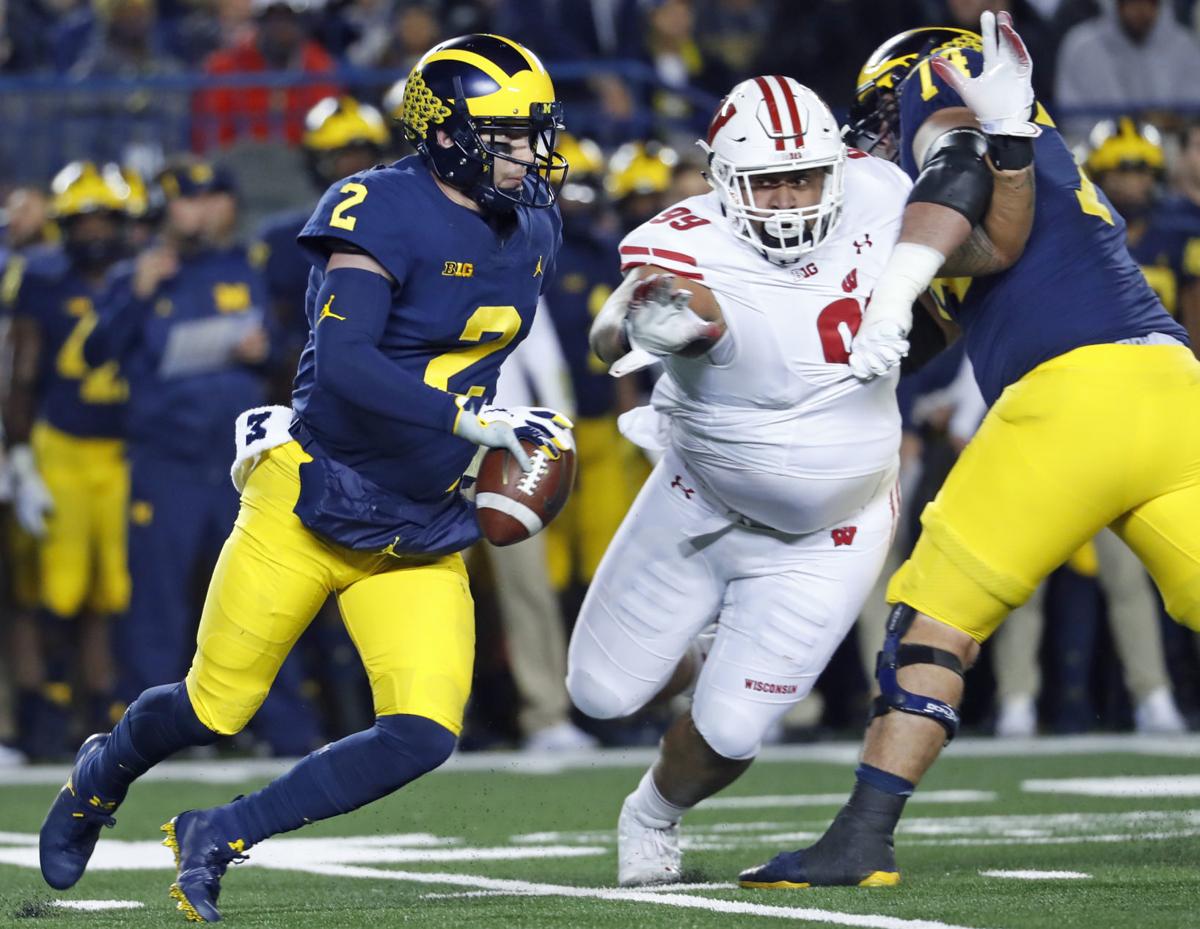 Olive Sagapolu knew it was serious.
When the senior nose tackle walked towards the Ryan Field locker room Oct. 27, as a member of the University of Wisconsin's medical staff held his right arm in place, he only hoped his injury wasn't the type of serious he feared most.
Unfortunately for Sagapolu, that marked the last time he'd ever suit up for the Badgers. He underwent surgery on a dislocated shoulder 11 days later, beginning a four- to six-month recovery timetable that he's still enduring through the NFL's pre-draft process.
"I'm four months out," Sagapolu said. "I'm still trying to get my body where it should be. I've put in a lot of work, a lot of countless hours, to make my body the best it can, try to get in the best shape possible.
"I didn't know it was going to end it so early for me, but whatever's done is done. Now it's time to move forward."
Although his rehab isn't over, Sagapolu is one of 13 Badgers players set to compete in front of scouts at UW's Pro Day on Wednesday in the McClain Center, along with offensive linemen Beau Benzschawel, Michael Deiter, David Edwards and Micah Kapoi, inside linebackers Ryan Connelly and T.J. Edwards, outside linebacker Andrew Van Ginkel, safety D'Cota Dixon, fullback Alec Ingold, running backs Taiwan Deal and Chris James and tight end Zander Neuville.
Former Badgers Rachid Ibrahim and Serge Trezy are also expected to attend, as well as Nate Trewyn of UW-Whitewater.
Sagapolu expects to participate in the three-cone drill, the vertical jump and broad jump, while his involvement in other drills may depend on how his shoulder feels that day.
"I'll make a final decision on Wednesday," he said. "(The injury) set me back a little bit, but I kind of just trusted the process and trusted the training and the rehab. I'm feeling great right now. … Whatever I feel I can do, I'm going to go out and do it the best that I can."
You have free articles remaining.
Sagapolu traveled to San Ramon, Calif., this winter to train and rehab with Dave Spitz at California Strength.
The 6-foot-2, 346-pound American Samoa native likely won't project as a draft selection. His fight to return as healthy as possible by Wednesday could, however, result in a free-agent contract following the seven-round draft that runs April 25-27.
The eight games he played for UW last season before the injury helped his case tremendously. After playing almost strictly nose tackle for the first three years of his career, Sagapolu improved his diet and conditioning last offseason to prepare himself to take on more snaps.
Sagapolu earned extended playing time in UW's nickel package and became more capable of contributing in third-down situations, even leading the defensive line in snaps each of the season's first three weeks.
Despite missing the final five games, Sagapolu ranked third among UW defensive linemen in snaps last year, per Pro Football Focus, and 49.1 percent of those snaps came against the pass.
That newfound versatility could help Sagapolu land a spot on an NFL roster next season.
"This year was probably my best year yet in terms of production," Sagapolu said. "I tried to do the best I could to kind of put everything on the line for my team, and I felt like I did that for (the games) I had left."
Sagapolu said he doesn't believe his talents are limited to a 3-4 defense. He thinks he's also capable of playing defensive tackle in a 4-3 and noted that tape does exist of the Badgers playing with a four-man front.
He's already spoken to a couple teams, but the conversations were more introductory than how he would fit in a particularly scheme.
For now, he's just focused on doing whatever he can Wednesday, potentially in front of scouts from all 32 NFL teams, to prove he can be an asset at the next level.
"I'm nervous, excited," he said. "All the guys (UW's other NFL prospects), we text every once in a while, just kind of checking up on each other. We're all excited to get back to Madison and showcase what we can do."