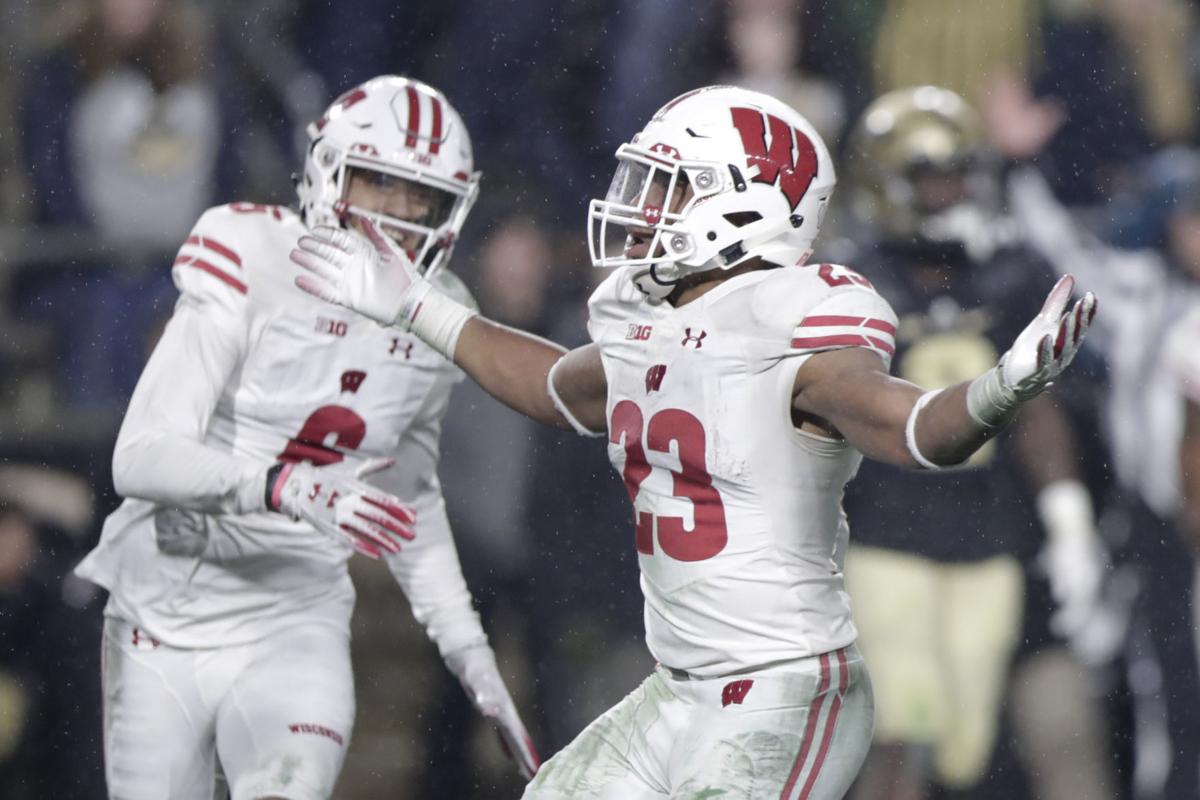 Jonathan Taylor's statistics from Saturday's 47-44 triple-overtime victory over Purdue, as impressive as they are, don't quite do justice to his legendary performance at Ross-Ade Stadium.
The University of Wisconsin's sophomore running back rushed for 321 yards and three touchdowns on 33 carries. Per Pro Football Focus, his 4.73 yards after contact per attempt brought his FBS-leading after-contact total to 1,109 on the year. He ripped off eight runs of 10 yards or more and avoided 13 tackle attempts.
His afternoon wasn't necessarily about big plays, whether it was his 80-yard touchdown or even his two scores in overtime. Taylor seemed to gain extra yards on nearly every one of his 21 post-halftime carries, completely taking over the game and briefly transforming UW's struggling offense into a juggernaut.
Many of his most impressive runs came from the 25 carries that went for less than 10 yards, when he often made something out of nothing to either grind out a first down or keep the Badgers in a favorable down-and-distance.
How did he manage to gain three yards on that last play?
Taylor showed everything in this game — strength, speed, elusiveness, patience, vision. He even threw in a couple rare blocks in pass protection. Taylor had zero negative runs Saturday, and 27 of his 33 carries went for at least three yards. Two of the six that didn't came when the Badgers were backed up on their own goal line.
No one could stop him from picking up the yardage he needed. On multiple occasions, defensive linemen were dragged five or more yards downfield trying to bring Taylor to the ground.
The move he puts on linebacker Markus Bailey, a Butkus Award semifinalist, around the 43-yard line in the second video above is straight-up nasty, and he does it while keeping enough momentum to lug defensive end Kai Higgins seven or eight more yards downfield.
"He can carry his speed," UW offensive coordinator Joe Rudolph said. "That's two different things, right? I can be fast, and if something hits me I can be deflective or I can decelerate quickly. He carries his speed. … I think (that) really allows him to run through traffic at times, run through those arm tackles."
Particularly in the fourth quarter and overtime, many of Taylor's runs came out of the shotgun formation, something we haven't seen much of from him this season.
Once the Badgers' passing game proved at least mildly capable of threatening downfield, this tweak opened up significantly more room for Taylor to maneuver. Giving him the ball on an outside zone out of that look allowed him to either use his speed to beat defenders to the edge or cut upfield whenever he found an opening in a defense stretched much wider than when UW gives Taylor an I-formation handoff out of 22 personnel.
Most would still rank Melvin Gordon's game against Nebraska in 2014, a 408-yard masterpiece in three quarters of play, as the greatest-ever by a Badgers running back. I certainly can't disagree, but Taylor's performance was different in that UW needed all 321 of those yards to win.
If the Badgers were still in College Football Playoff contention, this game could have legitimately altered the Heisman Trophy race. Even so, Taylor may have earned himself a last-minute invitation to New York as a finalist for the award, and it would be well-deserved if he does.
— Redshirt freshman Logan Bruss, who's enjoyed some promising moments as a blocking tight end this season, performed quite well filling in at right tackle for the injured David Edwards, and he threw some key blocks down the stretch of the fourth quarter and overtime.
You have free articles remaining.
In the clip below, Bruss leverages himself inside a defensive end who's lined up closer to right guard Beau Benzschawel than himself — a very difficult task that requires him to be quick out of his stance and precise with his first step.
With UW more spread out in 12 personnel, Purdue's in nickel with only two defensive linemen on the field. The outside linebacker has a responsibility to stay at home here, and Bruss' ability to shield off a three-technique (rather than the five-technique you may see from an end in a three-man front) allows Benzschawel to clear out someone else at the second level.
Bruss succeeds in doing the same thing on Taylor's 22-yard run that opened the second overtime. While this one's not quite as clean, he does just enough to get the job done and spring Taylor.
He deserves some credit for the game-winner as well. His block gives Taylor a lane to cut upfield, and he even kind of takes two guys out of the play (albeit unintentionally).
It wasn't perfect, of course. Bruss struggled a couple times to lock onto linebackers, and he committed a few mental errors. Along with his false-start penalty (who hasn't had one of those this season?), it appeared he took the wrong defender on Jack Coan's red-zone sack late in the second quarter.
Check out the clip below to see fullback Alec Ingold go straight after the player Bruss is already blocking before looking around confused. If you keep watching after the sack, you'll see Ingold scolding Bruss, presumably about taking the wrong guy.
"You're doing that tight end position in and out, and (at right tackle) you've got to stay out there," Rudolph said. "So if something doesn't go well, you've got to fight through it the next play. I thought he did that. I thought he stepped up."
On the whole, this stands as a really encouraging performance for the redshirt freshman. The Badgers have liked him for a while now, and with another offseason of growth he could provide a better-than-solid replacement for Edwards if he opts to leave a year early for the NFL.
— I wish I had more time to get deep into the play of UW's linebackers because they were at their very best Saturday.
Andrew Van Ginkel was unbelievable and made you wonder what kind of season he may have produced without the ankle injury. His tackle on Markell Jones at the 1-yard line with the score at 24-13 (even if he could have done better to not give Jones the edge initially) was one of multiple plays from the linebackers that helped save this win. If he's just a quarter-step slower, the Boilermakers go up three scores and the game's practically over.
That set up this third-and-goal play that Ryan Connelly read perfectly and T.J. Edwards helped finish off.
Edwards played one of his best games of the season (which is saying something) and put together his fourth double-digit tackle performance in the past six weeks.
Among his likely forgotten plays was a third-and-10 screen pass early in the fourth quarter that he recognized early and blew up. And, of course, his day included this beauty from the Badgers' other goal-line stop at the end of the first half.
Although perhaps overshadowed by Van Ginkel, Zack Baun continued to make some huge plays this week. It's just rather unfortunate for UW fans that he's the only one of the four who will return next season.
Here are a couple other notes after re-watching Saturday's thrilling comeback.
— Although Faion Hicks experienced somewhat of a nightmare in West Lafayette, I still really like his long-term outlook. He maintained tight coverage on a lot of the deep passes he surrendered and just didn't get his head around in time. Hicks had started to play really well prior to this week, and he's still only a freshman. You should definitely not give up on him becoming a big-time player here.
— At least five cornerbacks — Hicks, Rachad Wildgoose, Deron Harrell, Madison Cone and Caesar Williams — saw fourth-quarter and/or overtime snaps, and true freshman Donte Burton actually started the game. Jim Leonhard's trusting a lot of these young guys in big spots, and it could really pay off in a year or two. Kudos to Harrell for making two straight breakups that forced a punt at the UW 40-yard line with 2:08 left.