Some of the people closest to Bret Bielema had absolutely no idea before the news broke on Tuesday afternoon that the University of Wisconsin football coach was leaving for Arkansas.
The news stunned not only Badgers fans but several people in Bielema's inner circle.
Bielema, 42, had a 68-24 record in seven years as head coach at UW and led the team to a school-record third consecutive Big Ten Conference championship this season, with a third straight appearance in the Rose Bowl coming Jan. 1 against Stanford.
One person close to Bielema used the word "blindsided" to describe the reaction of people inside the UW athletic department to the coach's departure.
That source, and three other sources within the athletic department or affiliated with the football program cited in this report, spoke on the condition of anonymity because at the time the schools had not yet officially announced Bielema's move.
Count UW athletic director Barry Alvarez — who handpicked Bielema as his successor on the sidelines, starting in the 2006 season — among those caught off guard.
"I was very surprised when Bret told me he was taking the offer from Arkansas," Alvarez said in a statement. "He did a great job for us during his seven years as head coach, both on the field and off. I want to thank him for his work and wish him the best at Arkansas."
Bielema met with Badgers players and staff at the football offices on Tuesday evening to explain his decision.
"I'm surprised," said Travis Frederick, a co-captain and the starting center, "but it's a great opportunity for him and I think he's going to do a great job there."
How do you rate Bret Bielema's tenure with the Badgers?
Alvarez has 'short list' of candidates
Bielema will not coach the Badgers in the Rose Bowl, standout running back Montee Ball confirmed. One UW source said defensive coordinator Chris Ash would likely coach the team against Stanford, provided Ash did not leave for North Carolina State. Former UW defensive coordinator Dave Doeren was recently named the head coach of the Wolfpack and is one of Ash's closest friends.
Bielema is not expected to take any current assistants with him, because he does not want to further disrupt the program, according to a source. Another source said Bielema might take one person off the current staff.
Alvarez left for an awards banquet in New York City on Monday with a short list of coaching candidates to succeed Bielema, a source said. Alvarez did not immediately return a message left with him seeking comment, but addressed the subject in his statement.
"I have a responsibility to our student-athletes, our football family and our fans, one that I take very seriously," he said. "It is my responsibility to ensure that the football program continues at a high level, and I have already started the process of trying to find a new head coach.
"Along with finding a new coach, my other main objective is to make sure that our student-athletes, specifically our seniors playing in their final game as Badgers, have a tremendous experience in the Rose Bowl. We will do everything within our power to make that happen."
Most of the immediate speculation centers around former UW offensive coordinator Paul Chryst, who is finishing up his first season as the head coach at Pittsburgh.
However, Chryst said in a statement released Tuesday evening he is "committed" to Pitt, which he guided to a 6-6 record and a berth in the BBVA Compass Bowl in Birmingham, Ala., against Mississippi on Jan. 5.
"I understand the speculation surrounding my name given today's developments. I am committed to the Pitt football program and the University of Pittsburgh," said Chryst, a Madison native who played for the Badgers and served eight years as an assistant coach for the Badgers in two stints.
"I am focusing all my time and energy on our team's bowl game preparation and recruiting a great group of young men to join our program and this outstanding university. We are working hard every day to re-establish this program and I am excited about the future of Pitt football."
SEC, money a lure for Bielema
Bielema's agreement with Arkansas came together in less than 24 hours, according to multiple sources.
As recently as Friday — before the Badgers' 70-31 win over Nebraska in the Big Ten Conference championship game — Bielema expressed his excitement for next year's team.
"As the head coach, I know in year seven, I'm better than I was in year one," he said. "We've had a lot of success. So, I'm excited.
"I'm really excited to play this game and play in our bowl game. I have 27 juniors. I believe 12 of them are probably going to be (NFL) draft-worthy. I'm very excited about the chemistry of the group that's going to be coming back next year."
Bielema is making $2.7 million this season at UW. Arkansas will pay the $1 million buyout on the remainder of his contract, which ran through the 2016 season.
The Razorbacks are desperate to repair the damage done from their last two hires. Bobby Petrino was fired in April for misconduct. He made $3.56 million annually as part of a seven-year contract signed in 2010, according to reports.
John L. Smith was hired to succeed Petrino on an interim basis. The Razorbacks, who had won a combined 21 games the previous two years, finished with a 4-8 record in 2012 and Smith was relieved of his duties.
Having a better chance to win a national title also was a motivating factor for Bielema, Ball said. Arkansas is a member of the Southeastern Conference, which has produced the last six national champions.
Arkansas, which competes in the loaded West Division against the likes of Alabama, LSU and Texas A&M, has yet to win an SEC title since coming over from the former Southwest Conference in 1992, losing all three of its appearances in the league title game.
The Razorbacks are upgrading their infrastructure, with an 80,000-square-foot football operations center currently under construction, and are looking into expanding the 72,000-seat Razorback Stadium.
"Bret Bielema is an exceptional leader of young men and an outstanding football coach who has proven his program is centered on establishing an unshakable foundation that emphasizes the development of each student-athlete as an individual," Long said.
"Coach Bielema has led his team to a historic run of championships while seeing a record number of student-athletes recognized for academic achievement. Throughout his career, he has demonstrated a commitment to competing for a national championship with a program known for discipline, honesty and integrity. His tough, aggressive style of play has been successful and will be appealing to student-athletes and Razorback fans.
"He not only shares the vision and values for the future of Arkansas football, he embraces them."
Bielema is expected to be officially introduced as the Razorbacks' 32nd coach Wednesday. He did not respond to attempts to contact him, but was quoted in the statement released by Arkansas.
"I am very humbled and honored to become the head coach of the Arkansas Razorbacks," Bielema said. "During my conversation with Jeff (Long) he described the characteristics for the perfect fit to lead this program. It was evident we share the same mission, principles and goals.
"The infrastructure in place at Arkansas shows the commitment from the administration to accomplish our goals together and I am excited to begin to lead this group of student-athletes. This program will represent the state of Arkansas in a way Razorback fans everywhere will be proud of."
Fans lukewarm on Bielema
Bielema was contacted by an NFL team after the 2011 season and was close to leaving, according to a source. But that source also said Bielema confirmed his desire to be at UW prior to this season.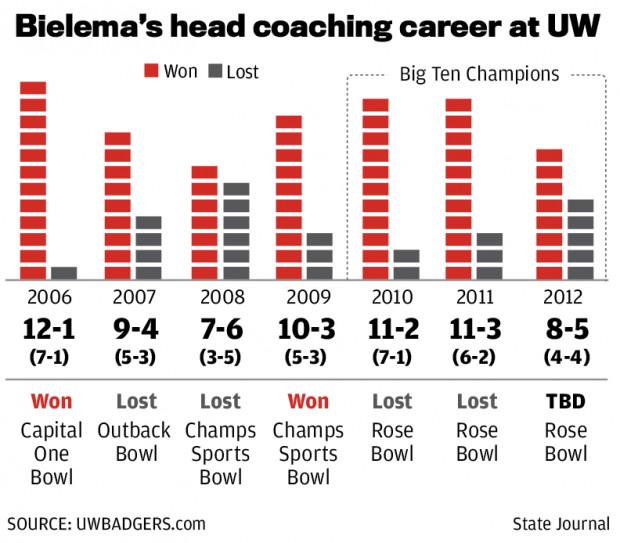 The source said Bielema told him in July, "I'm not going anywhere. I've got two houses in that town (Madison). We love it. We're not going anywhere."
Bielema married the former Jen Hielsberg on March 10, and they maintained ownership of both their residences.
Bielema has repeatedly talked about his excitement for next year's team, including during a press conference last Friday before the 70-31 win over Nebraska in the Big Ten Conference championship game.
"As the head coach, I know in year seven, I'm better than I was in year one," he said. "We've had a lot of success. So, I'm excited.
"I'm really excited to play this game and play in our bowl game. I have 27 juniors. I believe 12 of them are probably going to be (NFL) draft-worthy. I'm very excited about the chemistry of the group that's going to be coming back next year."
Former UW defensive tackle Patrick Butrym said he doesn't think Bielema always received the credit he deserves from Badgers fans.
"I think in the past, he's kind of gotten a bad rap and people have kind of unnecessarily brought the hammer down on him," Butrym said. "I think he's a great coach; I think he's a great guy.
"You see the reaction from a lot of players (on Twitter). A lot of guys are disappointed, but also really happy for him, for this opportunity. It's an SEC job; I don't know if it's a better job."
As successful as Bielema has been, a portion of Badgers fans has never quite embraced him. He is viewed by some people as being brash, or even cocky. He was criticized at times last season for running up the score on opponents.
Bielema has also had public spats with rival coaches, notably former Minnesota coach Tim Brewster and current Ohio State coach Urban Meyer.
Butrym said part of the problem is Bielema followed a legend in Alvarez. Also, the goodwill generated by Big Ten titles the previous two years was depleted somewhat by close losses in both Rose Bowls, to TCU and Oregon.
"I think it's unfair to compare him to Barry Alvarez," said Butrym, a senior on last year's team. "I think people can be so impatient. He's done an unbelieveable job, carried on the tradition.
"Everyone bashes him for losing two Rose Bowls, but I don't think people appreciate how hard it is to get to two Rose Bowls."
Former UW safety Aaron Henry, who also was a senior on last year's team, said the damage done to the program by Bielema's departure could be lessened considerably if the school is successful in bringing back Chryst.
"That would definitely make up for it," Henry said. "Past and present players love coach Chryst. Great, great, great dude."