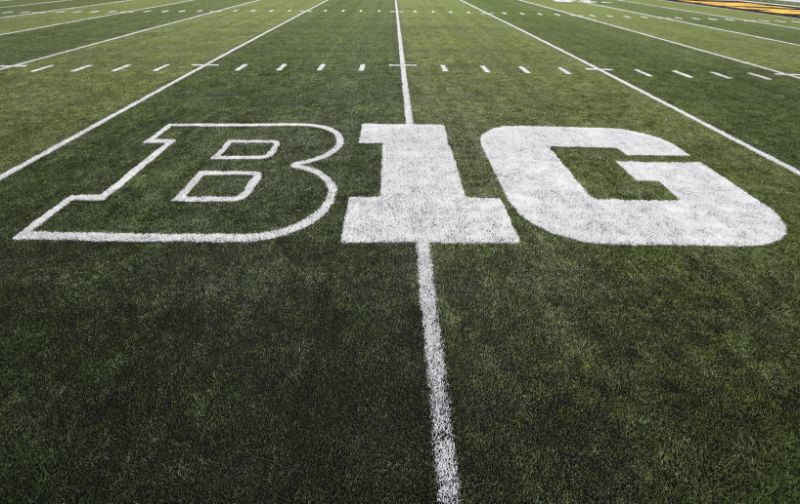 After a tumultuous weekend and start to the week, the Big Ten Conference wants more time before football teams take the field.
The conference decided — after meetings between presidents and athletic directors, and outcry from players, coaches, politicians and fans — to cancel the fall football season Tuesday and attempt to move it to the spring semester due to the COVID-19 pandemic.
The Big Ten also canceled the fall seasons for volleyball, field hockey, men's and women's soccer and men's and women's cross country. These decisions will affect about 240 University of Wisconsin student-athletes.
The UW football team, which began its training camp Monday, obviously won't start its season against Indiana on Sept. 4 as previously scheduled, and will have to wait for the conference's spring plan to know when or if it'll play this academic year.
"As time progressed and after hours of discussion with our Big Ten Task Force for Emerging Infectious Diseases and the Big Ten Sports Medicine Committee, it became abundantly clear that there was too much uncertainty regarding potential medical risks to allow our student-athletes to compete this fall," Big Ten Commissioner Kevin Warren said in a statement.
Multiple reports Monday stated Big Ten leaders had voted to cancel the football season this fall, with national radio host Dan Patrick reporting that only Iowa and Nebraska voted to play. A Big Ten spokesperson denied such a vote had taken place.
After conference athletic directors met Monday night and Tuesday morning, the decision was made to cancel the fall season and attempt a spring season.
"There's so much uncertainty. As we asked questions two weeks ago, some questions were answered, but then you ask more questions and maybe those questions are answered, but then there's new questions, and then you ask questions even today," Warren said on the Big Ten Network.
The Big Ten was the first Power Five conference to punt on the fall season, but the Pac-12 followed suit Tuesday afternoon, going so far as to push the start of any sport to Jan. 1. The Big Ten and UW statements said medical professionals will continue to evaluate if winter sports can start as scheduled. The Big 12, ACC and SEC are all on board to try to play football in the fall.
Alvarez weighs in
In an interview with BTN on Tuesday afternoon, Badgers athletic director Barry Alvarez said fall sports can continue with a 20-hours-per-week schedule of team practices with hopes that spring play is possible.
"The decisions made, no one likes them," he said. "But we're in a pandemic. And it's very difficult to play sports and have answers to all these questions when your No. 1 concern is the health and safety of the student-athletes and everyone associated with the program."
Alvarez said playing football in the spring has been the subject of only limited discussion with other athletic directors to date.
"I think that's something that we owe our student-athletes to look into to see if it makes sense," he said.
Alvarez said one thing has never been discussed in the athletic department's considerations of how to deal with a revenue drop that could exceed $100 million without football: cutting any of the department's 23 sports programs.
"And I hope it stays that way," he said. "... I will try to get through this without eliminating sports."
UW hasn't deleted a sport from its program since the cuts of baseball, men's and women's gymnastics and men's and women's fencing in 1991 to address a budget deficit.
Alvarez said the belt-tightening for UW will be significant and involve layoffs.
Heart complications
The Big Ten released its conference-only football schedule last Wednesday, but conference presidents met multiple times over the ensuing weekend to discuss the viability of the season. The about-face is in part due to medical studies that detail the damage the COVID-19 infection can do to the heart muscle, even if the person's COVID-19 symptoms didn't require hospitalization.
COVID-19 can cause inflammation of heart muscle tissue, a condition called myocarditis, which can weaken the heart, leading to heart failure, abnormal heartbeat and death. An ESPN report on Monday stated at least five Big Ten athletes have been diagnosed with myocarditis. The long-term effects of COVID-19 — myocarditis or otherwise — has cast doubt on whether it's right to play a college football season. Warren said on BTN that myocarditis was a factor in the conference's decision, but not the primary one.
"Today's decision by the Big Ten to postpone the fall 2020 sports season is the correct one," read a letter from UW Chancellor Rebecca Blank and Alvarez. "It was made with the input of medical professionals and with the best interests of student-athletes, fans and staff at its core. Athletic Department staff have worked incredibly hard to create as safe an environment as possible for our teams to practice and prepare for the season, but there is simply too much unknown risk for us to proceed with the confidence we need to launch our sports seasons."
Programs also face liability concerns. Some have suggested having players opt into the season and sign waivers clearing their schools of liability, but the NCAA banned such waivers last week, and there's a question if they'd hold up to legal scrutiny if permitted. The NCAA Board of Governors also stated schools must cover COVID-related medical expenses for student-athletes to prevent out-of-pocket costs, but how long that coverage extends wasn't defined.
Many want in
While delaying the start of the season affords players and coaches the chance of playing this academic year, some programs are pushing to play outside of the conference this fall. Nebraska coach Scott Frost said Monday his team would explore options outside the conference if the Big Ten didn't play this fall, and Warren didn't directly answer questions on the topic during his BTN appearance.
"We have 14 institutions in the Big Ten Conference, and we've been together," Warren said. "I plan for us to continually be together and work collectively to make sure that we're doing everything that we possibly can to make sure that we keep our conference strong."
The Big Ten and the NCAA still face myriad questions about a spring season, including how it would affect players' eligibility.
A number of Big Ten players have already opted out of the season, but potentially playing in the spring — when eligible prospects are typically preparing for the NFL draft — could further reduce Big Ten rosters.
State Journal reporter Todd Milewski contributed to this report.
Ain't no way we play in the spring then turn around and play in the fall. Our bodies won't last, stop getting people hopes up.

— Faion Hicks (@Faion_Hicks) August 11, 2020
Let me take a wild guess... hmmm they want us to play in the spring & fall.. I wonder why?

I'm not the smartest man but they want that cash flow 2for 1 special 😣

— Eric Burrell (@EricBurrell_) August 11, 2020