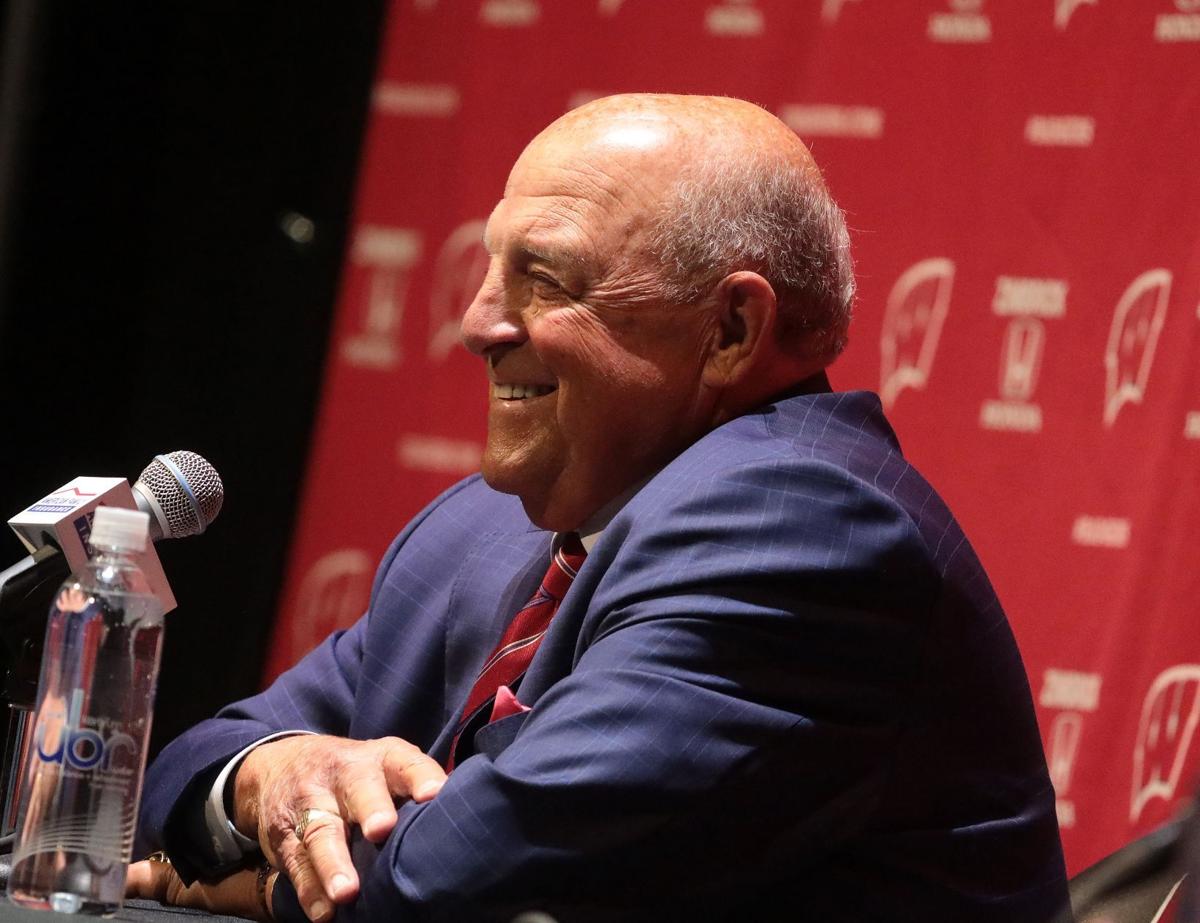 While making small talk prior to Barry Alvarez's retirement ceremony Tuesday afternoon at the Kohl Center, Matt Lepay tried to get a feel for how the longtime University of Wisconsin athletic director was feeling on what could have been an emotional day.
"Hey," Lepay said, "this will be fun, right?"
Alvarez's reaction told Lepay, who was serving as emcee, everything he needed to know.
"That," Alvarez said, "is exactly what I had in mind."
Alvarez did his part to keep the mood light during an event that lasted more than 90 minutes and began with Lepay, the Badgers' play-by-play announcer for football and men's basketball, referring to it as a "day of celebration."
Less than a week earlier, Alvarez had watched North Carolina men's basketball coach Roy Williams break down multiple times at a news conference announcing his retirement. Alvarez wanted his to be a more joyous occasion.
"There'll be plenty of time for me to get emotional," he said.
Alvarez later admitted he'd been contemplating retirement for some time. He was set to step away in January but met with UW-Madison Chancellor Rebecca Blank and told her he wanted to delay the decision because of the COVID-19 pandemic and the difficult position his successor would step into.
Blank agreed, and Alvarez's official last day on the job will be June 30.
"I think hopefully we're past the (worst) part of it and we're seeing some progress and moving forward," Alvarez said of the pandemic. "I just think it's time. I'm 74 years old. I've had a good run. It's just time to pass the baton."
After opening remarks by Lepay, Blank and Gov. Tony Evers, it was Alvarez's turn at the podium and he turned that session into a series of stories while thanking those who had helped him arrive at this point.
Lepay wondered if Alvarez's composure would be tested when he brought up his wife Cindy — the two will celebrate 53 years of marriage later this month — near the end of his speech. Instead, Alvarez told a story that drew big laughs from a crowd that included UW staffers, his family, friends and former players.
Alvarez and his wife had flown to Orlando, Florida, in late 2005 for a Capital One Bowl news conference. It was set to be Alvarez's final game after 16 seasons leading the Badgers, who were big underdogs to No. 7 Auburn.
As they were leaving the news conference, Cindy Alvarez grabbed her husband's arm and delivered some blunt feedback.
"Great job today, media loves you," she said. "Probably going to get your ass beat, but the media loves you."
UW, of course, sent Alvarez out a winner with a 24-10 victory over the Tigers.
Watching from home Tuesday was UW deputy athletic director Chris McIntosh, who was quarantining due to positive COVID-19 tests in his family. What McIntosh witnessed on television were some of the things that have always impressed him about the man he played for and now works under: his confidence and ability to carry a room.
When Alvarez was asked what he'd like to be remembered for, he said as "the guy who backed up what he promised."
"He went out like he came in," McIntosh said. "Today was kind of a reconciling of where Wisconsin athletics is today compared to where it was in 1990. Barry is responsible for a lot of that. There are other people — Pat Richter and Donna Shalala — and those folks get a lot of the credit along the way and should. But today was a day to honor Barry and so much of what happened here is because of him and he's deserving of that recognition."
For three-plus decades, Alvarez has been in the spotlight at UW either as a football coach or an athletic director. While he said he plans to do more traveling and spending time with his grandchildren, it's hard to imagine Alvarez making a clean break to a quiet life of retirement.
"I will miss being in the middle of the fray," Alvarez said. "I'll miss that, but I've already had people call me that want me to consult with them and help. So I'll keep my finger in the pot."
Alvarez will keep a residence in Madison, sticking to a plan he and Cindy made back in 1990 when UW came calling and he took over a major rebuilding job. Back then, Alvarez didn't want to be a coaching vagabond who packed his bags after a few years and moved to a new job.
The Alvarez family wanted someplace to call home, and they found it.
"I love this place," he said.
---
Final countdown: Breaking down Barry Alvarez's career by the numbers
119 | Wins as football coach
Alvarez picked up the first of his program-leading 119 victories at UW on Sept. 15, 1990, when the Badgers defeated Ball State 24-7 (above) at Camp Randall Stadium for their sole win of his inaugural season as head coach. His final win would come on Jan. 1, 2015, when he stepped in to lead UW to a 34-31 victory over Auburn in the Outback Bowl a month after Gary Andersen left the program for Oregon State. 
73 | Conference championships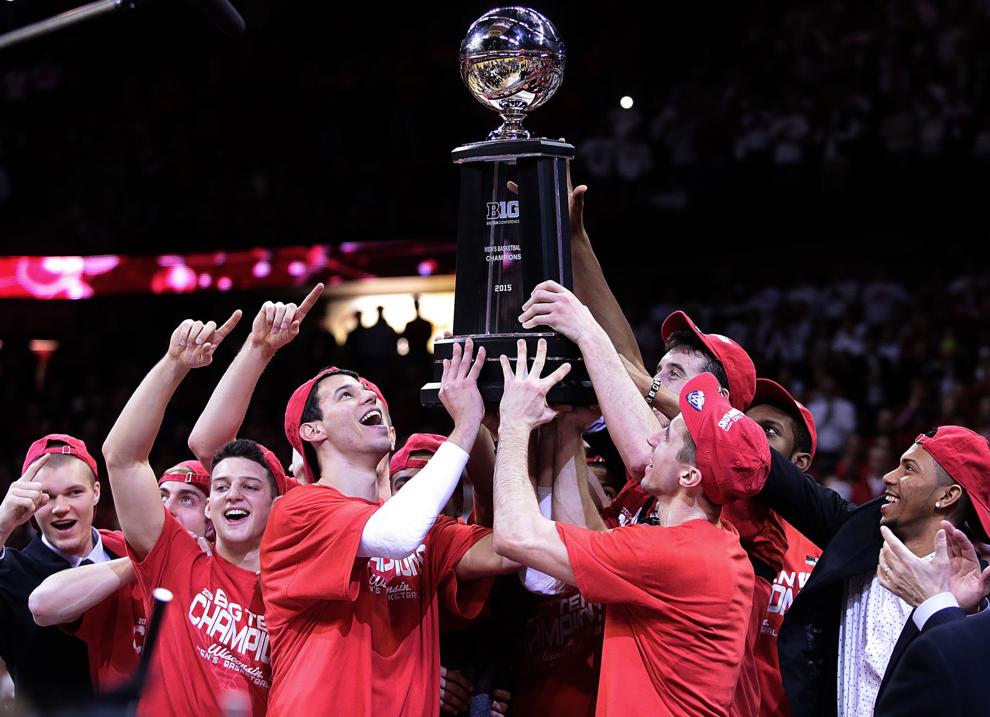 The Badgers won 73 conference championships (regular season and tournaments combined) during Alvarez's tenure as athletic director. 
ABOVE: UW men's basketball players celebrate their Big Ten Conference title following their 68-61 win over Michigan State at the Kohl Center March 1, 2015. The Badgers added the conference tournament crown exactly two weeks later with an 80-69 overtime win over Michigan State at the United Center in Chicago.
26 | Players suspended in Shoe Box scandal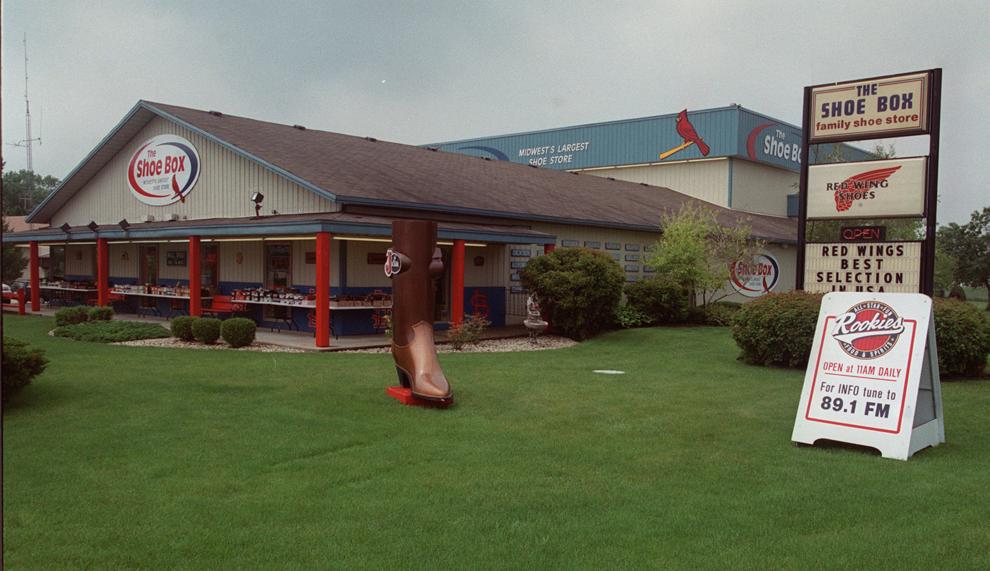 The NCAA suspended 26 of Alvarez's players for having accepted improper discounts from The Shoe Box (above), a discount retail store in Black Earth, forcing Alvarez to shuffle his lineup during the first four games of the 2000 football season. 
17 | Years as athletic director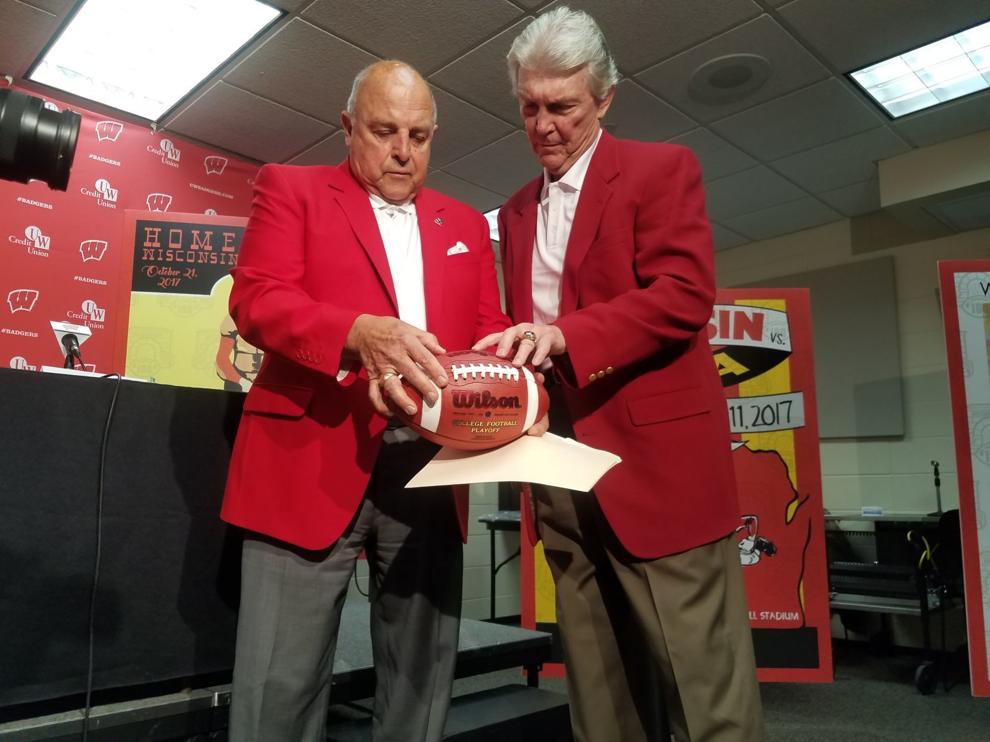 Taking over the job from Pat Richter (above right) in April 2004, Alvarez would go on to serve 17 years as athletic director at UW before announcing his retirement in April 2021. 
16 | National championships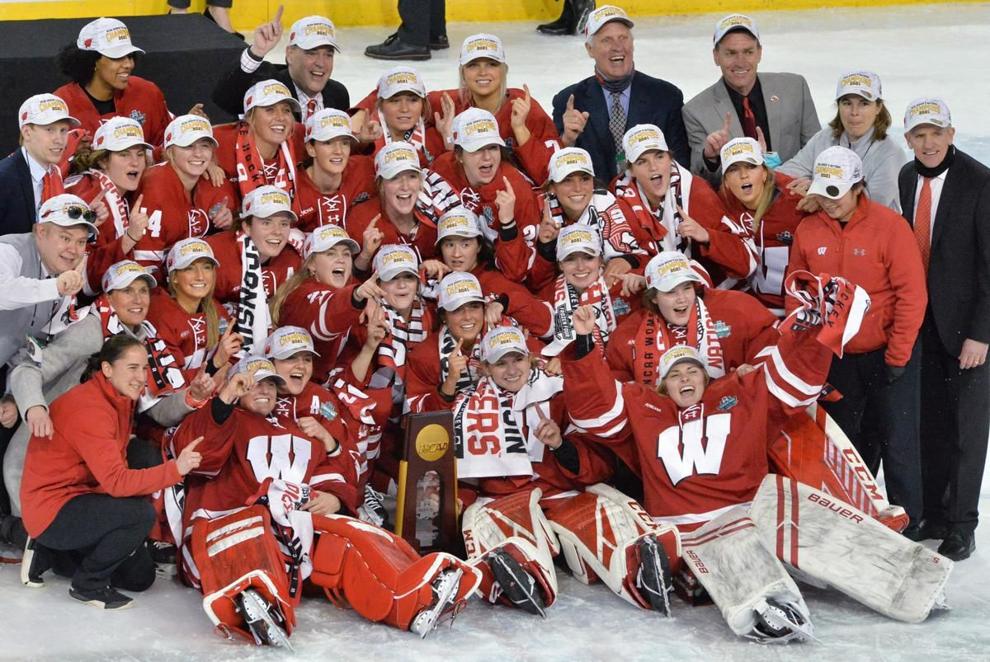 Alvarez's tenure as the athletic department's leader saw success across a number of programs, with 16 teams winning national championships, including six in women's hockey — with the most recent one (above) coming just this March — and five in women's lightweight rowing.
15 | Consecutive years of football bowl and men's basketball NCAA berths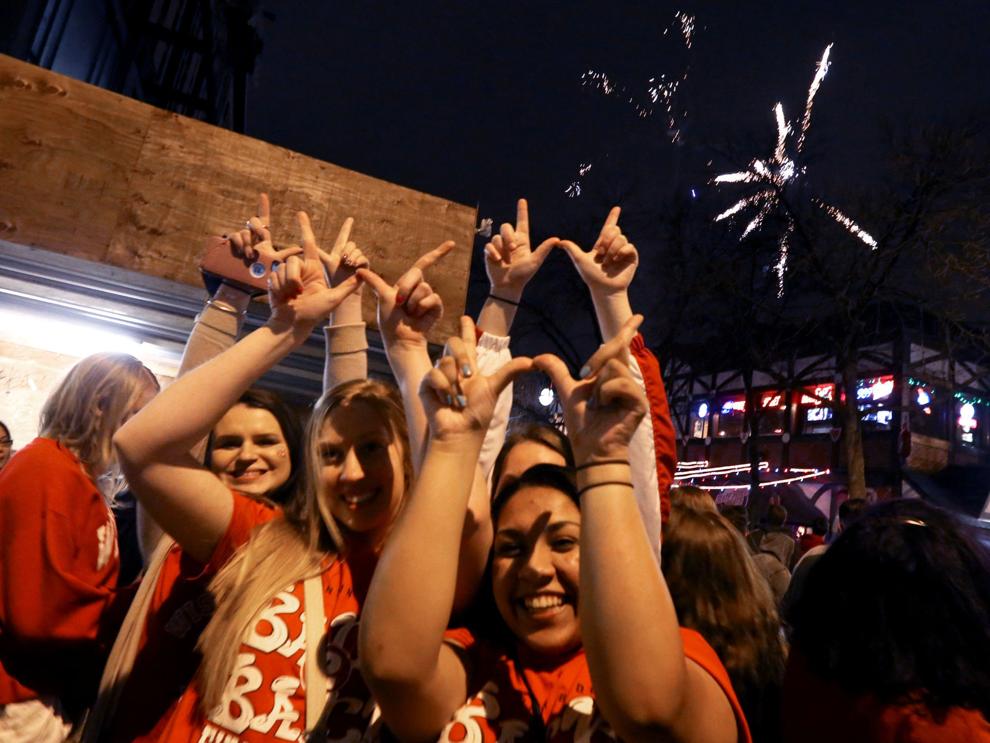 During Alvarez's tenure as AD, the Badgers football and men's basketball programs produced 15 consecutive years of playing in a bowl game and reaching the NCAA tournament, setting an NCAA record.
ABOVE: Badgers fans celebrate on State Street in Madison following the UW men's basketball team's NCAA National Championship loss to Duke April 6, 2015.
13 | Bowl appearances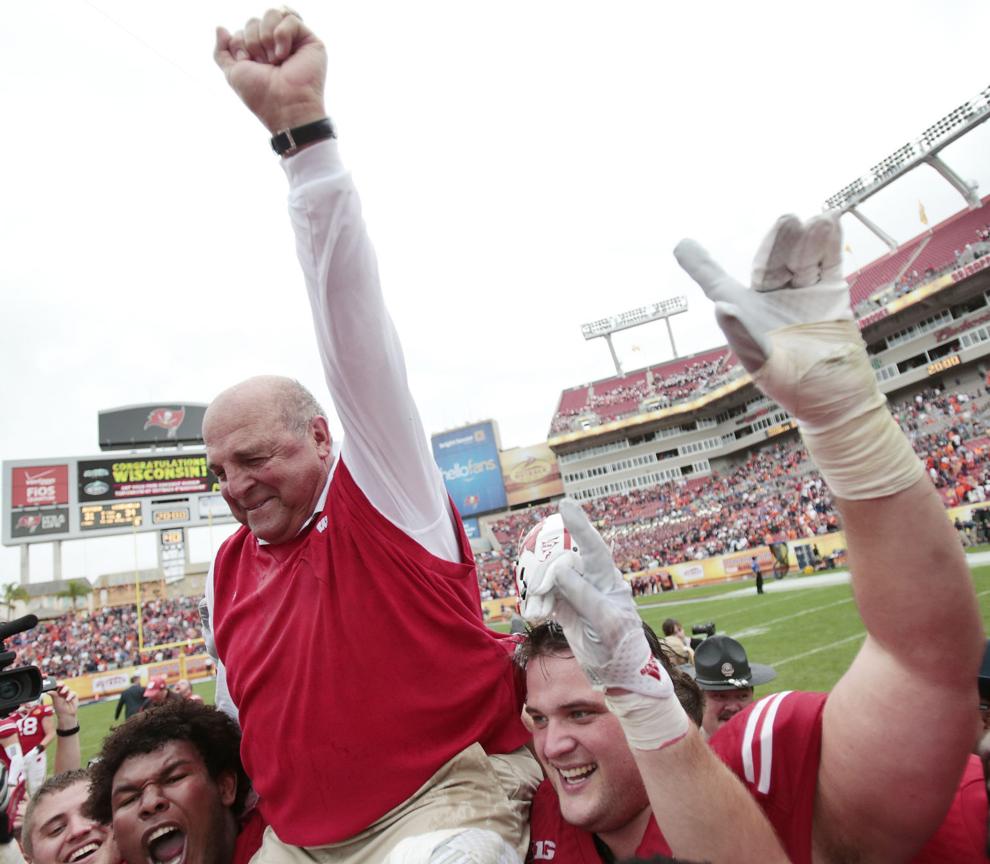 Alvarez lead the football team in 13 bowl appearances, including a final turn during the 2015 Outback Bowl (above) when he served as interim head coach after Gary Andersen left the month before to coach at Oregon State. 
9 | Bowl victories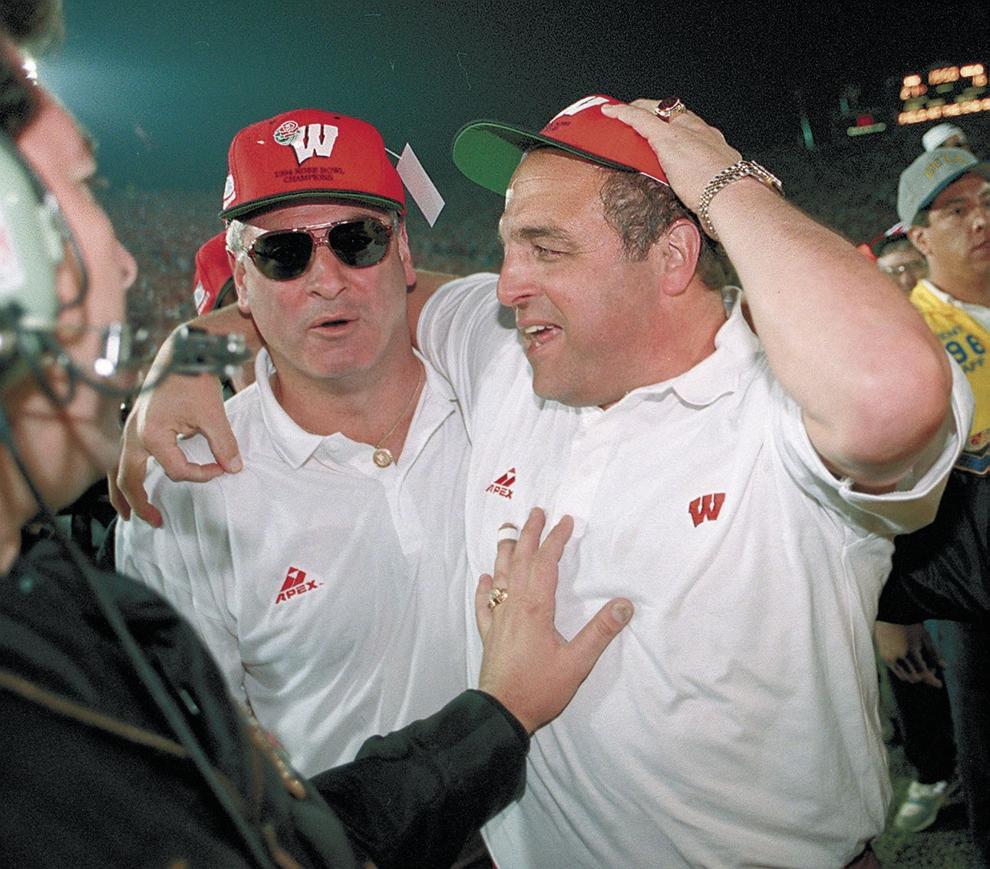 In his 13 bowl appearances, Alvarez came away with 9 victories, starting with the 1994 Rose Bowl (above), when UW took down UCLA 21-16 in Pasadena, Calif. 
3 | Rose Bowl victories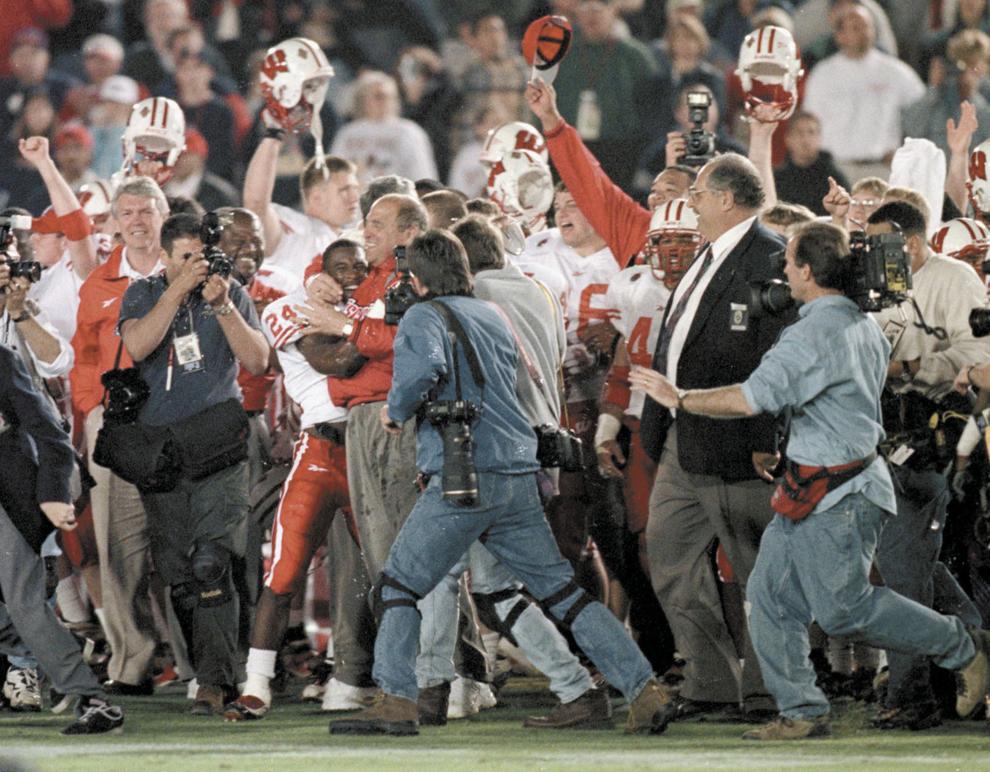 Alvarez finished his coaching career with 3 Rose Bowl victories, leading the Badgers to wins over UCLA after the 1993 and 1998 seasons, and a win over Stanford following the 1999 campaign. 
ABOVE: Alvarez reacts to a soaking at the end of UW's 38-31 victory over UCLA in the 1999 Rose Bowl.
2 | Seasons in dual roles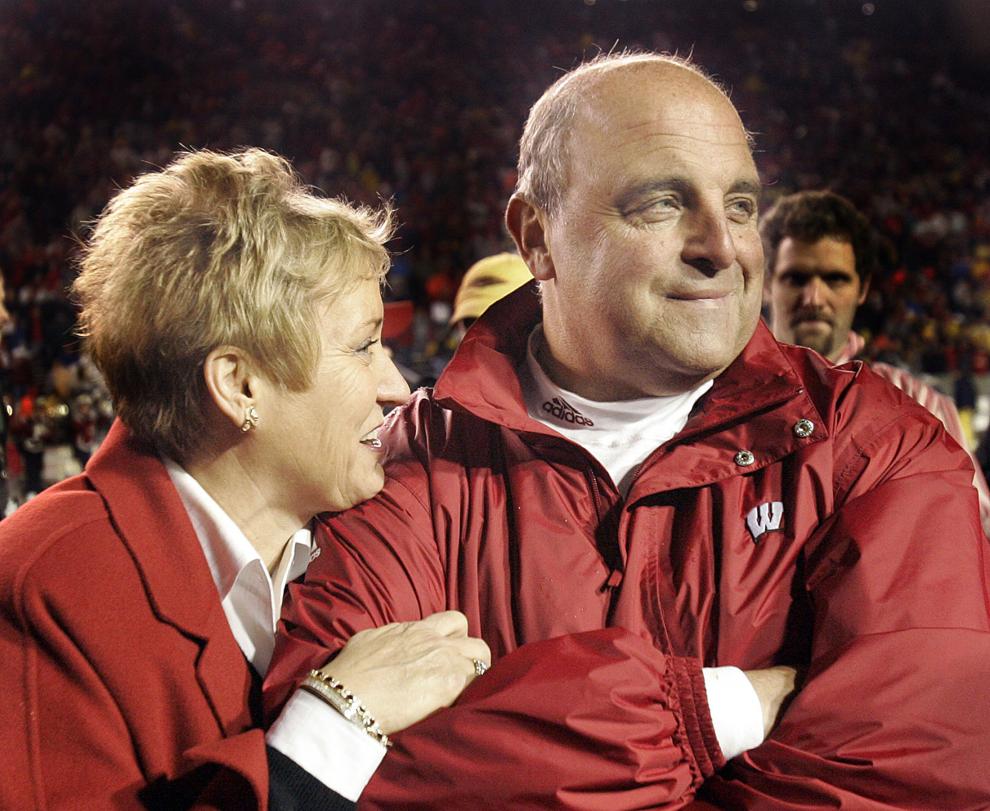 Alvarez spent 2 seasons as UW's head football coach and athletic director after taking over AD duties following Pat Richter's retirement in 2004. Alvarez compiled a 19-6 record while serving in the dual roles before retiring from coaching in 2006. 
ABOVE: Alvarez with his wife, Cindy, take in the applause and congratulations from the fans after Alvarez's final home game, a loss to Big Ten rival Iowa on Nov. 12, 2005. 
"He went out like he came in."

Chris McIntosh, UW deputy athletic director