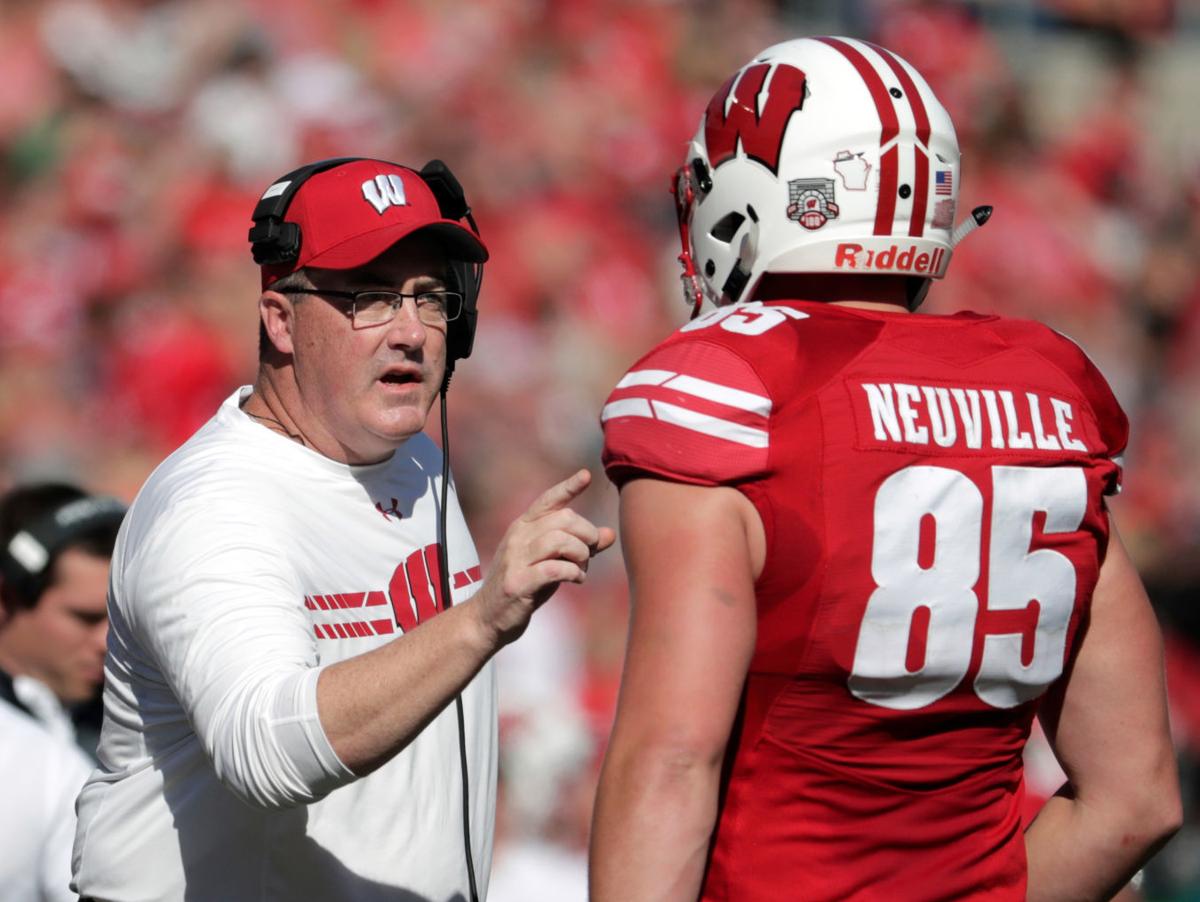 On an otherwise joyful afternoon for the University of Wisconsin football team, its 31-0 victory over rival Minnesota on Nov. 25 included a darker, six-minute stretch that altered the immediate future for two of the Badgers' major contributors.
Test results wouldn't reveal the severity until later, but both tight end Zander Neuville and running back Bradrick Shaw suffered ACL tears on back-to-back drives in the first half.
While certainly disappointing for both, just one week before UW's biggest game of the season against Ohio State, the rare alignment of their identical injuries sparked an unexpected friendship.
"I know pretty much everything about (Neuville)," Shaw said. "We were together a lot. Every day we were together. ... I hung out with him more throughout this whole process, and he became one of my good friends on the team. Going through all this, we built a stronger relationship and become better teammates."
Neuville and Shaw shared a trying and emotional nine-month experience — from demoralizing MRI results to frustrating rehab to the relief of finally seeing the practice field again when the Badgers opened fall camp last week.
While facing similar workout limitations at Camp Randall this offseason, the two began spending time together outside the facilities — often grabbing dinner or checking in on the other's mental state during a long rehabilitation. Neuville even invited Shaw to visit his hometown of Waupaca this summer.
Through the months, Neuville discovered Shaw to be what he called a gentle giant — nice and soft spoken but an "absolute beast" in the weight room. Shaw saw a drive in Neuville he hadn't noticed before, describing the senior as "trying to destroy every exercise."
You have free articles remaining.
Shaw also said the two pushed each other both physically and mentally throughout the process, attempting to excel at whatever their bodies would allow.
"I know for me it was extremely helpful," said Neuville, who emerged as UW's best blocking tight end last season. "I mean, obviously you wish it didn't happen to (Shaw) too, but we've actually become really good friends. We were really just doing everything together throughout winter, spring and then most of the summer.
"It was nice just being able to bounce ideas off him, see how he was doing and just kind of talk through some of the stuff that's harder mentally. I know that we've definitely come a lot closer than we were before. It was nice to have someone else to go through that with."
A week into fall camp, Neuville appears further along in his recovery than Shaw. Neuville left practice Saturday with a right leg injury, but the ailment is expected to be minor and was not associated with his surgically repaired knee. The tight end said last week his knee feels 90-95 percent and he hopes to be full-go by the time UW kicks off its season against Western Kentucky on Aug. 31.
Shaw's part in practices has remained limited thus far. Running backs coach John Settle said the Badgers had hoped he'd be further along at this point, but their goal is for Shaw, who rushed for 365 yards and four touchdowns last year, to at least be ready by the start of Big Ten play at Iowa on Sept. 22.
"Honestly, I really don't have a clue," Shaw said about his status for Week 1. "I just have to see how these practices come along and how I feel. I've been able to do everything with the team, but I'm just going to ease my way back into things and try to get healthy 100 percent."
Neuville said UW's medical staff originally thought his injury may only be to his MCL and keep him out 2-4 weeks. When MRI results revealed the worst, he only needed a couple days to accept his reality.
Whatever it took, Neuville didn't want to miss the start of his senior season.
"I kind of just needed to get away for a couple days and gather my thoughts," Neuville said. "But after those couple days, I knew there was really nothing I could do.
"I kind of just told (the trainers and surgeon) straight up, I was like, 'Look, I want to be able to practice and do a lot during fall camp, and then when our first game comes I want to be able to play and be full-go.' They knew it would be somewhat tight with the timeline, but I'd say with where I'm at now, I'm definitely on schedule to do that. That was my goal from the start."