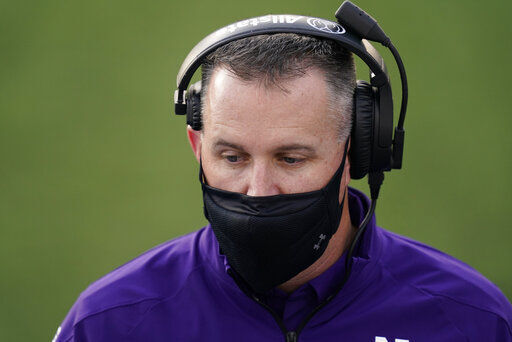 Northwestern coach Pat Fitzgerald's gravely voice escalated as he talked about defense.
The way a judge might discuss the constitution or an artist might describe Picasso, his delivery became filled with passion and adoration as he mentioned the side of the ball on which he once played.
Fitzgerald nearly scoffed mentioning the flashy offense of today's youngsters as he made a point about the importance of stone-cold knockout defense.
"You look at grade school and high school football now. There's a lot of seven-on-seven (teams), the guys who go play in those and get their spark rating up and get all the free gear for playing seven on seven ."
Fitzgerald's voice almost rose to a shout.
"Eventually they get hit in the mouth," he said, blasting out the words like a hit he used to deliver in the 1990s.
"That's called playing defense," he said, a little more composed but still possessing the get-out-of-my-yard edge of an old-timer. "That's why I don't like that other stuff. I love watching our league. I love watching people get punched in the face. I love people responding to it."
Anyone watching Saturday's game in Evanston will appreciate what he means.
In a showdown for control of the Big Ten West Division, No. 10 Wisconsin (2-0) and No. 19 Northwestern (4-0) will feature the top two defenses in the conference and among the two best nationally. The winner will be a favorite to play in the Big Ten championship.
The Badgers rank tops in the league with Northwestern second in scoring defense (9 points per game for Wisconsin to 14 points for Northwestern), total yards (218.5 yards to 301.8 yards) and rushing defense (89 yards to 91.8 yards).
They're both stout on third down and in the red zone.
Wisconsin has let an opponent into the red zone only once - and it didn't result in a score. Northwestern didn't give up any second-half points through its first three games, only allowing 10 second-half points to Purdue last weekend.
"There's been consistency in most of the major categories," Fitzgerald said. "We've worked diligently to improve our fundamental teaching. Our fund coaching, building relationships, adding competitive depth. I think that's what you're seeing now."
Don't get it twisted, though. Wisconsin and Northwestern are efficient offensively too.
The Badgers blew out Illinois 45-7 in their Oct. 23 season opener behind 248 passing yards and five touchdowns from freshman Graham Mertz. (Mertz then tested positive for COVID-19 and with an outbreak on the team, the Badgers missed two games.)
Against Michigan, the Badgers' run game met its traditional standards with 341 rushing yards and five touchdowns.
"They're both threats," linebacker Chris Bergin said. "They're tough to stop. You have to read your keys and trust yourself to decide if it's run or pass."
The Wildcats offense was limp last season, ranking 126th among FBS programs. They've revitalized this season with new quarterback Peyton Ramsey and new offensive coordinator Mike Bajakian, earning the offense for this season's turnaround.
Northwestern is proving last season's 3-9 overall record and 1-8 Big Ten mark were flukes.
Yet, even last season, the Wildcats defense wasn't atrocious. It ranked in the top 50 nationally - as it has been since 2014.
"The carryover (will be there) any time you're able to keep staff together and the amount of players coming back and younger talent pushing our experienced players," said Fitzgerald, a former All-American linebacker with the Wildcats in the mid-1990s.
Year to year, Northwestern's defense has been a hallmark of the program.
Fitzgerald credits defensive coordinator Mike Hankwitz for much of that. He's been with the Wildcats since 2008 and has coached as an assistant or coordinator for 51 years.
Defensive line coach Marty Long has also been with Northwestern since 2008.
"We've had great consistency on our defensive staff," Fitzgerald said. "But it starts and ends with Mike Hankwitz. Hank is as good of a coach as there is in the country regardless of position. He's tireless in trying to do everything he can to get our guys the best plan possible. He's collaborative in the (meeting) room. He takes input from all of our staff members including our (graduate assistants). The humility he demonstrates permeates through our defensive staff and players and program."
The Wildcats are led by the linebacking trio of Bergin (36 tackles), Blake Gallagher (34 tackles) and Paddy Fisher (33 tackles).
The "pick club" have eight interceptions to rank tied for second in the Big Ten with six different players snagging interceptions. Freshman Brandon Joseph leads the way with three picks.
"It's a big play mindset," defensive backs coach Matt MacPherson said. "It's something that's been building since the beginning of spring ball. If we want to go from good to great, good to championship level, we have to be in the mindset that just being in the right spot isn't good enough."
Northwestern and Wisconsin lead the West and happen to be the two top defensive teams. In the East, Ohio State and Indiana lead - and they also happen to rank in the Big Ten's top five defenses.
This is the way Fitzgerald likes it.
Saturday's game is expected to be chilly, physical, hard-hitting - and perhaps a classic.
"I've been in this league now 25 years," Fitzgerald said. "We've always had pretty damn good defenses in the Big Ten. I think it's kind of the Midwest way."
---
Get ready for Badgers' season with in-depth breakdown of Big Ten competition