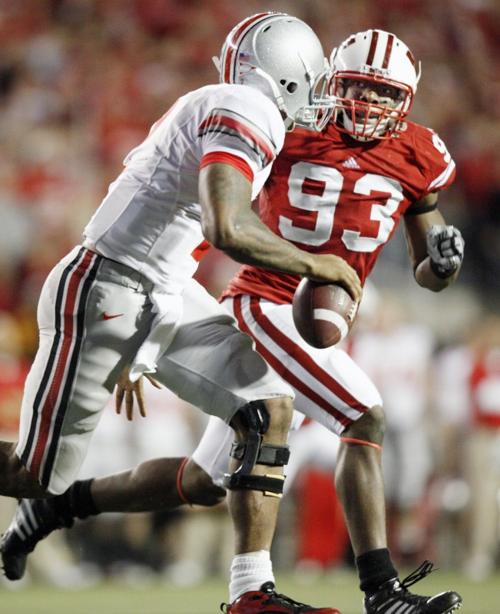 University of Wisconsin defensive line coach Charlie Partridge is helping senior defensive end Louis Nzegwu plot a course to the quarterback.
It's not as easy as it sounds.
Nzegwu is perhaps the Badgers' top hope as a pass rusher among the defensive linemen, though he remains a work in progress.
A running back in high school at Platteville, he was recruited to be a defensive end because of his lanky, 6-foot-4 frame and good quickness.
But there is more to becoming a pass rusher than putting a hand on the turf and running fast around the corner, as Nzegwu can attest.
In 34 career games, including 13 starts last season, he has 6½ sacks and 10½ tackles for loss.
"Certainly, the things he has been blessed with help him," Partridge said of Nzegwu's physical skills. "At this level, these (offensive tackles) are so good in their sets, they'll just let you run by with speed and push you past the quarterback as he steps up."
To become the pass rusher the defense needs, Nzegwu had to do three things: put on weight, develop a counter to his outside rush and take a better route to the quarterback.
He took care of the weight by reporting at 255 pounds.
Developing a counter move was a two-fold process involving improved lower body strength and adding some moves to his repertoire.
"I've got a little bull rush now," Nzegwu said of a power move to go right through tackles. "Before, that wasn't really one of my strong points, but I'm using that right now."
Like a lot of his teammates, Nzegwu took advantage of the NFL lockout to seek the help of former UW players who used the team's facilities during the offseason. Nzegwu picked the brain of Joe Thomas, the All-Pro left tackle for the Cleveland Browns, and also did some one-on-one work with Chicago Bears first-round pick Gabe Carimi.
"One thing I was blessed with was the lockout," Nzegwu said. "I feel like I've got at least five moves I can win with now."
Taking a better path to the quarterback was one of the last steps.
"Coach Partridge has been embedding it in my head, 'Take this course, take this course, then make a decision,' " Nzegwu said.
His problem getting around the corner has been getting his hips pointed upfield, without getting them turned toward the quarterback.
"We talk about his course," Partridge said. "A lot of times, his hips would still be working up the field and he'd get ridden (past) the quarterback. He's worked his tail off to improve that. We're starting to see the fruits of that labor."
One recent play during preseason camp illustrated Nzegwu's progress.
"He really snapped his hips in on course and it was a really good pass rush," Partridge said. "Everyone around kind of looked at each other and kind of nodded their heads. From that point on, he has built off it and learned from that. So I'm excited where he is."
Nzegwu welcomes the expectations everybody has put on him after finishing with three sacks and 7½ tackles for loss last season.
"People are expecting me to be more of a playmaker than I was last year," he said. "I'm willing to step up in that role."
Nzegwu has shown it is more than talk. He provided a spark late in the first scrimmage two weeks ago and has played well ever since, including the second scrimmage last week.
"What he's doing is making plays from sideline to sideline," Partridge said. "He's more confident in what his job is. Now, for lack of a better word, he's starting to trigger, run and go get the ball and make some plays."
Two years ago, defensive end O'Brien Schofield went from good to great with a monster senior year (12 sacks and 24½ tackles for loss). He came into that year with five sacks and 8½ TFLs in his career, lower numbers than Nzegwu has put up in three years.
"There's one more thing — and Louis knows this — that he has to do to make that final leap," Partridge said. "He has to become a strike shredder, with the running back right behind the blocker he's engaged with."
As a senior, Schofield made a living shedding the blocker, then getting through the gap to make a tackle for loss.
Nzegwu "is doing a good job of taking care of the gap he's responsible for," Partridge said. "But when that running back is bouncing right behind (the blocker), to shed through that gap and make that tackle for loss, that's what O.B. did 10 or 12 times that senior year."
All the latest news, scores, photos and video from Madison.com, delivered to your mobile device.
Be the first to know
Get local news delivered to your inbox!