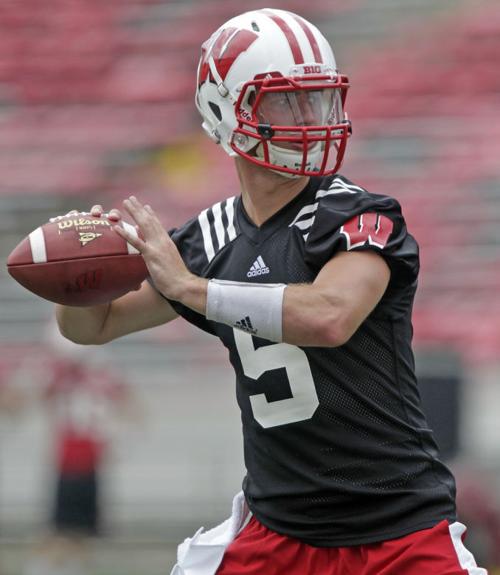 It's been nearly 21 months since Tanner McEvoy trotted out on the field as a starting quarterback on the college level, and even that experience pales in comparison to what the junior will be facing when the University of Wisconsin football team opens the 2014 season in Houston.
It was Dec. 1, 2012, when McEvoy wrapped up his only season at the junior college level by completing 18 of 24 passes for 245 yards with three touchdowns and two interceptions as Arizona Western College defeated Nassau (N.Y.) Community College 42-37 in something called the El Toro Bowl. There were 2,984 fans on hand at Veteran Memorial Stadium in Yuma, Arizona, to see McEvoy and the Matadors complete an 8-2 season with their first bowl victory in 40 years.
The stakes will be significantly higher Saturday when the No. 14 Badgers play No. 13 LSU at NRG Stadium.
Start with the opponent: Nassau might have been a significant challenge for McEvoy and the Matadors that day in Yuma, but it's no LSU. The Tigers are a perennial powerhouse from the SEC — the nation's premier league — with a roster that reloads with coveted recruits year after year.
And then there's the venue — an NFL stadium that will be packed with a sellout crowd of more than 70,000. While this game is being billed as one of the neutral-setting affair, let's be real: Houston is a 1-hour, 45-minute drive from the Texas/Louisiana border and is separated from LSU's campus in Baton Rouge by 268 miles. The Tigers figure to have an advantage in the noise department.
If any of this is concerns McEvoy, it certainly wasn't visible during a 6-minute gathering with reporters following practice on Tuesday.
His answers were generally short and lacking in insight. Part of that may be due to the fact he was handcuffed in what he could say because UW coach Gary Andersen hasn't officially named a starter, though word leaked late last week Andersen and offensive coordinator Andy Ludwig had chosen McEvoy over junior Joel Stave.
But McEvoy made one thing perfectly clear: The idea that the moment might be too big for him on Saturday is ridiculous.
"I've just got to go out there and play," McEvoy said. "If I get out there, I go out there and execute and do what the coaches say. … I've been playing football all my life and I don't think it will be overwhelming or anything.
"It's a big crowd, but it's fun and that's what I signed up for. It's a big school. That's why I came here."
A series of audibles led McEvoy to this point.
He was a star wide receiver as a junior at Bergen Catholic High School in Oradell, New Jersey, then moved to quarterback the following season.
McEvoy decided his best chance to realize his dream of playing quarterback at a big-time college was South Carolina, but he left the Gamecocks after redshirting his freshman season because he was buried on the depth chart.
He arrived at UW in the summer of 2013 but couldn't make up enough ground on Stave and Curt Phillips and moved to wide receiver late in training camp. A left wrist injury forced a move to safety, where McEvoy started three games.
McEvoy returned to being a quarterback in the spring and, despite a slow start to camp, apparently rallied past Stave.
"Sometimes people throw things at you, you've just got to change and make an adjustment," McEvoy said. "That's what I've been doing for the past few years. There's only so much I can handle. I've just got to go out there and do what I can do."
Stave has played in plenty of rowdy atmospheres during a career at UW that includes 19 career starts, including at Nebraska in 2012 and Ohio State last season.
He was asked what advice he had for McEvoy — an awkward question he handled with grace and maturity.
"Just stay confident in what you're doing," Stave said. "Be smart in your reads. And get the ball out quick.
"Like everyone knows, when you're practicing they're not going to hit you, they're running by and tagging off and you can move in the pocket a little more freely. Once you get to a game against a good team, they're not going to do that. They're going to go ahead and put their helmet right in your ribs if they get the chance, so don't give them that chance – get the ball out."
It's Ludwig's job to make sure McEvoy doesn't get caught up in his surroundings on Saturday.
Ludwig acknowledged it's a challenge that will be addressed.
"Oh, yeah, because the first thing you'll lose is the 28, 29 practices of fundamentals because you get caught up and your adrenaline is pumping," Ludwig said. "And whether you've started 18 games or this is your first game as a starter, it's all the same. …
"Coach Andersen does a great job with his approach – you're never too high, you're never too low. It's got to be a workmanlike approach, especially at the quarterback position."
McEvoy made it clear his mind is on the present and not the past. Asked what he remembers from that game 21 months ago, he said, "I remember that there were two end zones and I had to get a first down a couple times to score. I played quarterback."
"Yeah, we won," he said. "That's all that counts."
Be the first to know
Get local news delivered to your inbox!