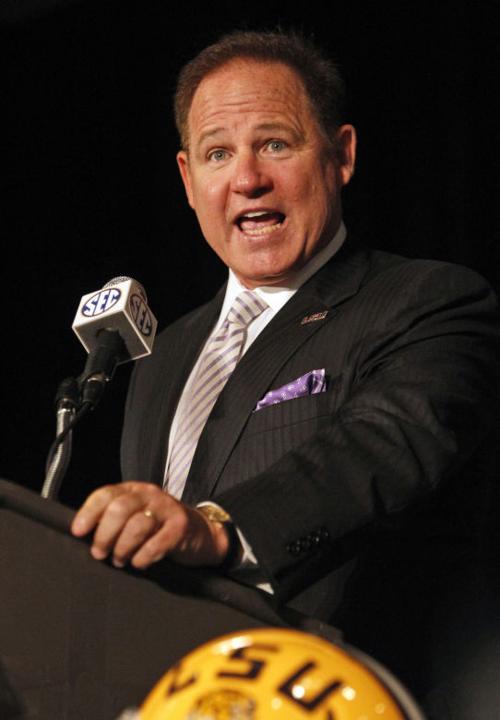 CHICAGO — The upcoming season opener for the University of Wisconsin football team will have a high degree of difficulty, but Barry Alvarez wanted it higher.
The UW athletic director said he sought to have a genuine home-and-home non-conference series with LSU for 2014 and 2016.
"They weren't interested," he said.
"They wouldn't tell you why," Alvarez said. "They just weren't interested."
So instead of playing LSU, the national champion in 2003 and 2007, at renowned Tiger Stadium in Baton Rouge, the Badgers will face the Southeastern Conference powerhouse at NRG Stadium in Houston on Aug. 30.
And instead of the Tigers coming to Camp Randall Stadium to open the 2016 season on Sept. 3, the clubs will mix it up at Lambeau Field in Green Bay.
UW football coach Gary Andersen lauded Alvarez for trying to get the series on both campuses.
"Coach Alvarez did a great job of starting the whole conversation to getting this game and, as it went forward, it was very obvious that if we were going to play these games, they were going to get played on a neutral field," Andersen said.
"But you would love to play it in Camp Randall. Going down to Death Valley would be a great experience, a very difficult place to play."
Wedged between those outings with LSU is another season-opening neutral-site game with another member of SEC royalty. UW has signed up to play Alabama at AT&T Stadium in Arlington, Texas, on Sept. 5, 2015.
Alvarez said Alabama, the national champion in 2009, 2011 and 2012, had no interest in a home-and-home series that involved Madison and Tuscaloosa.
"I'd love to do it," he said. "I've approached a lot of those (SEC) schools. I have one that we're talking to for a home-and-home, but we're just in the infant stages of it."
"It's not Arkansas," Alvarez said of the program that now employs former Badgers coach Bret Bielema, "so I'll save some people some running around and speculating."
Alvarez and Andersen said they'd like to have a big-time intersectional game on the Badgers' schedule every season. That's a departure from
recent chamois-soft slates, a process driven by the new College Football Playoff and its strength-of-schedule component.
"You're starting to see games — good intersectional games — pop up because people know that strength of schedule is going to factor in," said Alvarez, who is on the 13-member CFP selection committee that will choose the four semifinalists.
Alvarez said UW, which has won three of the past four Big Ten Conference titles, is looking down the road at a variety of scheduling wrinkles.
The Big Ten currently plays an eight-game schedule and will go to nine in 2016. Andersen said recently a 10-game Big Ten slate is inevitable.
"Ooh, that would be tough, but I'd love to play 10 games," he said.
The challenge, Alvarez said, would be lining up two non-conference home games every season, especially now that Football Championship Subdivision schools are off-limits by Big Ten decree.