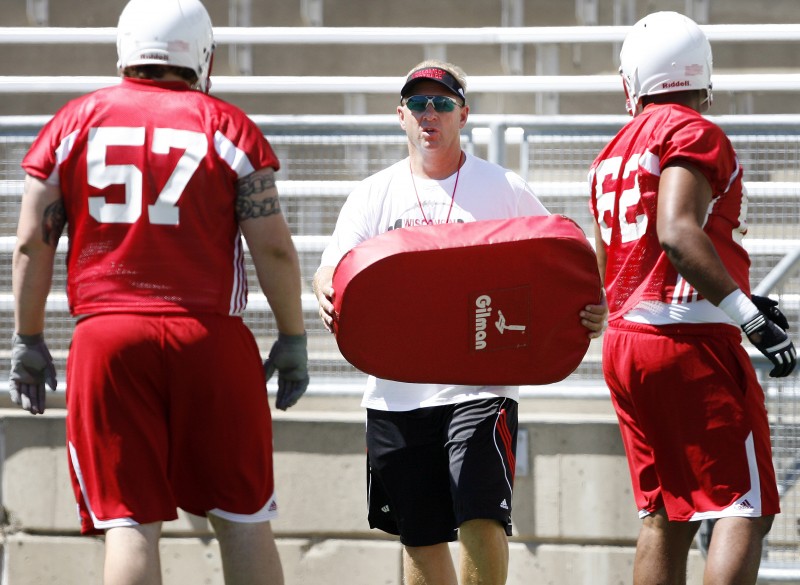 Mike Markuson is out as the offensive line coach for the University of Wisconsin football team after only two games, a source close to the UW football program said late Sunday night.
The source spoke on the condition of anonymity and cited a difficult transition as the reason for Markuson's departure.
Bart Miller, who works as the quality control coach on offense and helps with the offensive line, is expected to take over the duties of offensive line coach.
It's a stunning development for a position coach to leave after two games, even given the struggles in UW's offensive line in those games.
The problems reached a breaking point in the 10-7 loss at Oregon State on Saturday, with issues in the running game and also in pass protection.
The Badgers finished with 23 rushing attempts for 35 net yards, which included three sacks of quarterback Danny O'Brien for 35 yards in losses.
When UW coach Bret Bielema hired Markuson in the offseason, it was considered to be a coup at the time. Markuson spent the last 14 years coaching offensive lines in the Southeastern Conference at Arkansas and Mississippi. Since 2003, he coached six different players who earned All-America honors.
But Markuson had big shoes to fill, following Bob Bostad, who was regarded as one of the best offensive line coaches in college football. Bostad originally left after last season to go to the University of Pittsburgh, after former UW offensive coordinator Paul Chryst was named the head coach there. Bostad left Pitt after a short time to become an NFL offensive line coach for the Tampa Bay Buccaneers.
Markuson and some of the team's veteran linemen admittedly had problems adapting to each other during spring practices, but both sides said the situation got better during preseason camp.
However, UW's inability to run the ball in the first two games may have uncovered deeper issues that UW's players were not adjusting well to Markuson's schemes and techniques.
Junior center Travis Frederick addressed some of the issues after the game on Saturday, of working not only with a new line coach but a new offensive coordinator in Matt Canada.
"Last week was the first time we ever had a game rep under coach Markuson and coach Canada," Frederick said of the 26-21 opening win over Northern Iowa. "There were a few different things. I thought we kind of worked through those.
"I didn't notice a lot of big things that were problems, but it just comes down to communication. What we used to do, everyone had their job and you did this and this, and this is how everybody knew it. It's just a little different."
But Frederick also said communication is a two-way street between players and coaches.
"Communication from the players to the coaches and from the coaches to the players," Frederick said of some of the issues he was speaking about. "It works both ways.
"A lot of it, the coaches can't see, or they're getting calls (on the sideline) in from the box, or whatever it is. I just think we need to work on our communication and, obviously, be sharper this week."
Miller, a native of Omaha, Neb., is in his second season as offensive quality control coordinator. He came to UW after working as a graduate assistant for one season at New Mexico State, where he worked primarily with the offensive line. Miller played at New Mexico from 2004-07. Bostad was an assistant with the Lobos prior to coming to UW in 2006.
Since Miller worked closely with Bostad last season, the change is expected to make the players more comfortable by going back to techniques they used in the past.