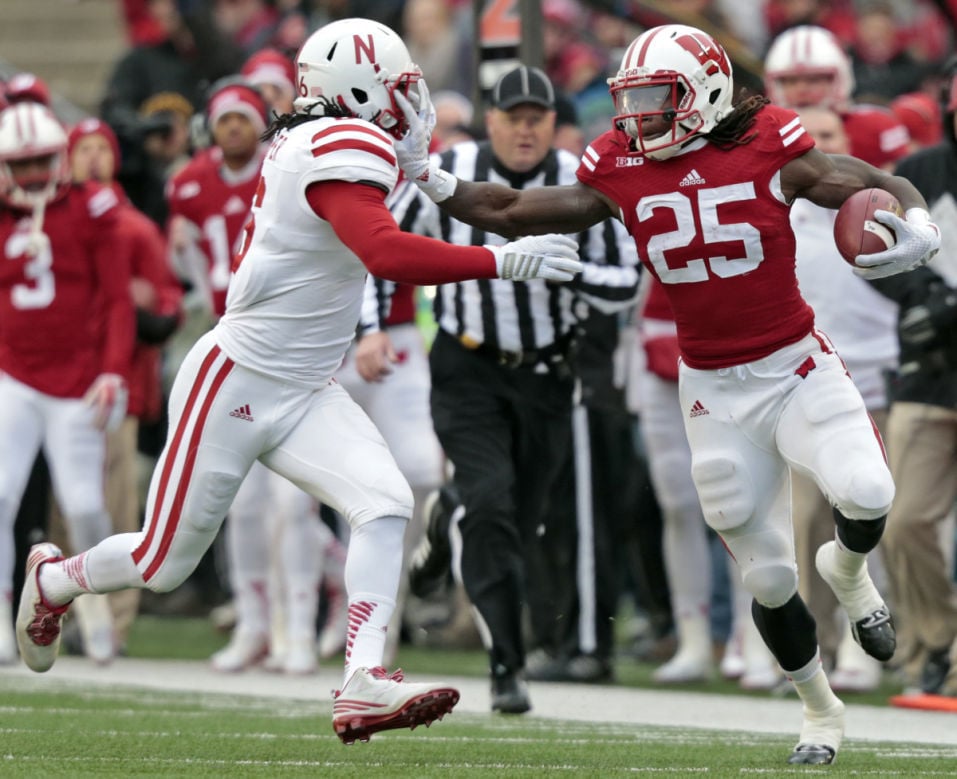 University of Wisconsin junior tailback Melvin Gordon did more than set a fabled NCAA standard Saturday.
He also joined an exclusive group of national record-holders who also happen to have played for the Badgers.
Gordon set the single-game Football Bowl Subdivision rushing mark with 408 yards on 25 carries during a 59-24 Big Ten Conference victory over Nebraska at Camp Randall Stadium.
On one cold, snowy afternoon, he broke the school mark held by Ron Dayne (339), the Big Ten record held by Anthony Thompson of Indiana (377) and the FBS mark held by LaDainian Tomlinson of TCU (406).
That means the NCAA single-game record, the NCAA career standard and the NCAA benchmark for career touchdowns are held by UW backs.
Gordon joins Dayne, the career leader with 6,397 rushing yards from 1996-99, and Montee Ball, the career leader in TDs with 83 from 2009-12. Gordon is also on pace to leave UW as the NCAA career leader in yards per carry.
Gordon played two seasons with Ball before the latter went to the NFL with Denver. It's been 15 years Dayne since set his mark, which explains why Gordon referred to him as "Mister."
"It's an honor to even be brought up with either back," Gordon said. "And it just goes back to show you how special Wisconsin is. Having three backs hold three records is special."
Clement says shoulder OK
UW sophomore tailback Corey Clement injured his right shoulder while diving into the end zone at the end of a 17-yard touchdown run with 7 minutes, 21 seconds left in the second quarter.
You have free articles remaining.
He didn't play the rest of the first half and didn't register another carry until early in the fourth quarter.
"Just a little shoulder (stinger)," Clement said. "I'll be fine next week. It was just kind of a weird (landing) that I had (on) my shoulder. It always happens to me. … I was kind of annoyed again that it happened, because it happened again earlier in the season. I'm going to just give it a few days just to see how it feels."
Gordon shouldered the load while Clement was being attended to by the training staff, though UW coach Gary Andersen used a timeout at one point to give Gordon a breather.
"After that, I felt like our drives were sustainable for Melvin to stay in there and handle it," Andersen said, "and (he) did a tremendous job with it."
Watt delivers in return
Junior fullback Derek Watt, who sat out last the victory at Purdue with a quadriceps injury, returned to the lineup and helped pave the way for Gordon's record performance.
"I'm so comfortable with Watt back there," Gordon said.
Gordon said he told Watt this week that he needed him back on the field.
"And he understood that," Gordon said. "And it's just good to have success back there, especially with him back there, because we've been through a lot together."
UW lands recruit
Titus Booker, an athlete from Grayslake North High School in Illinois, orally committed to UW after the game. Booker was originally committed to Indiana before changing his mind.
Parking