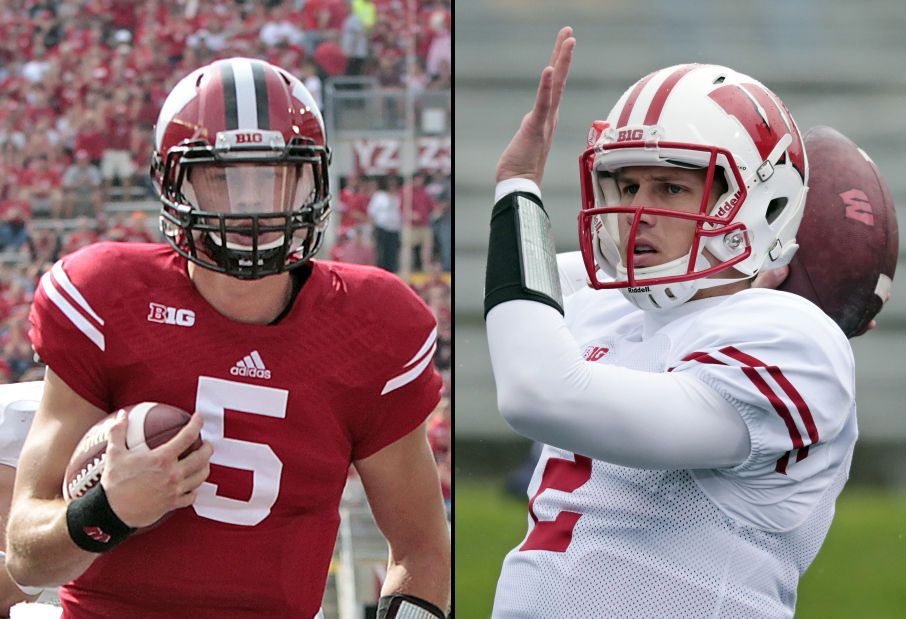 Joel Stave and Tanner McEvoy claim to be as clueless as everyone else.
The University of Wisconsin football team will take a second crack at its first Big Ten Conference win of the season in just three days, and the newly named co-starters at quarterback said they aren't sure how their split roles will play out against Illinois.
Tuesday's practice reps were even, and the coaches have yet to say who will get the first offensive series Saturday against the Illini.
They plan to alternate quarterbacks, while perhaps even playing both at the same time, but maintaining cohesion throughout 60 minutes of ever-changing uncertainty may be a bigger challenge than deciding who will take the first snap.
"It's a real delicate balance," offensive coordinator Andy Ludwig said. "The most important thing is to stay within yourself and stay within the strength of the entire unit, not deviate to match one player or the other. Just do what you do, but just put those quarterbacks in the best possible position."
Ludwig had success playing multiple quarterbacks when he was the offensive coordinator at Utah from 2005-08.
While he said UW's play selection may vary slightly depending on which quarterback is under center, he understands the Badgers cannot play like two completely different offensive units.
Ludwig does, however, want to play to each quarterback's strengths, and he won't be afraid to scrap his rotation plans if either McEvoy or Stave begin making more plays than the other.
"You play the player with the hot hand," Ludwig said. "We want to put our best players on the field. Right now, we're trying to figure out who the best player is."
In that sense, Stave looks at the situation like a camp scrimmage, where he doesn't know which drives he'll be in charge of until just before he takes the field.
Still, playing a mid-season game under those conditions can have a drastically different feel.
"It is a challenge to stay in rhythm," McEvoy said. "If you're in for a series, you're starting to get the hang of it, then the next guy goes in. You've just got to stay focused, stay loose, and just keep watching the game and be ready when your number's called."
UW coach Gary Andersen said both quarterbacks could share the field on some plays, a circumstance that would likely have the more athletic McEvoy line up at receiver.
McEvoy played wideout in high school and took reps at that position during the Badgers' 2013 fall camp before injuring his wrist and moving to safety.
However, McEvoy said he has yet to take reps at wide receiver this week.
His struggles at quarterback were what opened the door for the Badgers' two-quarterback system going forward.
McEvoy completed 59 percent of his passes with five touchdowns and four interceptions through the season's first four games. He was 4 of 10 for 24 yards and an interception when Stave replaced him just before halftime in the team's loss to Northwestern last Saturday.
Stave, UW's starter last year, went on to throw three second-half interceptions but showed the ability to push the ball downfield in ways McEvoy hadn't.
Ludwig also said UW (3-2, 0-1 Big Ten) put Stave in a tough position last week, since the junior had not taken many reps after the mental block he suffered early in the season.
"I think (last week) helped a lot, just getting back out there in a game, getting the feel for the speed of the game again," Stave said. "Just getting those first couple snaps for this season under my belt I think really helped.
"I'd be excited to get a chance to start again."
Fans likely won't know if Stave has been awarded that opportunity until the Badgers' first possession against Illinois.
The bigger questions, though, will be how long each quarterback remains on the field, and whether either player can bring UW the offensive success it has lacked for long stretches this season.
"Joel and I, we understand the deal," McEvoy said. "We're competing, but we're helping each other at the same time. We've just got to accept the challenge and go out there and execute and push each other to make each other better and make the team better."
Be the first to know
Get local news delivered to your inbox!