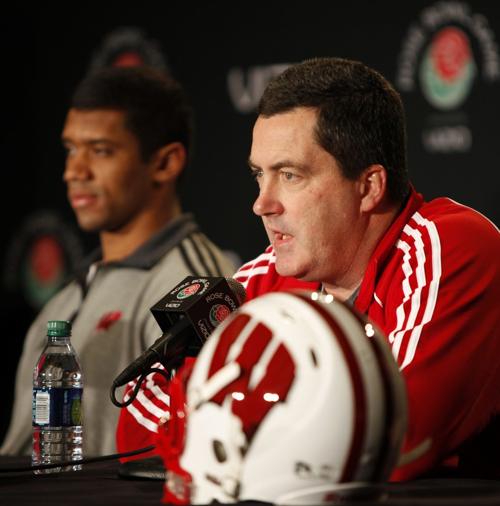 What's the first step of University of Wisconsin athletic director Barry Alvarez on Wednesday morning, after losing his head football coach, Bret Bielema, to Arkansas?
Just about everyone I've talked to has agreed on one thing: Alvarez's search for a new head coach has to start by gauging the interest of former Badgers offensive coordinator Paul Chryst, who is now the head coach at Pittsburgh.
Chryst issued a statement on Tuesday night, saying he was "committed to the Pitt football program and the University of Pittsburgh."
But Chryst's statement left just enough wiggle room to believe he has not completely ruled out a return to a city and a school that certainly still have a strong emotional pull for him.
Chryst grew up in Madison, before leaving for Platteville, where he played high school football. He played for the Badgers as a tight end and spent eight highly successful seasons as an assistant coach, as the tight ends coach in 2002, the co-offensive coordinator and tight ends coach in 2005 and then offensive coordinator and quarterbacks coach from 2005 to 2011.
The Pitt assistant coaches understandably have begun contacting recruits and telling them Chryst isn't going anywhere.
Quarterback Tra'von Chapman, who is one of Pitt's top recruits for 2013, told the Pittsburgh Tribune-Review he received a phone call from secondary coach Matt House, telling him Chryst is not leaving.
"He said they are not going anywhere," Chapman told the Tribune-Review. "They are not going to Wisconsin. He said, 'Spread the word. The rumors are false.'
"That's great news," Chapman said.
We all know situations can change quickly and several UW sources believe Chryst could be enticed back to UW, but a couple of significant obstacles would have to be overcome.
The first is a multi-million buyout in Chryst's contract. I have heard estimates as high as $6 million, but haven't been able to confirm that figure. Suffice it to say, it would take some earnest fund-raising on the part of Alvarez from boosters to come up the money.
Then there's the issue of Chryst's state of mind when he left UW a year ago. Multiple sources have said Chryst was not happy with how some things were handled, regarding his situation, over the last few years.
Alvarez might have considerable work to do patching up those issues. Would they be enough to keep Chryst from coming back? That's a tough question to answer right now. Only Chryst could say for sure.
The third stumbling block, and the one Pitt officials undoubtedly are clinging to at this moment, is the notion Chryst would not want to leave his current job after only one year.
We've heard it said countless times before, when Chryst had a chance to leave for various other opportunities in his time at Madison: He is not motivated by many of the things that lure other coaches, namely money and prestige.
That approach probably helped keep Chryst at UW longer than many people expected and it could also be a factor in him not returning to take what most people consider to be his dream job.
But I'm not sure I would necessarily classify this as Chryst's "dream job." He dearly loves Madison, there's no doubt about that. He has a daughter who still attends Madison Edgewood High school and currently lives with her grandmother.
I also think Chryst has been around long enough and worked at enough different places — including the NFL — that he could be happy at a number of different jobs. I had plenty of people tell me through the years, they were convinced Chryst would wind up as a coordinator in the NFL. Those people insisted Chryst's supposed lack of enthusiasm for recruiting and dealing with the media would prevent him from being a head coach in college. But those don't appear to be problems at Pitt.
So much in coaching searches has to do with timing. Is the timing right for Chryst to return to UW? That doesn't appear to be the case.
I'm not ready to rule out Chryst as the leading candidate just yet, but I think there are significant obstacles that need to be overcome.
That leads us to the biggest question on the minds of Badgers fans at this point: If not Chryst, who?
I hate to feed the rumor mill and toss out names that have ties to the program, but may or may not be legitimate candidates. So, I will just mention two names that have popped up frequently in discussions.
The first is Joe Rudolph, the former UW recruiting coordinator and tight ends coach who went with Chryst to be the offensive coordinator at Pitt.
Rudolph is a little short on experience, with only one season as a coordinator. There would have to be discussions about whether he's ready. But he's a strong recruiter, which has to be a high priority in this job, and I know Alvarez thinks the world of Rudolph.
Alvarez took a chance on another young coach when he hired Bielema, who was 36 years old at the time. Would Alvarez take another chance with Rudolph? It's an interesting question and one I can't answer right now.
The other name that seems to have some legs is Miami (Fla.) coach Al Golden, who is in his second season with the Hurricanes, after five years as the head coach at Temple.
Golden, 42, is the same age as Bielema. The Hurricanes are currently under NCAA investigation and facing major sanctions, so the timing could be right. Golden's name also came up in the coaching searches at Tennessee and Boston College.
The intriguing link between Golden and the Badgers is former UW associate athletic director Shawn Eichorst, who is the athletic-director-in-waiting at Nebraska. Eichorst didn't hire Golden, who followed Randy Shannon after he was fired in December of 2010. Eichorst became the AD at Miami the following April.
But Eichorst certainly knows Golden well and would be a valuable resource if Alvarez elects to go in that direction.