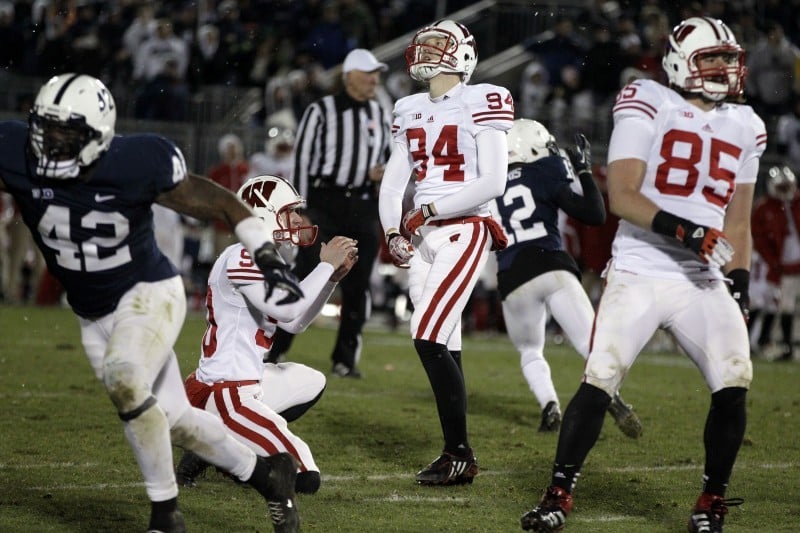 STATE COLLEGE, Pa. — The University of Wisconsin football team is headed to the Big Ten Championship game.
Never have those words sounded so hollow.
The Badgers will be returning to Indianapolis for a second straight year, this time to face Nebraska, but it was of little immediate solace in the aftermath of a 24-21 overtime loss to Penn State on Saturday in front of 93,505 fans at Beaver Stadium.
It's UW's third overtime loss in the past four games. The past two have come against the two teams that finished ahead of the Badgers in the Leaders Division.
"I don't know how many teams have done that, three overtime losses in the same year," center Travis Frederick said.
The loss dropped the Badgers to 7-5 overall and 4-4 in the conference. The only reason they're going to the title game is because Ohio State and Penn State are both ineligible for the postseason.
"It's kind of like (by) default," running back Montee Ball said. "It's most definitely not the way we wanted it.
"So, we'll have that little asterisk next to our name. But the only thing we can do is play. That's what we're going to do."
This one followed almost an identical script to the overtime loss against Ohio State a week earlier.
Senior quarterback Curt Phillips rallied the Badgers with another late tying touchdown, connecting with Jeff Duckworth on fourth-and-goal from the 4-yard line with 18 seconds left in regulation.
The Badgers won the coin toss and had the advantage of going on defense first in overtime. Penn State, playing its first overtime game since 2006, had to settle for a 37-yard field goal by kicker Sam Ficken, who started the season making only four of his first 11 attempts.
But UW's offense couldn't take advantage. The Badgers called a power run with Ball on first down and appeared to have it blocked well, but Penn State defensive tackle Jordan Hill made a great play to hold Ball to a 1-yard gain.
"I thought it was gone," Ball said. "(My) eyes got really big. We knew what (Hill) was capable of doing and he made a great play."
On second down, Phillips was sacked for a 3-yard loss by defensive end Sean Stanley, who beat left guard Ryan Groy. Phillips fumbled but right guard Kyle Costigan managed to fall on the ball in a mad scramble.
Phillips had fullback Derek Watt on a wheel route of the backfield but didn't want to make a mistake in overtime.
"Looking back on it, I might have had the back-shoulder (throw) with Derek," Phillips said. "Saw the (defender) rallying over the top of him. Just didn't want to throw something up that was stupid at that point."
Phillips' pass on third-and-12 should have been intercepted, but linebacker Glenn Carson dropped it.
Even given the two gifts — the recovered fumble and dropped pick — the Badgers couldn't capitalize when kicker Kyle French missed a 44-yard attempt in windy conditions from the right hash.
"I thought it actually had a pretty legit shot of going in," French said. "I think last second it almost stopped moving and just kept going straight."
Linebacker Ethan Armstrong was asked if he feels like the Badgers are being tested this season.
"Tested or cursed, I don't know," Armstrong said. "I'm a firm believer everything happens for a reason. We just have to figure out what that reason is."
It was an emotional day for Penn State (8-4, 6-2), which bid farewell to a senior class that had seen unimaginable adversity of its own — dealing with NCAA sanctions following the Jerry Sandusky scandal.
However, UW matched that emotion at the start, scoring touchdowns on its first two drives for a 14-7 lead. Running back Melvin Gordon went in motion and caught a 57-yard touchdown pass, then Ball broke the NCAA career touchdown record with a 17-yard run around right end.
Both of those plays challenged Penn State's defense on the edges. The Nittany Lions responded by moving their defensive ends out wide and funneling plays inside to Hill, their standout tackle who had 12 tackles and two sacks.
Ball rushed for 84 yards in the first half but only 27 in the second half, to finish with 111. The Badgers had eight straight punts after the first two drives, followed by an interception.
The biggest issue was a failure to convert on third downs, going 5-for-16. UW was 1-for-10 at one point and the line struggled to pick up blitzes. Phillips absorbed several hits and there also were critical dropped passes, including one by Kenzel Doe on third-and-3 at the Penn State 38.
After four straight three-and-outs in the second half, Phillips drove the Badgers to the Penn State 20. He forced a throw into coverage on fourth-and-8 and it was intercepted by safety Jacob Fagnano.
"The guy did a good job of reading my eyes," Phillips said. "There was pressure. I tried to get back to the back side there."
UW coach Bret Bielema admitted the defense wore down in the second half. Still, it held the Nittany Lions to two field goals, the first after an apparent third-and-6 touchdown was overturned by replay, ruling Brandon Moseby-Felder lost control of the ball when he hit the ground.
But Penn State overcame a third-and-21 with two completions, including a backbreaking 41-yard TD pass from Matt McGloin to Jesse James on fourth-and-6. Zach Zwinak, who rushed for 179 yards, ran it in for a 2-point conversion for Penn State's first lead at 21-14 early in the fourth quarter.
Bielema said he planned to go for a 2-point conversion after the tying touchdown pass to Duckworth, who filled in after Jared Abbrederis left with a head injury.
"We actually used our 2-point play on the touchdown, exactly what we would have called on the 2-point play," Bielema said. "So, didn't want to come back and run the exact same play again. That's why we kicked the PAT and took it to overtime."
As despondent as the UW players were after the game, Phillips vowed they would find a way to bounce back again and be ready for Nebraska.
"We still have so much in front of us," he said. "If we are able to rally back, which I think we will, it's an awesome opportunity. We're still going to the Big Ten Championship (game) against a team that beat you in the regular season. So, you can't ask for a better opportunity than that."