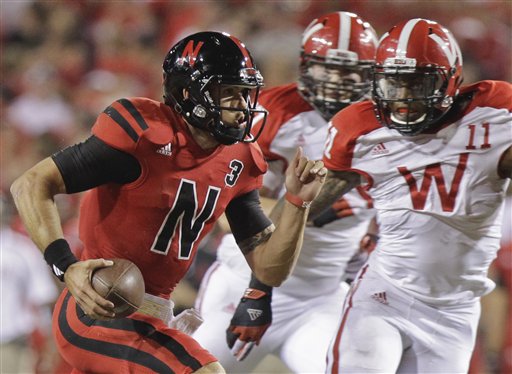 When senior David Gilbert got a glimpse of his role in the University of Wisconsin football team's new defense, he couldn't wait to get started.
Unfortunately for Gilbert, who is moving from defensive end to outside linebacker in the new 3-4 alignment, that time won't come during spring drills.
Gilbert will undergo surgery to repair ligament damage in his right foot on Friday and will miss the entire spring.
The injury goes back to the fourth game of last season, against UTEP, and has bothered Gilbert since.
"We thought it was just turf toe, but it's something a lot worse," Gilbert said Wednesday. "We're just going to try and get it fixed and get back for the season. ... But I feel very good about it. It's something people have had, so I'm not too worried about it."
Gilbert saw an orthopedic specialist in Minneapolis on Tuesday and learned the injury was more serious than originally thought. He will return to the same specialist for the surgery.
Gilbert broke the same foot twice during his sophomore season in 2011. He broke it initially in practice, prior to the Big Ten Conference opener against Nebraska, then broke it again on Dec. 23 in bowl practice. He didn't want to put a timetable on his recovery, although he said it would be important to make it back for workouts in June.
"We have to approach it a little differently, since this is my senior year," he said. "We don't have extra time. There's no extra time. It's going to be very discretionary.
"As soon as I feel like I can come off the ball and stop a 300-pound lineman, or take on a double team, that's when (I'll return)."
Gilbert said it would be easier to project how long he will be out if he played another position, like wide receiver, where the focus is mostly on running. He also is somewhat leery, given the problems he had with the foot previously.
"I'm just playing it by ear and really testing my body this time around, so we don't have any setbacks — because I'm known for having setbacks with my foot," he said.
Gilbert, 6-foot-4, 247 pounds, is expected to be one of the top playmakers on defense this season. He is one of the unit's best overall athletes and last season appeared to be on the verge of becoming a disruptive force.
Despite the injury, he played in all 14 games and his 42 total tackles led all linemen. He also had 91/2 tackles for loss, four sacks, four quarterback hurries and three forced fumbles.
"You never want to make excuses," he said of playing 10 full games with a sore foot. "Giving 100 percent is different than playing at 100 percent. I always gave 100 percent."
Gilbert's reaction, when he saw the new defense, was, "I can't wait until I'm healthy enough to go out and do that."
"It's all the things coach (Charlie) Partridge wanted to let me do but he couldn't," Gilbert said of his former defensive line coach, "because of the (old) defense. The things he knew I was good at, he let me come from a two-point (stance) when he could and I appreciated it. I appreciated him for everything. But this is the defense that I feel like I can thrive in."
Gilbert said his new role is similar to the way he played in the 70-31 victory over Nebraska in the Big Ten Conference championship game, when he lined up in a "wide-9" position in a two-point stance.
"You can talk about pass rush, you saw the production we had in the Big Ten championship game when we started pass rushing from the '9,' " said Gilbert, who forced a fumble and was credited with a half-tackle for loss in the game. "Just that little taste is exciting to know you're going to be able to do that all year. I can't wait."
Gilbert did not take part in any of the first three practices in spring. When asked if he is concerned about missing all spring in a new defense, he said, "No, because it feels so natural for me. The concepts, it just comes together."
UW's defense has been missing three other likely senior starters who are out with injuries: linebacker Ethan Armstrong (shoulder surgery), nose tackle Beau Allen (ankle surgery) and outside linebacker Brendan Kelly (unspecified).
Allen said he hopes to be back soon and thinks the training staff is being cautious with him. Armstrong will be sidelined all spring.
Defensive coordinator Dave Aranda is doing everything he can to help the injured players learn the defense.
"We have a plan for that, in terms of teach tapes, instructional voice-over tapes," Aranda said. "We're using the good things and the bad things from spring, what's going on now and trying to outline the individual skills they need to acquire as best we can with pictures, action shots and drills.
"That's about all we can do. They're real attentive with everything happening here. There's a great hunger that's probably a general great quality all of our guys share — they want to be in it and they are in it."
Gilbert said he's determined not to let his injury derail what he still expects to be a great senior season.
"I'm definitely praying this thing heals 100 percent and then it's really time to play football, it's really time to put up numbers," he said. "I feel absolutely 100 percent confident in myself that I'll be able to do that."
Be the first to know
Get local news delivered to your inbox!