With historic Camp Randall Stadium the centerpiece gem, gameday football tailgating in Madison is a sensory explosion with legions clad in University of Wisconsin red, hoisted beers, sizzling brats, jammed beer gardens and music.
It's a tradition of friendships made and continued.
Unlike campuses with stadiums surrounded by acres of parking, Badger fans tailgate in diverse settings, seemingly filling every nook and cranny for blocks around.
Students pack porches and front lawns of student housing on Breese Terrace, a football's toss from the hulking stadium across the street. Patrons crowd bars and beer gardens along Regent Street. Families and friends gather around vehicles in parking lots. On blocks near the stadium, fans cluster in houses, yards and street terraces. The Wisconsin Union's Badger Bash and Athletic Department's Badgerville attract thousands. Parts of the UW marching band weave from one celebration to another.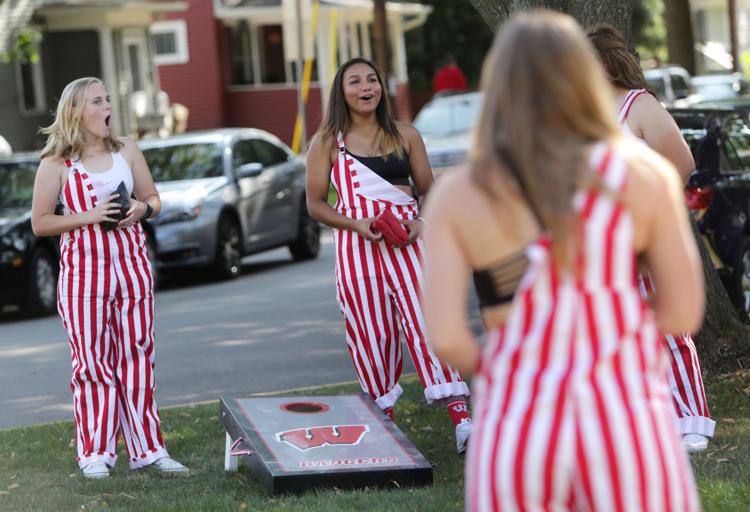 "There's nothing like football weekends in Madison," said Jeff Wendorf, class of 1982 and a vice president of the Wisconsin Foundation and Alumni Association. "The excitement in the air and the fans in the stands make the city come alive. Tailgating helps to extend the experience, adds to the energy and provides an opportunity to reunite with friends and meet new ones."
National media agree. CheatSheet.com ranked Badger tailgating third best in the country for 2017. And rankings over past years are routinely in the top five, including a No. 2 from bleacherreport.com and No. 3 from USA Today's fanindex in 2016.
"The basics of any Wisconsin tailgate is brats, cheese and beer," Wendorf said. "From there, you can add anything you wish."
Culture and tradition
No one's really sure about the origin of tailgating, with one popular theory dating the practice to civilians traveling from Washington, D.C., to picnic and witness the first battle of Bull Run in 1861.
One sports legend has Wisconsin roots, crediting Green Bay Packers backers with coining the term during the team's inaugural year in 1919, when fans brought food and beverages, backed pickup trucks around the field and folded down tailgates for seating.
The arrival of tailgating at Camp Randall is hard to pinpoint, even for local historians.
But whatever its beginnings, it's evolved into a red-and-white mosaic that's as much a part of Badger gameday as the game itself, best exemplified by Camp Randall's notoriously slow-filling student section. Although some overindulge and a few behave badly, that's not the heart and soul of the culture.
The drink is beer, the food brats and burgers.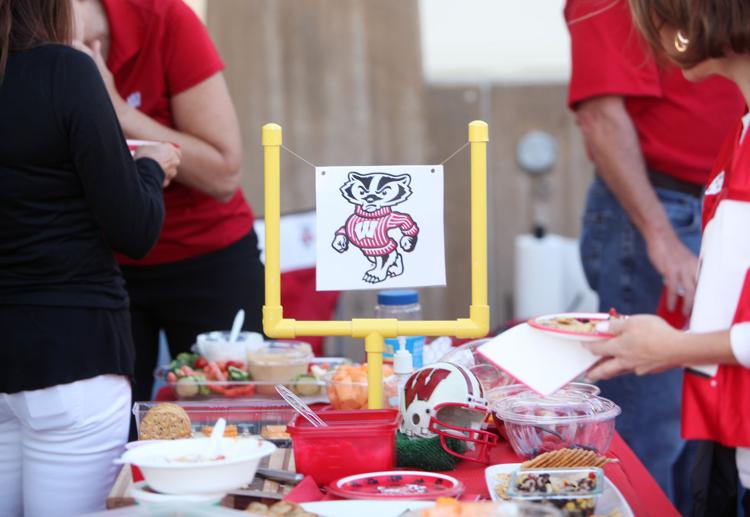 In surrounding neighborhoods, where people stand in the street with signs hawking parking spaces on private properties, tailgating is everywhere.
Off Monroe Street, former Badgers fullback and current Madison Fire Department assistant chief Clay Christenson, and his brother, Denny, a former Badgers linebacker, host a family-oriented gathering from a customized garage with indoor TVs, outdoor speakers playing pregame radio, and all the fixings.
Usually, the drink is beer and the food brats and burgers, with specialties like spicy buffalo dip, elk or venison sausage, and some no-warning, "incredibly hot horseradish sauce," said assistant fire chief Lance Langer, a regular. But people make the tailgate special, he said, explaining, "Listening to the former teammates describe their playing days, the coaching staff, and stories from playing provide a glimpse into the past that most people never know."
The tailgate, Clay Christenson said, "just gets everyone together."
Becoming fast friends
The intensity grows on Regent Street, where bars and beer gardens from Buckingham's Bar & Grill on the east to Sconnie Bar, six blocks to the west, pulse with energy.
Kelly Jordan, who owns Jordan's Big Ten Pub, 1330 Regent St., began her tailgate when she bought the bar in 1999, the year Ron Dayne won the Heisman Trophy and the Badgers beat UCLA in the Rose Bowl. It remains her most memorable season.
There's a lot of preparation to running a big tailgate party, said Ben Wilke, the bar's longtime manager whose labors have kept him from seeing a live home game for a decade.
Beer and brats "are king and always will be," but sales trends often depend on the visiting team, Wilke said. For Iowa, he sells a lot of New Glarus Spotted Cow, not available in the Hawkeye state, and for Nebraska, he orders more of everything because Cornhusker fans "come to party and they sure do!
"I feel like both home and away fans have a great time here," he said. "I've seen Badger fans giving away fans a hard time to start and then they end up buying each other drinks and becoming fast friends."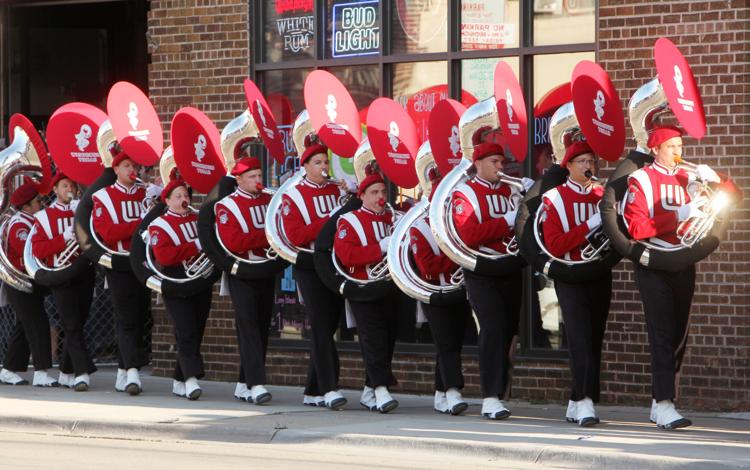 Before the season opener for a rare Friday night game versus Utah State, fans jammed the bar's beer garden. Huge TVs showed games and smoke wafted from the grill, the din of conversation a steady soundtrack. The UW Marching Band's drum section arrived and threaded through the throng and stopped to knock out a beat, surrounded by fans saluting with raised beers and cell phone cameras. The band's tuba section came later, pumping out "Roll out the Barrel" as it left for the next party.
"Our greatest story," Wilke said, "is we had a bride and groom and the whole wedding party come in at once, the bride in her very beautiful, expensive wedding dress just walking through the busy crowd smiling and enjoying their special day."
Small-town Wisconsin
Above and away from the clamor of Regent Street, Bill Chapman — a West Bend native, football walk-on in 1978-79, a 1982 graduate, and now a retiree from Libertyville, Illinois — his wife, Kathy, and other Badgers alumni host a longtime tailgate atop parking garage 17, immediately north of the stadium.
At this year's home opener, Chapman's white minivan, license plate WIS FANS, and its built-in bar is the tailgate's centerpiece, competing with a food spread on nearby tables that always features a main course — brats, burgers, hot dogs, chicken, chili or BBQ beef — and guests bringing side dishes. The specialty drink: Bloody Mary's. The upbeat vibe created by friends who've know each other for decades.
"This is just the best," said Tony Dombrow, who with John Gable leads the Mendota Gridiron Club of Chicago and also host the tailgate. Gable added, "It's kind of small- town Wisconsin."
It's hard to single-out a best tailgate, but the night game against No. 1 Ohio State in 2010 was unforgettable, Chapman said.
"Our parking lot was packed and incredibly festive," he said. "Wando's even set up a bar with umbrellas and a bartender. Knocking off the No. 1 team in the country was icing on the cake. Scott Van Pelt from ESPN and golfer Jerry Kelly enjoyed some of the post-game celebration with us. I just recall that no one wanted to leave the parking lot that night because we were having so much fun."
A family-friendly environment
For those lacking a spot or tradition, there's the Badger Bash at Union South, where the marching band performs its pregame concert, and Badgerville on the grassy Engineering Building lawn close to Camp Randall, with its multiple beer and food tents and stage offering free music and a capacity of 4,000.
Before the Utah State game, the Ryan McGrath Band, led by the mid-20s lead singer and guitarist who went to Oregon High School, offered blues and rock from the Badgerville stage before a sea of red. Tykes danced and played. At one point, legendary coach and current athletic director Barry Alvarez appeared and posed for photos, delighting fans.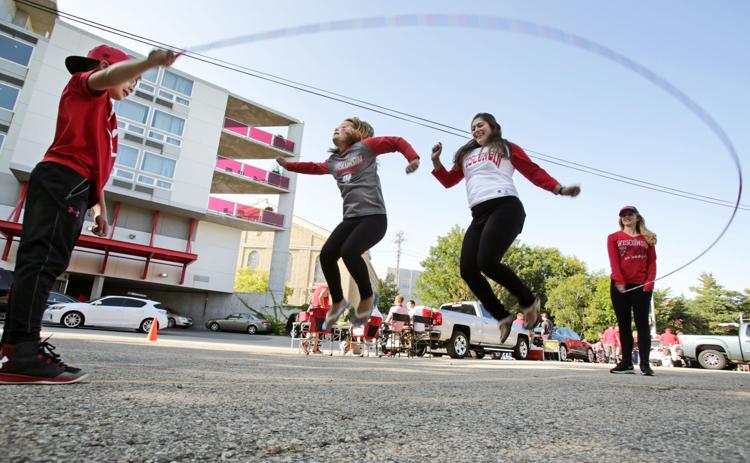 "Our university tries to encourage positive fan behavior, responsible drinking and a welcoming environment for visitors," Wendorf said. "Also, given the close proximity to the local neighborhood, a respect for residents and their homes."
On full display
Not far away, an hour before the Utah State game, female co-eds in red and white-striped overhauls are pouring beer down the funnel of a two-story beer bong to the awaiting mouth of another student to cheers from partiers clustered on porches and the front lawn of a house at the corner of North Randall and Monroe Street.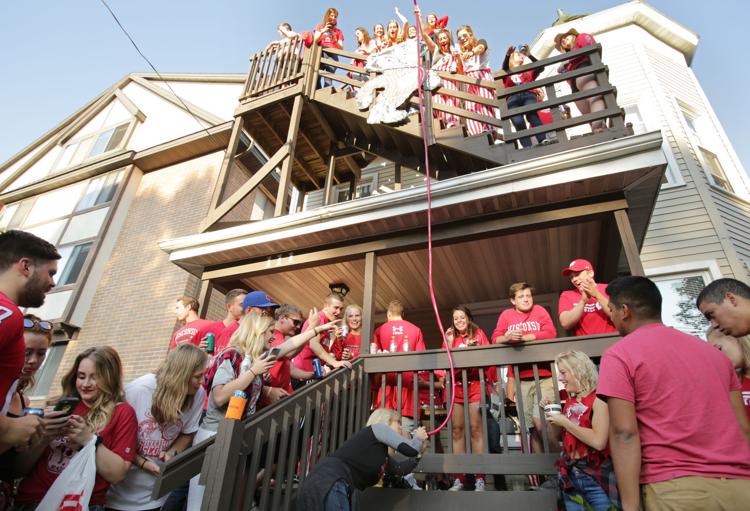 A kaleidoscope of bodies, beer cups, brats and bean bags, student tailgating begins gameday mornings at fraternities, sororities and house parties, where present-day Badgers honor traditions and make their own.
At vintage houses on Breese Terrace, it's on full display for throngs of fans approaching the stadium near game time.
"At the University of Wisconsin, we have a work hard, play hard mentality. So as students, we look forward to gameday very much," said Justin Gordon, a junior from Two Rivers who moved to a three-story, century-old house on the 100 block this fall, drawn to a location next to Camp Randall.
But "we don't want our tailgate to get out of hand," he said. "We invite close friends and people we can trust, and family, of course."
While some overindulge, gameday on Breese Terrace isn't what passing fans may think.
"This past tailgate was the best one thus far," Gordon said after the Badgers' 31-14 victory over Florida Atlantic. "We had a mixture of college students and parents at the tailgate, so it was pretty cool to be all intertwined and share the same love for a tradition that goes way back. It's peaceful in its own way even though a tailgate is loud and obnoxious. It makes you realize how a tradition, so simple, can bring people together."