Choosing which part of the University of Wisconsin football team to break down in this week's film room was tough.
One part of me wanted to go with Jack Coan and his brilliant day passing through tough conditions. Another wanted to highlight the secondary's battle with Minnesota's Tyler Johnson and Rashod Bateman. But I decided to show you the standout plays from a stellar evening of play from interior defensive linemen Garrett Rand and Isaiahh Loudermilk, because I believe their ability to control the line impacted the game the most.
Without a running game to speak of, Minnesota was one-dimensional, and therefore couldn't sustain its offense in the Badgers' 38-17 blowout win at TCF Bank Stadium.
Let's take a step inside the film room to see how Rand (93) and Loudermilk (97) took care of business inside.
Situation: First-and-10 at the Minnesota 22-yard line, early first quarter
Play: Rodney Smith rushes for 3 yards, tackled by Garrett Rand
Breakdown: Minnesota's large offensive line had big problems handling the quickness and power of Rand all evening.
This play starts with Rand fighting through the block of center Conner Olsen (64) and creating penetration into the backfield. That penetration is enough to affect the path of running back Rodney Smith (1) in the backfield, but not enough to create a rushing lane behind him — that's a sign of good discipline by Rand, a junior.
While creating the penetration, Rand is turned perpendicular to the line of scrimmage, with his shoulder closest to the line of scrimmage free from contact. Having that shoulder free allows Rand to fall back into the tackle once he sees Smith run into his gap. It's a tackle on a 3-yard gain — nothing crazy, but an example of how Rand and the line kept things contained and didn't allow many big lanes to be created.
Situation: Second-and-8 at the Minnesota 34-yard line, early second quarter
Play: Tanner Morgan sacked by Chris Orr and Isaiah Loudermilk for a loss of 3 yards
Breakdown: Orr's ability to rush up the middle this season has been predicated on Rand, Loudermilk and other interior linemen occupying blocks along the offensive line and giving Orr a lane to quarterbacks. This play is a bit different in that it essentially becomes a two-on-two rush with Loudermilk and Orr.
First, watch how Loudermilk engages with his guard head up, ensuring that he can't affect Orr's path to the backfield. Then, as Orr crosses the line of scrimmage, he ducks inside the running back's block, which knocks Curtis Dunlap Jr. (51) off balance as Loudermilk extends his arms and gets separation. Loudermilk runs his feet, Orr spins through Smith's block, and they meet at Tanner Morgan (2) for the sack.
Morgan is dangerous when he has time, and UW's front did a good job using stunts like this to get in his face.
Situation: Second-and-10 at the Minnesota 25-yard line, late second quarter
Play: Rodney Smith rushes for 1 yard, tackled by Isaiah Loudermilk and Reggie Pearson
You have free articles remaining.
Breakdown: This play shows the strength Loudermilk plays with and how he uses his 6-foot-7 frame and long arms to keep offensive linemen from getting to his body.
Loudermilk starts the play by delivering a hit on Dunlap Jr., and knocking his zone steps off course. When Dunlap Jr. and right tackle Blaise Andries try to double-team him to move him out of the hole, Loudermilk holds his ground and doesn't give an inch. Andries has to come off the double-team block to account for Jack Sanborn (57) while Loudermilk presses Dunlap Jr. away from him and locates the ball.
He sheds the block and gets ahold of Smith's ankle and brings him down. Few lineman can handle a double-team block from players that combine to weigh 670 pounds, but Loudermilk did it well here.
Situation: First-and-10 from the Minnesota 39, early third quarter
Play: Tanner Morgan pass complete to Chris Autumn-Bell for 3 yards
Breakdown: With its running game not creating the yards it needed, Minnesota tried to supplement it with tunnel screens, like the one seen on this play.
Rand wouldn't let those work either.
Watch as Rand comes up field, but stops himself once he feels his lineman leaving the block too easily. He's also looking at Morgan, who's winding up to throw quickly. Rand plants his left foot and redirects toward the screen pass. If you pause the video at 10 seconds, you can see Autumn-Bell catching the ball 2 yards ahead of Rand with about 7 yards of distance between them.
Autumn-Bell's path on the route brings him closer to Rand, who hustles to make first contact 1 yard past the line and then finishes the tackle shortly thereafter.
Rand said after the game the defensive line had a great week of preparation, and clearly they knew to be ready for the wide receiver screen.
Situation: First-and-10 from the Minnesota 20, early fourth quarter
Play: Tanner Morgan sacked by Garrett Rand, fumble forced by Rand, recovered by Tyler Johnson
Breakdown: The game was already over at this point, but Rand put the exclaimation point of the big victory.
The two middle linebackers, Orr and Sanborn, blitz, so Rand loops around to his right to replace Zack Baun (56) who drops into coverage. That gives him a one-on-one block with left tackle Sam Schleuter (70). Rand uses his left hand to "post" Schleuter — keep him at bay with a locked-out arm and continue to rush — and turns the edge.
Morgan tries to step up in the pocket, but Rand continues to run his feet and gets Morgan in his grasp. As Rand wraps up the Big Ten's leading passer, he knocks the ball free and the Badgers recover.
If Rand and Loudermilk can perform this well in the Big Ten Championship game, the Badgers have a better chance to pull off the upset against Ohio State.
---
Badgers 38, Golden Gophers 17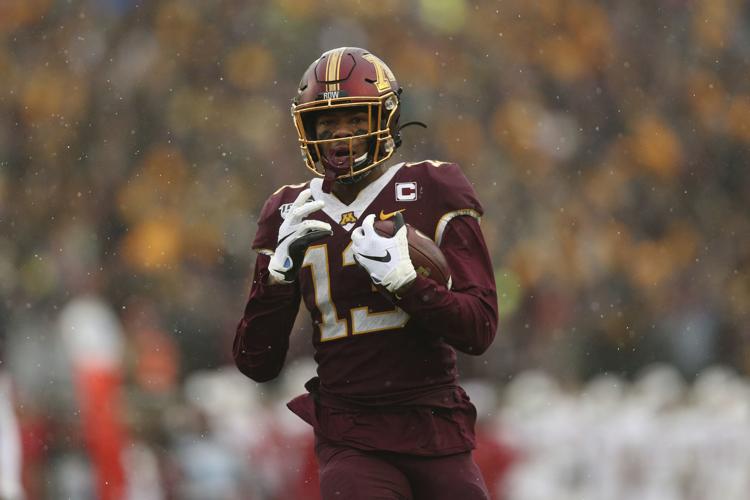 Badgers 38, Golden Gophers 17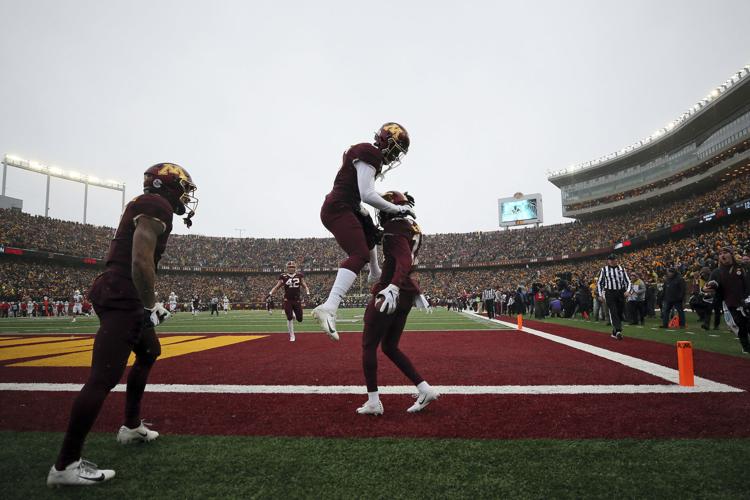 Badgers 38, Golden Gophers 17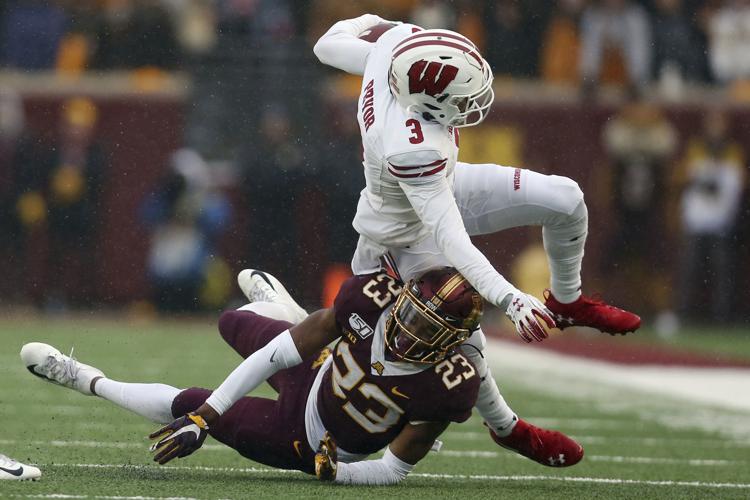 Badgers 38, Golden Gophers 17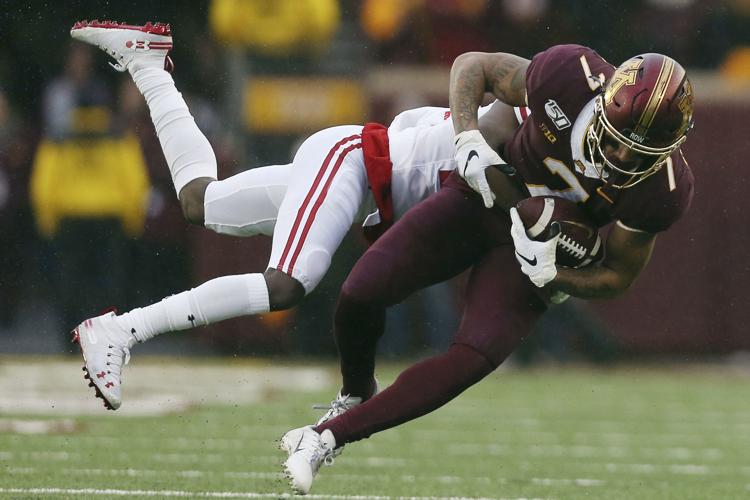 Badgers 38, Golden Gophers 17
Badgers 38, Golden Gophers 17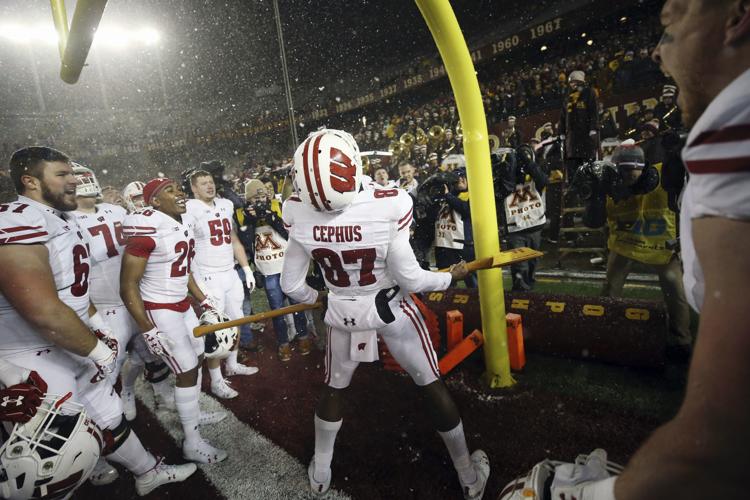 Badgers 38, Golden Gophers 17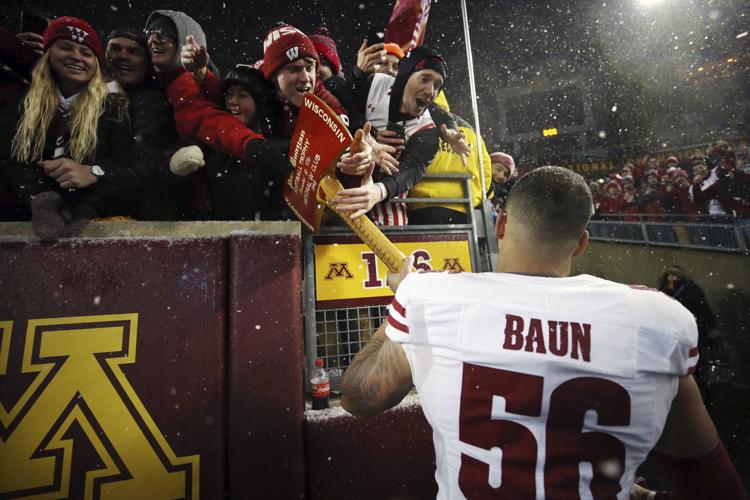 Badgers 38, Golden Gophers 17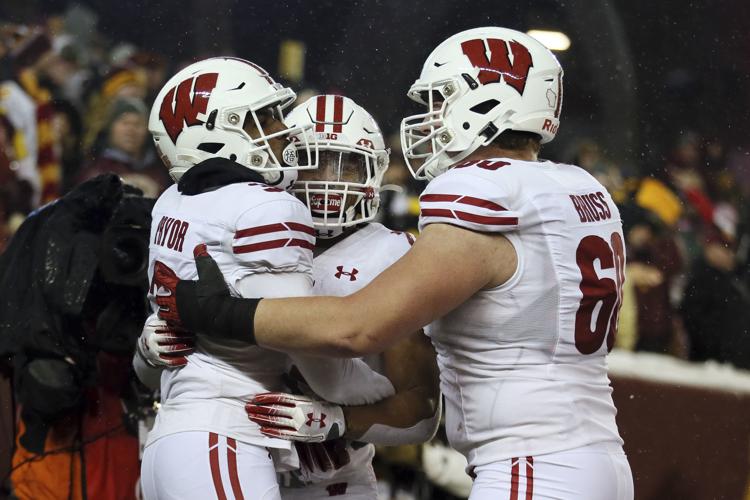 Badgers 38, Golden Gophers 17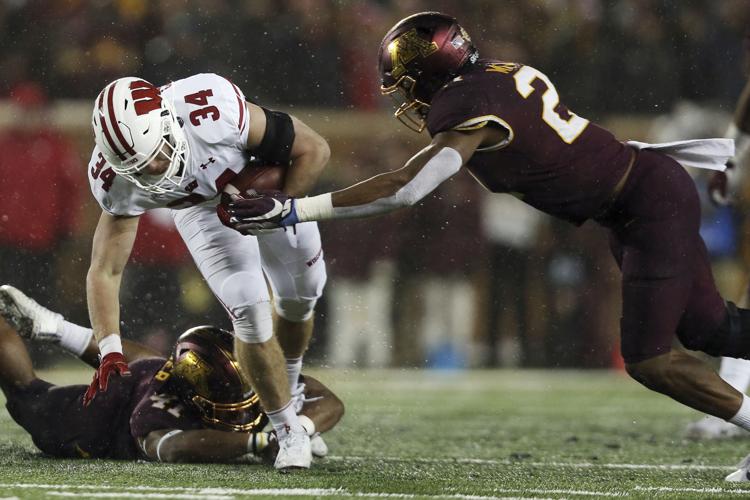 Badgers 38, Golden Gophers 17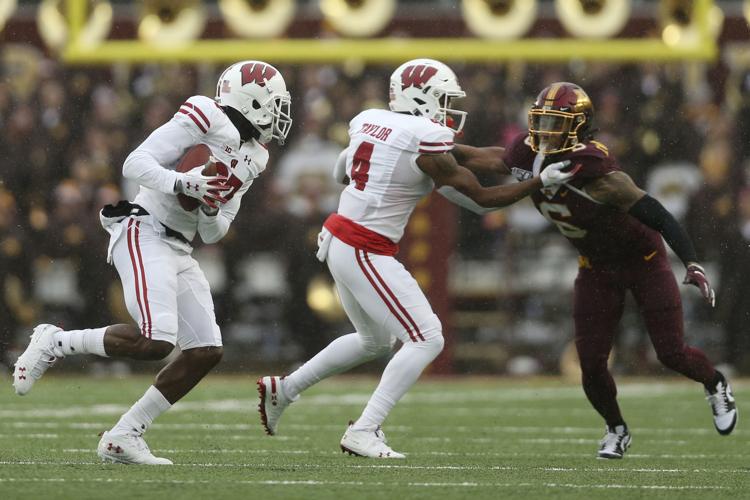 Badgers 38, Golden Gophers 17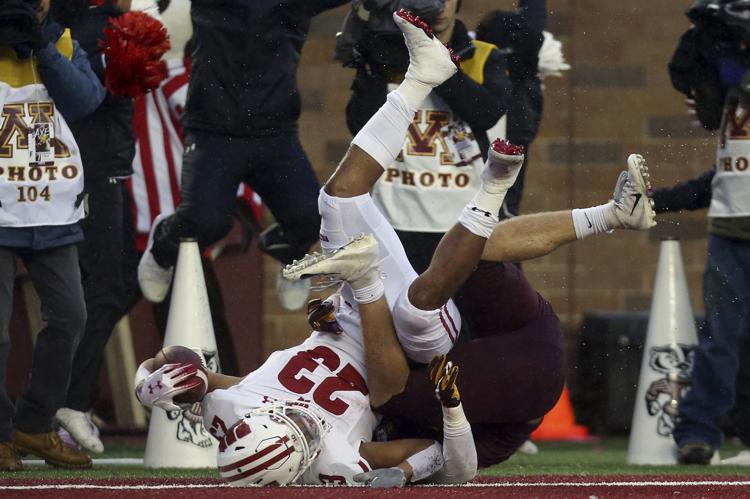 Badgers 38, Golden Gophers 17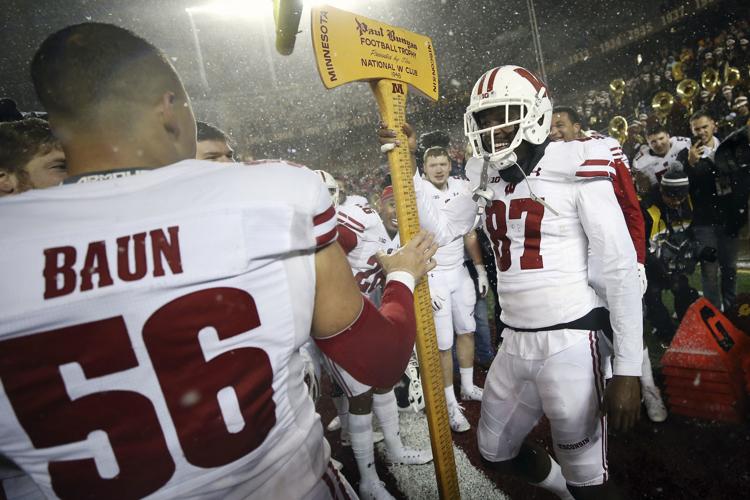 Badgers 38, Golden Gophers 17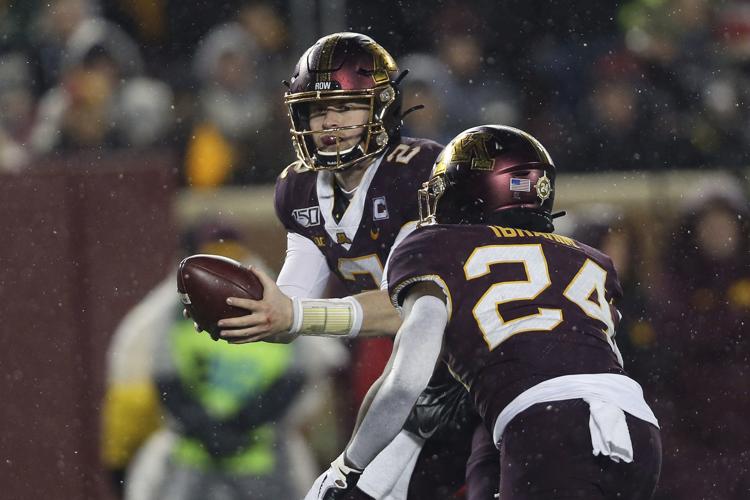 Badgers 38, Golden Gophers 17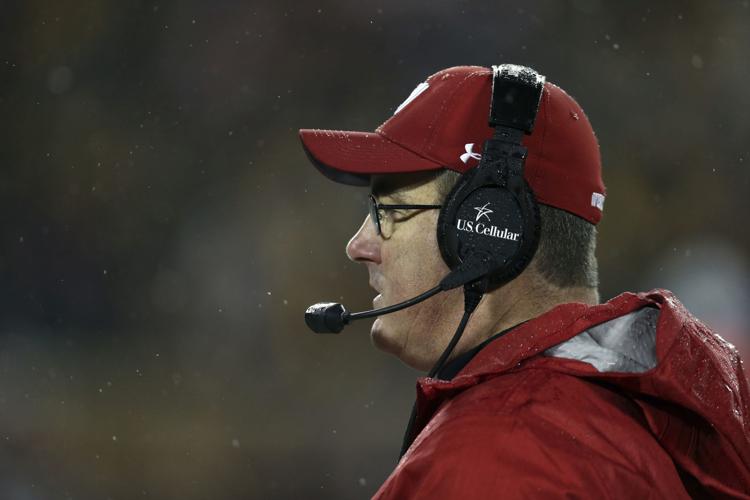 Badgers 38, Golden Gophers 17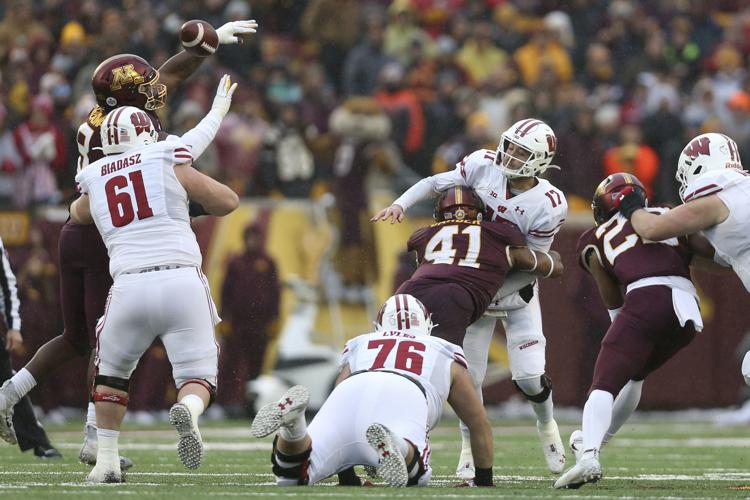 Badgers 38, Golden Gophers 17