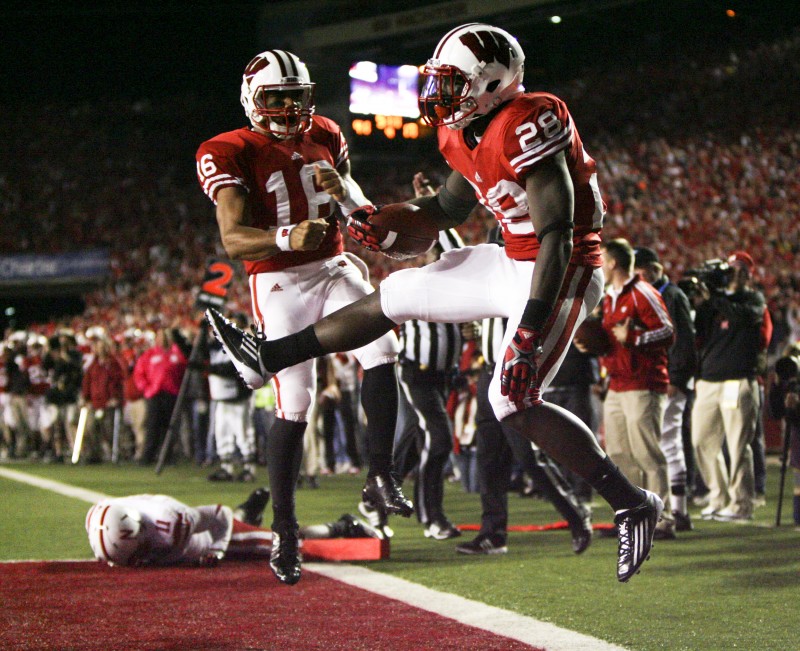 University of Wisconsin football coach Bret Bielema and his players embraced everything that went into their game with Nebraska Saturday night.
It was one of the most hyped regular season games ever for the Badgers and Bielema wanted his players to savor every minute of it.
"It was a fun week to be the head coach at the University of Wisconsin," Bielema said. "Our players, I think, embraced the week, the chance to be on the national stage.
"I threw it out to our guys on Friday night. I said, 'This week, I've heard about a big game, big stage, all these big things. All we have is a big opportunity. What are we going to do with it?"
The seventh-ranked Badgers made an emphatic statement, thrusting themselves into the national title picture with a dominating 48-17 victory over the eighth-ranked Cornhuskers in front of a frenzied crowd of 81,384 at Camp Randall Stadium.
And nobody felt more at home on the big stage than Badgers senior quarterback Russell Wilson. He accounted for 287 combined rushing and passing yards and three touchowns.
While Wilson was embracing the spotlight, Nebraska quarterback Taylor Martinez shrank from it. Martinez threw three interceptions, which all led to touchdowns.
"To me, if there's a better player in college football right now (than Wilson), I'd like to see it," Bielema said. "The big stage, he thrives on it. He plays so clean."
It was the 28th win for the Badgers in their last 31 night games and 13th straight at home. The 31-point win tied the biggest margin against a top 10 opponent. UW beat top-ranked Northwestern 37-6 in 1962.
The Badgers improved to 5-0 overall and 1-0 in the Big Ten Conference. It was a humbling welcome to the Big Ten for the Cornhuskers (4-1, 0-1).
"We didn't make plays," Nebraska coach Bo Pelini said. "I'm embarrassed. I apologize to the fans of Nebraska."
All the Badgers heard after blowing out four non-conference foes by an average of 40 points were questions about the caliber of their opponents.
"Yeah, you get tired of it," linebacker Chris Borland said. "We can't help who we play, we just have to perform as Wisconsin. We did that today."
UW treated mighty Nebraska just like it did South Dakota, using a combination of balance on offense and big plays on defense.
"For us, it comes down to doing the same thing each week, no matter who we're playing," guard Travis Frederick said. "Like you saw today, it ended up being similar to the other games we've played.
The Badgers' 486 yards was almost evenly split. Tailback Montee Ball rushed for 151 yards and four touchdowns as the running game totaled 231 yards. Wilson finished with 255 yards passing, completing 14 of 20 passes, with two touchdowns.
"It's definitely huge for our football team, the fact we came out with a win, the fact we played a great game," Wilson said. "The defense stepped up and made some great plays for us, got the offense the ball back. To play a great game like that, against a great team in Nebraska, it's pretty awesome."
When the Huskers came after him with a strong pass rush in the first half, Wilson turned to his legs to constantly get out of jams. He rushed for 32 yards and another score.
Still, the game started with some adversity, as the Badgers fell behind 7-0 and 14-7 in the first quarter. That was the first deficit faced by UW all season and its first at home since the first half against Arizona State, the third game of last season.
A fumbled punt return by Jared Abbrederis led to Nebraska's first touchdown. A busted coverage on second-and-21 resulted in a 29-yard completion and resulted in Bielema gathering his players on the sidelines.
"I was really frustrated because some guys had blown some things we did all week in practice," Bielema said. "I called every position group up. I said, 'Fellas, the only reason they've got points on the board is because of us.'
"From that point forward, for whatever reason, it was calmness. I think they started to panic a little bit, we had to slow the game down for them."
The Badgers scored 34 straight points after that. Wilson had a 22-yard scramble for a touchdown called back by a holding penalty, then calmly hit tight end Jacob Pedersen for a 28-yard completion on the next play. That set up Ball's 3-yard scoring run.
Philip Welch's extra-point attempt was blocked and Nebraska clung to a 14-13 lead. It would not last.
Interceptions by linebacker Mike Taylor and free safety Aaron Henry on the next two series broke the game open. Wilson followed both with touchdown passes of 36 yards to Abbrederis and 46 yards to Nick Toon.
Martinez completed 11 of 22 passes for 176 yards. Pelini insisted his quarterback didn't get rattled, despite the three picks. "No, I think he made a couple of bad decisions," Pelini said.
That was in contrast to Wilson, who never wavered, even after the Badgers fell behind.
"I can never tell if he's excited or down to earth or what exactly's going on in his head," Frederick said. "He just does a good job of leading the team and keeping us down to earth, yet hungry."