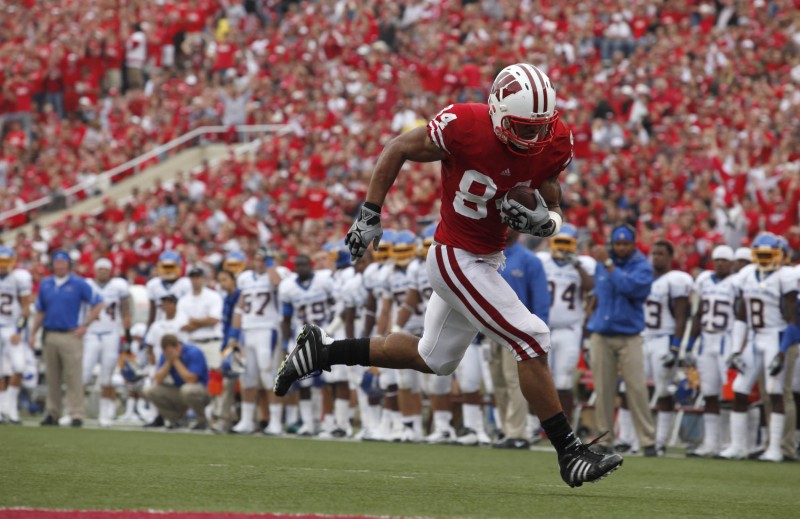 It was a simple throw, a little "pitch and catch," as University of Wisconsin quarterback Scott Tolzien would refer to it later.
It was third-and-4 and Tolzien had tight end Jacob Pedersen wide open for what looked like a 20-yard gain, but the throw wasn't close.
"I misthrew it, too far out in front of him," a disgusted Tolzien said afterward. "It's not good football."
It was just one of several miscues during the No. 11 UW football team's tougher-than-expected 27-14 victory over San Jose State on Saturday in front of a less-than-capacity crowd of 78,469 at Camp Randall Stadium.
The moment summed up the frustration level of the Badgers after winning a second straight non-conference game against a less-than-heralded opponent.
After running roughshod over UNLV in the opener, the Badgers wanted to take a look at their passing game — starting with the first play from scrimmage when Tolzien threw a deep pass that was broken up.
"We didn't get to do certain aspects of the passing game at UNLV that we wanted to work on," UW coach Bret Bielema said. "That's kind of why we went to it."
The verdict? Like the rest of the team, much work needs to be done.
Perhaps the biggest surprise after such a close game against a team ranked among the worst in college football is UW's senior quarterback had a hand in so many of the mistakes.
Tolzien was charged with three fumbles and though none were lost, two came on botched snaps and halted drives in the red zone. The first came on a poor exchange on a failed fourth-and-1 from the San Jose State 4-yard line.
On the second, Tolzien bumped into fullback Ryan Groy on third-and-2 and dropped the ball, resulting in a 5-yard loss and forcing a 37-yard field goal by Philip Welch.
"There were two fumbles that were exchange issues," Bielema said. "The first was Scotty and the center (Peter Konz). Scotty was putting it on himself, as you guys know, he'll beat himself up over it. Just something we have to clean up.
"On the other one, Ryan got a little close to him in his alignment. When (Tolzien) turned around, he hit it off Ryan, just because of alignment issues."
Tolzien also tossed a poor interception on a deep post in which wide receiver Isaac Anderson fell down in the third quarter.
"Missed read, missed throw, bad play," Tolzien said. "I have to be smarter than that. I've got to throw better, period."
The sloppy play allowed the Spartans (0-2), who came in as 38-point underdogs, to hang around and gain some much-needed confidence after a 45-point loss to top-ranked Alabama in their first game.
"I think they really enjoyed playing and that's part of believing," San Jose State coach Mike MacIntyre said. "If you enjoy playing, then you free yourself up. You're able to make plays and do things. I think they felt that as the game went along. They just kept fighting and clawing."
After Chandler Jones caught a pass and broke four tackles on the way to a 37-yard touchdown to make it 20-7 with 47 seconds left in the third quarter, San Jose State's players even dared to believe they could win the game.
"At that point, there was plenty of time left," linebacker Vince Buhagiar said. "We were in it."
The Badgers were reeling for much of the second half after watching wide receiver David Gilreath taken off the field in an ambulance. Gilreath suffered a concussion when he was crunched by two Spartans after fielding a punt early in the third quarter; he was taken to the hospital and released a short time later.
"I don't know how many minutes he was down," Bielema said of the time the medical staff worked on Gilreath, which was about five or 10 minutes. "All the kids are asking me questions. I'm trying to give them the best answers to get them to go back out there. (It) definitely interrupted the flow."
While Tolzien did not have his best game, completing 15 of 22 passes for 191 yards and one touchdown, he did respond in the fourth quarter. With his two starting receivers out — along with the loss of Gilreath, Nick Toon missed the game with a turf toe injury — Tolzien had completions of 14 yards to Jared Abbrederis, 25 yards to tight end Lance Kendricks and 18 yards to Kyle Jefferson on a 77-yard drive after Jones' touchdown.
John Clay, who finished with 137 rushing yards, scored on a one-yard run to make it 27-7. Then, with the Badgers leading 27-14 and Bielema not wanting to put his defense back on the field, the offense ground out the remaining 5:42.
"I would agree with you," Bielema said when it was pointed out Tolzien did not look sharp. "You know what, the best play of the game came on that last drive. We had a play that was going to get nulled. The check was wrong. He totally changed the play at the line of scrimmage. I believe it was an eight-yard first down.
"I get what you're saying, there are a couple of things he's got to clean up. As the whole team does."