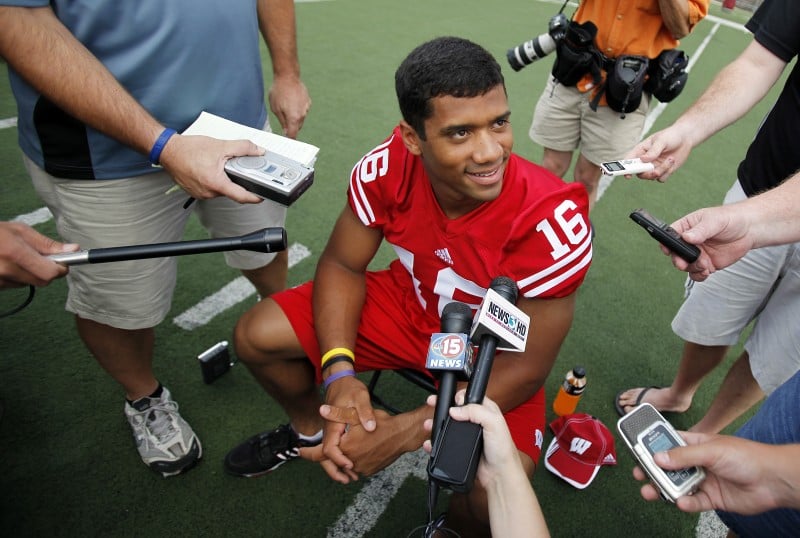 Before each University of Wisconsin football practice, senior quarterback Russell Wilson gets his wrists taped, then writes three things on the tape.
One is a football message for the day, which could be as simple as "just play each play."
He will also add one of his favorite Scripture passages.
The third is a reminder of the person who helped make it all possible and played the biggest role in shaping the player Badgers fans are hoping will take their team to the Big Ten Conference title - and possibly beyond.
"I'll just put, 'Dad,' and think about him," Wilson said. "I always have him on my mind. I pray a lot and thank the Lord he was in my life."
Harrison Wilson III was a highly respected lawyer in Richmond, Va., and a former two-sport college athlete who died a little more than a year ago, at the age of 55, after a lengthy and difficult battle with diabetes.
Russell is not going to say his father had a hand in the startling developments that led him to transfer to the Badgers, who were in dire need of a quarterback. But he will say his dad had a good seat to watch it unfold.
"More than anything, I think the Lord was (guiding me)," Russell said. "I don't want to say my dad was, but I think my dad was just right there with Him, watching."
For most of Russell Wilson's life, his father seemed to know what to do to prepare him for everything he would face.
Wilson got his start as a quarterback, at the age of 4 or 5, throwing passes to his brother, Harrison IV, who is five and a half years older. The older brother wanted to be a wide receiver, just like his dad, and needed a quarterback.
"We spent countless hours with my dad, on the lawn at the Collegiate School (in Richmond), on the football fields, until someone would kick us off," Wilson's brother said. "That's where Russell got his ability to throw the ball. He'd play quarterback and my dad would show me how to run routes."
The father was a standout in football and baseball at Dartmouth, then went to Virginia Law School, where he was president of his class and met his wife, Tammy, who was an undergraduate. The family also includes a daughter, Anna, who is entering high school and is an emerging basketball player.
Wilson's father got a tryout with the NFL's San Diego Chargers as a wide receiver after law school and he survived until the final cut. When Wilson was growing up, his dad would constantly quiz him about different things. Coming home from a football game, his dad would ask about different throws, or to explain a play, or why his son made a certain decision.
Sometimes, his dad would pretend he was a television reporter and thrust an imaginary microphone at him. "Russell Wilson, Super Bowl quarterback ... ," Wilson said, imitating his dad. "He'd ask me all different questions to prepare me. He always had these little quotes and lines. So, I used to always remember them."
One day, Wilson was about 14 and riding in the back of the family car with his brother. They were traveling between their grandparents' houses in Virginia. After another round of questions, Wilson's dad passed him a slip of paper, which said, "There's a king in every crowd."
The quote was a way for his father to remind him to be careful, because someone is always watching, even when he is alone. But it has come to mean so much more than that. It has become a guiding influence in Wilson's life.
"It means a lot of different things," Wilson said. "For me, my faith ... the Lord's always watching me. He's always around me, protecting me, everywhere I go. With my family situation, my dad's always there watching me, he's here. I truly believe that.
"Also, in terms of playing sports, you never know if a scout is watching. You never know what coach is watching. You never know if there is a little kid in the stands who wants to be just like you."
Like father, like sons
The Wilson family is full of high achievers, college presidents, lawyers and athletes. Wilson's grandfather, Harrison Jr., was the president of Norfolk State in Virginia for more than 20 years.
"It's a high standard, just kind of a way of life for Russell and myself," said Harrison IV, who played football and baseball at Richmond. "Growing up, our goals were to get a scholarship and pay our parents back for sending us to a great school from K-12. There really was no other option. It wasn't like, 'Maybe I'll do something different,' or, 'Maybe I won't try to play two sports.' That was just what we were going to do.
"You kind of learn how to set goals and how to go about achieving them."
When Wilson's father was at Dartmouth, he was the top receiver on a team that included three future NFL players.
Even though he finished law school three years after his college career ended, Wilson's dad was determined to give the NFL a try and got a tryout through a family connection. He kept in shape, running around The Lawn, a famous grassy field in the middle of the Virginia campus. He wore Army boots and wrapped trash bags under two pairs of sweatshirts.
He convinced skeptical friends to work out with him, catching bricks to help soften his hands.
He caught a touchdown pass in a preseason game against the San Francisco 49ers and saved the ball. It had a white panel painted on it that contained his name and the score of the game and was kept on a mantle in the house. Wilson and his brother used to sneak the ball outside and play catch with it, until most of the white paint was scraped off.
While the father didn't make a big deal out of his failed NFL dream, his sons knew plenty about his football career.
"We talked about it, more so when we asked about it," Wilson's brother said. "He wasn't one to talk about it much. We found his highlight tape one time, from Dartmouth. Once he realized we were interested, he would throw it on, kind of show old films."
'A special leader'
By the time Wilson reached high school at Collegiate, he was mature and polished beyond his years. He took over as the starting quarterback as a sophomore.
All of those mock interviews Wilson had done with his father made him ready for the real thing.
"After his first game, there were three television cameras from the Richmond area at the game," said Charlie McFall, who was Wilson's high school football coach. "All three cameras were in his face. I never worried once he wouldn't say the right thing."
Whether it was in the weight room or on the field, McFall also never worried about having to push Wilson. Pretty soon, it was the same with the entire team, which quickly followed Wilson's lead.
"That leadership by example and everybody trying to live up to his expectations, too," McFall said. "He made everybody else around him better. Because he was going to win the sprints, do the best job in the weight room. He wasn't going to dog it a second."
Wilson threw for 3,009 yards and rushed 1,132 yards as a senior and was recruited by most ACC schools. But there were doubts about whether he was tall enough to play quarterback at 5-foot-11.
Virginia Tech backed off because it had Tyrod Taylor, and Virginia wanted a bigger quarterback and talked about moving Wilson to defensive back, to the disgust of McFall.
"I've coached a long time," said McFall, who has been at the school for 42 years and retired as football coach after Wilson left. "I don't really know anything about the college game other than the fact Russell's a quarterback, and I know what a special leader he is."
His biggest fan
The person who believed in Wilson the most was his dad. Russell was a redshirt freshman at North Carolina State, one of four quarterbacks competing for the starting job in 2008 when his dad suffered a stroke.
To the amazement of the people around him, Wilson beat out four other quarterbacks to win the starting job, then led the conference with 31 touchdown passes and became the first freshman to be named first-team All-ACC quarterback.
When his father was too sick to attend games, an uncle, Ben Wilson, went in his place and returned to provide his brother with all of the details.
"Russell's first game against South Carolina, his dad was in a hospital bed," McFall said. "My wife and I went down to see him that day, to make sure he had the game on, even though he couldn't see it. He kept fighting. I think his desire to see Russell play was pretty strong."
Later that season, Wilson's dad was able to make it to the Wake Forest game and watched from a sheltered seat in the end zone. Wilson led his team to a 21-17 victory and gestured to his dad in the stands after big plays.
By then, the lessons of the father had taken root. Harrison IV, who now works as a pharmaceutical sales representative in Chicago, didn't get a chance to attend many of his brother's college baseball games, but he remembers one moment vividly. In warmups prior to the game, his brother was going after fly balls like it was the ninth inning of a tied game. Remember, you never know who might be watching.
"I had never seen somebody work so hard in warmups," Wilson's brother said. "I played baseball and I took a lot of pride in my fielding ability. I was an outfielder. I couldn't believe how hard he was going."
While playing baseball and football, Wilson graduated in three and a half years with a degree in communications. Getting a degree allowed him to transfer to another school and play right away, when Wolfpack coach Tom O'Brien took away Wilson's starting job because he continued to play minor-league baseball this past summer and wouldn't commit full-time to football.
"I look up to my little brother in a lot of ways and that's just one, having gone through it myself," said Wilson's brother, who quit playing baseball after a great junior year of football in college. "I know the challenge of playing two sports physically, but the academic piece is a whole other thing. I'm really proud of him that way."
What pressure?
His father died on June 9, 2010, the day after Wilson was drafted in the fourth round by the Colorado Rockies. Wilson raced home to Richmond to see his dad in the hospital and give him the good news. Even though his dad couldn't speak, Wilson knew he could understand what he was hearing. It was the last day Wilson got to see his dad.
On the one-year anniversary of his dad's death, Wilson was on a recruiting visit to UW.
"He knows how proud my dad would be of him to do what he's doing now at Wisconsin," Wilson's brother said.
The father's goal of playing in the NFL someday is now being pursued by the son. But to say Wilson wants to play in the NFL to fulfill his dad's wishes isn't quite right.
"I'm sure it's something my brother wants to do for a lot of reasons," Harrison IV said. "One, for himself, his family and my father. It's just another opportunity to represent his family at the highest level."
Wilson admitted the two dreams overlap and it's difficult to know where his dad's dream ends and his begins.
"I think it definitely correlates," Wilson said. "At the same time, it's what I've been working for every day. I think he's definitely been a part of that. God gave me the talent to do what I'm doing in terms of playing football and baseball. I'm not going to shy away from that. I'm going to use all the talent He gave me."
One thing is certain: All of the lessons his father passed along have prepared Wilson for his final year of college football. While people from the outside perceive him to be carrying a terrific burden with such high expectations surrounding his arrival, Wilson knows what real pressure is.
"This isn't pressure," he said. "This is great, this is fun, this is a blessing in my life. What my mom had to go through in terms of taking care of my dad and always being there for him, having to help him out, while taking care of my sister, that's tough, that's pressure."
Wilson has been through so many experiences the last three years - football, minor-league baseball and dealing with his father's illness - there's not much left that could faze him.
"He's not just a fifth-year senior," Wilson's brother said. "He's somebody who has graduated, somebody who has been involved in the professional level at another sport and understands the pressure there. For some reason, I don't feel like Russell views it as pressure at all. It's kind of like a new opportunity he's fortunate to have."
Wilson has lived his life as if somebody's watching, and this will be no different.
"My family really prepared me for life and led me in the right direction in terms of where I needed to go, where I needed to be and how I needed to do it," Wilson said. "I'm so grateful for my parents and what they've done in my life and what they'll continue to do."
All the latest news, scores, photos and video from Madison.com, delivered to your mobile device.