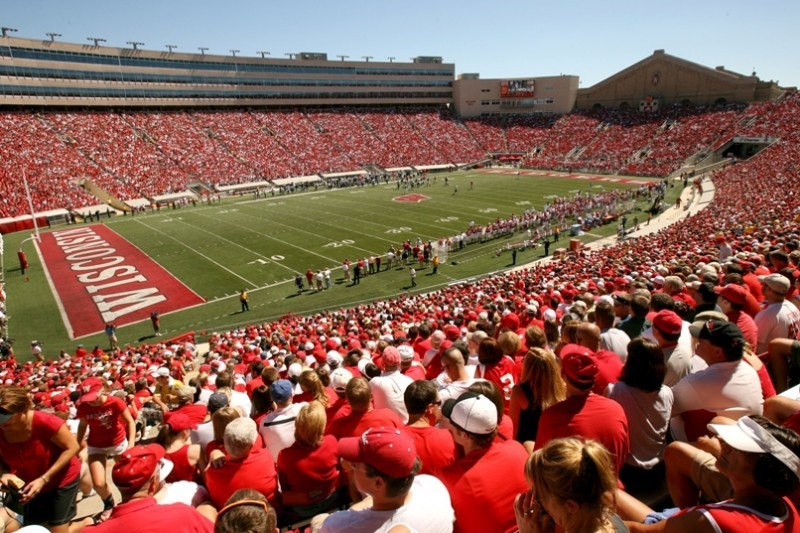 The first time Barry Alvarez came to Camp Randall Stadium as a college football coach he was sure University of Wisconsin fans were drinking in more than the atmosphere.
"I swear they sold beer in the stands," the UW athletic director said last week, referring to his debut as linebackers coach at Iowa in 1979. "Is that true?"
No, it just seemed like it, given the apparent ease with which UW fans — students and grown-ups alike — were able to sneak alcohol into the stadium on long-ago game days.
The idea of selling beer at Camp Randall popped onto the radar screen recently when West Virginia athletic director Oliver Luck proposed such a plan for Mountaineers football games.
In addition to tapping into a lucrative revenue stream, Luck told his Board of Governors that allowing and controlling beer sales would help cut down on the problem of fan intoxication.
"We don't have control right now," Luck told CBSSports.com. "We're bringing a measure of control into the stadium that we ultimately think will help improve the atmosphere and, quite honestly, generate a few dollars."
Luck wants to prohibit fans from leaving the stadium during the game — many retreat to the tailgate area at halftime before returning — while theoretically curbing the desire of ticket-buyers to sneak alcohol into the stadium.
"Oliver Luck's a smart guy," Alvarez said. "I'd be very interested to see how this works."
You have free articles remaining.
The Board of Governors at West Virginia will address the issue on June 3, but a 30-day comment period for the public that ended last week produced more outrage than support.
A CBSSports.com survey of NCAA Division I conferences showed alcohol is available to fans in the stands at 20 stadiums. Camp Randall is not one of them, nor will it be any time soon.
"I wouldn't even try to bring it up," Alvarez said.
"I don't foresee that in the near term here at all," said Darrell Bazzell, the UW vice chancellor for administration. "It's just not something we've contemplated."
Alcohol is available in designated premium seating areas at Camp Randall and the Kohl Center.
School policy does prohibit the UW Athletic Department from selling advertising to beer distributors.
Selling beer at UW sporting events could generate $1 million in annual revenue, but Bazzell said beer would not be a good addition to the already rowdy atmosphere at Camp Randall.
"We certainly don't want to add more fuel, if, you will, to the environment," he said.
Alvarez acknowledged the lure of additional revenue, "but there are other factors involved as far as regulation and philosophy," he said. "I just think there's a lot more to it than just another revenue stream."