Multiple tours, many meetings, plenty of food and a laid-back dinner at coach Paul Chryst's house. That's just some of what recruits and their families have experienced during a University of Wisconsin football official visit.
The Badgers kicked off a busy month of welcoming high school prospects to Madison for official visits last weekend. The program plans to welcome nearly two dozen recruits to Madison during the month of June for official visits. This is a key time for the football program to sell players and their families on what the program can provide in the coming years.
The State Journal spoke with eight sets of parents of current UW players and recruits who took official visits during the summers between 2018 and 2022 to better understand what takes place during an official visit. Their recollections paint a picture of how the Badgers have presented their program to recruits in recent years.
Warm hospitality
All stayed at The Edgewater Hotel, located just northeast of campus. The well-known hotel, which sits on the edge of Lake Mendota, also hosted a dinner on one of the nights.
Miranda Jones, mother of freshman defensive back Avyonne Jones, remembered a warm welcome upon arrival last summer.
"When you get there, they have hot cheese curds and food, and it's a great spread on the bed," she said. "Like all things Wisconsin that represents the program from their sponsors and the community. So the whole room is just decked out basically in red when you get there."
Stacy Rucci, mother of tight end Hayden Rucci and offensive lineman Nolan Rucci, fondly remembered a gathering atop The Edgewater.
"You see the water on one side and the Capitol building on the other," she said. "The weather was awesome when we were here, so it was pretty awesome."
Current Badgers act as hosts to recruits while the parents get an opportunity to socialize. Logan Bruss hosted Joe Tippmann during the summer of 2018, and Tippmann has acted in that role a few times since arriving at UW.
Matt Henningsen hosted Cade McDonald during his official visit in June 2019, and quarterback Deacon Hill did the same for Myles Burkett last year.
"The initial night, Matt and Cade just went out," Branden McDonald, Cade's father, said. "He showed him, 'OK, here's some dorms, but this is also where I live now,' in a house or apartment. Matt lived in a great place, and then they went to some of the houses, and Cade really got a feel for other than football life, this is kind of how it is."
Redshirt freshman offensive lineman Riley Mahlman hosted James Durand, UW's second commit of the 2023 class, last weekend. Durand, the three-star recruit, also spent significant time with current Badgers in his future position group.
"I think as already being committed, their offensive line group is so tight," Durand said, "so I think they really took me in as one of their own and kind of showed me what it's going to be like when I get there. So that probably stood out to me the most, and we spent a lot of time together as a unit."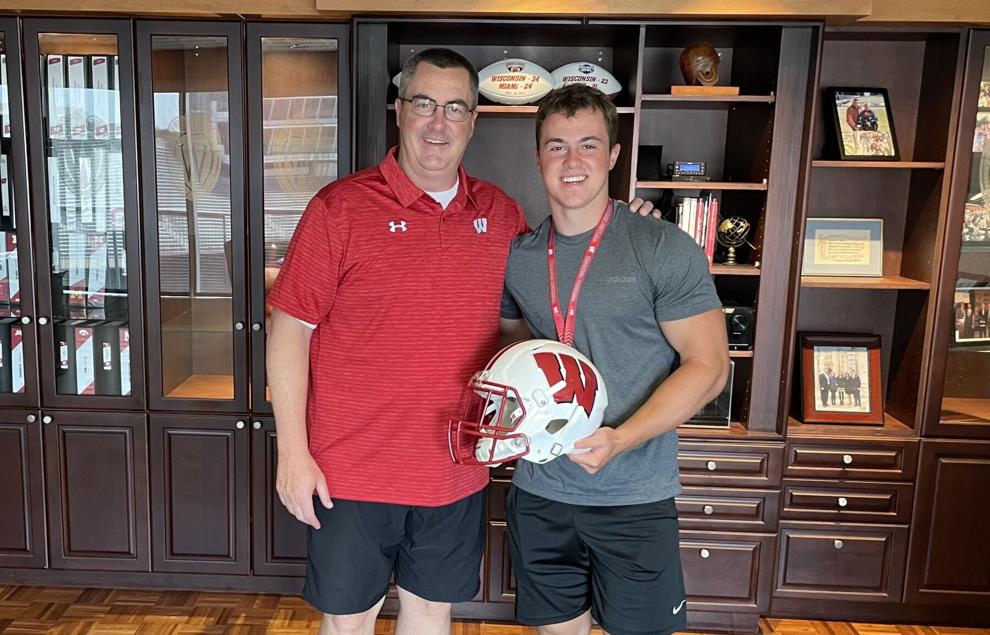 Numerous tours and meetings, football and non-football related, fill up the days recruits are in town as UW tries to maximize each hour with the limited time it gets to spend with the potential future Badgers.
"Everything was first class, as you would expect," Kerry Yacamelli, father of incoming athlete Cade Yacamelli, said about last year's visit. "Campus tour in the bus and just everything. Explained everything from not just football, but academics to the health of the student-athletes to expectations.
"We actually met with the new athletic director (Chris McIntosh) at that time. He spoke to the parents. We met with advisors. They touched every part of it that you could possibly touch."
Meetings with assistants take place, along with one-on-ones with Chryst. Terrence Burkett, father of Myles, remembered how former UW assistant Joe Rudolph showed UW's offense in one meeting. The staff intertwined a throw by Myles into a video to demonstrate how he would fit into UW's scheme.
One particular meeting that stood out to a few parents involved the current players answering questions in a panel-like setting without the coaching staff present.
"We as parents, we dared greatly," Miranda Jones said. "We asked a lot of bold questions because many of us have been through this before, and we know sometimes one thing is being said to you, but what the athlete experiences is different.
"There were just some personal testimonials given by the players about how they felt treated. Experiences that they shared about one-on-one experiences with coach Chryst and other coaches on staff. Stuff that you can't make up, so that was really a powerful part."
Christy Durand, mother of James Durand, complimented the UW players and staff on the "wonderful amount of information" they provided during their recent trip and their willingness to answers all questions.
"I would say what stuck out the most to me if I wrapped the whole weekend up was that it's just a genuine, genuine program," she said. "What you see is what there is. The people are genuine, the kids are genuine, and that's great for me."
Food and activities
Food options scheduled during official visits have included a fish fry from Jordan's Big 10 Pub at Porter Boathouse one weekend last year and lunch on the Memorial Union Terrace in 2018. Miranda Jones and the Yacamellis recalled last year's Badger Bash, where local food options were available and recruits got an opportunity to interact with current Badgers.
"All the neat food trucks and stuff came in," Kerry Yacamelli said.
Pontoon boat rides were part of the events during one week in the summer of 2018, along with last weekend. They offered an informal setting for the coaching staff to interact with recruits and their families.
"I think all the coaches tried to spend time getting to know each family, which I think we really enjoyed that," said John Tippmann, father to Joe. "Because you got to know each personality, and you really had time to sit with the other coaches and understand how everything works, which is pretty nice.
"We still today from those introductions or whatever, when we see those coaches, we still have conversations with them and just kind of enjoy the company."
Players also get an opportunity to see what they would look like in a Badgers uniform. It's become commonplace for recruits around the nation to post photos on social media from trips to schools, and the latest UW recruits in Madison last weekend were no exception.
UW also put together videos that show the student-athletes posing in uniforms around campus. Clips of photos with family, the recruit posing in football gear and taking in sites outside the football facilities intertwine with quick looks of the city of Madison, fans cheering and game footage from the season. The videos end with the recruits performing the program's "Jump Around" tradition.
Christy Durand believes UW had staff taking video and pictures the entire weekend, from lunch to meetings and photo shoots. "You get a really good idea about what casual hanging out looks like," she said.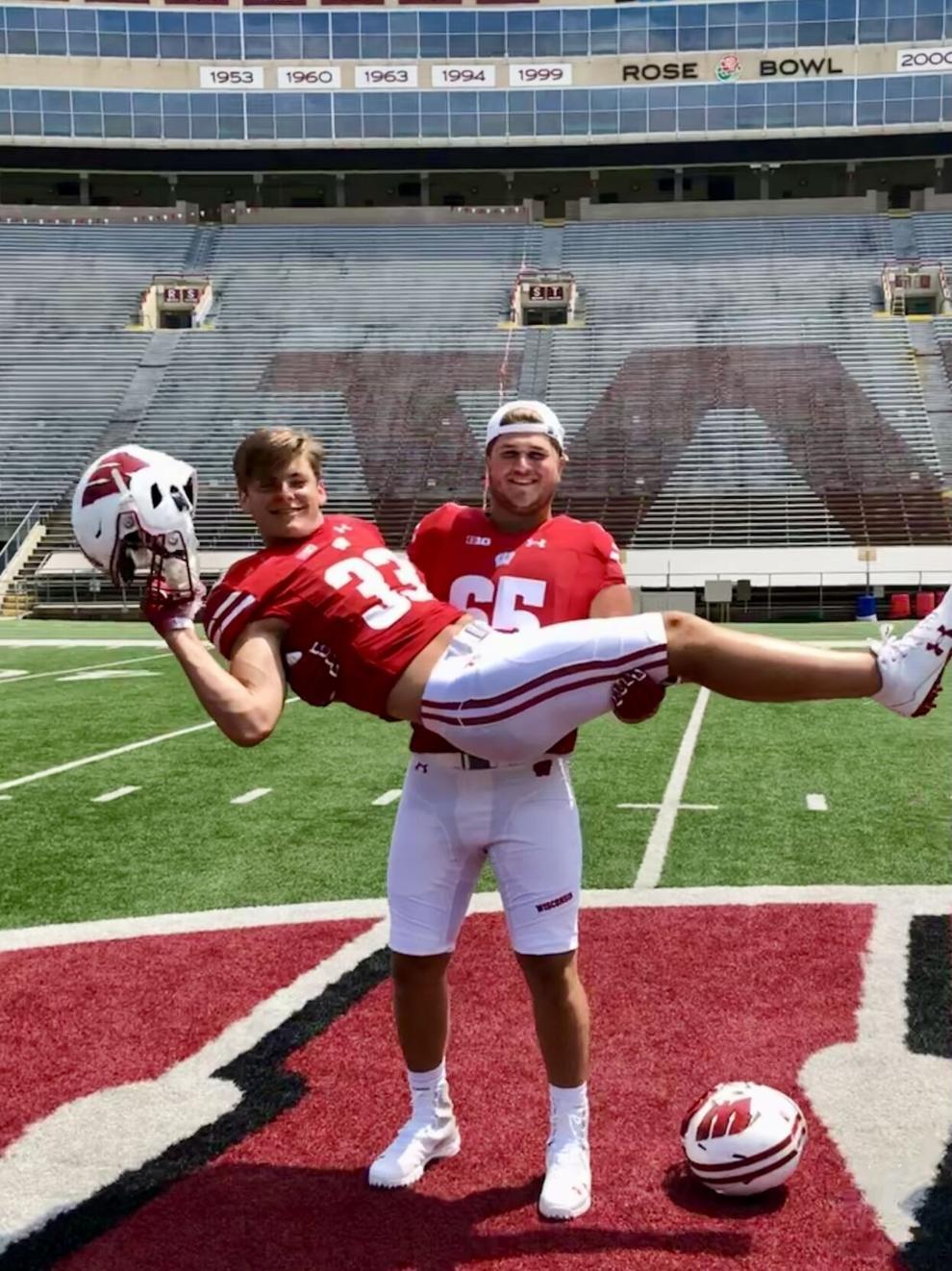 Paul Chryst, dinner host
One of the highlights mentioned by all the parents was a catered dinner that took place at Chryst's house, which featured yard games and swimming in the coach's pool. Derron Jones, Avyonne's father, mentioned how he and former running backs coach Gary Brown "kicked some butt at spades" last June.
Most parents remembered a "very light-hearted atmosphere," as Miranda Jones described it. However, one current Badgers player fondly remembered his father meeting his match in yard games.
Outside linebacker Nick Herbig, when retelling one of his favorite stories about defensive coordinator Jim Leonhard last year, discussed how his father was playing the assistant in "cornhole, ping pong, all types of games" during his official visit in 2019.
"My dad, growing up, I never really saw him lose before," Herbig said in November. "My dad is getting whooped, and I was just like, 'Wow, this is crazy. I've never seen this before, (my dad) get dominated like that.'
"My dad wanted to keep playing him, and he said, 'You know, I'll probably never play you again. You just have to be a loser.' And I was just like, 'That's somebody I want to play for, somebody like that who's grimy.' He's a grimy dude, and I love that about him."
The dinner also allowed parents to mingle with each other and the coaching staff, like when Miranda Jones sat down to talk with Chryst's wife and mother-in-law at the Chryst family's kitchen counter.
"That was one where as a parent, things settled down a little bit because your head stops spinning," Branden McDonald said about the dinner. "With all these tours and with all this information coming at you, it's hard to take it all in. But when we were there, I remember just sitting at a table with coach Chryst, a few other coaches, a bunch of parents, and we could just talk openly. Didn't talk about football, which was cool."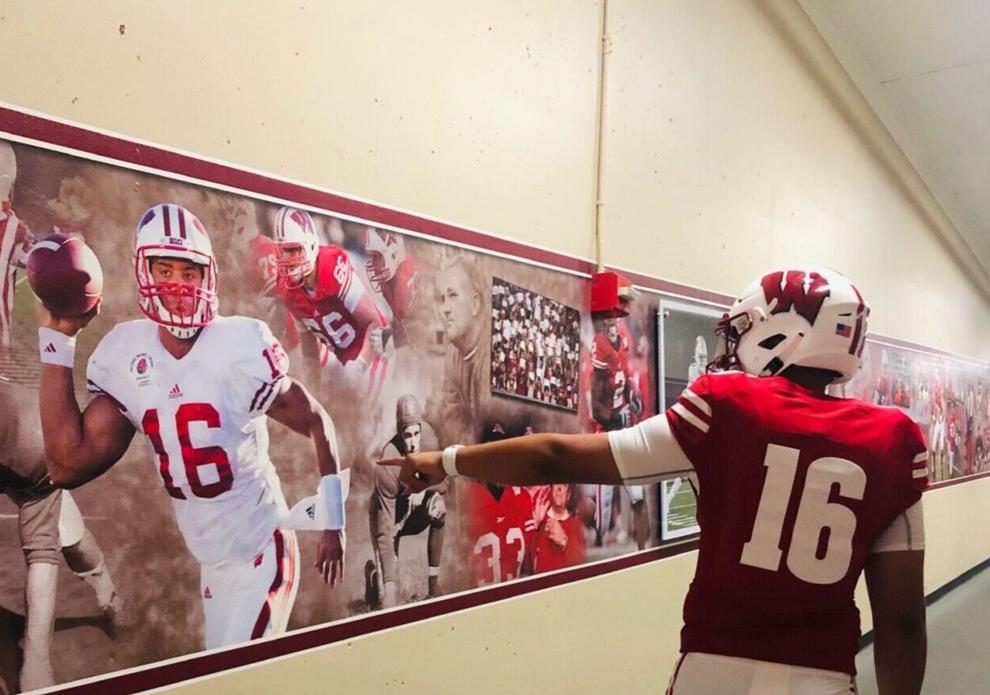 One weekend of Wisconsin's official visits last year overlapped with the NBA Eastern Conference semifinal series between the Milwaukee Bucks and Brooklyn Nets. Burkett and his father are diehard Bucks fans, so Chryst took Terrence to an area where he had the game on TV so the Burketts could watch Game 7.
"The cool thing was coach (Gary) Brown, rest his soul, me and him were going back and forth," Terrence Burkett said. "I think we really had a great connection. ... He was giving me so much grief about the Bucks, so during the game, when it was back and forth, he was just giving me so much grief. We were having a blast."
The Yacamellis live just outside Pittsburgh, and Chryst coached the University of Pittsburgh between 2012-14 before returning to UW. Kerry Yacamelli said being at the house offered a different perspective on the Badgers coach.
"On the walls of their house, there's memorabilia from coach Chryst's children in high school," Yacamelli said. "We recognized the high school. They're some of our rivals. Cade played in the semifinal district championship against where they used to live in the Pittsburgh area.
"... It was crazy because it was almost like going over to my buddy's house the way it was decorated and with everybody that was there, which was kind of neat."
Todd Rucci, father to tight end Hayden and offensive lineman Nolan, recalled a similar feel to a 2018 dinner.
"What I liked about it, it was the coaching staff, the coaching staff's wives, their kids," Todd Rucci, a former NFL player, said. "And there's really no agenda, kind of like you're hanging out at a family barbecue. You get to mingle around, meet other recruits and talk to parents and talk to coaches, meet their families. It's really kind of a picnic atmosphere, and you just kind of hang out and (it) goes to whenever it goes to and pretty laid back.
"So that's probably very consistent with the culture of what Paul has kind of built the program on."
For the Jones family, they also participated in official visits to Colorado and California last June. Avyonne committed to Oklahoma State last spring before reopening his recruitment before those trips. Derron Jones said UW's visit was different in its approach.
"I just feel that with the storied tradition, just being who Wisconsin is, they didn't try to just wow you with the glitz and the glamor and the bright lights and the cars," he said. "Like people put cars on the football field and things of that nature.
"I think they just were like, 'Hey, this is who we are. We're a storied program. We stand by our players, we're going to love on them, we're going to work them hard. We're going to also just be there and support, teach, develop. And when your young student-athlete leaves here, he's gonna be a better young man,' and I think that was a huge thing for us."
What you need to know about Wisconsin football's 2022 recruiting class
QUARTERBACK
Who are they: Myles Burkett (Franklin, Wisconsin) 
Quick analysis: Burkett is the first in-state quarterback for the Badgers to earn a scholarship out of high school since 2003. He's shown a variety of skills throughout his prep career — good touch on deep passes, arm strength to drive the ball to the outside and enough mobility to extend plays while looking downfield. He led his Franklin squad to a WIAA Division 1 state title, finishing his high school career with a win at Camp Randall.
Paul Chryst's thoughts on Burkett: "He loves football. That's important for a quarterback. He's got a little football junkie in him that way. Loves competing. And he was fun, he was one of those guys that no matter who you're talking to, he's a connector. He connects other guys in the group, and I think he's just got a lot of qualities that you know are important and things that we value."
RUNNING BACK
Number of players: 1 declared, 1 possible
Who are they: Cade Yacamelli (Harrison City, Pennsylvania); Zach Gloudeman (Spring Green)
Quick analysis: This is the hole in the Badgers' recruiting class thus far and it could be addressed between the early signing period and the February National Signing Day, or the Badgers could be looking to the transfer portal. Chryst said if it was the NFL draft, he wouldn't consider taking a running back because he doesn't see a need a the position. That's because Chez Mellusi and Isaac Guerendo will be back next season assuming they recover well from their injuries.
Cade Yacamelli, a three-star athlete prospect, played running back in high school and could be the answer here, but it would behoove the Badgers to find another to increase the depth at the position that has five scholarship players heading into next season. Yacamelli said on "The Camp" podcast that UW offensive line coach Joe Rudolph said the Badgers coaches are thinking he'll start his career as a running back. His acceleration helps him break big plays.
Paul Chryst's thoughts on Yacamelli: "Cade's fascinating to us that way. … I think that running back certainly is one (position) that he could be (effective at). Also think he could be effective in some form or fashion in a receiving type of role. Feel like he could do some things on defense. … Running back, I think he's got a chance to be a good one there. But that's where it's exciting when he gets on campus."
WIDE RECEIVERS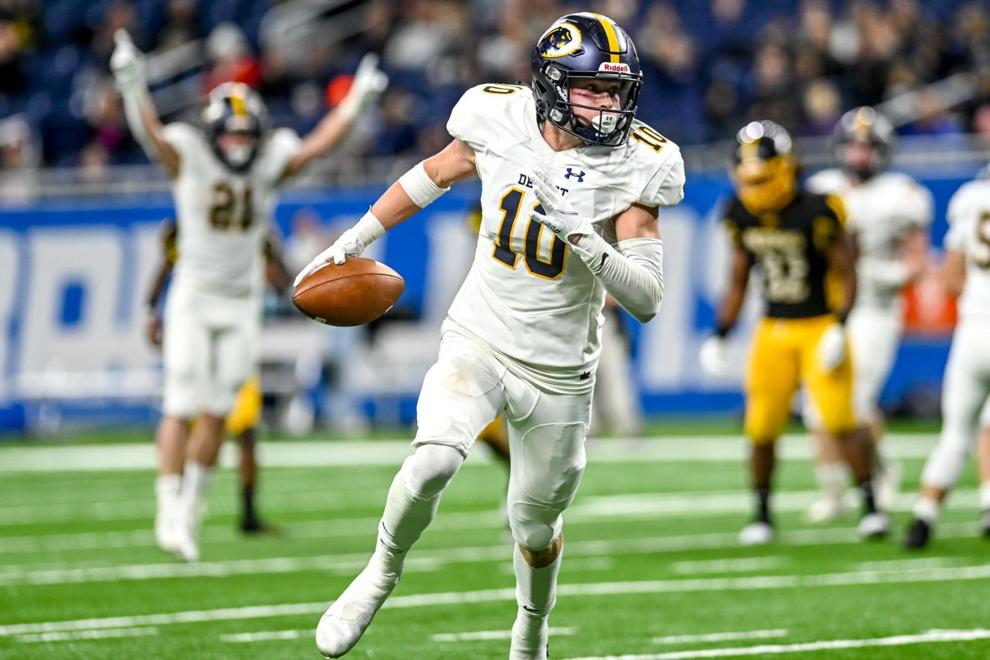 Number of players: 5 declared, 1 possible
Who are they: Cade Yacamelli (Harrison City, Pennsylvania), Tommy McIntosh (DeWitt, Michigan), Vinny Anthony (Louisville, Kentucky), Cole Toennies (Middleton, Wisconsin), Grady O'Neill (Mendota Heights, Minnesota) Chris Brooks Jr. (St. Louis, Missouri)
Quick analysis: UW landed a group of highly productive receivers that could change the makeup of the position group. McIntosh is 6 foot 5 and runs a 4.4-second 40-yard dash. He can and will challenge defenses vertically and will create size mismatches for the Badgers to exploit on the outside. Anthony showed tremendous hands and ball skills as a prep star, and a sharp set of route-running moves to get open. Yacamelli played in the slot in high school but primarily played running back. His burst and change of direction should find a way on the field on offense.
Alvis Whitted's thoughts on McIntosh and Anthony: "Competitive, No. 1. Athletic, both of them. Tommy's size can be a matchup problem, 6-5, 210, can run, athletic, great catch radius. Comes from a great program that won a state championship since he's been there. … Vinny is just a playmaker. He's a guy that can make plays on the ball. When he's in his area, he'll make a play on the ball. And obviously good speed, change direction, has run after the catch ability and a competitive guy."
TIGHT END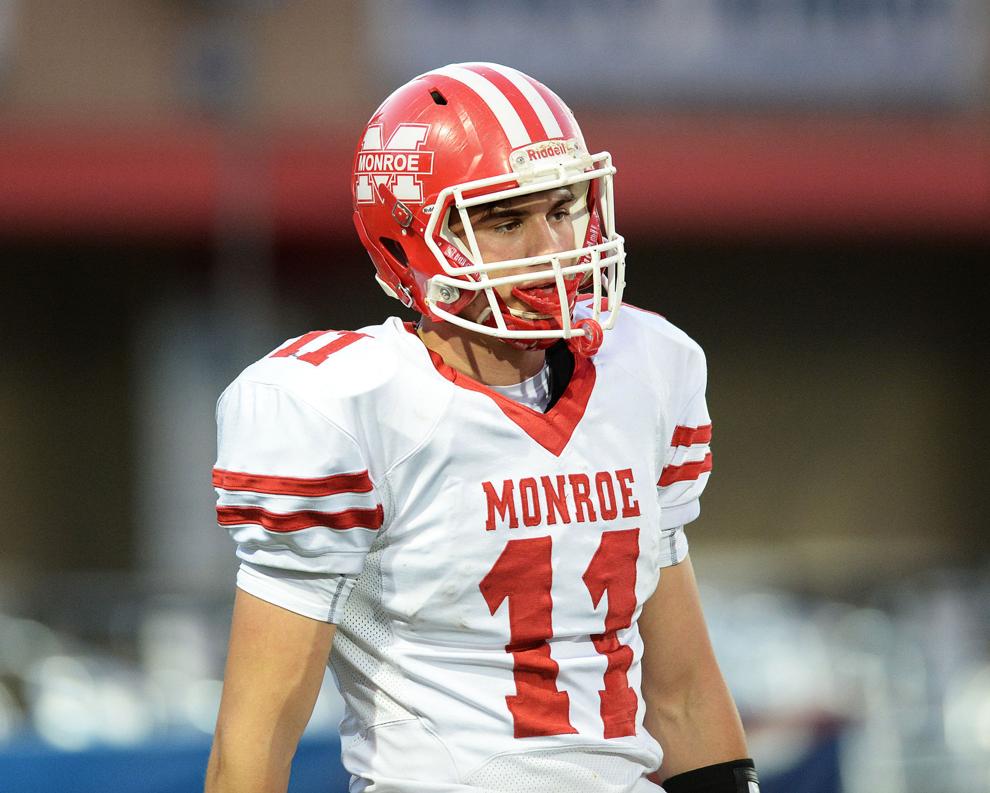 Who are they: JT Seagreaves (Monroe, Wisconsin), Travis Alvin (Randolph, Wisconsin)
Quick analysis: Seagreaves impressed Badgers coaches at camps this summer and shot up their tight end list to the point he was the only one they chose to take in the class. The athleticism the 6-6 prospect possesses is undeniable, and he uses it on the football field, basketball court and on the track as a sprinter. The first-team AP all-state pick adds more depth and competition to a group that has recruited well in recent cycles, but he may take some time to learn the position after playing running back, H-back and defensive line in high school.
Mickey Turner's thoughts on Seagreaves: "I don't think he'll struggle physically to catch up. He's got the natural speed and explosiveness. He'll keep filling out and get a little stronger, but he's not too far off there. And then mentally, he's extremely smart. So it's kind of how fast can you pick up that playbook. ... He's not some guy where he's super raw and it's gonna take a couple years. I think (he'll contribute) as quick as he progresses."
OFFENSIVE LINE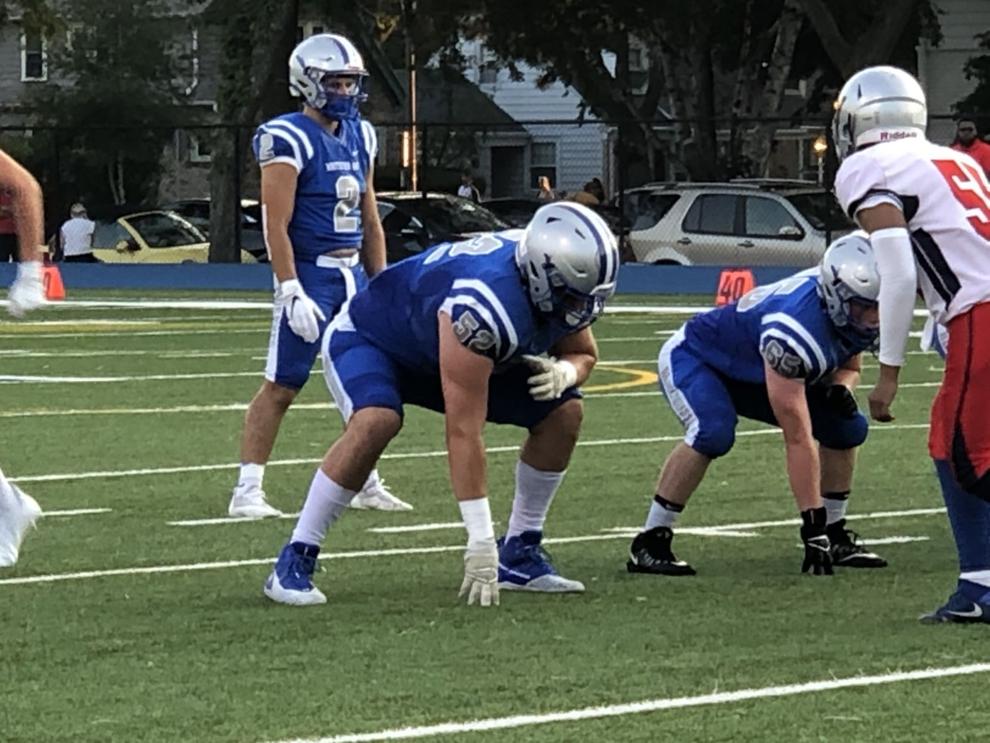 Who are they: Barrett Nelson (Stoughton, Wisconsin), Joe Brunner (Whitefish Bay, Wisconsin), Drew Evans (Fort Atkinson, Wisconsin), John Clifford (Watertown, Wisconsin)
Quick analysis: UW has been stacking strong classes along the offensive line, and this year's group, while smaller in number, has a lot of upside. Nelson, the brother of starting UW guard Jack Nelson, has a huge frame at 6-6 and has the same punishing playstyle as his brother. Brunner, the top-ranked recruit in the state, combines an incredibly quick step with a 6-6, 300-pound body and blows defenders off the ball. Evans and Clifford, both walk-ons, are the kind of prospects UW has done well with in that they play with tenacity but need a bit of physical development to be ready for the Big Ten field.
Joe Rudolph's thoughts on Brunner: "He has fun, man. I mean, that dude loves playing the game ... and he don't make any apologies about being a physical dude on the football field. And that's fun. And I think guys love to play with guys like that. And you need that personality. He's athletic, he's strong naturally, carries a great size, proportional size. You don't realize how big he is until you're just kind of right up on him."
DEFENSIVE LINE
Who are they: Curtis Neal (Cornelius, North Carolina), Tristan Monday (Scottsdale, Arizona), Isaac Hamm (Sun Prairie, Wis.), Gabe Kirschke (Lone Tree, Colorado)
Quick analysis: Neal looks like he could be a ready-made replacement for nose tackle Keeanu Benton, whenever Benton chooses to move on to the NFL. He needs to get a little bit quicker off the ball, but his hand-fighting and aggression on the defensive line are assets Ross Kolodziej can utilize quickly. Monday is an athletic defensive end prospect who eventually will help the group as a pass rusher. He is able to get off blocks because his feet never stop churning through contact. He'll need to add weight to play defensive end in UW's scheme.
Ross Kolodziej's thoughts on Neal and Monday: "Curtis, just explosive get-off, violent at the point of attack. When you watch his quote unquote highlight tape, it's 10, 12 minutes of what looks like the same play over and over and over again. … His consistency with that, the effort, the passion for playing the game, that's a big piece. … Tristan, if you really watch the tape, he is really good with his hands. He's got very tight strike, really understands inside hand placement and position. … There's some things there that you can drill and try to teach … but guys that can have that almost innate sense of and can feel a blocker's weight and momentum against them. There's some really good qualities you're excited about."
LINEBACKERS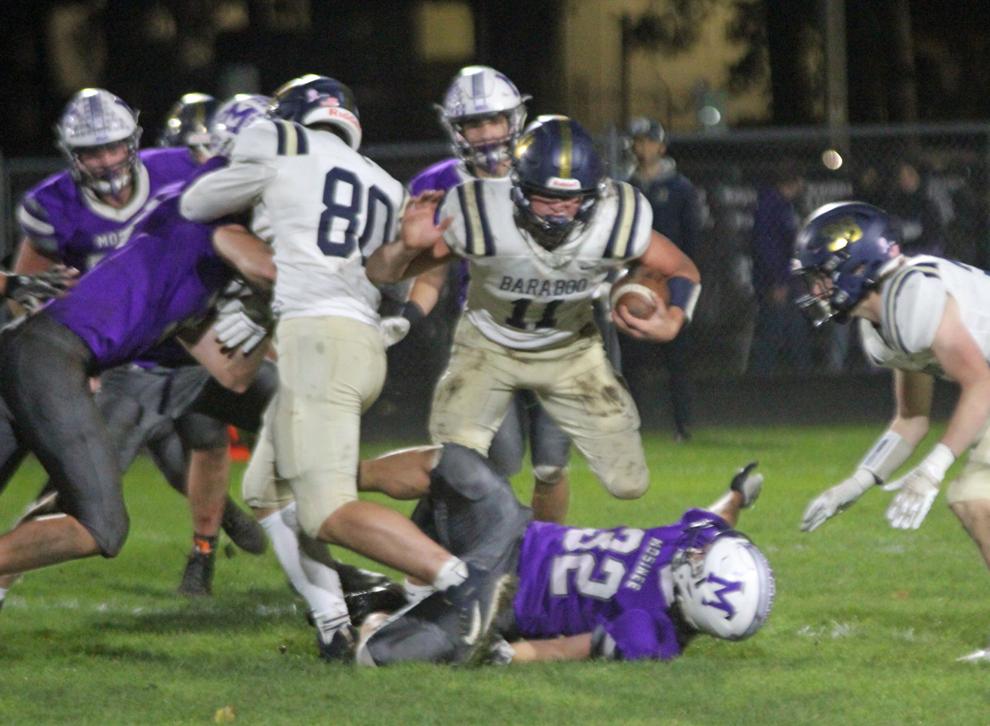 Who are they: Aidan Vaughan (Wixom, Michigan), Zach Gloudeman (Spring Green, Wisconsin), Luna Larson (Baraboo, Wisconsin), Austin Harnetiaux (Seattle)
Quick analysis: Vaughan is the only scholarship player in this group and he is a true sideline-to-sideline linebacker. He's put on tape the physicality that defensive coordinator Jim Leonhard values with his linebackers and he is fast to the ball. Gloudeman, Larson and Harnetiaux are walk-ons, but all turned down Division I scholarships to attend UW after highly productive prep careers. Larson was one of the best players in Wisconsin last season, attacking the line of scrimmage in the way UW's inside linebackers do.
Jim Leonhard's thoughts on Vaughan: "Very instinctual. Really kind of new to the linebacker position, in all reality, but still just very instinctual, always around the football. … It's impressive the instincts he has in the box with a lot of things moving around him despite the fact that he wasn't a linebacker his whole life."
SECONDARY
Who are they: CB A'Khoury Lyde (Wayne, New Jersey), CB Avyonne Jones (Southlake, Texas), S Austin Brown (Johnston City, Illinois), S Deven Magli (DeForest, Wisconsin), S Jackson Trudgeon (Madison)
Quick analysis: Both Lyde and Jones show good range and impressive length as cornerbacks, a position at which UW will need some new faces to step up next season. Lyde missed most of the season with a knee injury, but Jones has shown good instincts on jumping routes. UW added some variety to its safety group with the prospects in the 2022 class. Brown, who accepted a scholarship offer, is a physical, downhill player who can be a force in the run game while making plays on balls in the air. Magli and Trudgeon are walk-ons, but Magli decommitted from a scholarship at North Dakota to play at UW. They both show the playmaking ability on balls in the air that Leonhard values.
Hank Poteat's thoughts on Lyde and Jones: "Avyonne Jones, he's very explosive. When I watch him attack the ball in the air, he does a really good job at that. … Does a lot for his team, comes from a really good program, and the way they prepare them for this level, I thought they did a good job. When you talk ball with him, he really understands the game and he did a lot for them as far as getting the front set and doing a lot of communication in the back end. … A'Khoury Lyde, liked him because he played multiple things, played on the offensive side of the ball. That carried over on defense, that offensive skill set, to be able to make a play, ball skills and really change the game. Those are the type of athletes you want playing at the cornerback position, having ball skills. … He has that mentality that I always talk about, being a dog and being aggressive, he does that."
SPECIAL TEAMS
Who are they: K Gavin Lahm (Kaukauna, Wisconsin)
Quick analysis: Lahm is a big-legged kicker who tallied 29 of 32 touchbacks on kickoffs as a senior and repeatedly kicked the ball out of the end zone on those tries. That bodes well for him in the college game, where kickoffs are from the 35-yard line instead of the 40. Lahm offers depth as a walk-on and could compete for the kickoff specialist position as a freshman.
Chris Haering's thoughts on Lahm: "The thing that stood out to us was the way he competed at our summer camp. That was a great chance to see him go against some of the best in the country and compete and do really well under some pressure. … Right now we're focused on him being a kicker … but certainly like his versatility."