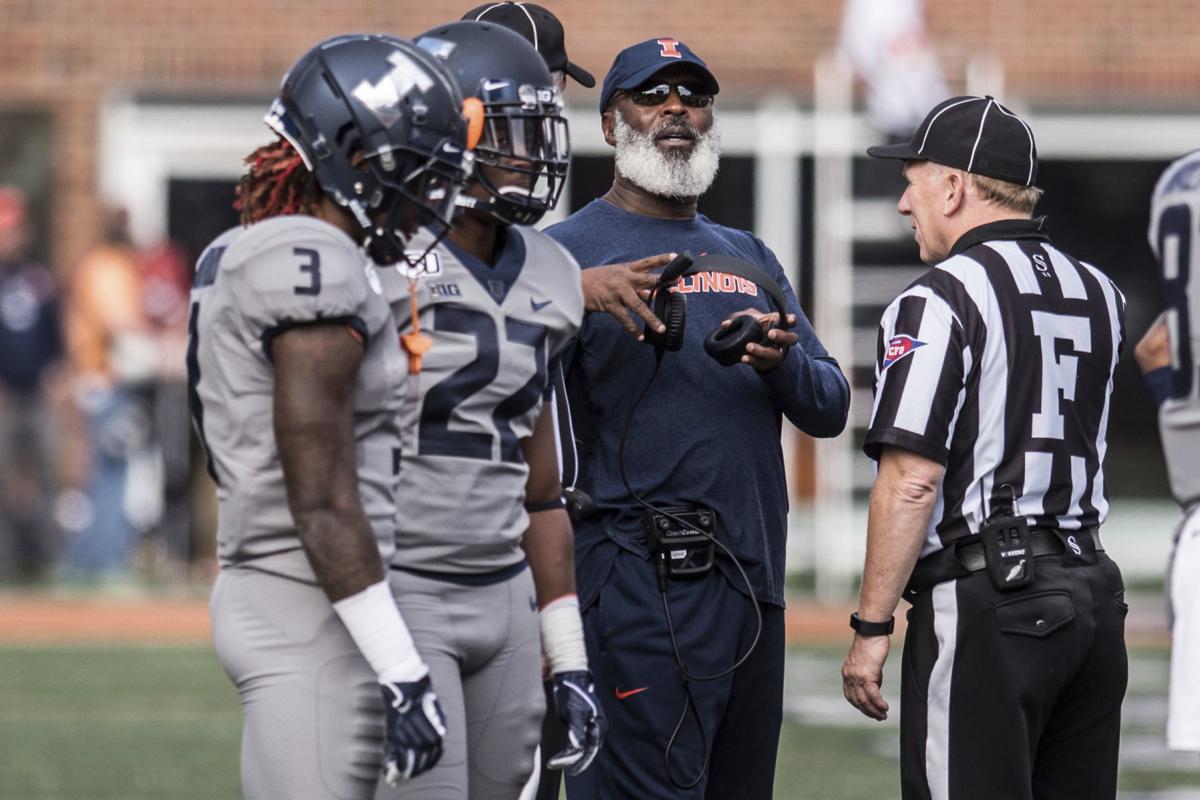 The Big Ten's Game of the Year/Decade/Century was supposed to take place on the banks of the Olentangy River in Week 9. That's when undefeated Ohio State would host unblemished Wisconsin.
But then Illinois just had to ruin everything. The nerve of Lovie Smith's crew!
Here are five things we learned about the Big Ten after a Week 8 that no one saw coming.
1. That Michigan-Penn State game was a spectacle.
Maybe the Big Ten's Game of the Year already happened. It's hard to envision a better setting or more dramatic final two minutes.
Michigan's Ronnie Bell was in tears after dropping a touchdown pass that would have tied the game. KJ Hamler, who's almost small enough to fit in your carry-on bag, walked off to cheers from 110,000 fans after earning the toughest three yards of the night. And get this: He's from Michigan.
"A lot of people always told me I was too small; I wouldn't do this, I wouldn't do that," the 5-9, 176-pound Hamler told the Allentown Morning Call. "Growing up in Pontiac, there's not a lot of people who make it out. I wanted to be different, change my family's lives. I wanted to do something big."
Hamler zoomed past Michigan nickel back Brad Hawkins and safety Josh Metellus to score on touchdown receptions of 25 and 53 yards in the 28-21 victory. (Hello, mismatches.) He also ran back a kickoff for a score that was nullified by holding. After Hamler muscled his way past the marker on third-and-3, retaining the ball after a helmet-to-helmet hit, he needed a minute to gather himself. Then he received a "whiteout" walk-off.
Penn State remained undefeated and would need to beat Michigan State (on the road), Minnesota (road) and Indiana (at home) to be 10-0 heading into its Nov. 23 showdown at Ohio State.
Michigan can forget about winning the Big Ten, as usual, as Jim Harbaugh fell to 1-10 against top-10 teams. But give credit where it's due: The Wolverines rallied from a 21-0 deficit despite getting hosed on a fourth-down pass interference that wasn't called. Shea Patterson (24-for-41, 276 yards) played with skill and moxie, and Bell hauls in that short pass four out of five times.
Up next for 5-2 Michigan is a visit from Notre Dame, which got an extra week to prepare. Then after a trip to Maryland, Michigan State will seek revenge after the Wolverines defaced their on-field logo last season. Winning at Indiana is no sure thing for Michigan either. And the regular season concludes with the Buckeyes in the Big House.
Will the Wolverines even win eight games?
2. Illinois AD Josh Whitman could face an intriguing decision soon.
Until Saturday, Lovie Smith's Illinois tenure would be remembered for only thing - the Santa Claus beard. The losses, the turnovers, the revolving door at quarterback ... all just dust for the bin.
And then Saturday happened — the second-largest upset in a Big Ten game over the last 40 years. Only Northwestern's win over Minnesota as a 32-point underdog tops the Illini upending Wisconsin as a 30.5-point 'dog. And this was no fluke. Smith called it "a signature win" that boosts his record in Big Ten games to, well, 5-26.
Illinois is 3-4 with several winnable games, notably at Purdue (Saturday), Rutgers the following week and Northwestern at home after Thanksgiving.
Those in the know believe this to be a bowl-or-bust season for Smith, but the $4 million (buyout) question remains: If Illinois goes 5-7 with their epic Homecoming takedown of the Badgers, would that represent enough progress to merit a fifth season? Only Whitman, the Illinois athletic director and former tight end, knows for sure.
3. Four have emerged as favorites for the Chicago Tribune Silver Football.
The award recognizes the Big Ten's best player, as voted on by the league's coaches. An Ohio State player has won five of the last seven years — Braxton Miller (2012 and 2013), Ezekiel Elliott (2015), J.T. Barrett (2016) and Dwayne Haskins (2018).
The Buckeyes have primo candidates in quarterback Justin Fields (22 passing touchdown, 1 interception) and defensive end Chase Young, whom Pro Football Focus cited as college football's highest-graded player at any position. After Young sacked Aidan Smith on Northwestern's second play Friday, NU coaches had Smith roll out, away from Young, on what seemed like every other pass attempt.
Penn State's KJ Hamler probably deserves Jim Harbaugh's vote. (He'd never pencil in a Buckeye, would he?)
Wisconsin's Jonathan Taylor is the nation's best running back, via Pro Football Focus and anyone with eyes. But he did fumble late during a 132-yard rushing day in Champaign.
Two dark horses figure to be Ohio State's J.K. Dobbins, who is averaging 7.1 yards per carry, and Wisconsin ace linebacker Chris Orr. As the Big Ten Network's Rick Pizzo gushed Saturday: "It's not his size, it's not his speed . it's what he has above his shoulders. He is so cerebral. He sees things happen before they actually take place. I was just listening to a conversation he was having with the Wisconsin coaching staff. He was using terminology that I've never dreamed of understanding."
4. The Gophers are tracking from Minneapolis to Indianapolis.
Sports books had Minnesota as fourth mostly likely to reach the Big Ten title game from the West behind Nebraska (3/1), Wisconsin (3.5/1) and Purdue (4/1). The Gophers (4.75/1) ended 2018 with back-to-back thrashings of Wisconsin and Georgia Tech, but most remained unconvinced.
"Picked sixth in the West," coach P.J. Fleck texted me in August. "Our players will be better than that."
Boom. They're alone atop the Big Ten West thanks to Wisconsin's loss.
Minnesota squeaked out three non-conference wins and has breezed to four victories against bottom-half Big Ten foes. The Gophers crushed Rutgers on Saturday, playing turnover-free ball while allowing just 189 yards.
And they got an emotional boost from seeing Casey O'Brien take the field to hold the snap for an extra point. O'Brien is a four-time cancer survivor who represented the players by delivering a speech at the Big Ten Football Kickoff Luncheon, opening with: "Today I want to talk to you about being thankful."
O'Brien hugged Fleck after the extra point that put the Gophers ahead 28-0, saying afterward: "This is what I dreamed about."
Fleck, who teared up after the hug, called O'Brien his team's "biggest motivator."
5. Indiana deserves some love.
The Hoosiers are 5-2 and know how to entertain. After an injured Michael Penix Jr. left Saturday's game at Maryland early in the second quarter, Peyton Ramsey did not drop the baton. The quarterback completed 20 of 27 passes in Indiana's 34-28 victory.
"He was ready to play when called upon," said coach Tom Allen of Ramsey, who lost his starting job to Penix. "It's been tough on him, but he's the ultimate team player."
Indiana's passing game is so strong, it doesn't much matter who is pulling the trigger. The Hoosiers are one of just 12 FBS teams completing more than 70 percent of their passes - 70.1% to be exact.
Here are the Tribune's latest Big Ten football power rankings, with last week's ranking in parentheses.
The Buckeyes have scored 158 points in the second quarter of their seven games this season. Northwestern has scored 75 points - this season.
The only little guy who had a better Saturday night than KJ Hamler was Jose Altuve.
P.J. Fleck never fails to entertain: "Today we're 1-0 in the Rutgers football championship." As a side note, the Gophers are 7-0.
Surely still better than the Gophers, but only one of those teams beat Illinois.
Jim Harbaugh fell to 0-8 as an underdog at Michigan. But, hey, the Wolverines covered the spread in Happy Valley.
A goofy schedule means the Spartans have gone three weeks without scoring - their two off weeks are sandwiched a blanking by Wisconsin.
Can the 5-2 Hoosiers lock up just their fourth bowl appearance in 25 years before Halloween? A trip to Nebraska up next.
During the Michigan-Penn State broadcast, ESPN's Kirk Herbstreit mentioned that Illinois lost to Eastern Michigan - and Nebraska. Tough times in Lincoln.
Freshman David Bell posted this ridiculous line at Iowa: 13 catches for 197 yards. Just wait till defenses have to defend him and Rondale Moore.
Roll out the basketballs already.
Linebacker Paddy Fisher on Ohio State: "They are well-oiled and a dang good football team." Can you tell he's from Texas?
If the Scarlet Knights played Northwestern, would the over-under be double digits?
---
Photos: Wisconsin Badgers come unglued late in shocking loss to Illinois Fighting Illini
Fighting Illini 24, Badgers 23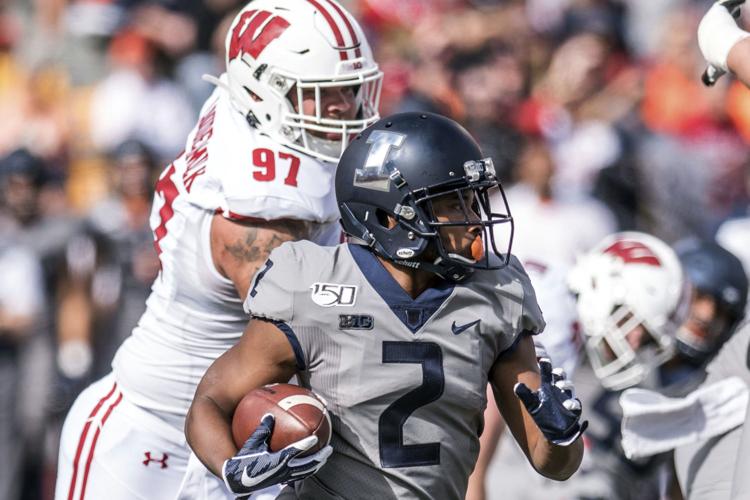 Fighting Illini 24, Badgers 23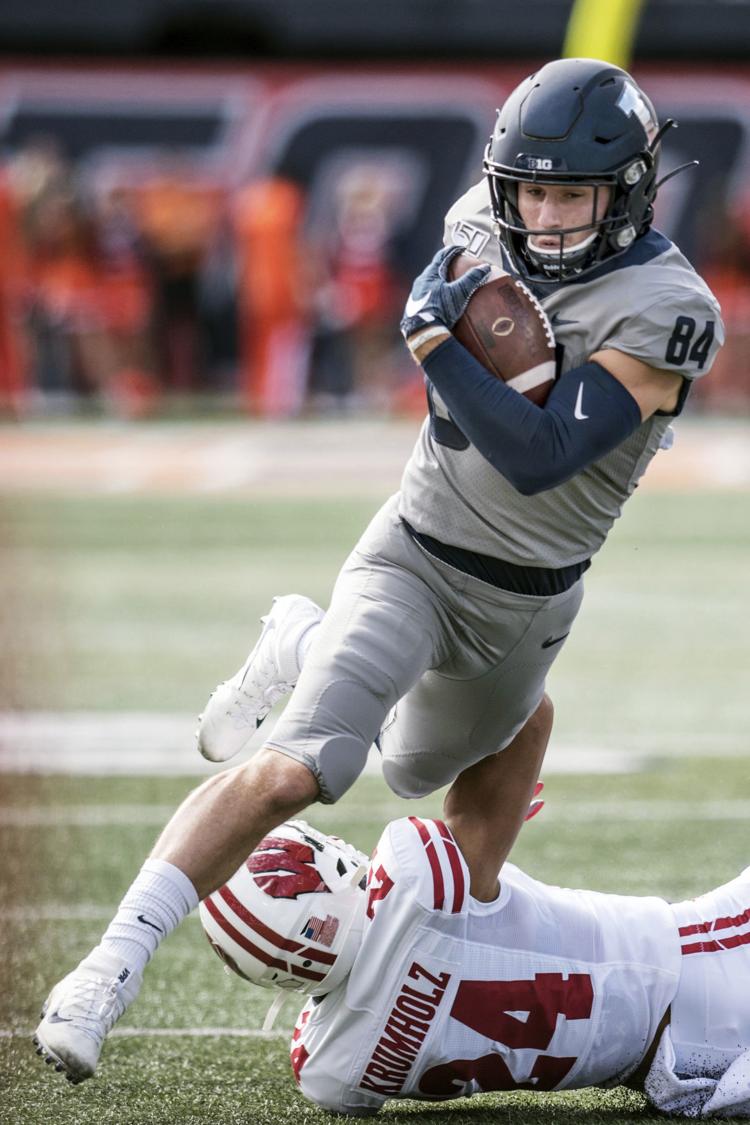 Fighting Illini 24, Badgers 23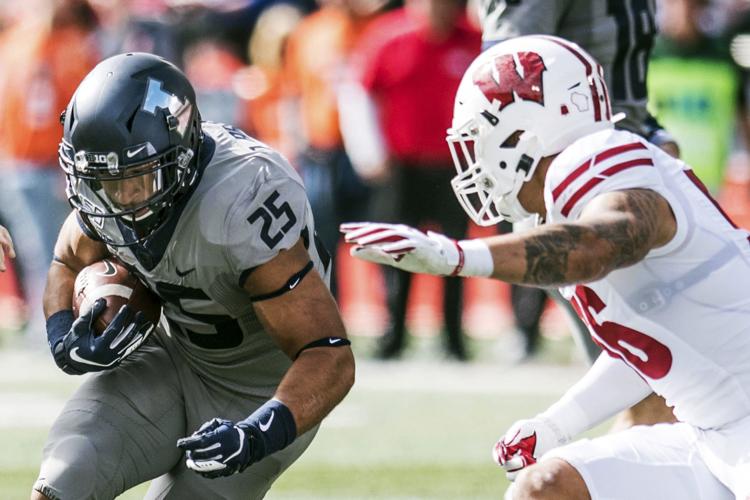 Fighting Illini 24, Badgers 23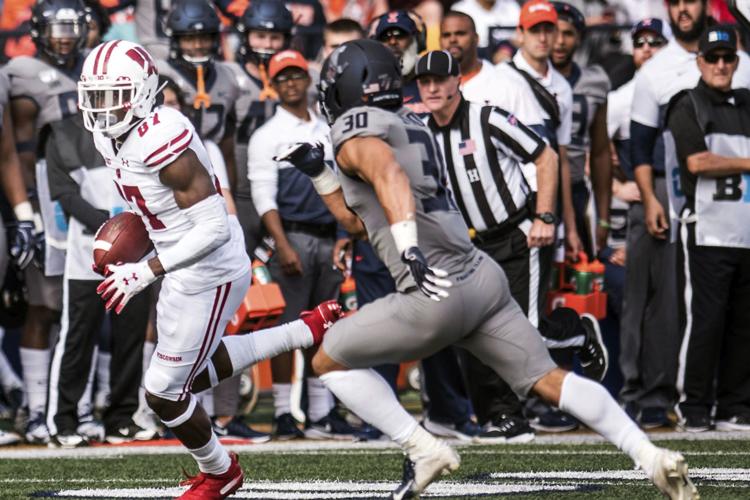 Fighting Illini 24, Badgers 23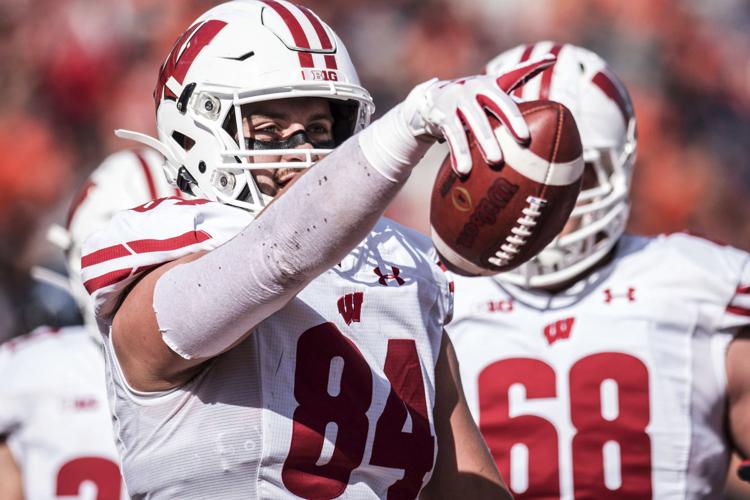 Fighting Illini 24, Badgers 23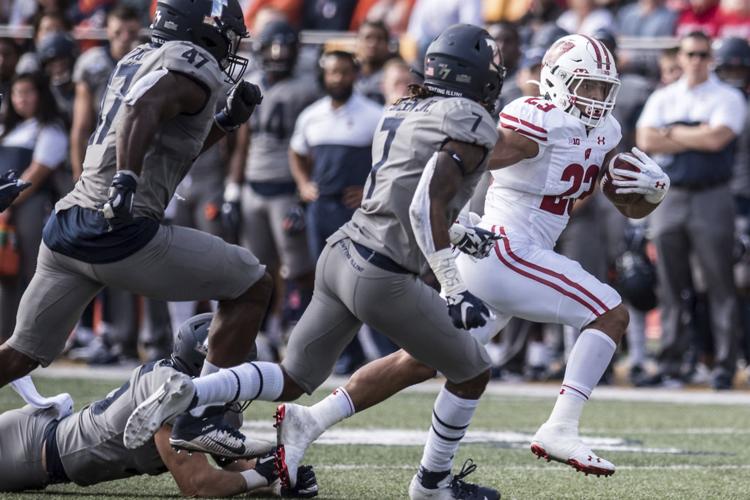 Fighting Illini 24, Badgers 23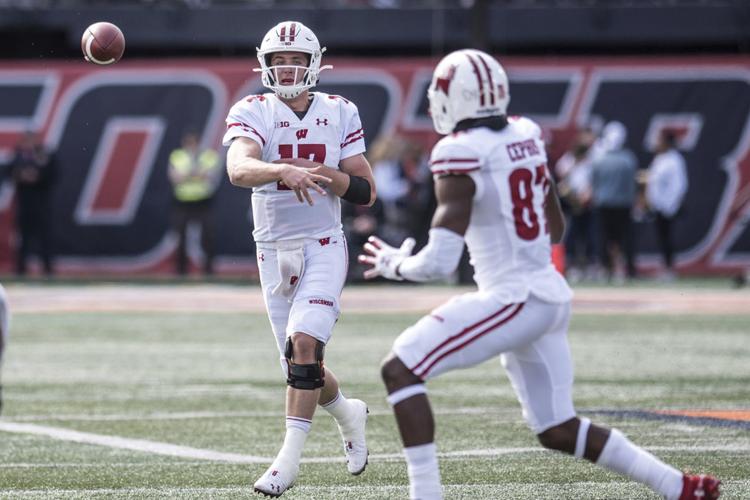 Fighting Illini 24, Badgers 23
Fighting Illini 24, Badgers 23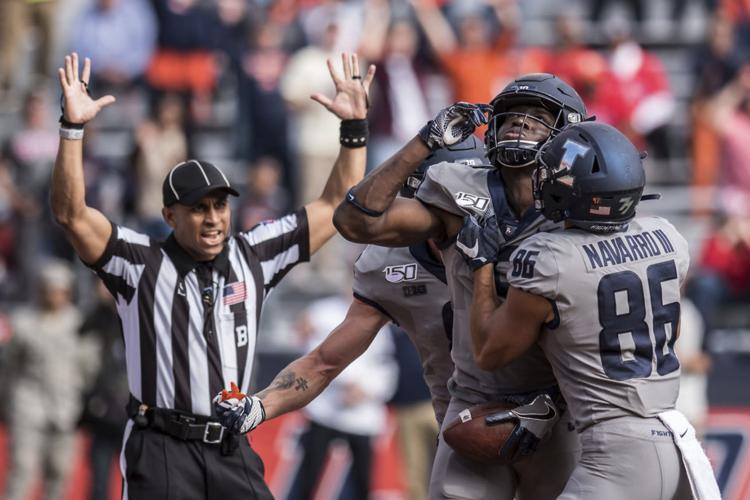 Fighting Illini 24, Badgers 23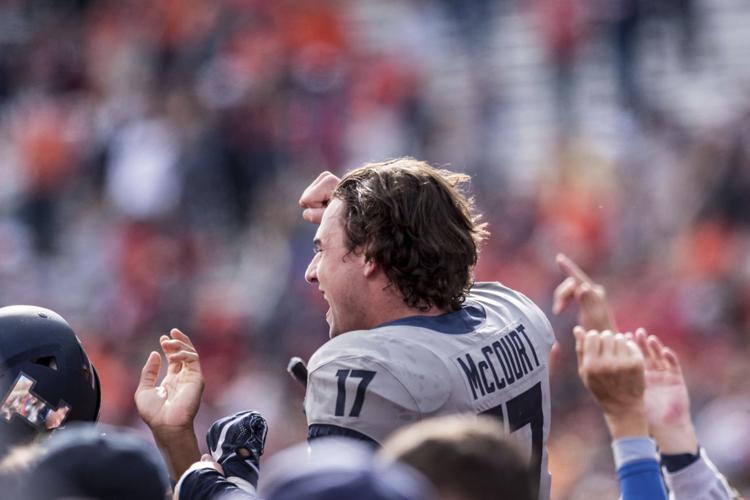 Fighting Illini 24, Badgers 23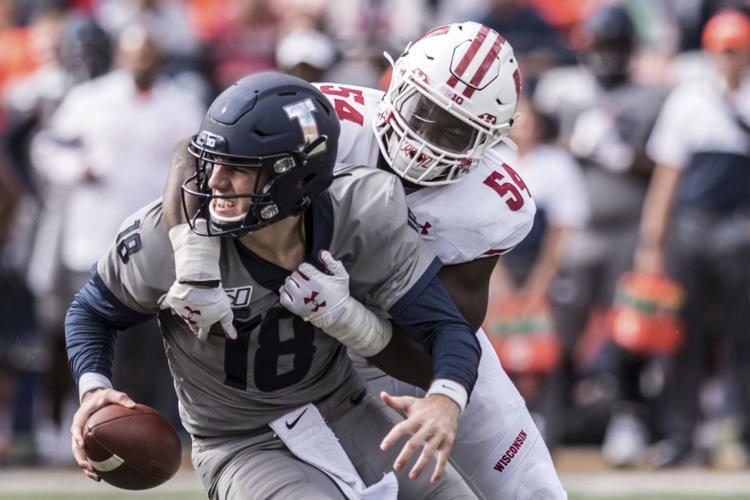 Fighting Illini 24, Badgers 23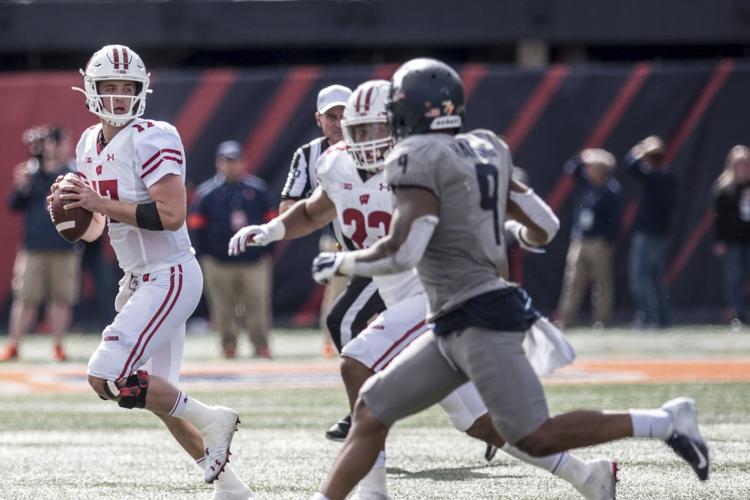 Fighting Illini 24, Badgers 23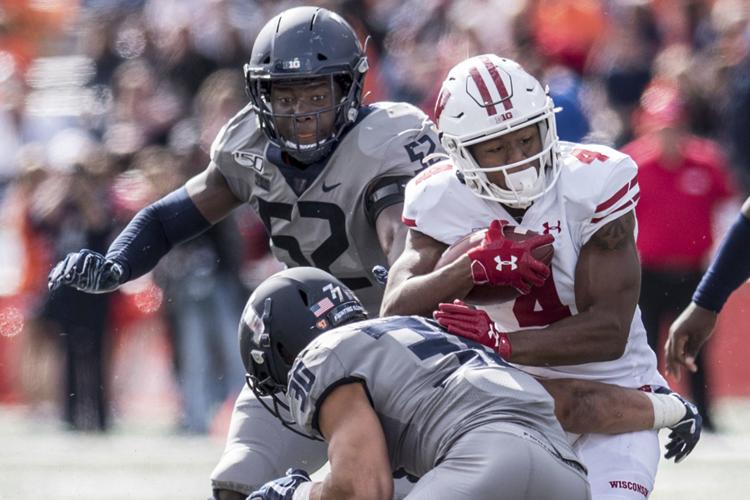 Fighting Illini 24, Badgers 23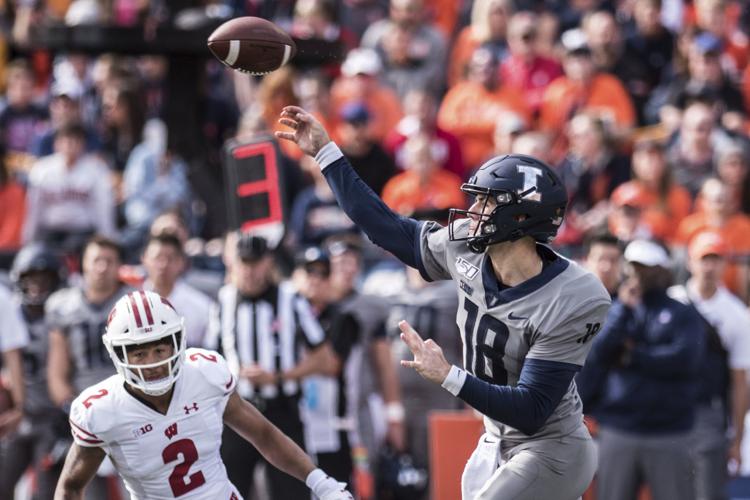 Fighting Illini 24, Badgers 23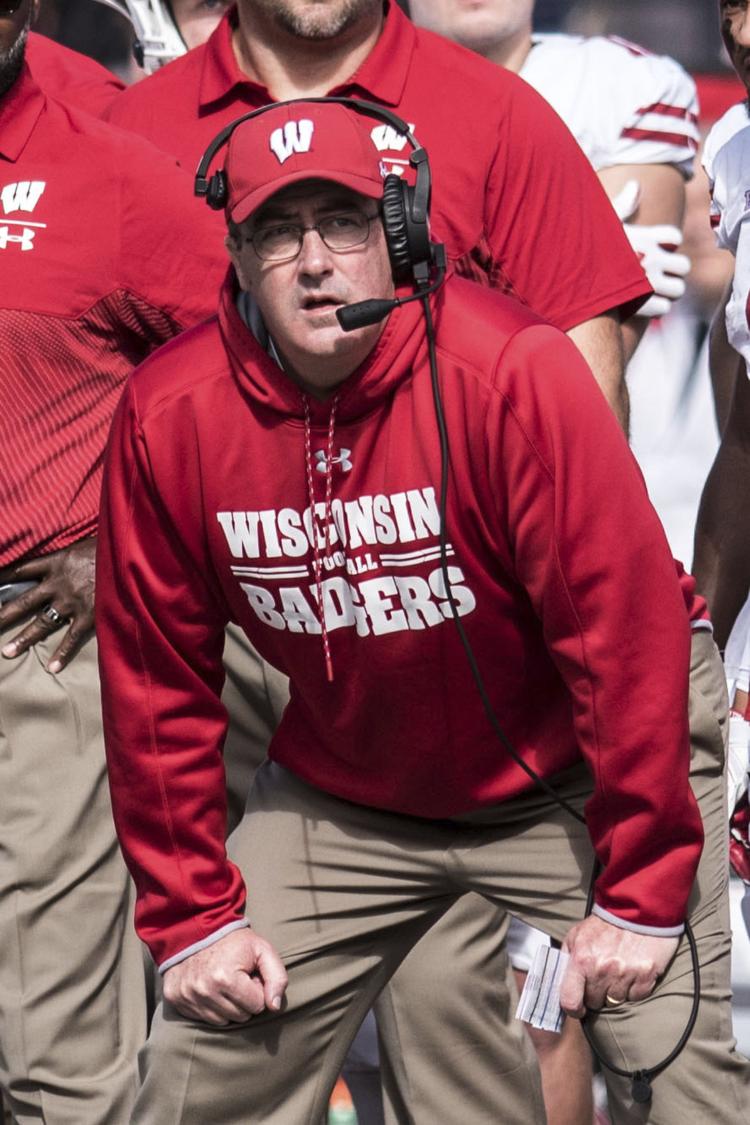 Fighting Illini 24, Badgers 23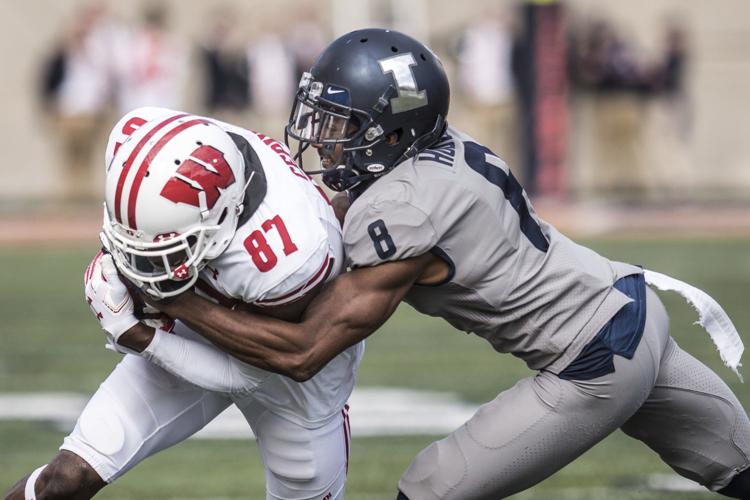 Lovie Smith talks with officials, AP photo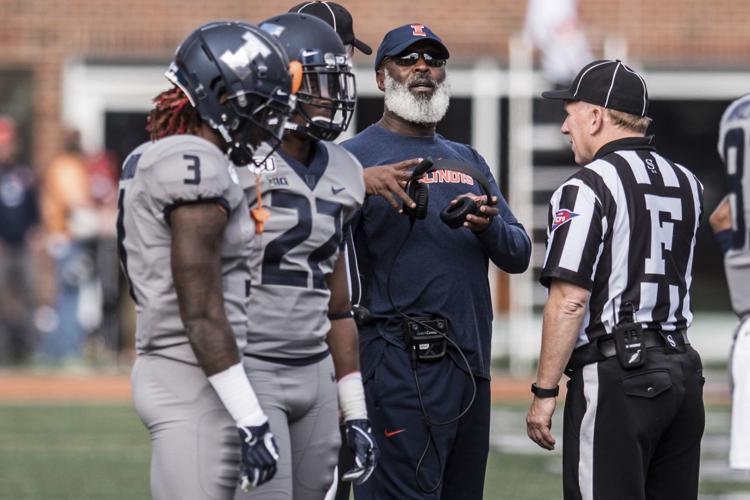 Fighting Illini 24, Badgers 23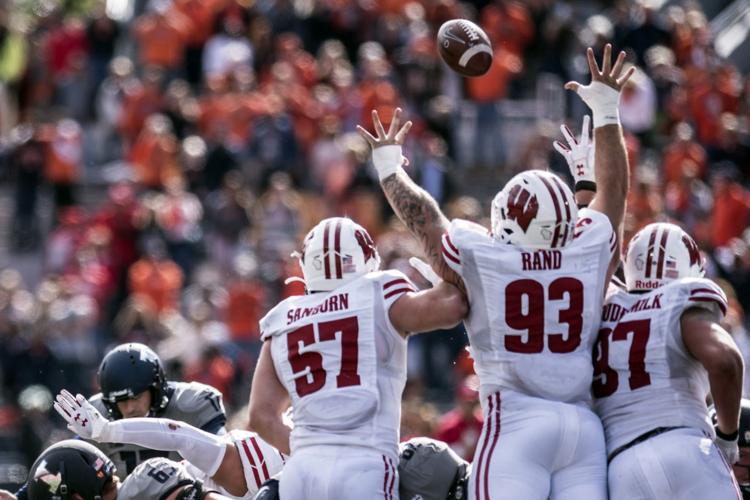 Fighting Illini 24, Badgers 23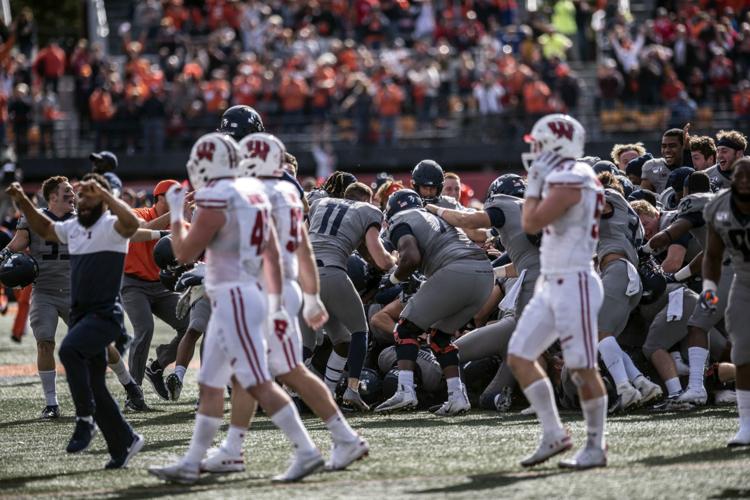 Be the first to know
Get local news delivered to your inbox!