Chris McIntosh has been mostly behind the scenes for years, serving as the deputy athletic director at the University of Wisconsin under Barry Alvarez.
That will change, as McIntosh will be tapped as Alvarez's replacement at a news conference Wednesday, according to State Journal sources. McIntosh, who joined the UW athletic department in 2014, was the person Alvarez wanted as his successor after McIntosh moved up the ranks and became Alvarez's deputy in 2017.
The former UW offensive lineman has a background in business before entering athletic administration. Here are five things to know about McIntosh:
1. He beat out a strong field
UW's search process for Alvarez's successor was a quiet one — Chancellor Rebecca Blank's office stayed quiet regarding candidates and even the campus groups she spoke to about the search.
According to a report by CollegeAD.com, Northern Illinois AD Sean Frazier and Ball State AD Beth Goetz also were finalists who interviewed for the position. Frazier was the Badgers' deputy AD before getting a top job, Moore has a track record of launching student-athlete welfare programs at her stops and Goetz was a standout soccer player and coach before joining the administrative ranks, which included a stint as the interim AD at Minnesota.
Alvarez said he had faith in the committee chosen to replace him and believed McIntosh would earn the job.
"I know the committee, I know Pete Miller is going to be the chair of the committee," Alvarez said. "I have a lot of confidence in Pete. They'll have a process they go through and I'm sure Mac will do a very good job in the process."
2. He has Wisconsin roots
McIntosh probably would be the most famous alumnus of Pewaukee High School if not for the Watt family.
Those in-state ties were partly what brought McIntosh back to UW in his adult life. In a Q&A with The Trust, an offshoot of the NFL Players Association that helps former players make the next steps in life, McIntosh said that a visit to campus to be inducted into UW's hall of fame reinvigorated the love he has for Madison.
"Visiting campus reminded me of what an impact my college experience as an athlete had on me and who I became," McIntosh wrote. "It was a complete leap of faith, but it seemed like it might be fun. … I've always enjoyed what I've done for work, but I absolutely love what I'm doing here. I didn't realize I could enjoy it as much as I do."
3. He was a dominant offensive tackle
Watch a highlight video from Ron Dayne's Heisman Trophy season or of UW's runs to back-to-back Rose Bowl wins in 1999 and 2000 and you'll see McIntosh wearing No. 75.
McIntosh started a program-record 50 games for the Badgers, which tied the Big Ten Conference mark for consecutive starts. Not only was McIntosh dependable, he was outstanding. He earned consensus All-American honors his senior year and was the conference lineman of the year.
His accolades on the field become even more impressive when considering he had four knee surgeries as a high school senior and wasn't sure if he'd ever be able to play unencumbered.
He was drafted in the first round of the 2000 NFL draft by the Seattle Seahawks and started 10 games as a rookie, but a neck injury ended his career after the 2002 season.
4. He has a business background
Though his football career ended prematurely, McIntosh was able to find new avenues he wanted to pursue. With his background in athletics, McIntosh began working with health and wellness startups and was a partner for five years at Be Fitness and Wellness Center, a health club in Delafield.
In his roles in the UW athletic department, he's been tasked with finding new revenue streams and was the associate AD for business development before becoming deputy AD. UW added new sponsors under his direction, and he helped secure a 10-year apparel and footwear contract with Under Armour, which generates $4 million per year along with other bonuses.
5. He was Barry's consigliere
One of the reasons Alvarez supported McIntosh as the next Badgers AD was McIntosh's increased role in the operations of the athletic department through his tenure.
Alvarez watched as McIntosh handled more responsibilities as the years went by and how he managed day-to-day operations.
"Very bright, and he's been outstanding," Alvarez said about McIntosh. "I've given him a lot of responsibility. He spearheaded many of the things that we did, and managing staff and how we managed everything throughout COVID."
One of Alvarez's tenets as an athletic director was ensuring student-athletes had a positive experience, and he invested in facilities and programs to aid that effort. McIntosh experienced that as a player and has embraced that goal as an administrator.
"I think it's a huge honor, privilege and responsibility to help develop young people," McIntosh wrote in The Trust Q&A. "I think what gets misconstrued is the idea our job is to win games or matches. Our real responsibility is to develop young people so they can be successful for the rest of their lives. Winning is a part of that, yes, but it's not the only part of it."
---
Final countdown: Breaking down Barry Alvarez's career by the numbers
119 | Wins as football coach
Alvarez picked up the first of his program-leading 119 victories at UW on Sept. 15, 1990, when the Badgers defeated Ball State 24-7 (above) at Camp Randall Stadium for their sole win of his inaugural season as head coach. His final win would come on Jan. 1, 2015, when he stepped in to lead UW to a 34-31 victory over Auburn in the Outback Bowl a month after Gary Andersen left the program for Oregon State. 
73 | Conference championships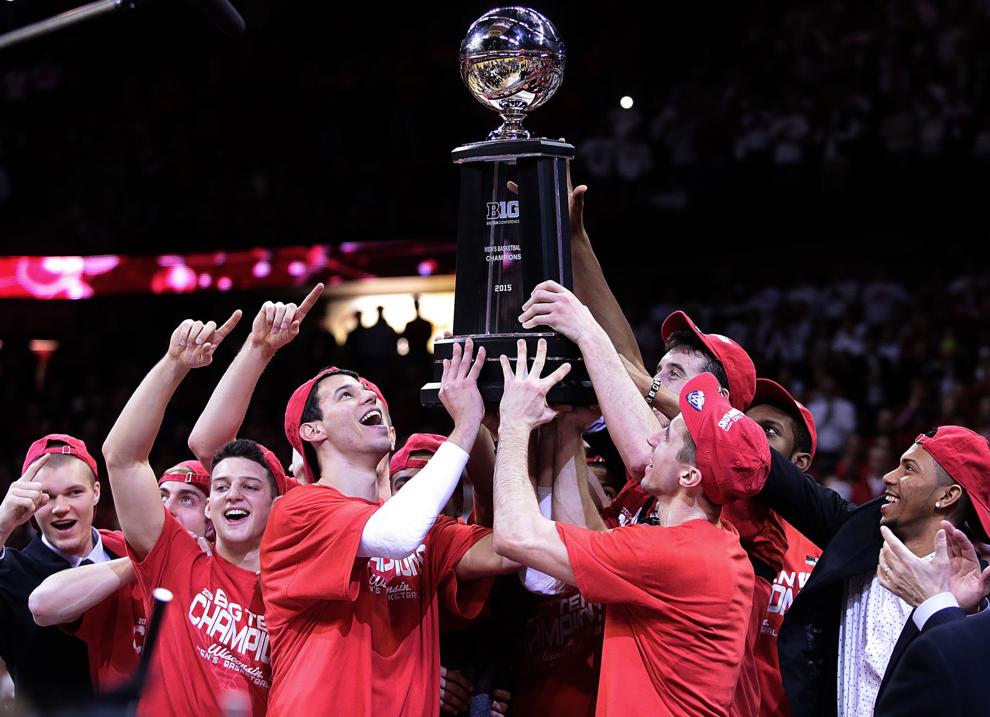 The Badgers won 73 conference championships (regular season and tournaments combined) during Alvarez's tenure as athletic director. 
ABOVE: UW men's basketball players celebrate their Big Ten Conference title following their 68-61 win over Michigan State at the Kohl Center March 1, 2015. The Badgers added the conference tournament crown exactly two weeks later with an 80-69 overtime win over Michigan State at the United Center in Chicago.
26 | Players suspended in Shoe Box scandal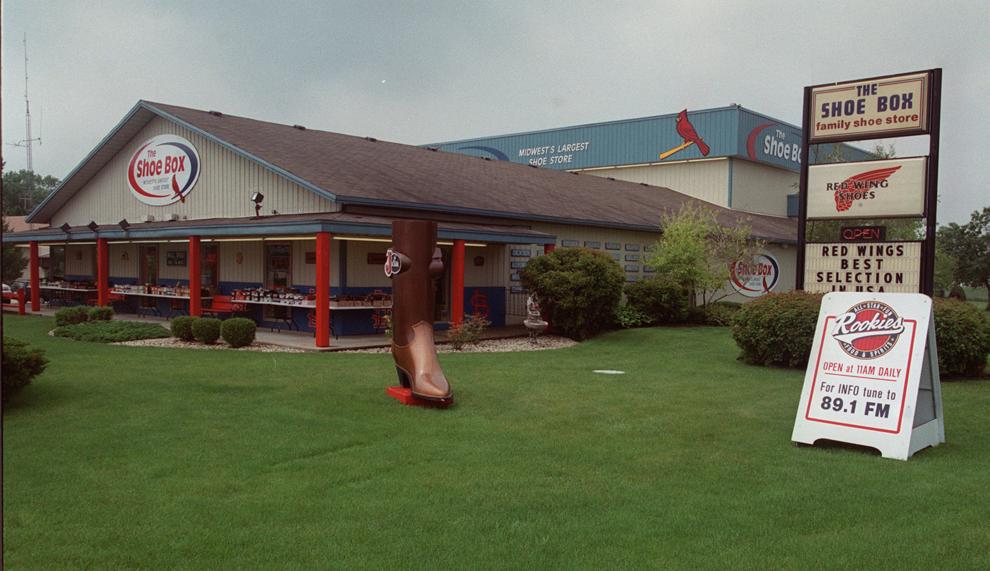 The NCAA suspended 26 of Alvarez's players for having accepted improper discounts from The Shoe Box (above), a discount retail store in Black Earth, forcing Alvarez to shuffle his lineup during the first four games of the 2000 football season. 
17 | Years as athletic director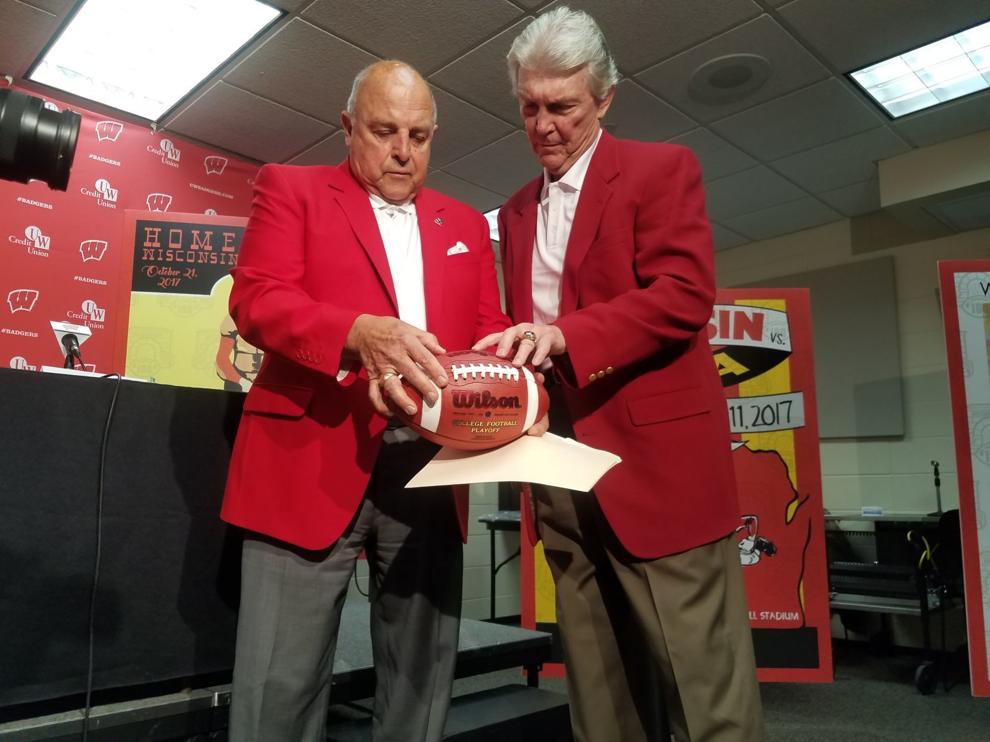 Taking over the job from Pat Richter (above right) in April 2004, Alvarez would go on to serve 17 years as athletic director at UW before announcing his retirement in April 2021. 
16 | National championships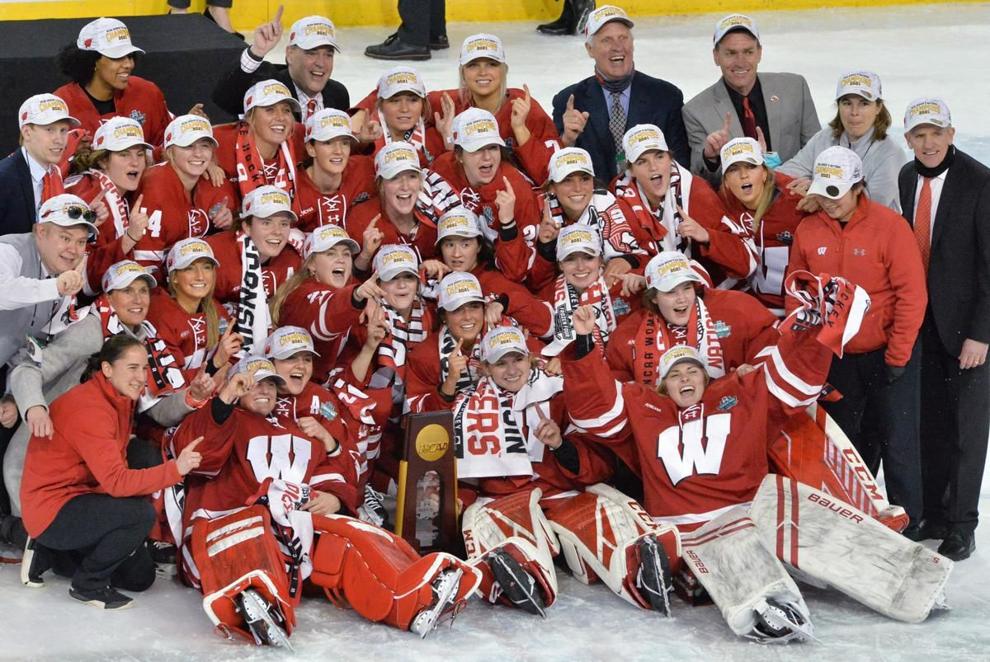 Alvarez's tenure as the athletic department's leader saw success across a number of programs, with 16 teams winning national championships, including six in women's hockey — with the most recent one (above) coming just this March — and five in women's lightweight rowing.
15 | Consecutive years of football bowl and men's basketball NCAA berths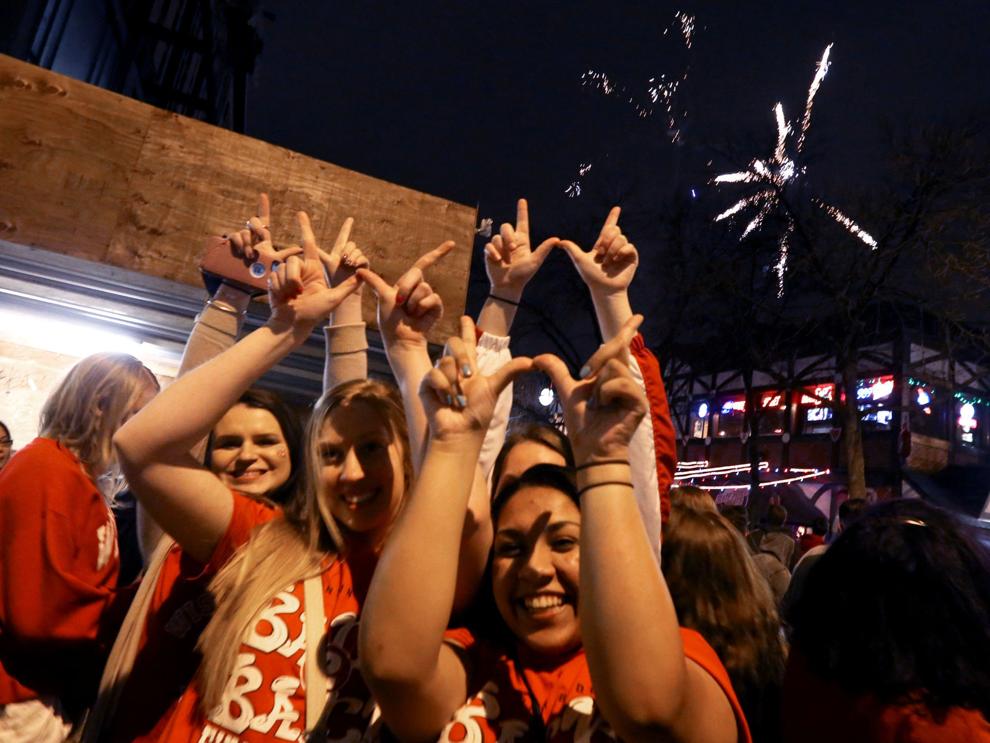 During Alvarez's tenure as AD, the Badgers football and men's basketball programs produced 15 consecutive years of playing in a bowl game and reaching the NCAA tournament, setting an NCAA record.
ABOVE: Badgers fans celebrate on State Street in Madison following the UW men's basketball team's NCAA National Championship loss to Duke April 6, 2015.
13 | Bowl appearances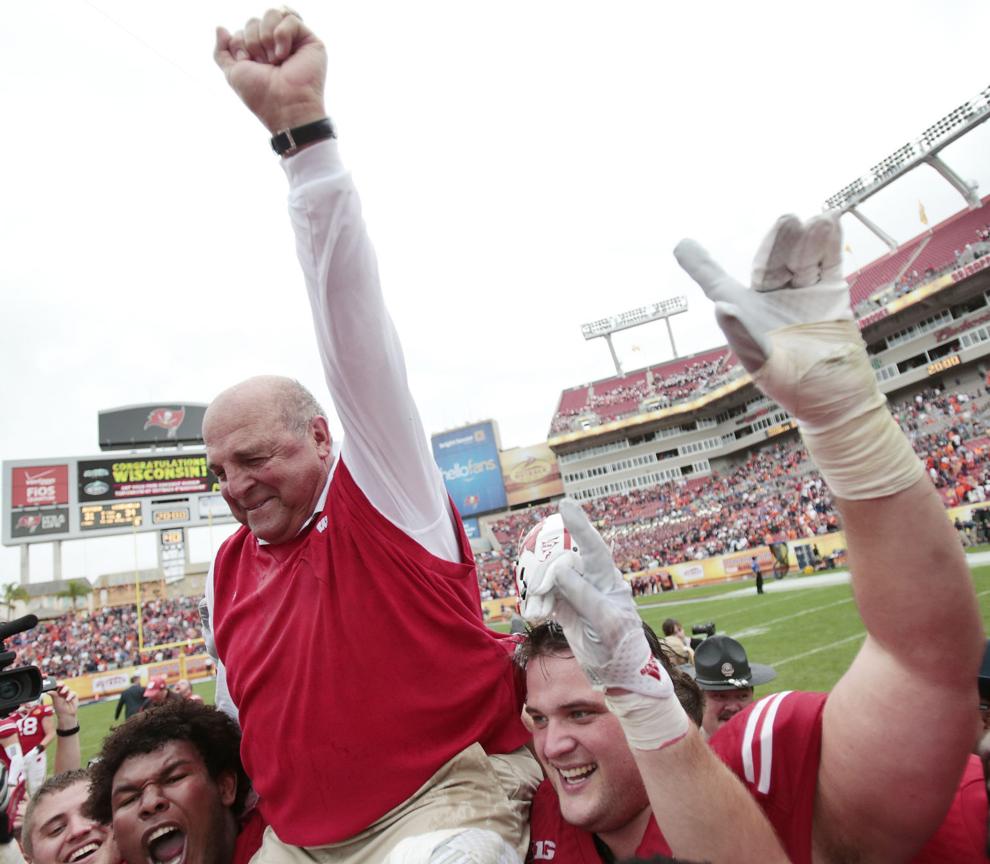 Alvarez lead the football team in 13 bowl appearances, including a final turn during the 2015 Outback Bowl (above) when he served as interim head coach after Gary Andersen left the month before to coach at Oregon State. 
9 | Bowl victories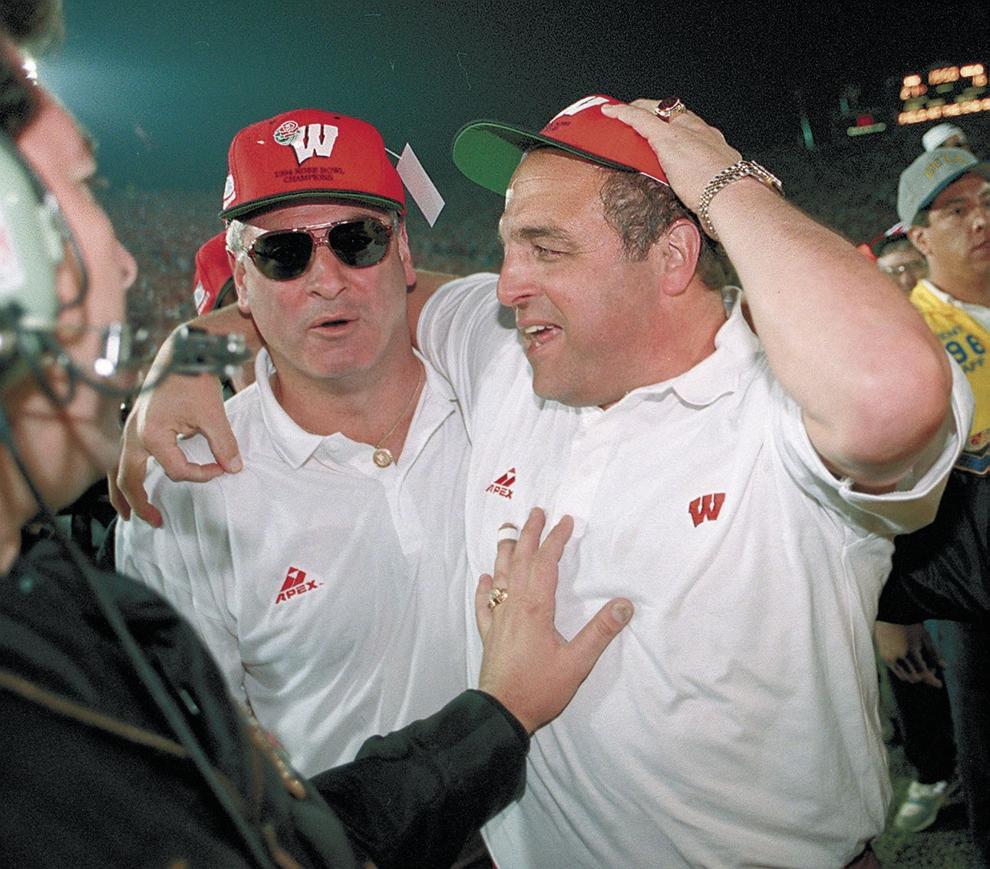 In his 13 bowl appearances, Alvarez came away with 9 victories, starting with the 1994 Rose Bowl (above), when UW took down UCLA 21-16 in Pasadena, Calif. 
3 | Rose Bowl victories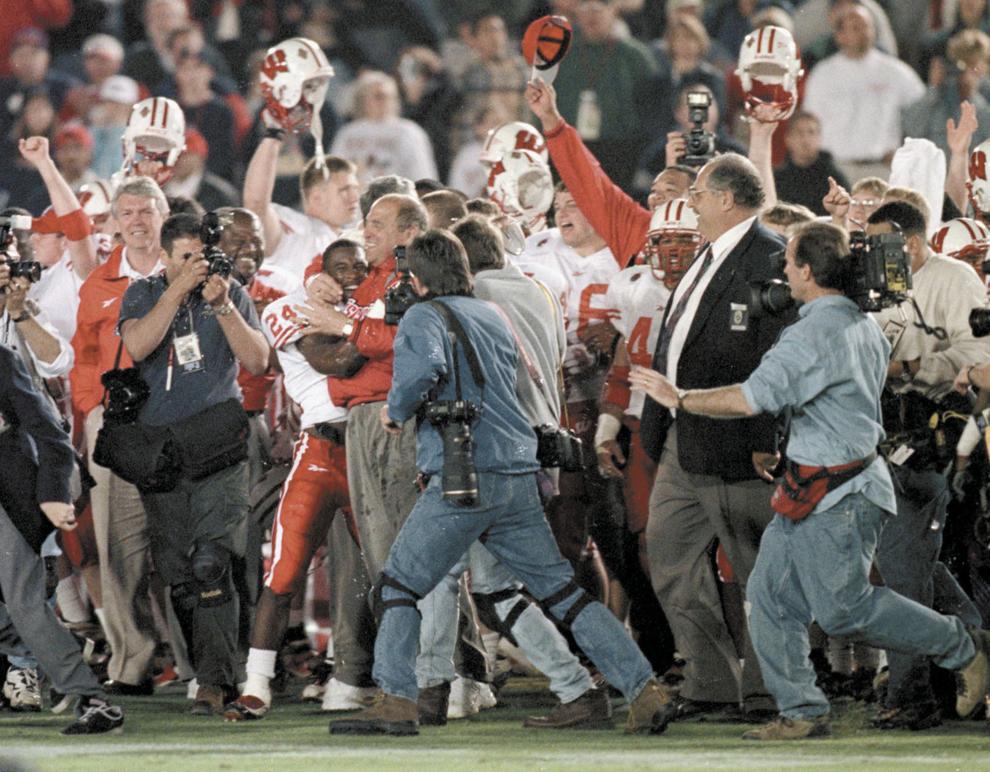 Alvarez finished his coaching career with 3 Rose Bowl victories, leading the Badgers to wins over UCLA after the 1993 and 1998 seasons, and a win over Stanford following the 1999 campaign. 
ABOVE: Alvarez reacts to a soaking at the end of UW's 38-31 victory over UCLA in the 1999 Rose Bowl.
2 | Seasons in dual roles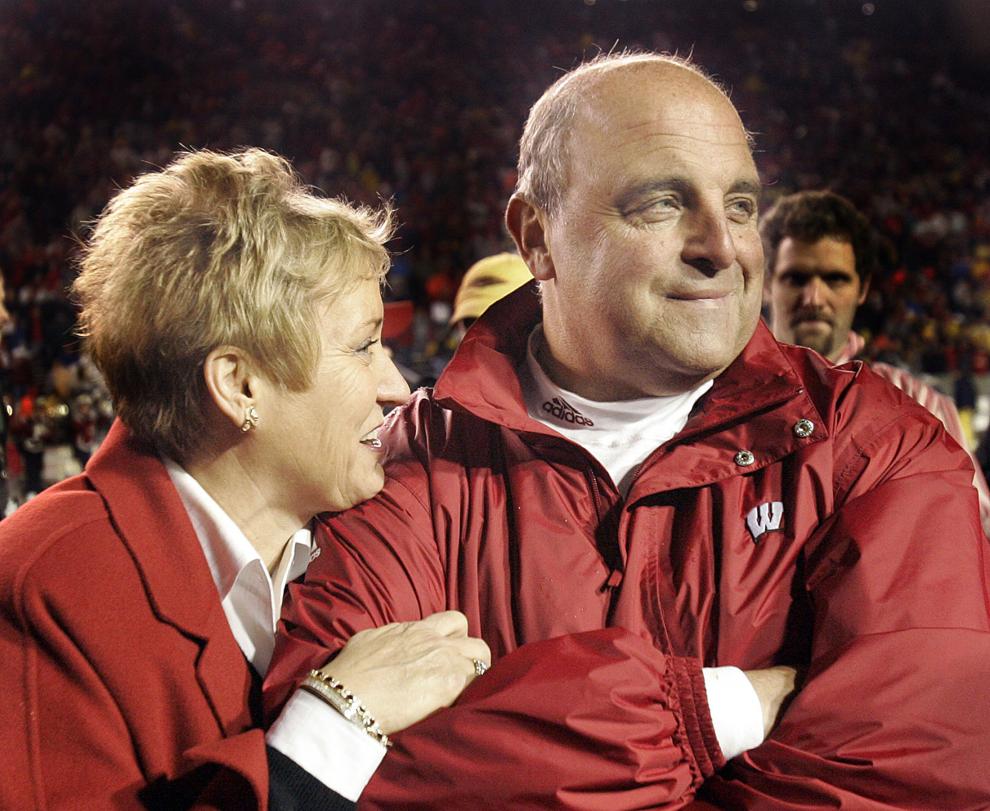 Alvarez spent 2 seasons as UW's head football coach and athletic director after taking over AD duties following Pat Richter's retirement in 2004. Alvarez compiled a 19-6 record while serving in the dual roles before retiring from coaching in 2006. 
ABOVE: Alvarez with his wife, Cindy, take in the applause and congratulations from the fans after Alvarez's final home game, a loss to Big Ten rival Iowa on Nov. 12, 2005.