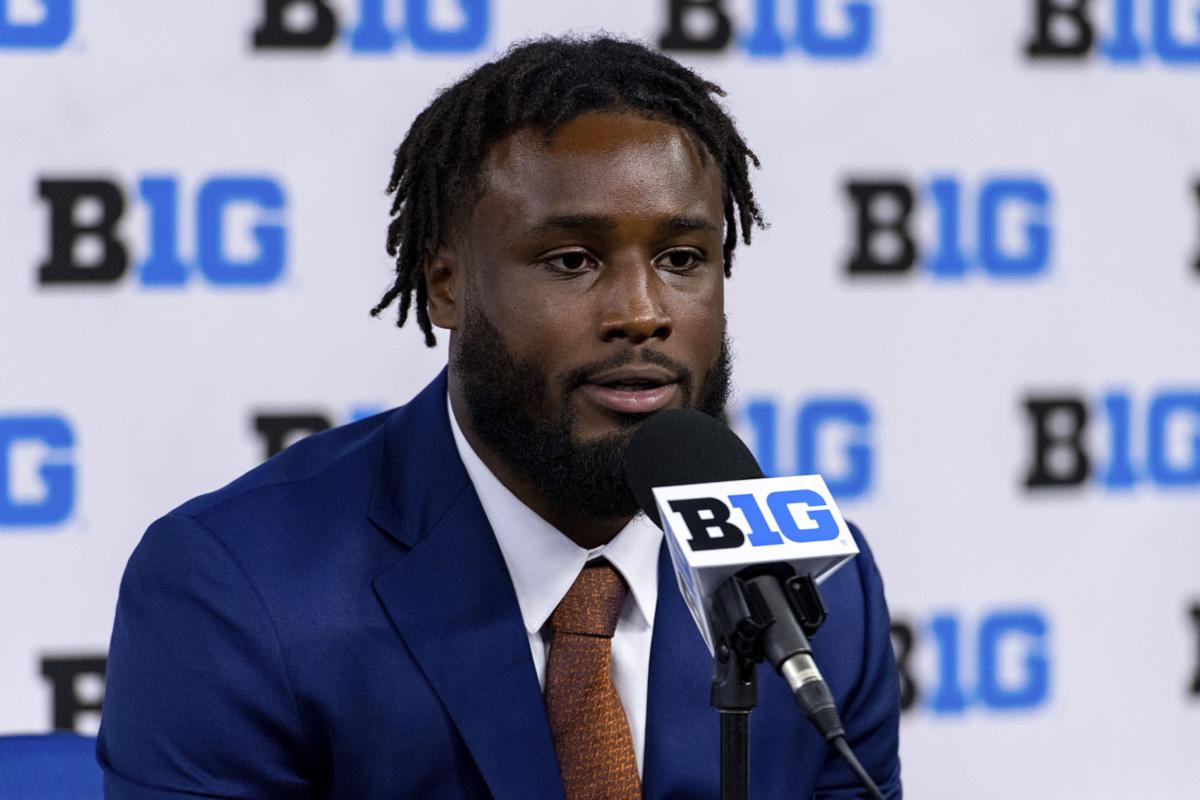 INDIANAPOLIS — Despite many offers, Big Ten Conference commissioner Kevin Warren wouldn't take the bait on Thursday.
Warren, the conference and half of its football coaches were gathered at Lucas Oil Stadium for football media days, but they all were quiet on how the league will handle COVID-19 issues should they arise this season.
After stating the Big Ten will have a "decentralized" COVID-19 protocol this season, allowing the conference's 14 institutions to manage their procedures, Warren said the conference will collect the schools' policies in early August and determine how the conference will handle the virus this fall.
Dr. Ann Sheehy, a University of Wisconsin Athletic Board member and the university's representative on the infectious disease task force assembled last season, told the UW athletic board last month the conference won't mandate testing athletes who are vaccinated.
That could change given a recent rise in COVID-19 cases, especially those connected to the Delta variant of virus and the impact it's having on both vaccinated and unvaccinated populations.
Warren did not answer a question regarding teams forfeiting games they're unable to play due to COVID. The Big 12 and SEC have announced such policies in the past week.
"I don't have an opinion on that and I won't," Nebraska coach Scott Frost said when asked if teams should forfeit games due to COVID.
"We fought hard for football last year because we thought it was the right thing. I'm really grateful to the people that helped make it happen so that we could get a chance to play last year. Where we landed last year was a good place. I thought the season came off well with the Big Ten and was managed well. We're going to trust them to make those types of decisions."
Nebraska, Ohio State and Penn State were three of the most outspoken schools urging the conference to play the season last fall despite the virus risks. Nebraska's game against UW was canceled due to the Badgers' COVID outbreak.
There are five Big Ten campuses mandating the COVID vaccine for all students: Illinois, Indiana, Maryland, Michigan and Rutgers. Terrapins coach Michael Locksley said since the state's mandate came down his job has been easier and about 93% of his team is vaccinated.
Illinois senior center Doug Kramer said he wouldn't push vaccination on anyone, but he had a personal reason to get the shot outside of Illinois' mandate.
"I got contact-traced out of two games last year and it was the worst two weeks," he said. "I had to sit in a hotel and watch our team play and I couldn't do anything about it and that drove me crazy. Getting the vaccine was an easy decision for me and I'd do it 10 out of 10 times."
NIL deals dominate conversation
Pat Fitzgerald admitted he was jealous of his Northwestern players' current circumstance.
"I mean, think about the mid-90s, the dough I would have made? I mean, come on," Fitzgerald said with a laugh.
Athletes being able to profit off their name, image and likeness (NIL) was a hot topic for coaches and players. Players discussed some of the deals they had, exchanging Instagram posts for products and navigating the new world of college athletics on the fly after NIL deals were allowed July 1.
One of Fitzgerald's best players — sophomore safety Brandon Joseph, who was an All-American last season and earned Big Ten preseason honors — said he keeps his NIL deals close to home.
"My mom is my manager and my attorney," Joseph said through a wide smile. "She's an attorney at Texas A&M … I've been blessed enough to go, 'Mom, please take care of this,' and she takes care of it for me."
Some coaches, notably Frost and Minnesota's P.J. Fleck, said their programs were in good situations to have players take advantage of NIL opportunities — Frost discussed the rabid nature of the Cornhuskers' fan base and Fleck rattled off facts about the Fortune 500 companies that call the Minneapolis metro area home.
Not all NIL deals will be for big dollars, but players are embracing the ability to add to their lives through these sponsorships.
"This NIL stuff is really changing a lot of young men's life out here, before they even touch a field," Maryland defensive back Dontay Demus Jr. said. "Really changing their family's lives out here."
PSU excited for UW, but game 'means the same'
One of the headlining games of the early season schedule is UW's home opener against Penn State. The 11 a.m. kickoff Sept. 4 will be featured on Fox's Big Noon Kickoff and both teams are likely to be ranked in the Associated Press Top 25.
Nittany Lions coach James Franklin said having a big conference matchup to start the year is good for college football.
"I see a lot of this, not just in the Big Ten but across the country, so that there's tremendous games, what people would consider primetime-type games throughout the entire schedule and throughout the entire season," Franklin said.
"We have had a countdown clock going on in our facility like we do every single year, but I must admit, having Wisconsin's logo up there, I think has really kind of raised the standard for our guys and they understand we better be ready to go."
Some of those emotions might translate more to PSU players when camp begins.
Star wide receiver and return man Jahan Dotson, a Big Ten preseason honoree, said having the Badgers first on the slate means the same to him as a non-conference game.
Senior cornerback Tariq Castro-Fields said he knows the atmosphere at Camp Randall Stadium will be intense, but his emotions will be the same as any season debut.
"The first game, you're automatically going to be excited because you haven't played in a year," he said. "I think we're just super excited to play Wisconsin. Going on the road … I can't wait."
Ibrahim ready to be workhorse again
Coming off his consecutive 1,000-yard seasons and a Big Ten Running Back of the Year Award, Minnesota's Mohamed Ibrahim said he wasn't good enough for the team last year.
Ibrahim averaged 28.7 carries and 153.7 rushing yards per game a year ago, but after evaluating his play he doesn't think he showed enough consistency.
"Being more patient," Ibrahim said of his focus this offseason. "I'm not consistent right now with my runs. And I need to get those long plays — those 10-yard (runs), make them 50 yards."
He'll again be the focal point of the Gophers offense, so he'll likely have plenty of chances to show where he's improved this season. As the conference has already seen, a motivated Ibrahim can be a load to handle.
Goodie bags a hit
Players were appreciative of the Big Ten's rolling out the red carpet in Indianapolis this week.
Their jerseys were hung in lockers in their waiting room, along with a goodie bag featuring a Bluetooth speaker and other swag as a thank you for participating in media days.
The Colts' home locker room was converted into a game room and lounge for players while they waited to address reporters.
---