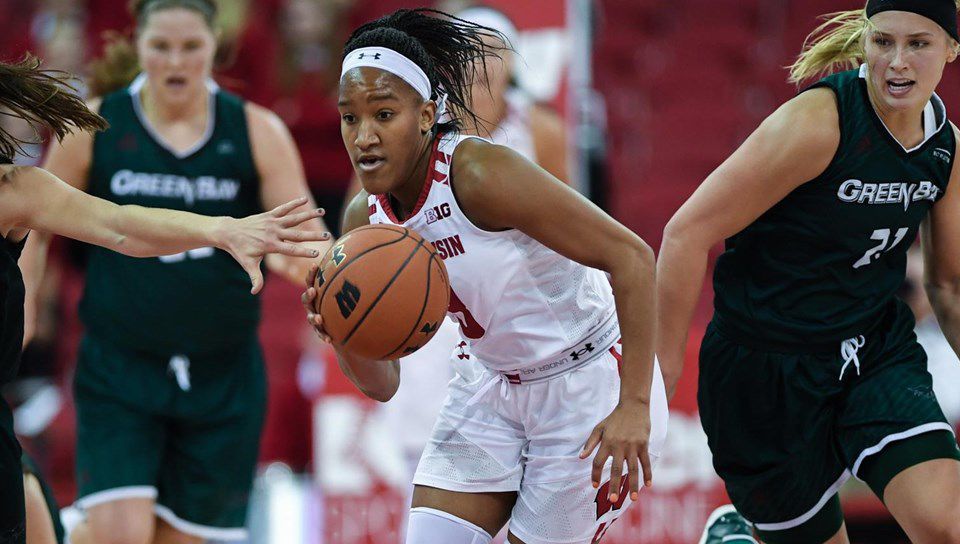 Part of Suzanne Gilreath's inspiration for Sunday's game at Ohio State came from watching the NBA 3-point shooting contest on Saturday night.
Gilreath, a 3-point shooting specialist for the University of Wisconsin women's basketball team, admired the poise Joe Harris showed in winning the contest. And, of course, she loved seeing her favorite, Steph Curry, light it up, making 10 consecutive shots at one point.
"It was kind of cool how he can just go on streaks," Gilreath said of Curry. "I'm like, I could do that same thing."
Duly inspired, Gilreath did her best to channel Curry the next day, hitting five 3-pointers to help spark the Badgers as they fell just short of pulling off a big road upset. Two of those bombs came in the final three minutes as the Badgers attempted to overcome a 13-point deficit, only to fall short 70-68.
Gilreath, who finished with a season-high 19 points, said it was almost like the Buckeyes were daring her to shoot. So she took them up on it.
"They didn't really play me that tight," Gilreath said. "They were just letting me run around. I was like, all right, if you're not going to guard me, well, I'll shoot the ball. You're going to have to respect me a little bit more. They didn't play me super tight until the second half."
Gilreath's big game came at a fortuitous time for the Badgers, who were playing short-handed without starting forward Imani Lewis, who was away attending a funeral, and reserve guard Alex Luehring, the team's other top perimeter threat who missed her third consecutive game because of illness.
The Badgers (12-14, 3-11 Big Ten Conference) could use another big game from Gilreath tonight when they play host to Illinois (10-16, 2-13) as they try to avenge a 78-68 loss 10 days ago at Champaign.
You have free articles remaining.
"We owe them one," said Gilreath, a 5-foot-4 junior from Brooklyn Park, Minnesota. "That one hurt a lot."
Gilreath, who was in something of a shooting slump at that time, hit two of six attempts against the Fighting Illini to finish with six points. That was part of a stretch in which she made just five of 19 3-point attempts (.263) before breaking loose Sunday by making five of nine shots.
While the results were different against the Buckeyes, Gilreath insists the process remains the same.
"Same shot, same shot," she said. "The mechanics are the same. It's all about being consistent in the gym, working hard, getting up the reps as I usually do and just staying confident and being ready when my number is called."
With Ohio State primarily playing a zone defense, coach Jonathan Tsipis called Gilreath's number early and she responded with two 3-pointers in the first quarter to help stake UW to a 14-9 lead.
"She got good looks early and I think seeing the ball go in helped her," Tsipis said. "The thing I was probably most proud of was that there were some plays in the game where she wasn't in the right spot and I challenged her. She put herself in good position and her teammates found her for those two 3s late to give us a chance."
Open shots are a rarity for Gilreath, who came to UW with the reputation as a shooter, gained by setting the Minnesota prep record with 294 career triples for Fridley High School. She's led the Badgers in 3-pointers in each of her seasons at UW — 55 as a freshman, 70 last season and 33 so far this season.
"As soon as she steps on the floor," Tsipis said, "everybody on the other team's bench is yelling 'Shooter, shooter, shooter.' She has a small window to get her shot. But I think the more action, the more the ball moves, the harder it is to guard her."
While Gilreath especially loves watching Curry shoot, she also studies fellow college players of both genders, picking up things from the best.
"Kyle Guy from Virginia is a really good shooter," she said. "He's very quick. And (Markus) Howard from Marquette is a really good shooter off the dribble.
"One thing I've learned over the last three years is that a lot of players overthink. You can't overthink it. You've just got to be ready to shoot when the ball gets in your hands. It's all about confidence."