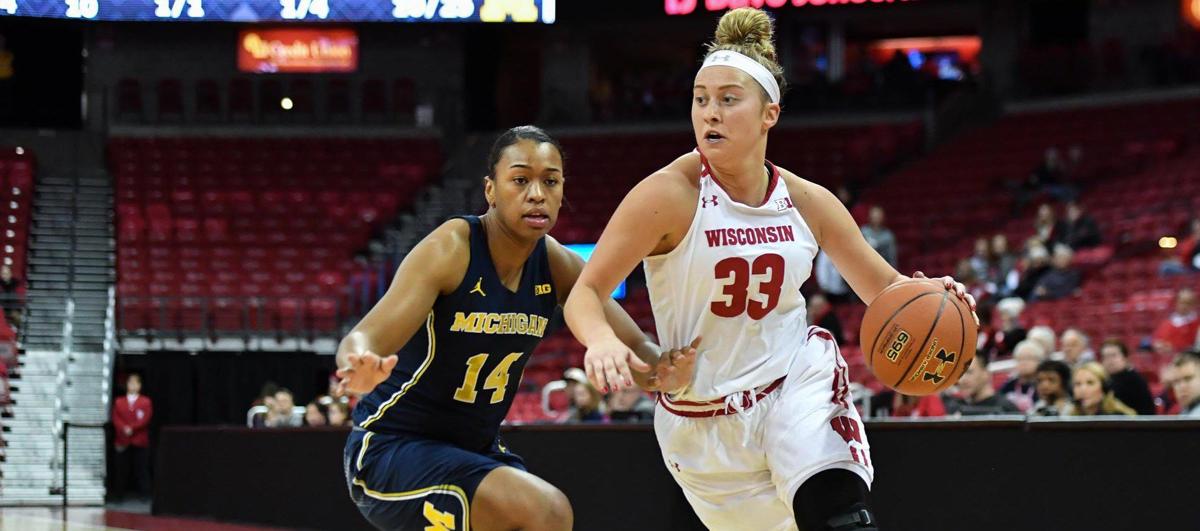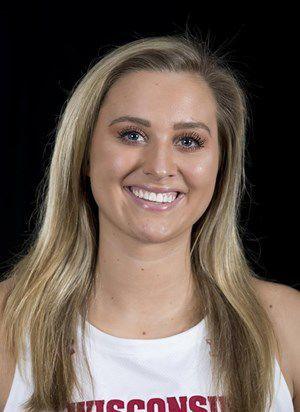 Courtney Fredrickson doesn't need much encouragement to break out into dance.
So when she received medical clearance last week to return to action with the University of Wisconsin basketball team, Fredrickson couldn't contain herself.
"When I got cleared from the doctor I literally did a little happy dance," Fredrickson said. "I was dancing around the room, I was so excited. I'm really looking forward to getting back on the floor with my team."
Likewise, the Badgers (9-7, 1-4 Big Ten) are eager to see the 6-foot-2 redshirt junior return to action soon, perhaps as early as Thursday's game against Michigan (11-5, 2-3) at the Kohl Center.
Whenever she gets back on the court it will be a joyous occasion for Fredrickson, following a 14-month recovery from a devastating knee injury.
"It feels surreal," Fredrickson said. "It has been quite the 14-month journey that I was not expecting to be that long."
Fredrickson was coming off a double-double (14 points, 11 rebounds) in last season's opening victory over Winthrop when she went to the floor just 7 minutes into game two at UW-Milwaukee.
The result was the "terrible triad" — a torn ACL, MCL and meniscus in her right knee.
You have free articles remaining.
"When I first tore it, I knew it was going to be a long road ahead of me and I knew it was going to be a lot of hard work," Fredrickson said. "Unfortunately, I've had a lot of friends who have had ACLs and they told me the stories."
Still, after surgery the original recovery schedule of about nine months would've had her ready for the start of practice this season. But she suffered a setback in July when she re-injured the meniscus, requiring another procedure and causing her to miss at least the first 16 games.
"That was a tough pill to swallow," she said. "But honestly, I think it has helped me with my recovery because it helped me get that much more confidence and strength back. My confidence has changed a ton over the last couple months."
Fredrickson, who averaged 7.7 points and 4.9 rebounds over her first two seasons, was able to begin practicing with the team following Christmas break and said she feels pretty much like her old self. She's been able to perform all the drills with her teammates and often is the featured player on the scout team.
"Obviously, with any injury you're a little cautious coming back, you don't really know what to expect," Fredrickson said. "I honestly was really surprised with myself because I thought when I came back I'd be more cautious than I am. I can't tell you the amount of practices I've gone through and I didn't think about my knee once. That's been the greatest thing that's happened to me."
UW coach Jonathan Tsipis has been encouraged by Fredrickson's performance in practice but plans to proceed cautiously with her playing time when she returns to game action. He expects her to provide welcome depth both behind post players Imani Lewis and Abby Laszewski as well as on the wing, where she can provide a perimeter scoring threat.
"She brings toughness, rebounding, a different type of player than what we have in that 3-4 spot," Tsipis said. "She has shot really well in the shooting drills and she does have two years of experience playing in the Big Ten and that has to help her confidence in coming back."
There was some question as to whether Fredrickson would return for less than half a season now, rather than appeal to the NCAA for a possible sixth year of eligibility.
"That was the discussion we had," Tsipis said. "You want to put that decision in the student-athlete's hands."
Fredrickson said it was a tough decision but as her rehab progressed, her choice became an easy one.
"Obviously, coming in halfway into a season isn't the best thing," she said. "But I didn't want to sit out two seasons in a row. And I felt so great with my knee that it would kill me more to sit out longer knowing I could be out there. I was feeling so great and confident with my knee, I said why not?
"I know people talk about the sixth year all the time but I don't know if I'd want to do a sixth year. It's always nice to have that backup, but the NCAA doesn't always grant you a sixth year. So at the end of the day I just chose to play. I really want to play and even if I only get a couple months out of it I really wanted to get back with my team."