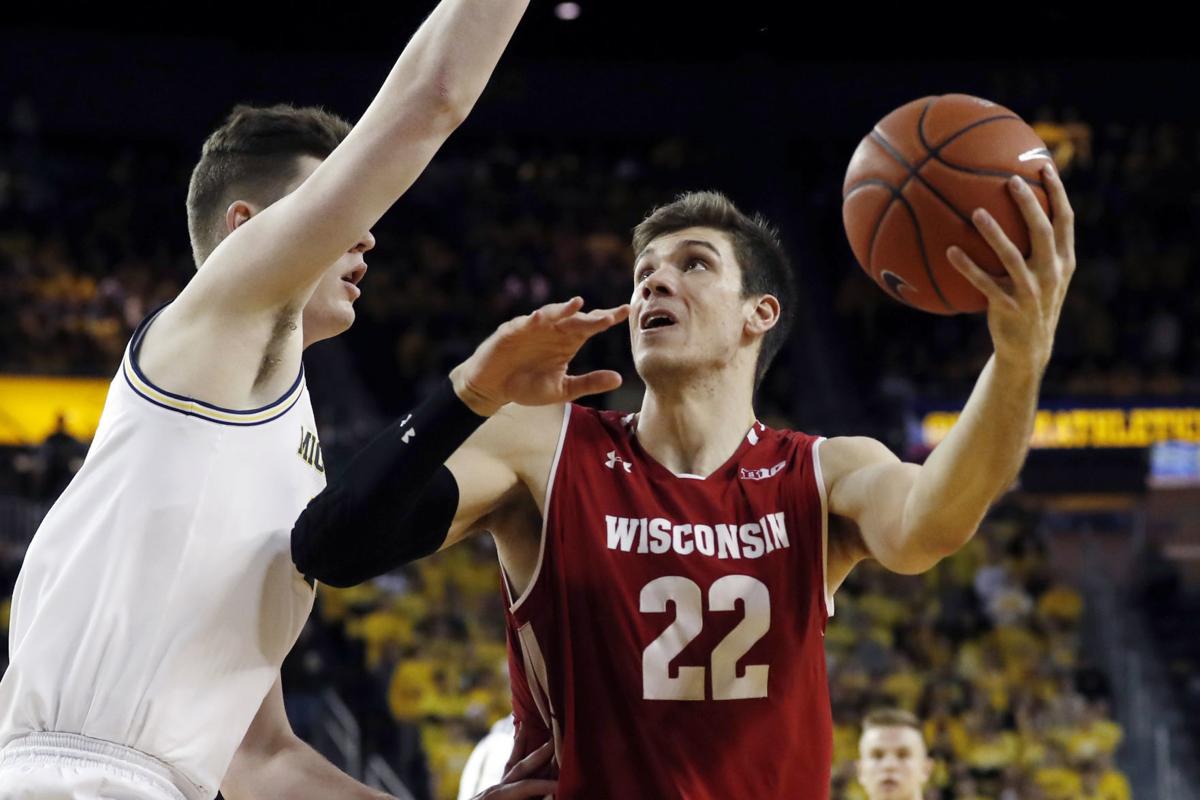 ANN ARBOR, Mich. – A win Saturday afternoon would have put the University of Wisconsin men's basketball team squarely in the middle of the Big Ten title race heading into the final four weeks of the regular season.
Instead, the Badgers were left lamenting a missed opportunity. And within that missed opportunity were too many squandered scoring chances to count.
The result, a 61-52 loss to No. 7 Michigan at Crisler Arena, left the No. 19 Badgers with some major work to do in their pursuit of a championship.
The loss dropped UW into a tie for fourth-place in the standings, two games behind the first-place Wolverines (22-2, 11-2 Big Ten) with seven games remaining in the regular season.
That's not insurmountable, by any means, but it makes UW's road to the top that much more difficult. Not that the Badgers can spend much time dwelling on this defeat with Michigan State coming to the Kohl Center on Tuesday.
"A win today would have (made it) a lot easier going forward," UW senior center Ethan Happ said. "That puts Michigan State at almost a must-win for the Big Ten championship because you saw how good Michigan is. It looks like they're not going to lose a lot more."
State Journal reporter Jim Polzin asked Badgers fans on Twitter what they thought of No. 19 Wisconsin's 61-52 loss to the No. 7 Michigan Wolve…
Junior guard Charles Matthews scored 16 of his 18 points after halftime to help Michigan avoid a second loss in three weeks to UW (17-7, 9-4). Junior forward Jon Teske matched his career high with 17 points and 12 rebounds as the Wolverines stretched their home winning streak to 21 games, a run that includes a 15-0 mark this season.
When they knocked off the previously unbeaten Wolverines 64-54 on Jan. 19 at the Kohl Center, the Badgers closed the game with a 7-0 run over the final 51.2 seconds. This time, it was Michigan who landed the final punch by outscoring UW 10-2 over the final 3:53.
"This was a bit of a revenge game, because they did beat us," Michigan coach John Beilein said. "It was our first loss, people storming the court. We don't like that – even though it's the right thing to do."
UW's scoring output Saturday matched its lowest in Big Ten play and, considering its opponent is No. 1 nationally in KenPom's adjusted defensive efficiency category, that shouldn't be all that surprising.
But one stat told the story of why the Badgers were kicking themselves after the loss: They finished 16 of 41 on shots in the paint.
Afterward, UW coach Greg Gard gave a laundry list of contributing factors regarding his team's inability to finish around the rim.
"Not finishing with two hands, not playing off of two feet, playing too fast at times," Gard said. "Avoiding contact instead of initiating contact or taking the contact. Not finishing towards our target. About every way of how-not to finish."
Happ finished with a team-high 18 points and 11 rebounds, but it was a strange game for the UW star. He had five of the Badgers' seven turnovers and only scored eight points over the final 29 minutes, 9 seconds after producing 10 points in the opening 11:51 of the game.
After missing two shots early in the second half, Happ picked up his third foul with 18:27 remaining and sat for the next 9 minutes. He ended up going 2 of 9 from the field in the second half and missing nine of his final 13 attempts after dominating Teske early in the game.
"I've just got to focus a little bit more around the rim," Happ said. "There were a lot of opportunities for me, where I put myself in really good position to score, and then I just kind of botched it."
You have free articles remaining.
The No. 19 Wisconsin Badgers men's basketball team fell to the No. 7 Michigan Wolverines, 61-52, on Saturday at the Crisler Center in Ann Arbo…
It wasn't just Happ, though. Nobody else on the team reached double figures in scoring and multiple players had difficulty finishing after drives to the basket.
Another telling stat: UW attempted only two free throws, missing both.
"That's something we control," sophomore guard Brad Davison said of UW's struggles in the paint. "We throw it in there a lot and it's not just one guy, it's everyone when we get in there. You've got to finish.
"There's going to be contact, but it's February, it's Big Ten play, they're not going to call the foul. So you've got to fight through the contact and just focus on making the layup, something we control."
Davison was involved in a critical play early in the second half that led to him being assessed a Flagrant 1 hook-and-hold foul. After a miss by Matthews, Davison and Teske got tangled up while battling for a rebound and the three officials wanted a closer look.
After a trip to the monitor, Terry Wymer, Lamont Simpson and Kelly Pfeifer apparently determined Davison latched on to Teske. A request for clarification from the officials after the game was denied by the Big Ten office due to it being a "judgment call, not a rules and regulations situation."
Gard, in his postgame news conference, said he had yet to see the play.
"They told me that they were tangled up and they thought they saw a hook-and-hold as they watched the play live," Gard said. "They wanted to look at it (again) and they told me that's what they found, that there was an entangling of arms and then a clamping at some point."
Teske made both free throws and Matthews drained a baseline jumper to make it 31-27. That four-point possession gave Michigan the lead for good.
Later in the half, Matthews had a hand in 13 consecutive points for the Wolverines. He scored 10 on his own and fed Teske for a basket that led to a three-point play.
"We allowed that to happen in some regard, but obviously it's a credit to Charles, too, because he made plays and he's done that for them," Gard said. "He makes big shots and once he got going, he was hard to stop."
Even after Matthews' explosion, UW still had a chance to add to its six-game winning streak.
A basket by Happ pulled the Badgers to within 46-45 with 6:13 remaining, but he missed the ensuing free throw. Three possessions later, he scored again to cut Michigan's lead to 51-50 with 4:17 left.
But the Badgers failed to score on their next five possessions, with Happ and senior forward Khalil Iverson both missing two shots in the paint in that span. Happ also had a turnover during that stretch.
It was a one-possession game until Matthews made a baseline jumper with 1:30 to go. The next trip down the floor, he made a fallaway jumper to put the game out of reach.
After it was over and Happ was standing with his back to the wall in a tunnel adjacent to the court, he had a tough time getting over the fact the Badgers missed 25 shots in the paint.
"If we make half of the misses, then that's a lot different ballgame," he said. "It's tough to put that much pressure on your defense."