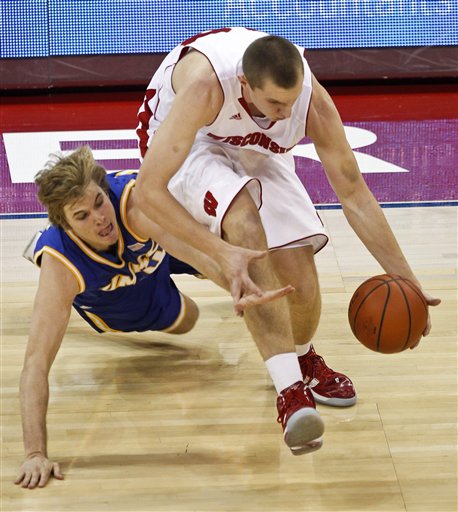 Say this for the University of Wisconsin men's basketball team:
Its four-game stretch to open the season has been filled with cupcakes, but at least the Badgers gobbled them up in impressive fashion.
The latest snack came Tuesday night, when junior forward Jared Berggren scored a career-high 21 points as No. 11 UW routed Missouri-Kansas City 77-31 in a non-conference game at the Kohl Center.
Sophomore guard Ben Brust added 12 points and junior forward Mike Bruesewitz had 10 for the Badgers (4-0), who have won their first four games by an average of 40.8 points.
"It just shows we're coming out sharp and making sure we're stepping on people's throats right away and letting them know that you're not going to come in here and outwork us," Bruesewitz said. "That's the biggest thing. We're beating them by outworking them, I feel like. And that's always a positive.
"If we keep doing that - if we just keep playing harder than other teams - then we'll be where we want to be at the end of the year."
The 46-point blowout marked the first time in program history that UW has won four consecutive games by at least 27 points. It followed victories over Kennesaw State (54 points), Colgate (27) and Wofford (36) to open the season.
The Badgers haven't wasted any time turning the games into routs, either. Their average halftime lead is 24.5 points.
UW had a 23-point cushion at the break against the Kangaroos (1-4), who watched helplessly as the Badgers shot 64 percent in the first half and hit eight 3-pointers en route to a 41-18 halftime lead.
Brust hit two of UW's four 3-pointers in an 18-2 run that gave the Badgers a 26-10 lead with 8 minutes, 3 seconds left until halftime. The Kangaroos went almost 8 minutes without a point during that stretch, missing seven consecutive shots as UW reeled off 13 straight points.
"It makes it very hard" to defend, UMKC coach Matt Brown said, "when they have five guys on the floor that can shoot it consistently."
UW shot 52 percent overall and 48 percent from 3-point range. Five players had at least two 3-pointers for UW, which had 13 against the Kangaroos and has 47 on the season.
Berggren missed a shot on the Badgers' first possession of the game, but didn't miss again the rest of the night. He finished 8 of 9 from the floor, including 4 of 4 from behind the arc.
"That was probably the easiest one," Berggren, whose previous career high of 13 points came three days earlier against Wofford, said of his lone miss. "I was two feet from the basket and just couldn't put it in. But luckily, I didn't let that get to me."
UW senior point guard Jordan Taylor had another fine floor game, finishing with nine points, six rebounds, six assists and one turnover in 30 minutes. He has 21 assists and two turnovers on the season.
Badgers coach Bo Ryan marveled at how well his team has shared the ball through four games. He credited Taylor for setting the tone with his unselfish play.
"Everybody plays off of that," said Ryan, who earned his 246th victory at UW, tying him with Walter "Doc" Meanwell for No. 2 on the program's all-time list.
"If a guy like Jordan Taylor is making sure that we're getting good looks, then everybody else has to say, 'Well, then we're going to do the same thing.' So we just have to continue that."
Next up for UW is Bradley (3-1) in a semifinal of the Chicago Invitational Challenge on Friday night in Hoffman Estates, Ill. The Braves lost at home to Wofford on Tuesday night.
But the competition will get tougher after that for UW, which could play Brigham Young, which advanced to the NCAA tournament's Sweet 16 last season, on Saturday night in the Chicago final. The Badgers play at No. 1 North Carolina next week in the Big Ten/ACC Challenge and host a pair of quality opponents, No. 16 Marquette and UNLV, in December.
"It's still about the game, it's still about developing the players, and the one thing that you always have to know, looking at our schedule, there's some challenges out there," Ryan said. "Right now, the challenge is for us to develop and get ready for whatever's next."