The Kettle Moraine boys basketball team made its debut at the WIAA state tournament Friday night.
Former University of Wisconsin men's basketball player Trevon Hughes won't forget that moment or his return trip to the Kohl Center as the Lasers' second-year coach.
"I told them, `Soak it all in,' and that's what they did," Hughes said. "They lived in the moment. But they didn't let the moment be too big for them. I thought coming in here that the lights would have been too bright. But they relished this. I told them, `We don't know. This is like a once-in-a-lifetime opportunity.' And they played like they've been here before."
Top-seeded De Pere (29-0) pulled away for a 55-44 victory over Kettle Moraine (18-11) in a WIAA Division 1 semifinal Friday night at the Kohl Center.
"We fell short, but I had a great group of guys, especially led by my senior group," Hughes said. They set the bar and raised it. It was a tough matchup with De Pere."
Hughes, a 6-foot-1 point guard, played from 2006-10 at UW for former Badgers coach Bo Ryan. He played in 31 games on the 2006-07 UW team that finished 30-6, averaged 11.2 points while starting 34 of 35 games for the 31-5 team in 2007-08, averaged 12.1 points as a starter for the 20-13 team in 2008-09 and averaged 15.3 points for the 2009-10 team that finished 24-9.
"It felt good," he said about his return to the Kohl Center. "I kid you not. I was like I was on vacation and came back – and I came back with a bunch of kids. It was such a surreal feeling when I stepped on the court. … (The team was) like, `Have you played here?' (I said), `Yeah, 19,000 (spectators).' I wish it was that packed tonight.
"The energy was there. I just felt like I belonged. I hope it's not the first and last time making a state appearance."
Hughes, who was born in Queens, New York, played high school basketball at St. John's Northwestern Military Academy in Delafield and played professionally overseas after college.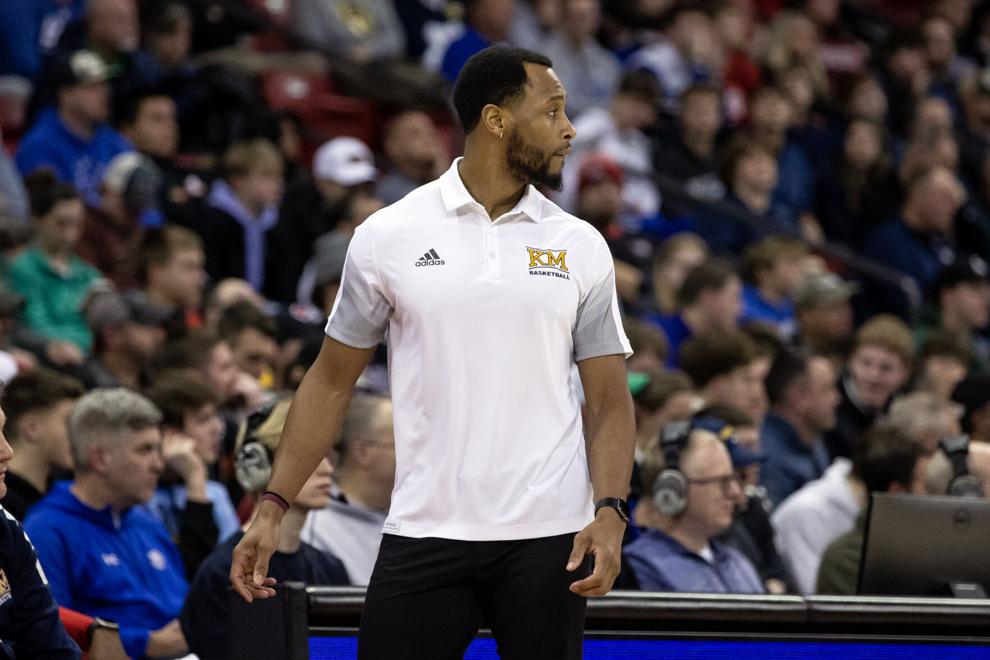 Lasers junior point guard Drew Wagner said it's been great to learn from Hughes, the former Badgers' point guard.
"I can't thank him enough, because I feel everything we've learned comes from him," said Wagner, who scored nine points for the Lasers.
The matchup was a difficult one for Kettle Moraine.
"You could tell they were battled-tested," Hughes said about the Redbirds. "A 29-0 record. It's well-proven."
De Pere's lineup featured senior guard John Kinziger, who shared the Mr. Basketball Award this season with Pewaukee's Milan Momcilovic; 6-foot-8 junior forward Will Hornseth; sophomore guard Zach Kinziger; and senior guard Hogan Demovsky, son of Rob Demovsky, the ESPN NFL Nation Packers reporter.
Hornseth had 19 points and eight rebounds, while John Kinziger added 15 points, nine rebounds and four assists.
Brian Pritzl, father of former University of Wisconsin men's basketball player Brevin Pritzl, is one of the assistants on De Pere coach Brian Winchester's staff.