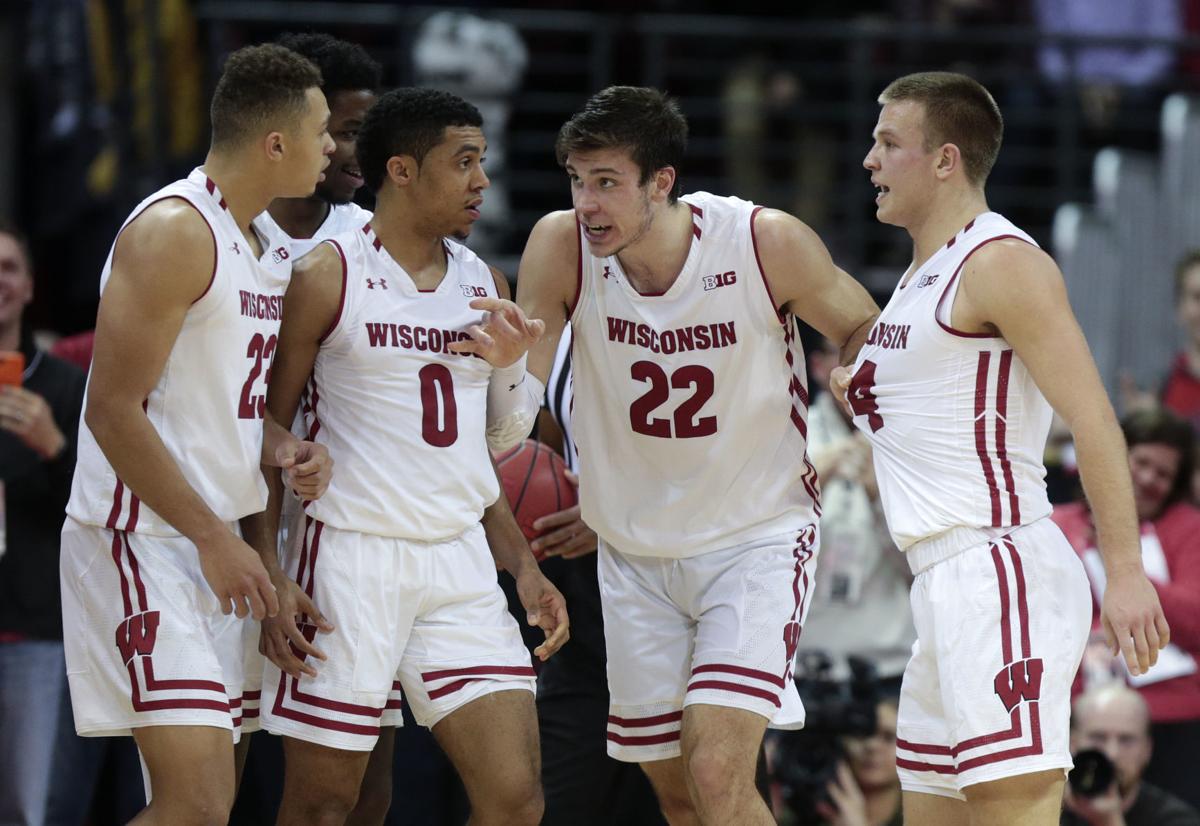 The University of Wisconsin men's basketball team got off to an impressive start this season.
At least that was the rumor.
You see, even though the Badgers won five of their first six games and went from unranked to 22nd in the national poll, their fans had barely laid eyes on them.
That's because only two of UW's first six games were at the Kohl Center and those were against Coppin State and Houston Baptist in "buy" games with undermanned teams from obscure conferences. As such, the games didn't really give the fans an early season read on the Badgers.
That was too bad because the early returns had whetted the fans' appetites. UW's other four games were against highly regarded programs from other power conferences, with the Badgers beating Xavier, Stanford and Oklahoma before losing to then-No. 4 Virginia. Still, those games were played elsewhere and most were weekday matinees, which meant many fans didn't get to see a lot of the Badgers going against legitimate opponents so they could decide for themselves if they were for real.
UW's game against North Carolina State in the ACC/Big Ten Challenge Tuesday night at the Kohl Center was the fans' first real chance to see with their own eyes if UW is truly improved over last season's inexperienced, injury-riddled team that missed the NCAA tournament for the first time in 19 years.
They saw a team that remains a work in progress on both ends of the floor, but they also saw a team that displayed two welcome traits − grit and balance − during a 79-75, come-from-behind victory over the previously undefeated Wolfpack.
"This was a gritty win," guard Brad Davison said. "Things weren't going our way in the first half. It felt like every 50-50 ball was going to them. The ball wasn't bouncing our way. We just had to dig in, grind it out and show our toughness as much as we could."
You have free articles remaining.
They needed it against the Wolfpack, which was one of 25 remaining unbeaten teams in the country. But despite its 6-0 record and ACC pedigree, North Carolina State was somewhat of an unknown quantity because its first six games hadn't exactly been taxing. One, they were all at home and, two, they were all "buy" games with teams from small conferences.
It didn't take long for the Badgers to find out that the Wolfpack was for real. It came in averaging 90.8 points per game and had the kind of quickness that hurt UW on both ends of the floor as it took leads as large as 12 points in the second half.
The Wolfpack put their quickness to good use, too, pressing full-court from the outset and taking UW defenders off the dribble whenever they could. The Badgers made repeated runs at the Wolfpack in the second half, but every time they'd get within one score North Carolina State would run off two or three baskets.
The Wisconsin Badgers men's basketball team defeated the North Carolina State Wolfpack, 79-75, in the ACC/Big Ten Challenge on Tuesday night a…
All in all, it was a great test for the Badgers. And best of all, they passed it by taking their time on offense and tightening up on defense down the stretch.
"I'm really proud of this group for how they battled back," coach Greg Gard said. "The stretch they've been on, the competition they played, the teams they've played, to come in and face a team that pressed you for 40 minutes and 94 feet and to be able to handle it and to be able to battle back and be that resilient, there was a lot of heart and toughness and grit shown there tonight. Obviously, it's not pretty at times, but that's what pressure can do at times. It can speed you up and play with your decision-making ability, but I thought we really down the stretch just kept battling. Down 12 and to keep fighting back and keep chipping away and then push it over the edge there at the end showed what this group is made of."
One thing UW did show is that the offense isn't the one-man show it was last year. Ethan Happ scored 19 points, but D'Mitrik Trice had 18 and Davison and Aleem Ford had 12 apiece. But it was a basket here or there by Kobe King, Trevor Anderson and Brevin Pritzl that really rounded out the scoring in a game where UW went with a small lineup most of the time.
"It was just a team win," Happ said. "It wasn't (that we) relied on one or two guys. I don't know if that's how it would have been last year in a game like this. I think we're a lot more balanced this year when we were last year. I think that's what really helped us so far this season and in this game definitely."
As a result, the Badgers are 6-1 heading into the early portion of the Big Ten Conference schedule Friday night at Iowa. If nothing else, their non-conference schedule has prepared them well.
"I think they've shown they can win in different ways," Gard said. "We win in a game in the Bahamas against Stanford where we don't shoot the 3 well or don't get many 3s. We shoot it well against Oklahoma. We're in a rock fight with Virginia and we battled back in that game. This one was a higher-possession game ... but we've been able to find different ways. That's usually the sign of a good team. Every night it's going to be somebody different. We need to depend on other people and we need to depend on our bench at times. As we say all the time, all hands on deck. We needed them tonight."
That was out there in plain sight for everyone to see.