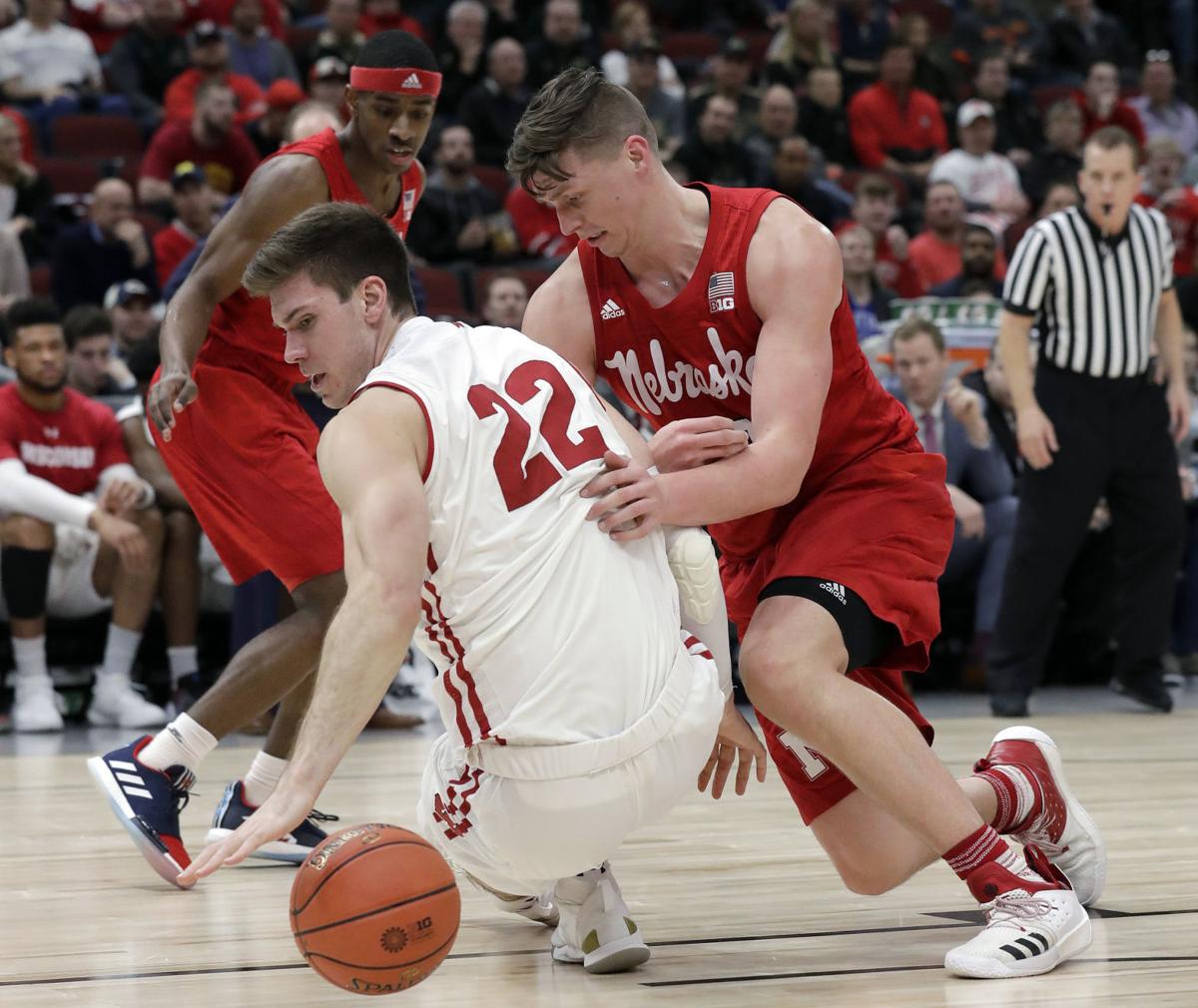 CHICAGO — After four seasons and 81 games against Big Ten Conference opponents, Ethan Happ has seen every defense imaginable.
Yet, the one that Nebraska threw at the University of Wisconsin Friday had its all-American big man — indeed, UW's entire offense — looking as bewildered as they have all season.
The good news is the 19th-ranked Badgers combined just enough scoring help from others, their usual late-game grit and, just maybe, a little fatigue from the short-handed Cornhuskers to register a 66-62 victory in a Big Ten tournament quarterfinal game at the United Center.
The bad news is Happ had one of the worst games of his career — four points, seven turnovers — and UW's offense often looked like a rudderless ship in his absence as the Badgers squandered a 13-point first-half lead amid a sea of turnovers — 17 in all — and forced shots late in the shot clock. So while the Badgers probably locked up a fourth seed in next week's NCAA tournament with the victory, the offense's ongoing inability to sustain consistency sent up more red flags over whether UW can take advantage of a favorable seed once it gets there.
Naturally, the postgame attention was focused on Happ.
"I thought he was out of sorts from the beginning," coach Greg Gard said. "Very uncharacteristic for him. Fortunately, we had teammates that rallied to his side and were able to play well when he was having a harder time finding his rhythm."
After averaging 14.5 shot attempts per game this season, Happ shot only four times Friday. It was only the fifth time in his 137 games at UW that he attempted four or fewer shots in a game. Three were in his freshman season, the other was in the first game of his sophomore season.
State Journal reporter Jim Polzin asked Badgers fans on Twitter what they thought of No. 19 Wisconsin's 66-62 win over the Nebraska Cornhusker…
Nebraska has given Happ trouble in the past, in part because of the way it defends him. Cornhuskers coach Tim Miles attacks Happ with double-teams when he gets the ball within 15 feet of the basket. Friday, Miles doubled up on his double-teams.
"I didn't play well obviously," Happ said. "There was definitely credit to Nebraska (for that). It was unlike most defenses. They were totally leaving their guys. I was getting double-teamed by two guys and there was a third guy that was totally leaving their guy whenever I turned my back."
You have free articles remaining.
Happ had an inkling that he was in for extra attention after watching Nebraska upset Maryland Thursday. Terps center Bruno Fernando, like Happ a first-team all-conference pick, was held to three points on 1-for-4 shooting.
Still, Happ was too aggressive at times and didn't react well to the extra attention.
"I would say just to settle myself down is one of the big things," he said when asked what he needed to do differently. "I want to help the team so much and attack and make plays for others. But they made a concentrated effort not to let me score. I should have done a better job coming into the game of thinking that after seeing what they did to Fernando the game before. I mean, they just said, 'Anyone but him.' That's kind of the way it was today."
The University of Wisconsin men's basketball team defeated the Nebraska Cornhuskers, 66-62, on Friday afternoon to advance to the Big Ten tour…
Most of Happ's turnovers came from an off-the-ball defender digging it out while he reversed his dribble or when he attempted to pass out of the double team. Gard's reaction to his star's struggles: Happ played a season-low 20 minutes.
"There were some situations where he did get double-teamed where he didn't make the proper decision, but there was also times where he wasn't double-teamed that he didn't make it, put the ball in traffic, exposed the ball too much," Gard said. "I thought he was out of sorts defensively, too. He was out of position more often than not. Just an uncharacteristic day for him on both ends."
Happ's inability to initiate offense too often left the Badgers without a good shot. He has been UW's lead ball-handler in the half-court offense for the last two seasons and has generally done a good job of that.
When Nebraska's quick, trapping defense attacked him with gusto, however, it showed that UW's offensive struggles don't fall entirely on Happ's shoulders. A lack of direction in the backcourt has been a problem at times and it was again with Happ either on the bench or out of the flow.
Often, the offense fiddled around on the perimeter for too long and UW failed to get a good look. At one point in the second half, Gard, who usually has a quick hook for players after a mistake on defense, was subbing for everyone who committed a turnover. He was subbing a lot, and not just for Happ.
Brad Davison, who shares the point guard role with D'Mitrik Trice, said the turnovers were mostly unforced.
"There were just uncharacteristic turnovers, shot-clock management," Davison said. "I think our offense got stagnant and we had to settle for step-backs and forced shots with 2 or 3 seconds left on the shot clock. Those are tough shots to hit. They're shots we can make, but you're not always going to make a high percentage of them. We've just got to get back to doing the things the way we know we can. We will tomorrow."
Tomorrow would be Saturday, which is when UW, seeded fourth in the conference tournament, plays top-seeded Michigan State. But while Nebraska is one of many good defensive teams in the Big Ten, Michigan State might be the best, which means it won't get any easier for UW today.