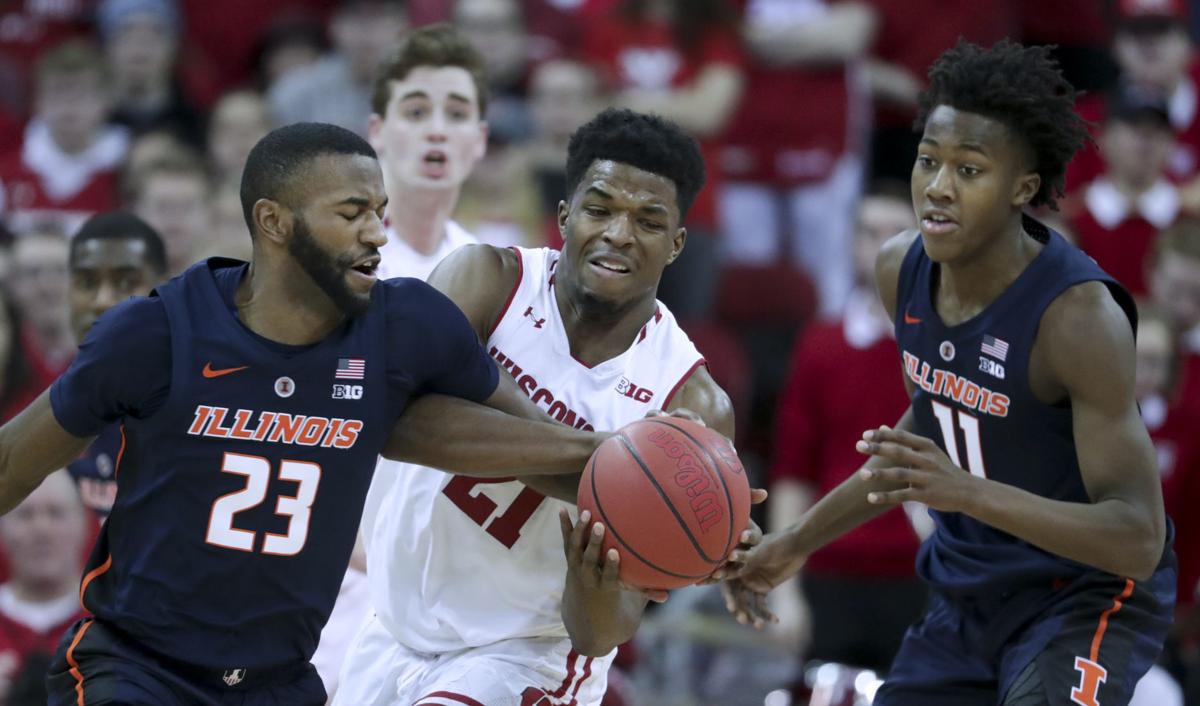 A month ago, it looked like the Big Ten Conference would put 10 teams in the NCAA men's basketball tournament.
Then the teams from the conference's lower regions went to work, sprung some upsets and that number started to shrink.
Penn State beat Big Ten leader Michigan. Rutgers beat Nebraska, Northwestern and Indiana, teams that once harbored NCAA tournament hopes but have since seen them fade. And then there was Illinois.
After going 4-7 in non-conference play, the Illini started out 1-7 in the Big Ten. By the time they showed up to play the University of Wisconsin Monday night at the Kohl Center, however, the Illini had won five of their previous six games, including wins over likely NCAA tournament teams Maryland, Michigan State and Ohio State. Indeed, no team has damaged the tournament hopes of opponents more than Illinois in the last month.
Would the Illini inflict some damage on the tournament aspirations of 22nd-ranked UW?
They tried, using their pressure man-to-man defense to gum up UW's offense and star forward Ethan Happ for much of the night, but the Badgers persevered and emerged with a gritty 64-58 victory over the vastly improved Illini.
The 22nd-ranked Wisconsin Badgers men's basketball team defeated the Illinois Fighting Illini, 64-58, on Monday night at the Kohl Center in Madison. 
It wasn't as pretty and it wasn't as easy as Illinois' 10-16 record might suggest, but the victory was the necessary first step in what could be a late-season push for UW against teams from the bottom half of the Big Ten. Of course, the way some of those teams are playing these days, it won't be easy. It certainly wasn't Monday night as coach Brad Underwood's Illini looked nothing like the team UW beat by 12 a month ago at Illinois.
"Most improved team in the league," UW coach Greg Gard said. "I thought that watching them. I watched every game from our game when we played them that last time through their last one at Ohio State. Brad's done a good job with that group. It's a unique (opponent). It kind of sits by itself in terms of preparation because nobody else in the league plays like that. So it does look mucky or muddy and you have to grind and it's not pretty."
As ugly as the game was, holding serve in the conference race was more important than looking pretty for the Badgers. UW is tied with Maryland at 10-5 in the conference and will have to win many more such games if it hopes to finish among the top four in the conference and secure a third or fourth seed in the NCAA tournament, all of which is well within its reach.
You have free articles remaining.
Accordingly, Gard seemed to adopt a whatever-it-takes mentality to secure the victory over Illinois. With the score at 52-52, he made a rare change, sitting Happ for the final 4 minutes, 6 seconds of the game. Though some thought he made the move because of Happ's struggles at the free throw line, Gard made it clear the decision had nothing to do with free throws.
"It was the turnovers," Gard said of Happ's three second-half miscues. "We wanted better decisions made and that's what we were able to get."
Happ had one of the rougher nights of his illustrious career, getting only six points and three rebounds, but Illinois had a lot to do with that with a defense designed to slow UW's leading scorer. Underwood said Illinois made it hard for Happ to get to his favorite spots. Even when he did, he found it difficult to operate because the Illini attacked his dribble with extra defenders.
Still, UW outscored Illinois 12-6 in the final 4:06 because players such as Khalil Iverson, Brad Davison, Nate Reuvers and Brevin Pritzl picked up the slack. Happ will bounce back, but that's a good thing to know for the critical weeks ahead.
"Everyone is game by game in terms of who's on the floor," Gard said. "It's gut instinct. It's who's playing well, who's struggling. Situationally. Matchups. And they were (playing) small so I could really only play one of those two bigs at once. They were trying to spread us out more with shooters and that's not maybe a comfort for those big guys. And then I had to go with who I thought was playing well and who was going to give us the best opportunity. There's been so many nights that he's carried us, it was a night when we had to have other people help carry him."
It wasn't just Happ's minutes that suffered in the unsightly offensive game, either. Guard D'Mitrik Trice sat for almost 7:00 during one second-half stretch.
Such moves are a change for Gard and a step forward the Badgers. If Gard has confidence that his complementary players will get the job done even without Happ having his usual double-double, it will only help UW in the long run.
The Badgers need to get rolling because the toughest part of their schedule is behind them. Including UW, six teams have separated themselves in the Big Ten. Of the Badgers' final five games, only one game − Iowa at home − is against one of those teams. But if the Illinois game is any indication, none of the remaining games will be easy to win.
"With five games left in the season at the end of February, everyone's going to give everyone their best shot," Davison said. "Everyone has their backs against the wall. But Illinois has improved immensely throughout the season. ... They're riding their momentum wave and have things rolling."
After losing two in a row, the Badgers might be ready to do the same.