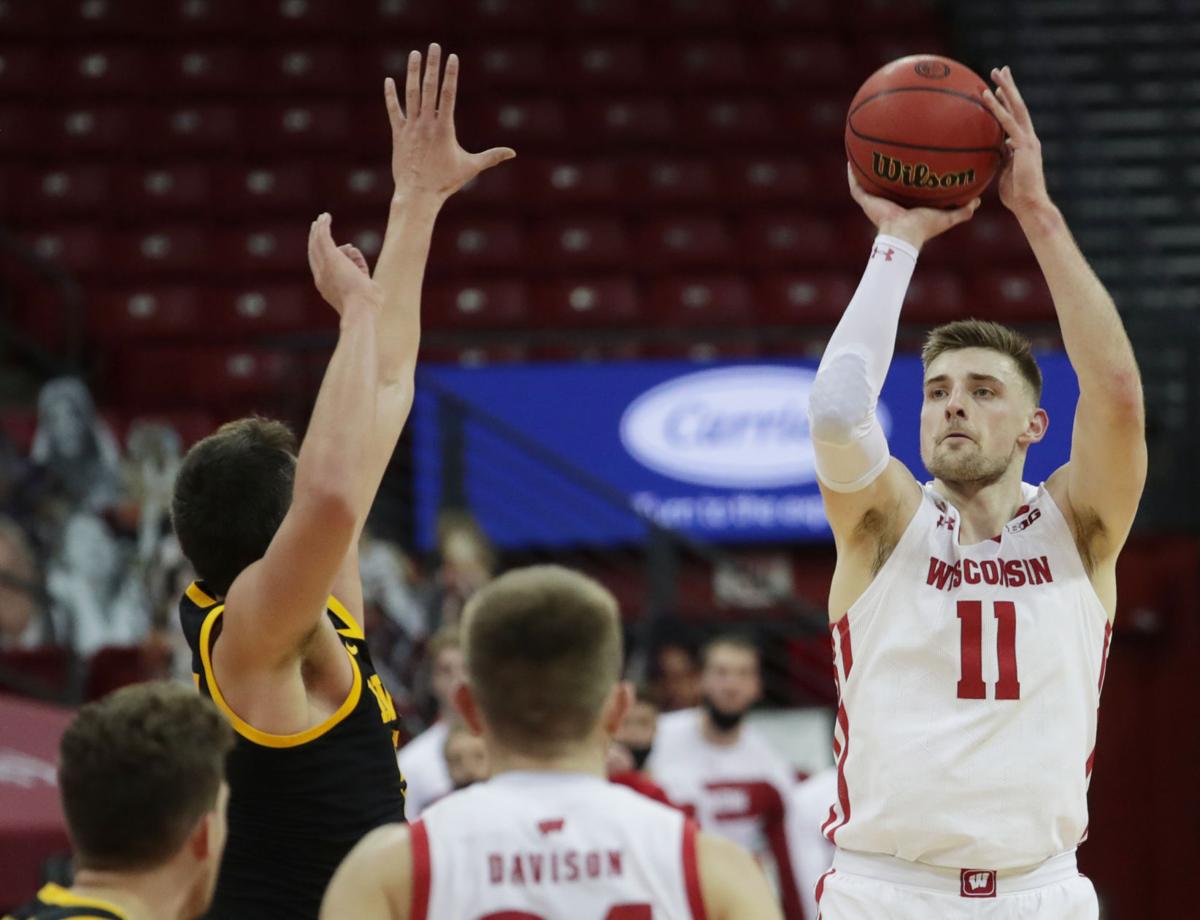 The University of Wisconsin men's basketball team dug a hole Thursday night and couldn't get out.
The Badgers would nearly climb out of it only to have Iowa shovel another load of dirt on top of them. That happened multiple times and left senior guard Brad Davison and his teammates frustrated and exhausted.
Demoralized? Davison and senior center Micah Potter say no, even after a 77-62 setback against the No. 11 Hawkeyes left UW with defeats in consecutive games for the first time this season.
Senior center Luka Garza scored 30 points and junior forward Joe Wieskamp added 17 for the Hawkeyes (16-6, 10-5 Big Ten), who used a 14-0 run early in the game to build a big lead and a 13-2 burst late to put the game away.
"It's kind of been the story of our season," Davison said. "We can't get over that hump."
The main reason — again — was an offense that has some great moments that don't make up for long stretches of failure.
UW opened the game by missing 26 of its first 30 shots and went through a 1-for-12 stretch late in the game. The Badgers finished at 30% overall from the field, including a woeful 8 of 36 on 2-point shots and 6 of 14 on attempts near the rim.
Potter bounced back from a poor performance by producing 23 points and 11 rebounds to lead the Badgers (15-8, 9-7), while Davison made five 3-pointers while adding 15 points.
Senior point guard D'Mitrik Trice had 11 points and nine assists but went 3 of 15 from the field.
The other poor shooting nights for the Badgers: Senior forward Aleem Ford went 2 of 10, freshman guard Jonathan Davis went 1 of 9 and sophomore forward Tyler Wahl missed all six of his attempts.
Add it up and UW would have had to play a near-perfect game on defense against the most efficient offense in the nation.
Garza went 4 of 6 from 3-point range and did his usual damage in the paint.
Wieskamp went 5 of 6 from beyond the arc, including a couple daggers in the second half.
"Obviously, they're one of the best offensive teams in the country, so you've kind of got to pick your poison," Davison said. "They have a few guys that really shoot the ball well and are really good and really dynamic so you've got to close out high (on) them."
Whether it was Garza, Wieskamp or someone else, Iowa always seemed to have an answer for a UW rally.
The Badgers were within six late in the first half, but sophomore guard CJ Fredrick made a 3-pointer in the closing seconds to send Iowa into the half with a 36-27 cushion.
UW cut its deficit to 49-46 after a 3-pointer by Davison with 9 minutes, 16 seconds remaining in the game, but Garza followed with a three-point play and reserve forward Jack Nunge banked in a 3-pointer the next trip down the floor.
After Davison made 3-pointers on back-to-back trips, pulling UW within 58-52 with just over 7 minutes remaining, Wieskamp curled around a screen and buried a 3-pointer from the right wing. That started the decisive run that included five points from Garza.
"We had them where we wanted to them," Potter said. "We brought it back, they went on some runs, we came back (with) some runs. It's just little mistakes that happen that can kind of give them momentum back."
The loss dropped the Badgers into sixth place in the Big Ten. They're now 0-5 against the teams above them in the standings.
"We always (talk about) pressing that want-it button, where if you need a stop, you've got to get a stop. If you need a bucket, you've got to get a bucket," Davison said. "It's definitely frustrating and disappointing but also we've shown it and we know it in our locker room how good we can be, so we're going to keep working, keep believing in one another because that's what we do here."
That was essentially the message UW coach Greg Gard delivered to his team after the game: Keep fighting.
"No one's going to feel sorry for us," Potter said. "We can't feel sorry for ourselves. We've got to finish out the season. We've got a Big Ten tournament and an NCAA tournament after that. We've still got hopefully a long season left. The only thing you can do is stay positive."