University of Wisconsin men's basketball coach Greg Gard knew he was going to have to utilize freshman Connor Essegian more than a typical freshman entering the program. 
Gard wasn't sure how much Essegian would play early in the season. His number was called sooner than expected, according to Gard and Essegian.
It could've spelled trouble for the Badgers when starting guard Max Klesmit committed his second foul less than three minutes into the game. Essegian played 16 minutes in the first half and finished with career highs of eight points on 3-for-9 shooting and two rebounds over 23 total minutes. 
"He's not one that's bothered by pressure," Gard said. "I've learned that about him. He's a really confident kid. I think Connor did exceptionally well, given the opportunity he had. It's good to see that Connor stepped in right away and was able to help us."
Essegian isn't afraid of the pressure because he knows it leads to competition and often some of his best performances. 
It goes back to when he was a child playing baseball. He enjoyed pitching because he wanted to control the game.
Central Noble High School basketball coach John Bodey recalled a moment during Essegian's sophomore year that really showed Essegian's ability to perform in intense moments. 
The team was playing conference favorite Prairie Heights High School, a team Central Noble beat by six points on a neutral court a month prior.
Essegian's team trailed the entire game. There were 90 seconds remaining when Central Noble closed the gap with a tied game the final two possessions. Bodey ran a play to give Essegian an opportunity to score with 2 seconds left. He was fouled on a 3-point attempt and hit all three free throws to beat Prairie Heights 61-58.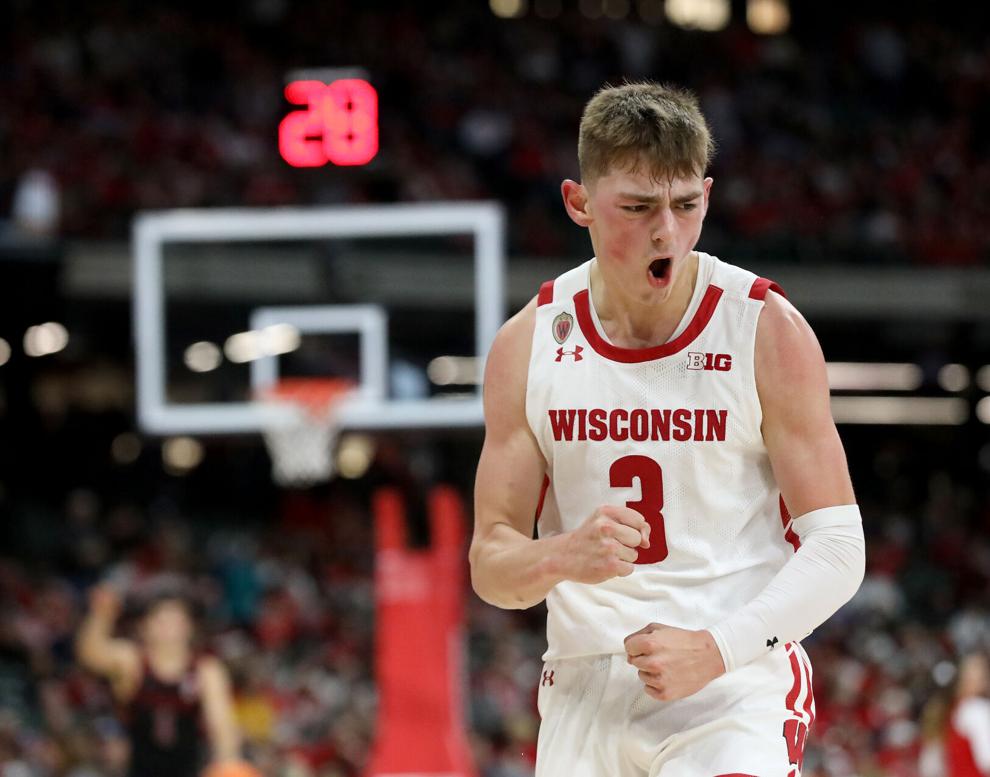 "We won a game that we probably shouldn't have won," Bodey said. "That's just who he is. He wants to be the man. He wants to be that guy that makes the plays. He's not afraid to fail."
Klesmit said he noticed Essegian's confidence the first day he met him. It stood out even more at their first practice when Essegian was sinking 3-pointers. Klesmit said he's spent a lot of time with the freshman trying to be as confident in his shot as Essegian. 
That confidence is something UW assistant coach Dean Oliver noticed, too.
One of Essegian's first moments in an UW uniform was when he fouled South Dakota's Paul Bruns on a 3-pointer. It was the definition of a rookie mistake. Rather than dwellin on it he converted a 3-pointer on the next possession. 
His first shot in the Stanford game, which was blocked, was a look that didn't make Oliver particularly happy. Essegian brushed off the mistake and got set on defense. 
"Most freshmen, they get rattled," Oliver said. "You can't put them back in the rest of the game. That's not the case with Connor. He's got a great confidence about him. He had his ups and downs. The great thing about him is he has a great kind of self awareness of his mistakes."
UW is known for its defense and Essegian wasn't up to par when he joined the team in June. He knows he needs to continue to get better, even going as far to make fun of himself on TikTok. 
It was already going to be difficult to get on the court as he was joining a team that had three returning starters, five other returnees and two transfers with college experience.
Essegian was riding high after his career performance against the Cardinal. However, his playing time dropped to seven minutes against UW-Green Bay. 
"It's something that you just kind of have to have the mentality, 'Whatever the team needs,'" Essegian said. "I came here to win, really. I'm there to bring energy on the bench or talk to the guys and tell them what I'm seeing on the bench to give them an idea of what they could be doing out there as well."
The Badgers will have their biggest tests of the season in the Battle 4 Atlantis in the Bahamas. UW opens against Dayton at 1:30 p.m. Wednesday.
It's an event Essegian has been looking forward to playing. He's hoping to bring back a championship much like the 2021-22 team did at the Maui Invitational. 
"Playing against some of the top teams in the country is just something that makes me want to go out there even more," Essegian said. "Everyone wants to be the best. We want to be the guys that are at the top."
National Signing Day: Meet the Wisconsin men's basketball 2023 commits
The University of Wisconsin men's basketball team signed four players from the class of 2023 on Wednesday — three scholarship players and walk-on Jack Janicki. 
Nolan Winter might be one of the tallest players for the Badgers next season, but he's still learning how to play in the post.