SIOUX FALLS, S.D. — Naturally, a popular topic leading into the 2019-20 season has been how the departure of Ethan Happ would affect the way the University of Wisconsin men's basketball team operates on offense.
It's a fair and interesting conversation, to be sure. But it's the other end of the court where Happ's absence likely will be felt the most.
Happ, a four-year starter, was a versatile — and willing — defender. So was Khalil Iverson, another graduated player who got a lot of reps over four seasons. Those are major holes to fill from a team that finished No. 4 nationally last season in the KenPom adjusted defensive efficiency ratings.
The good news for UW coach Greg Gard is he believes he has the pieces for another terrific unit. The caveat is defensive synergy takes time to build and the Badgers will be tested by some potent offenses in the opening month.
The first big challenge comes Tuesday night at the Sanford Pentagon, where UW meets No. 20 Saint Mary's in an intriguing neutral-site game.
It's not a stretch to say Kobe King has the highest ceiling of any player on the UW roster, and a breakthrough season for him would go a long way in helping the Badgers return to the NCAA tournament despite losing Ethan Happ and Khalil Iverson.
When Gard said last week the Badgers "will jump right into deep water," he wasn't kidding. Saint Mary's returns four starters from a team that qualified for the NCAA tournament last season by beating Gonzaga in the West Coast Conference tournament title game.
The Gaels finished the season No. 23 in KenPom's adjusted offensive efficiency ratings. That marked the eighth time in a span of 10 seasons they've finished in the top 25 in that category.
Saint Mary's doesn't play fast under coach Randy Bennett, ranking among the bottom 10 percent in average possession length in each of the past six seasons. But Badgers assistant coach Joe Krabbenhoft said the Gaels are good at probing the defense for weak spots and sharing the ball.
"You can tell they're a very unselfish team," Krabbenhoft said. "They take what the defense gives you, no one's trying to force any action."
Senior guard Jordan Ford, who averaged 21.1 points last season, has gotten most of the preseason attention for the Gaels. But among the reasons Ford is so difficult to contain is he's surrounded by good shooters, which gives Saint Mary's the ability to spread out the defense.
Ford shot 41.2 percent from 3-point range as a junior. Two other returning starters — junior Malik Fitts and senior guard Tanner Krebs — finished right around 40 percent. Those three players combined to connect 181 times from beyond the arc in 2018-19.
"They're a good quality team, you can tell they're well-coached," Krabbenhoft said. "They've played a lot of minutes together and I would expect them to be hitting on all cylinders sooner than most teams in the country because of what they return."
Which leads to the following question: How long will it take UW to click on the other end of the court?
UW coaches have been encouraged by what they've seen during the preseason and in a closed scrimmage against Iowa State, the Badgers' only significant gauge to date. But the Gaels will provide a true measuring stick.
"We've definitely taking steps, I'm proud of where we're at, but definitely not satisfied," junior guard Brad Davison said. "There's a long way for us to go and improve."
Gard has said multiple times he likes the versatility of this team. He has the ability to use lineups that can vary in size because he has players who can defend multiple positions and switch in ball-screen situations.
The only new player in the rotation — at least until the Micah Potter saga gets resolved — is Tyler Wahl. The freshman forward from Minnesota has impressed his coaches and teammates with an ability to pick up UW's defensive principles in a hurry.
"Anytime you talk about losing Ethan, you have to say Khalil too, because defensively, those guys had so many reps," Krabbenhoft said. "It ends up becoming so natural for you defensively and it just takes two to three years a lot of times to become that good defensively and they both had that. We're going to have to fill that in, but it's not like we're replacing them with a bunch of newbies."
One area to monitor this season, especially until Potter is cleared to play, is rebounding. Happ is the program's all-time leader in that category and pulled down 10.1 rebounds per game last season, while Iverson (4.5) was second on the team.
Gard has encouraged his players to push the ball up court this season. But he's also stressed the first step in that process is ending the defensive possession by controlling the glass.
"I think we'll be great defensively," junior forward Aleem Ford said. "That's what we've built our program on is defense. Regardless of who we have, I feel that's not something that we'll get away from. Even though we've been working a lot offensively and trying to expand our game in that aspect, (coach Gard is) always preaching defense so it's not like it's something he's going to let up on."
---
Preview: Badgers vs. No. 20 Saint Mary's
UW VS. NO. 20 SAINT MARY'S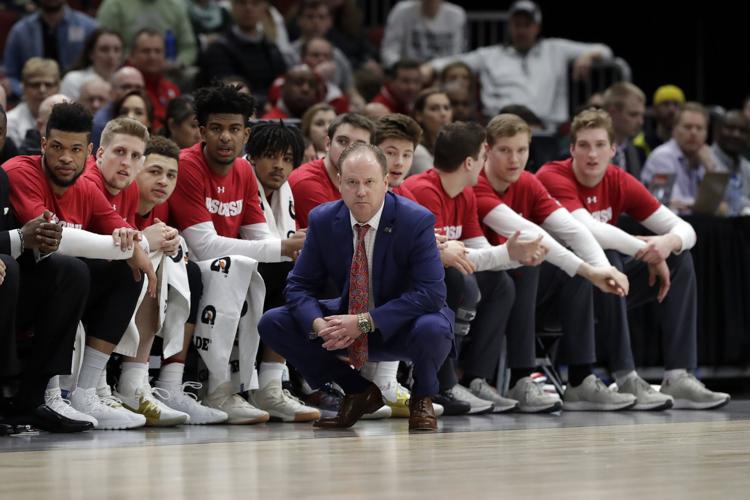 What: 2019-20 season opener.
Where: Sanford Pentagon in Sioux Falls, South Dakota.
Radio: 1310 AM and 101.5 FM, with Matt Lepay and Mike Lucas.
BADGERS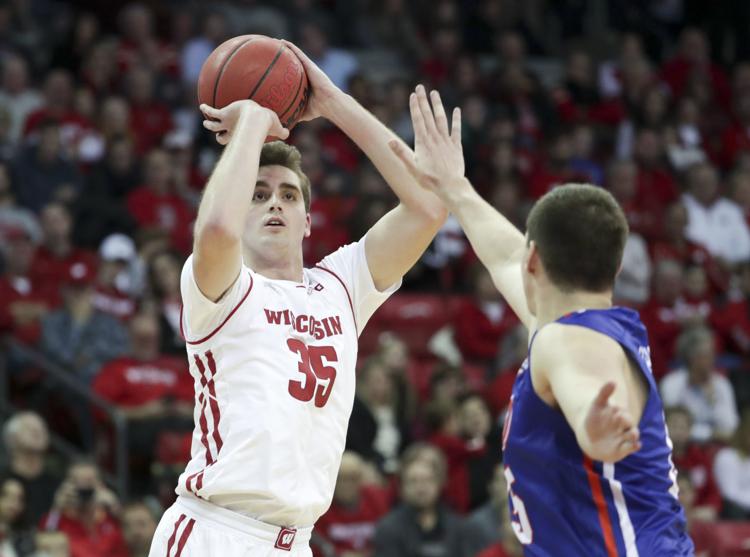 Coach: Greg Gard, 80-47 in his fifth season at UW.
Player to watch: Nate Reuvers (above) scored a game-high 15 points in the Badgers' 82-53 exhibition victory over UW-La Crosse on Friday night. Reuvers also had six rebounds and four blocks in 25 minutes.
PROBABLE UW STARTERS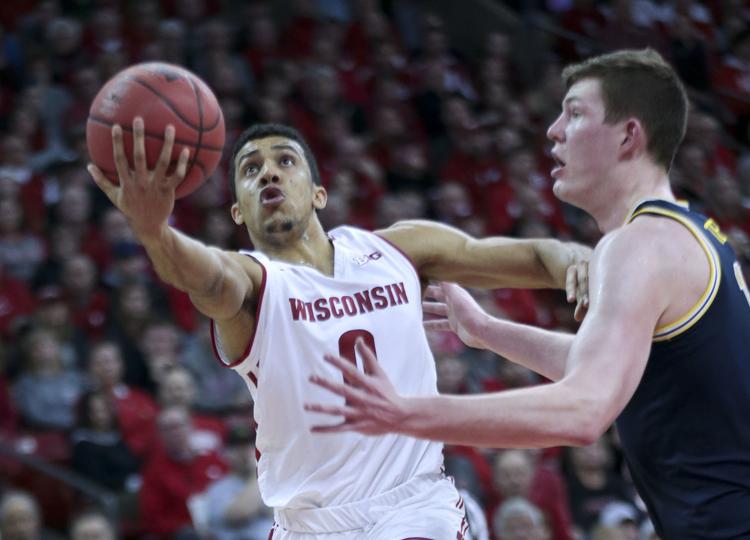 | | | | | |
| --- | --- | --- | --- | --- |
| No.   | Name   | Ht.   | Year   | PPG   |
| 2  | Aleem Ford   | 6-8  | Jr.  | 3.1  |
| 23  | Kobe King   | 6-4  | So.  | 4.2  |
| 35  | Nate Reuvers   | 6-11  | Jr.   | 7.9  |
| 0  | D'Mitrik Trice (above)   | 6-0  | Jr.  | 11.6  |
| 34  | Brad Davison   | 6-4  | Jr.  | 10.5  |
KEY BADGERS RESERVES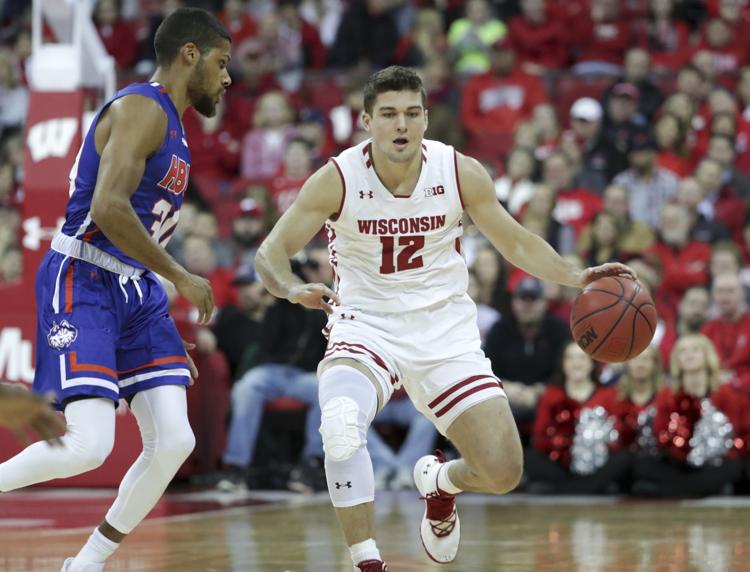 | | | | | |
| --- | --- | --- | --- | --- |
| No.   | Name   | Ht.   | Year   | PPG   |
| 1  | Brevin Pritzl   | 6-3  | Sr.   | 4.8  |
| 5  | Tyler Wahl   | 6-7  | Fr.  | NA  |
| 12  | Trevor Anderson  (above)   | 6-2  | Jr.  | 1.6  |
| 32  | Joe Hedstrom   | 7-0  | Fr.  | NA  |
YOU SHOULD KNOW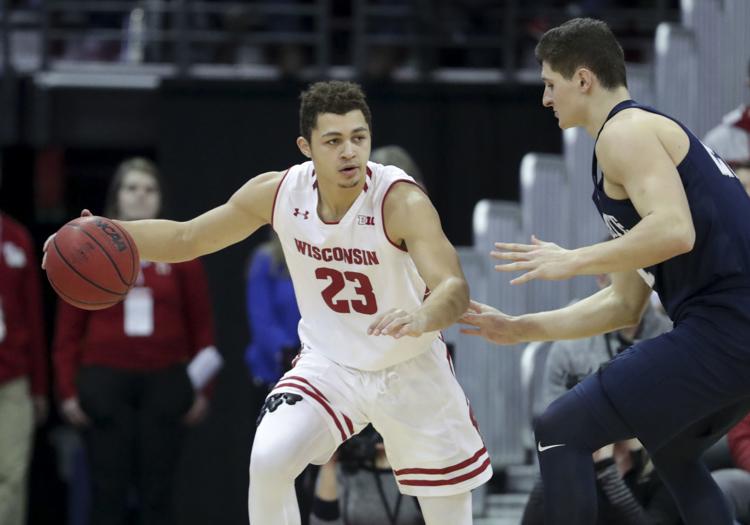 UW is opening with a ranked opponent for the first time in 24 years. The Badgers dropped a 66-58 decision to No. 3 Villanova in a Maui Invitational quarterfinal to open the 1995-96 season, which also served as Dick Bennett's UW coaching debut. … Kobe King (above) finished with 14 points, eight rebounds and five assists vs. UW-La Crosse. … Tyler Wahl produced seven points, seven rebounds and five blocks in 16 minutes off the bench against the Eagles. … D'Mitrik Trice is 10 of 17 from 3-point range in three season-opening games.
GAELS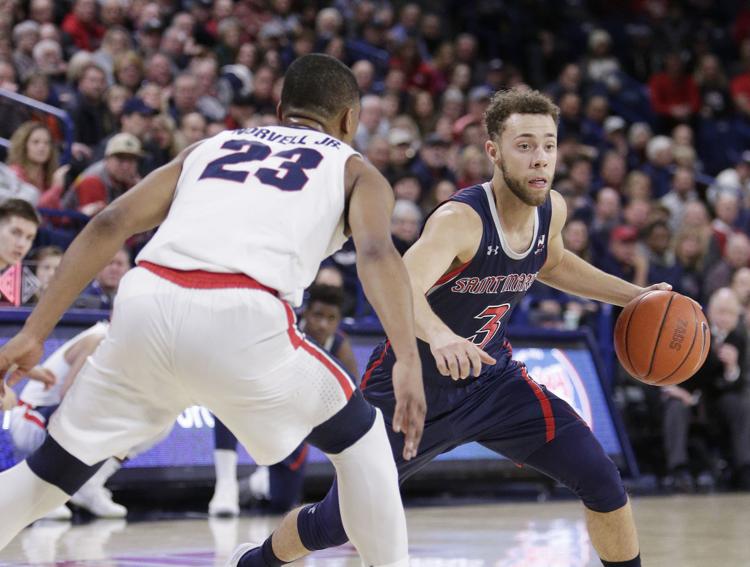 Coach: Randy Bennett, 414-174 in his 19th season at Saint Mary's.
Player to watch: Jordan Ford (above) was second in the West Coast Conference in scoring last season. He shot 41.2 percent from 3-point range and scored at least 20 points in 19 of the Gaels' 34 games.
PROBABLE SAINT MARY'S STARTERS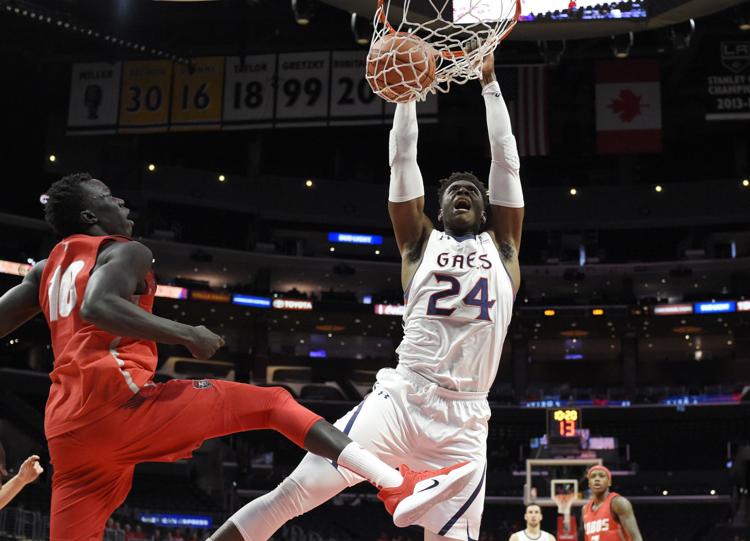 | | | | | |
| --- | --- | --- | --- | --- |
| No.   | Name   | Ht.   | Year   | PPG   |
| 24  | Malik Fitts (above)    | 6-8  | Jr.  | 15.2   |
| 0  | Tanner Krebs   | 6-6   | Sr.   | 8.9  |
| 11  | Matthais Tass   | 6-10   | So.  | 3.7  |
| 3  | Jordan Ford   | 6-1  | Sr.  | 21.1  |
| 12  | Tommy Kuhse   | 6-2  | Jr.  | 6.2  |
KEY GAELS RESERVES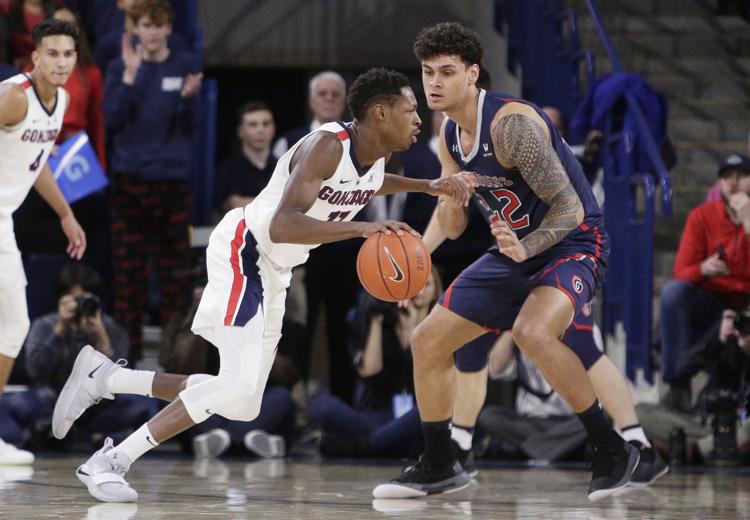 | | | | | |
| --- | --- | --- | --- | --- |
| No.   | Name   | Ht.   | Year   | PPG   |
| 10  | Elijah Thomas   | 6-5  | Jr.  | 4.0  |
| 41  | Aaron Menzies   | 7-3  | Sr.  | NA  |
| 42  | Dan Fotu  (above right)  | 6-7  | So.  | 2.8  |
| 5  | Jock Perry   | 7-1  | Jr.  | 2.1  |
| 1  | Logan Johnson   | 6-2  | So.   | NA  |
YOU SHOULD KNOW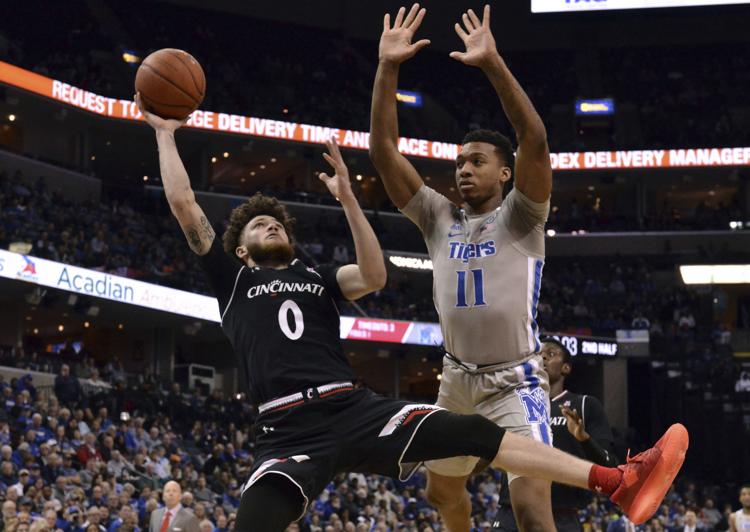 The Gaels have recorded 20-plus victories in 12 consecutive seasons, with six NCAA tournament appearances in that span. … Saint Mary's is 1-1 all-time vs. UW. The most recent meeting between the programs came early in the 1976-77 season, an 82-76 win for the Badgers at the UW Field House. … Aaron Menzies, a graduate transfer from Seattle, sat out last season with a hand injury. … Logan Johnson (above left) is a transfer who played last season at Cincinnati and was granted a waiver from the NCAA to play immediately at Saint Mary's.
Be the first to know
Get local news delivered to your inbox!