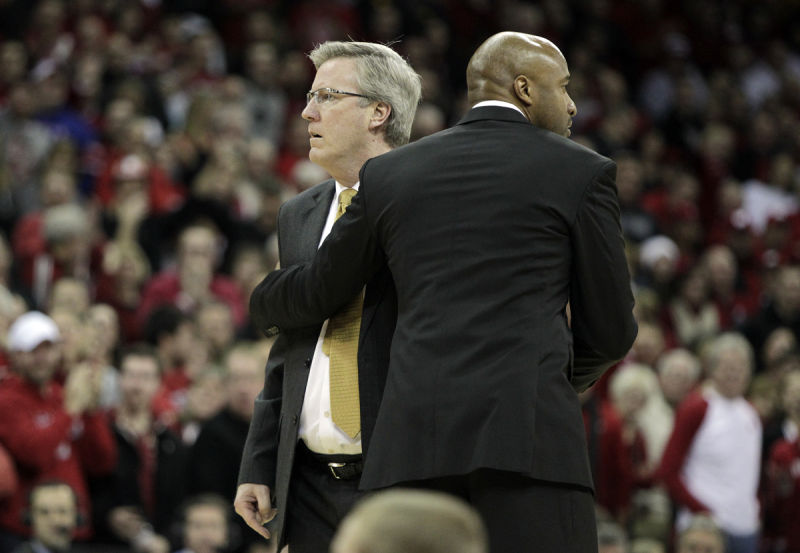 Iowa coach Fran McCaffery didn't anticipate further sanctions for his tirade Sunday night at the Kohl Center that led to his Hawkeyes losing a 75-71 game to the University of Wisconsin men's basketball team.
But the Big Ten Conference determined Tuesday that his outburst warranted them.
The conference announced that it has issued a one-game suspension and public reprimand of McCaffery for violating the Big Ten sportsmanship policy during the second half of Sunday's game. In addition, the Big Ten announced Iowa has been fined $10,000 as a result of the violation.
In a statement, the Big Ten said it determined that McCaffery's actions toward the officials were in violation of Big Ten Conference Agreement 10.01. It states, in part, that "The Big Ten Conference expects all contests involving a member institution to be conducted without compromise to any fundamental element of sportsmanship. Such fundamental elements include integrity of competition, civility toward all, and respect, particularly toward opponents and officials."
You have free articles remaining.
McCaffery will serve his one-game suspension on Thursday against Northwestern, according to the Big Ten announcement.
The Hawkeyes were leading 41-39 when McCaffery objected to a foul call on junior center Gabriel Olaseni with 11 minutes, 51 seconds left in the game. As both teams headed to their respective benches for a media timeout, McCaffery confronted the officials at midcourt and was assessed two technical fouls in a matter of seconds.
McCaffery was ejected, and after the break, UW senior guard Ben Brust made four free throws to give UW a 43-41 lead. The Badgers led the rest of the way.
McCaffery said after the game that he didn't believe his technicals cost the Hawkeyes, who led by 11 points at halftime, the game. But he admitted during the Big Ten Conference coaches teleconference on Monday morning that he would have handled things differently.
"You've got to be able to assess things that happen, that's what you ask your players to do," McCaffery said Monday on the weekly Big Ten teleconference. "I didn't put our team in a position that benefited them. And I think you've got to be man enough to admit that and say, 'I regret that.' I don't want to in any way put them in that position.
"Additionally, you don't ever want to do anything that in any way would embarrass the university. We live in a different world where, you get a double-T 10 years ago, you get a double-T and that was it. Now, everything, everybody looks at it and everybody wants to assess it and weigh in on it and that's just part of the world we live in. But to that end, I don't want to ever do anything to embarrass the school. But more importantly, put our team in a position where it would make it harder for them to win. So I regret the second T, no question."