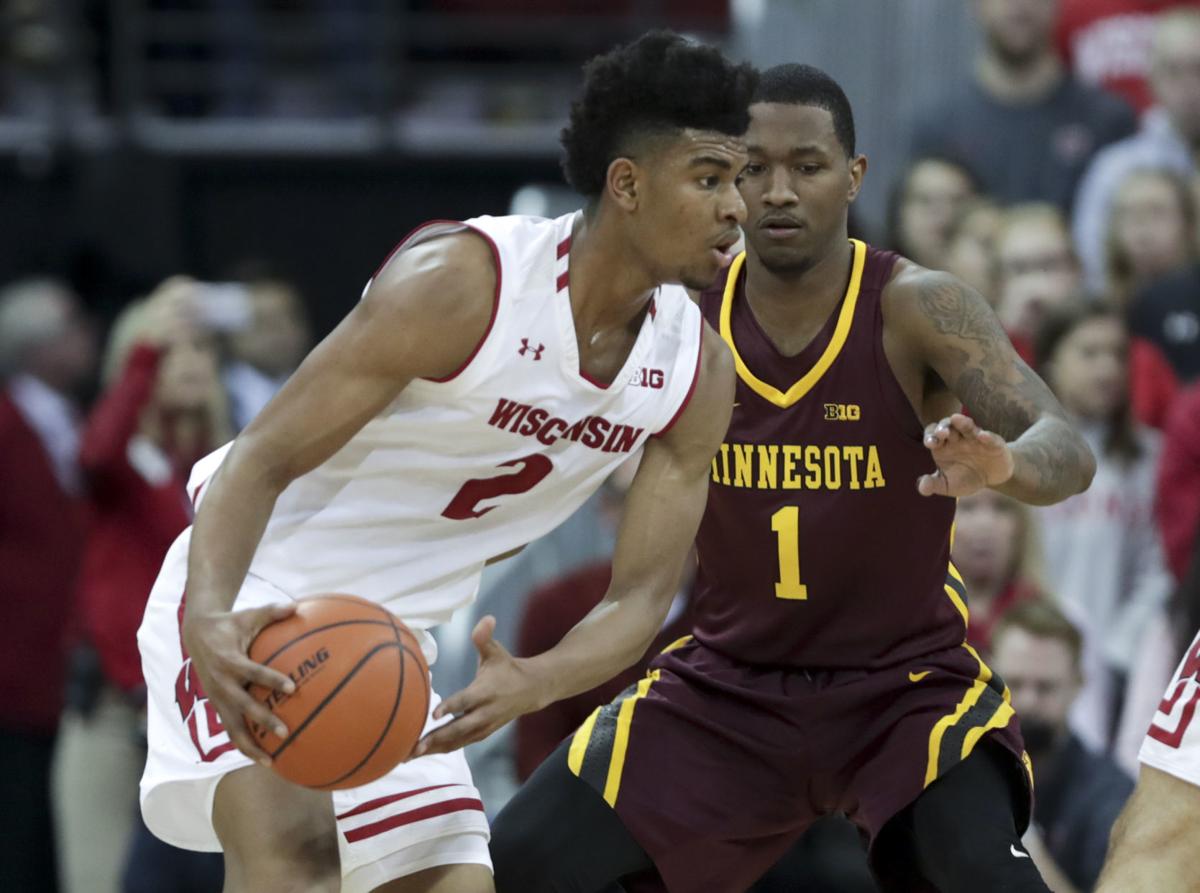 The University of Wisconsin men's basketball team will be without Aleem Ford to start the season after the sophomore forward underwent surgery Wednesday to repair an injured knee.
UW coach Greg Gard said Ford sustained the injury in practice on Monday. Ford finished the practice and was diagnosed afterward, according to Gard.
A news release said Ford will be out indefinitely, though he's expected to return at some point this season. Gard didn't shed much light on the injury following practice on Wednesday.
"We don't know yet how long it's going to be," Gard said. "We're hoping he'll be back, but we don't have a timetable yet."
The Badgers host UW-Oshkosh in an exhibition game Friday night, then open their season against Coppin State on Tuesday at the Kohl Center.
Losing Ford is a big blow to frontcourt depth. Sophomore forward Nate Reuvers and senior forward Khalil Iverson joined senior center Ethan Happ in the starting lineup during UW's private scrimmage against Iowa State on Sunday in Platteville, with Ford providing a boost off the bench by scoring a team-high 19 points on 7-for-9 shooting.
You have free articles remaining.
Ford averaged 5.8 points and 2.8 rebounds in 33 games last season, including 20 starts, and shot 40.9 percent from 3-point range. He had a productive offseason in the weight room and entered preseason camp listed at 220 pounds.
"Obviously, I feel bad for Aleem because he's worked extremely hard to put himself in position and had a really good summer, really good fall," Gard said. "He played well on Sunday, but it's one of those things you understand that injuries happen and it's kind of an occupational hazard. It's an opportunity for other guys to step up."
Even before Ford's injury Gard had planned on using smaller lineups more frequently this season because UW's backcourt depth is a strength now that sophomore D'Mitrik Trice and Kobe King are back from injuries. Both players missed the final 23 games last season and received medical redshirts.
Still, Ford's injury could open the door for seniors Charlie Thomas and Alex Illikainen to receive more minutes. Both of the bigs in UW's 2018 recruiting class, Taylor Currie and Joe Hedstrom, are in need of development and expected to redshirt.
Gard said Ford "had developed into a very versatile player. From that standpoint, what he brings to the table, it was very important, is very important and will be very important.
"In the meantime, we've got to continue to grow. The nice thing is we're early where we haven't really established roles, for the most part. I think we're still experimenting and learning and that's what this preseason is for."
Meanwhile, sophomore Trevor Anderson returned to practice late last week after missing time with a right knee injury. Anderson, who sat out last season after transferring from UW-Green Bay, was wearing a bulky brace on his knee during practice Wednesday.
"I think the biggest thing right now is just the confidence level, the trusting that he's OK and getting used to the brace," Gard said. "That's something that he's still working towards. And I think the other thing is the confidence of knocking some rust off because he sat out almost two weeks."