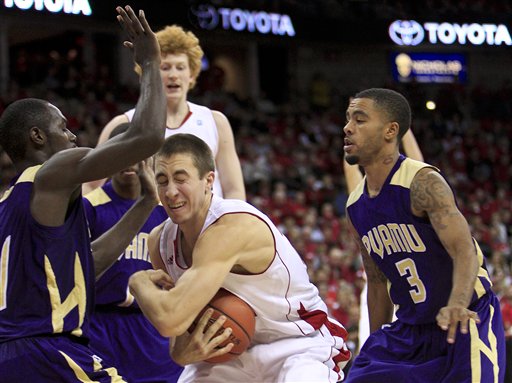 Josh Gasser knows the history of the University of Wisconsin men's basketball program and the impact that standout players such as Rashard Griffith, Devin Harris and Michael Finley had on their respective teams.
When Gasser scored 21 points and grabbed nine rebounds during the Badgers' 99-55 victory over Prairie View A&M in their season opener Sunday at the Kohl Center, his freshman debut topped what Harris and Finley did in their impressive debuts.
Remarkably, only Griffith's virtuoso 27-point, 12-rebound, six-assist debut 17 years ago was better in program history.
"Those people are good," Gasser said. "To expect myself to do that every day, I'd never expect that. But I'm just going to go out and do whatever I have to do to help us win."
That's precisely what stood out about the 6-foot-3 freshman guard's performance: He did exactly what the Badgers needed whenever he was on the floor. When he wasn't scoring, the former Port Washington star led the team's onslaught of offensive rebounds with a game-high six, dished out three assists against just one turnover and, other than a late first-half hiccup, played solid defense.
"You talk about a good debut, that's about as good as it gets," UW senior forward Jon Leuer said.
The same could be said for the Badgers, who calmed down after some early jitters and buried the Panthers (0-2) under a barrage of drives, jumpers and everything else in between. The Badgers also owned a 24-3 edge in offensive rebounds.
Leuer led the Badgers with 24 points and had seven rebounds and three blocks, junior point guard Jordan Taylor had 20 points and six assists and sophomore forward Mike Bruesewitz added a career-high 11 points and six rebounds.
The Badgers shot just 36.8 percent (14 of 38) in the first half and had a 41-31 lead at the break. They shot 66.8 percent (20 of 30) in the second half while scoring 58 points.
"We were a little anxious. It is the first game of the year," UW coach Bo Ryan said. "We say the lights are on in the exhibition games ... but you don't think they weren't walking around class last week and everybody going, 'Hey, glad the season is starting Sunday?' They know it's a little different, you have to play through some things."
Taylor, who scored 10 points during a 21-3 run that increased the lead to 64-39 with 12 minutes, 37 seconds to go, said Leuer and senior guard Tim Jarmusz told the Badgers at halftime that they needed to play with more energy and intensity.
"We were a little flat in the first half," Taylor said. "In the second half we just came out, pushed the ball, played better defense and it translated into shots for us."
Gasser, who scored six of his eight first-half points at the free throw line, certainly looked comfortable shooting in the second half when he made all four of his field goal attempts. He also had all three of his assists and no turnovers in the second half.
"He took care of the ball, he made great decisions. People will remember the points but he did some other things pretty well," Ryan said.
Ryan particularly liked how Gasser learned his lesson defensively after he was pulled in the first half after Panthers guard Trant Simpson beat him for three straight 3-pointers.
"The nice thing about Josh is that he does have some versatility," Ryan said. "He'll have some more games ... where he'll be that threat, he'll get some rebounds, he'll make good decisions with the ball and he'll defend better. That's what we're hoping for."
Taylor said Gasser didn't do anything the Badgers haven't seen in practice.
"Obviously that's going to be great to help his confidence level and that's going to be great for us down the road," Taylor said. "We knew what Josh could do. We've been talking about that since the start of the season about guys having to prove themselves, and he did take a step towards that tonight. We all did, I think, a little bit."
---
Click the "Box score" link at left for a statistical recap, including the play-by-play, and links to individual player pages.