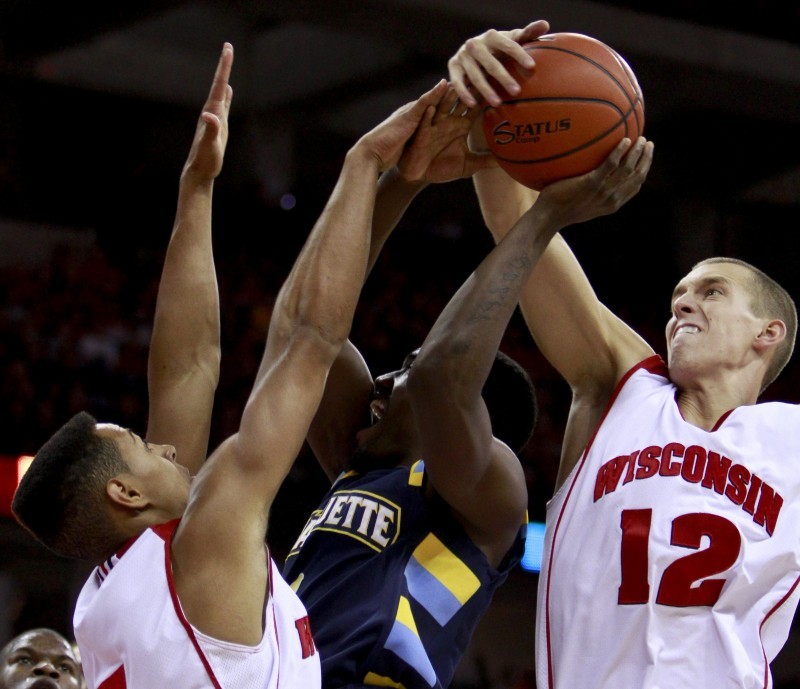 It's interesting to note who will benefit the most when Jason Bohannon scores his 1,000th point for the University of Wisconsin men's basketball team.
Bohannon, who needs to score 15 more points to reach the mark, will benefit because he'll become the 35th player in program history to do it.
The No. 18 Badgers (14-4, 4-2 Big Ten Conference), who face Michigan (10-7, 3-2) Wednesday night in a conference game at the Kohl Center, will benefit because Bohannon is an important cog in the team's race for a Big Ten regular-season title.
But the greatest benefactors will be Bohannon's three younger brothers.
The Badgers' 6-foot-2 senior guard has spent most of his life showing his brothers how to succeed on the basketball court. Everything he has done -- from leading his Linn-Mar (Marion, Iowa) High School team to a state basketball title, to helping win Big Ten Conference titles at Wisconsin -- has been studied by Zach, Matt and Jordan Bohannon.
And they've reaped the benefits.
Zach, a 6-7 freshman forward at Air Force, earned All-State honors while leading Linn-Mar to the state tournament. Matt is a 6-4 junior guard at Linn-Mar and is one of the top scorers for his team that has lost just once so far this season. He already has scholarship offers to Air Force and Albany, according to Jason Bohannon.
And Jordan is a sixth-grader who has already moved up to play with seventh-grade and eighth-grade teams. "He's out there hitting 3-pointers from all over the floor," said a smiling Bohannon. "Teams are throwing box-and-ones on him already."
It's no wonder that Bohannon sometimes feels like a coach as he fields questions and talks basketball non-stop with his brothers via texts, e-mails and phone calls. They are all sons of former Iowa quarterback Gordy Bohannon.
"Hopefully it will help them along the way," said Bohannon, who watches many of his brothers' games via cable TV or webcasts. "My dad always says they have a big advantage with me experiencing stuff before them and knowing what it's like to go through everything. I try to help them however I can."
The Bohannon brothers would be smart to pay closest attention to how their oldest brother is playing right now. He's rarely been better.
The Badgers' sharpshooter has reached double figures in five straight games and is averaging 14 points a game during that stretch. He is making 52.5 percent of his shots overall and 36 percent of his 3-pointers. He also had 10 assists versus three turnovers and averaged a team-leading 38.4 minutes a game in the past five games.
One of the most interesting sidebars to those stats is how he helped the Badgers earn wins over Purdue and Northwestern from inside the arc. He drove hard to the hoop, beat his man in the paint for an easy bucket or played solid defense.
Forget calling him a 3-point specialist.
"We've all been labeled as certain things and we want to prove the critics wrong, whatever it is," Bohannon said. "Guys on our team have been doing that their entire careers."
Bohannon wasn't sure how many from his family will get to see him score his 1,000th career point. His parents, for instance, are logging thousands of highway miles getting to as many of their kids' games as possible.
"They came to the Purdue game and drove back home quick to watch Zach on TV because they get the Mountain West network," Bohannon said. "They were in my dad's office the other night watching my game on one TV and Zach's game on another. It's a lot of fun to see us all playing at once."
Bohannon's brothers will applaud him when he goes over the 1,000-point mark and then go to the gym so they can score more during their college careers.
"Hopefully, they'll worry more about wins for their teams," Bohannon said.
Spoken like a true coach.