NASSAU, Bahamas — The University of Wisconsin men's basketball team just scraped by in the first game of the Battle 4 Atlantis.
UW (4-0) held the lead for much of the game until Dayton's Mustapha Amzil hit a 3-pointer to tie the game with 4:56 remaining. The Badgers managed to regain the lead, but the game came down to the final 8 seconds.
UW was up one point when Dayton coach Anthony Grant called a timeout as the shot clock was winding down. UW coach Greg Gard then called a timeout. The Flyers had the ball at the baseline and got it to Kobe Elvis, who went up for a shot. It didn't make it far before Max Klesmit whacked the ball out of bounds.
Dayton only had 1 second on the shot clock and it couldn't get up a shot before the buzzer sounded. Tyler Wahl inbounded the ball with a long pass to Klesmit, who held on tight to secure the 43-42 win Wednesday at Imperial Arena.
"It (was) really just trust in the preparation," Klesmit said. "I knew that they like to go to the slide on screens and get their guards going to their strong hand. So just trying to sit on that as best as I could and guard without fouling at the end."
The Badgers and Flyers kept the first half close with neither team creating separation until UW went on a 7-0 run over the final 2:46 before the break. Dayton (3-2) was held to three points over the final 10 minutes of the half.
Steven Crowl was the only one of UW's three returning starters to score in the first half as Wahl and Chucky Hepburn went a combined 0 of 8. Help from the bench allowed UW to head into halftime with a 23-14 lead.
It didn't get much better for Wahl and Hepburn, who combined for five points. Connor Essegian led the Badgers with 13 points on 50% shooting. Crowl was next with nine points followed by Markus Ilver with six. Jordan Davis led the Badgers with eight rebounds.
The Badgers shot 23.7% overall and 22.2% from 3-point range.
"There were a few timeouts that we talked about that the shots needed to be better in terms of the types of shots we were getting," Gard said. "I thought when we did move the ball, we played through the paint. I didn't think we played through the paint enough in terms of touching whoever, whether it was Tyler, Steve, anybody in there, when we did that we had good things happen."
Dayton's Elvis led all players with 16 points. DaRon Holmes II added nine points. The Flyers shot 30.2%.
Gard played 10 of his scholarship players, with only Kamari McGee and Jahcobi Neath not playing. Neath was unavailable for the game due to a lingering knee injury.
The Badgers advanced to play defending national champion Kansas in the semifinals at 10 a.m. Thursday.
Here are three things that stood out.
Essegian provides first-half spark
The Badgers were 1 for 7 from the field when Essegian hit a 3-pointer with 13:48 left in the first half. The freshman, who has said he still needs to work on his defense, drew a foul, causing a turnover by Dayton's Zimi Nwokeji on the next play.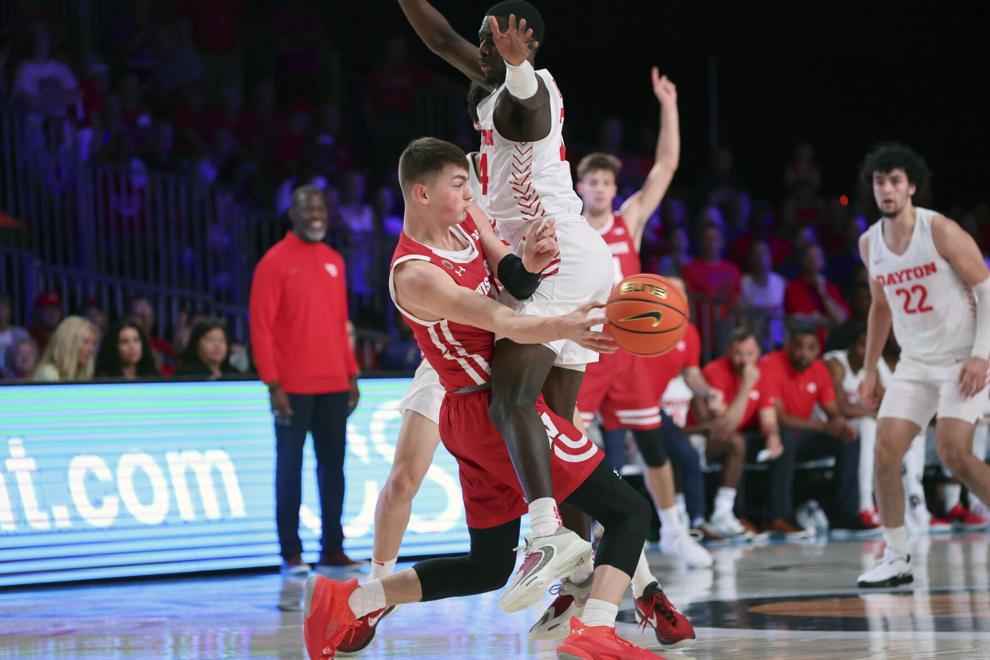 Essegian scored another nine points over the next 3:52, including a jumper in the paint, another 3-pointer and three free throws. He led both teams with 11 points at halftime.
Essegian added two points in the second half.
Struggle to contain Dayton leaders
Dayton's leaders also were limited in the first half, with Holmes and Elvis both contributing two points. Amzil, the Flyers' No. 2 scorer, added six points on a pair of 3-pointers to help make up for the lack of production.
Holmes went 1 for 4 in the first half but improved to 3 for 6 by the end of the game. He capitalized on UW's frontcourt foul trouble to add seven points in the second half, including a pair of wide-open looks.
Elvis also increased his offensive production in the second half, scoring 14 points after the break. He finished the game 7 for 17 overall and 1 for 7 from 3-point range.
"The first half we couldn't really get in the rhythm from an offensive standpoint," Grant said. "We probably got some good looks that didn't go in. At the end of the day, it comes down to being able to make shots. We weren't able to do that consistently enough tonight."
Bench picks up the slack
UW's bench saw a lot of time on the court with Crowl, Wahl, Hepburn and Klesmit in foul trouble early in the second half. The bench added 24 points, making up 55.8% of UW's scoring.
Ilver checked into the game with 8:36 left in the first half but only added one rebound. He came out hot in the second half, grabbing an offensive rebound and hitting the corresponding second-chance 3-pointer. He hit another 3-pointer to help slow a Dayton run after the Flyers cut UW' lead to two points.
Isaac Lindsey entered the game in the first half to provide some backup minutes at point guard. He scored five points in the final 2:46 of the first half and added a steal. 
Essegian's 13 points led the bench.
| | | | | |
| --- | --- | --- | --- | --- |
|  Dayton  |  14  |  28  |  —  |  42 |
|  Wisconsin  |  23 |  20 |  — |  43  |
DAYTON — Camara 2-7 2-3 6, Holmes 3-6 3-5 9, Blakney 0-4 0-0 0, Elvis 7-17 1-1 16, Smith 1-6 0-0 2, Amzil 3-8 0-0 9, Sharavjamts 0-5 0-0 0, Nwokeji 0-0 0-0 0. Totals 16-53 6-9 42.
WISCONSIN — Crowl 3-11 3-4 9, Wahl 1-8 1-1 3, Davis 1-7 0-0 2, Hepburn 1-10 0-0 2, Klesmit 1-5 0-0 3, Essegian 3-6 5-5 13, Gilmore 0-3 0-0 0, Ilver 2-5 0-0 6, Lindsey 2-4 0-0 5, Hodges 0-0 0-0 0. Totals 14-59 9-10 43.
3-point goals — D 4-27 (Amzil 3-6, Elvis 1-7, Holmes 0-1, Blakney 0-3, Camara 0-3, Sharavjamts 0-3, Smith 0-4), W 6-27 (Essegian 2-4, Ilver 2-4, Lindsey 1-2, Klesmit 1-3, Gilmore 0-1, Wahl 0-2, Hepburn 0-3, Crowl 0-4, Davis 0-4). Rebounds — D 40 (Camara 11), W 35 (Davis 8). Assists — D 6 (Smith 2), W 7 (Crowl 4). Total fouls — D 14, W 17. Turnovers — D 17 (Camara 4), W 10 (Wahl 3, Hepburn 3). Att. — 1,047.