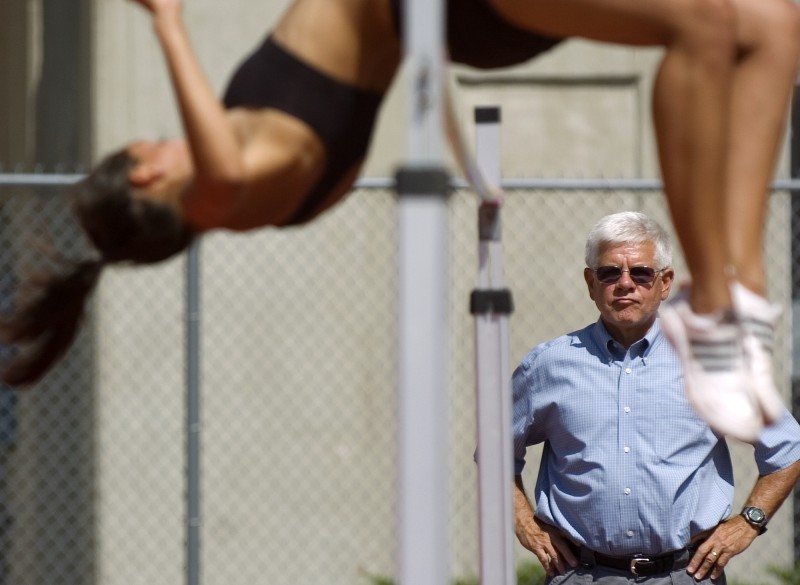 Since Gary Pepin has been the men's and women's track and field coach at Nebraska for 27 years, the longest current tenure of any coach at the school, he was recruited to serve as a tour guide of sorts for the Cornhuskers' move into the Big Ten Conference in 2011.
In this case, Pepin was asked to shed some light on the "other" sports at Nebraska — meaning everything except football.
Pepin started by saying he knew little about the Big Ten teams, even in his sport.
"My knowledge and expertise on the Big Ten Conference in track and field is embarrassingly poor," he said. "I don't know very much about them at all."
Pepin recalled an outdoor dual meet a long time ago that included a snowstorm. At first, he thought it was at the University of Wisconsin, then realized it must have been at Minnesota.
He's friends with Illinois cross country and assistant track coach Wendel McRaven, who was an assistant coach at Nebraska for two years.
Pepin knows UW coach Ed Nuttycombe professionally, but that's about it for Big Ten connections.
From there, the conversation veered to some of the Nebraska sports programs.
"Do you guys have riflery?" Pepin asked of the Badgers. "Oh, we've been good in riflery. Do you have bowling? We've won a couple national championships in bowling.
"Women's gymnastics you probably have. No? Oh, wow. ... Women's gymnastics is one of the better programs in the country."
The Cornhuskers' seventh-place finish in the women's team gymnastics competition this past season came in their 19th trip to the NCAA championships.
The women's rifle team, after missing an NCAA trip in 2008-09, returned last season to finish sixth.
Meanwhile, the women's bowling team fell just pins short of winning back-to-back NCAA titles and had to settle for second.
Clearly, there's more to the Nebraska athletic program than its storied football team and its five national championships. But who knew the Cornhuskers were so dominant in sports many college fans didn't know existed?
Suffice it to say, there's going to be a lengthy getting-to-know-you process involving Nebraska and the Big Ten.
"It's going to be interesting and certainly going to be different," Pepin said.
Pepin: A Big 12 fan
At this point in his career, Pepin is not a fan of change, though he's also not about to make waves. He's the all-time winningest track and field coach in the history of both the Big 12 and the former Big Eight Conference.
When his men won a second straight Big 12 outdoor title in May, it meant Pepin's men's and women's teams had combined for a conference-high 22 team titles since the inception of the Big 12.
"Personally, for track and field, I wasn't particularly interested in moving to the Big Ten at all," Pepin said.
"I've been coaching long enough, kind of like teaching old dogs new tricks. You get in the habit of where you're going to go and you have a lot of relationships built through the years with the coaches in the (Big 12) conference."
Pepin's success has come in a state without a large population base and with recruiting disadvantages compared to some other schools — especially those in Texas — who have so much track talent in their own backyards.
"I personally like the challenge of competing against those schools," Pepin said of Texas, Texas A&M, Texas Tech and Oklahoma. "If you can be competitive as an athlete in this conference, then you're going to do well at the national level as well."
It won't be easy for Pepin to leave the Big 12, but he also understands the dynamics at work in college athletics these days. Football is driving the bus and the other sports are along for the ride. That's just the way it is, and Pepin sees no reason to complain about it.
"I've heard coaches through the years complain about what football is getting and the other sports don't get," Pepin said. "I've always felt, man, that's the goose that lays the golden egg, give those guys whatever they need to win and whatever scraps are left, we'll deal them out."
Yori: Living a dream
You have free articles remaining.
Mostly, the idea of moving to the Big Ten comes down to a comfort level and Nebraska women's basketball coach Connie Yori, who grew up in Iowa, feels plenty comfortable with the switch.
Yori recalled a graduate class some 20 years ago, when she had to get up in front of classmates and say her dream job — being a head coach in the Big Ten. She just never thought it would happen at Nebraska.
The women's basketball team is coming off the best season in school history, a 32-2 finish that included a 16-0 record in conference and the school's first Big 12 regular-season title and NCAA Sweet 16 berth.
Yori, the national coach of the year, couldn't be happier with the move.
"I still feel very strongly about the Big 12. It's a great women's basketball league," she said. "But at the same time, it'll be an exciting transition for us."
The Big Ten sent nine of 11 women's basketball teams into the postseason last season, showing the conference's depth. The Big 12 has led the nation in attendance for several years and led the nation in RPI last season.
Yori hasn't polled all of her players, but she doesn't think the move will have much of an impact on them.
"As they go about their business, they still go to class and they still study and they still go to practice," Yori said. "Now, it's going to be a matter of changing our opponents. They don't seem to think it's a drastic change because their lives don't change that much."
Cook: Ready to roll
Another Nebraska coach feeling right at home with the pending move is women's volleyball coach John Cook, who compiled a 161-73 record leading the Badgers from 1992 to '98.
The answer to the question of which volleyball conference is better depends on the year, according to Cook.
"It goes in cycles," he said. "This past year the Big Ten put two teams in the Final Four, but we had five teams in the Sweet 16. How do you measure that? Unfortunately, all but one of our teams had to play in the same regional so only one Big 12 team could get to the Final Four. Both conferences are very competitive."
Cook said the nod for tradition probably goes to the Big Ten.
"Michigan State has been to the Final Four," he said. "Michigan's been close. Penn State has raised the bar. Wisconsin and Minnesota have been to the Final Four. Ohio State dominated the conference for a while. Purdue's been cracking the Top 20 the last few years. There's more tradition in the Big Ten and a longer history of success."
Adding Nebraska to that mix is a tremendous coup for the Big Ten. Over the past 10 years, Cook has led Nebraska to a pair of national titles, five NCAA semifinal appearances and eight Big 12 titles.
He has done it in front of an adoring fan base that has smashed attendance records and made volleyball one of the toughest tickets on campus, after football. Cook also has the Cornhuskers on the verge of a breakthrough in women's sports.
"I realize football is driving college athletics because they pay the bills," Cook said. "We're working extremely hard to become a profit sport and we're extremely close to that. The reality is, big decisions need to be based around football but it's a win-win for everybody."
A few reservations
Still, there will certainly be a transition phase for many of the sports.
Pepin pointed out Texas is the only Big 12 school with separate men's and women's teams in track and field. Yet, that's standard among Big Ten schools.
It was shocking for Pepin to learn the Big Ten meet for men and women was held at separate locations.
"It's 100 times easier to schedule a dual meet with a university where the program is combined, than to get two coaches with separate philosophies to come to your place," Pepin said. "That's a lot different, too."
Pepin doesn't envision even seeing most Big Ten opponents until the conference meet.
"I don't see us changing our schedule much or anything," Pepin said. "It would be the same (schedule) with the (Big Ten) conference meets and that's about it."
Yori believes any reservations Nebraska coaches have now about the move will fade quickly.
"I think we're all excited about it," she said. "Not just for our athletic programs, but also for our university as a whole. Being affiliated with the Big Ten, I think, is going to be great for the university and our state. There's always those unknowns, but those will get cleared up in time."
When she was sitting in on the news conference with Big Ten commissioner Jim Delany announcing Nebraska's move, Yori had a feeling she was part of something historic.
"I got to thinking, I can look back 30 or 40 years from now and say I was there that moment when we made that transition," she said.
A look at the varsity sports offered by Nebraska and the University of Wisconsin:
Men's sports
Nebraska
Wisconsin
•
Baseball
•
Basketball
•
•
Cross country
•
•
Football
•
•
Golf
•
•
Gymnastics
Hockey
•
Rowing
•
Soccer
•
Swimming
•
•
Tennis
•
•
Track and field
•
•
Wrestling
•
Women's sports
Nebraska
Wisconsin
•
Basketball
•
•
Bowling
•
Cross country
•
•
Golf
•
•
Gymnastics
Hockey
•
Rowing
•
Lightweight rowing
•
•
Rifle
•
Soccer
•
•
Softball
•
•
Swimming
•
•
Tennis
•
•
Track and field
•
•
Volleyball
•